Why Mykonos Is So Much More Than Just Greece's Party Island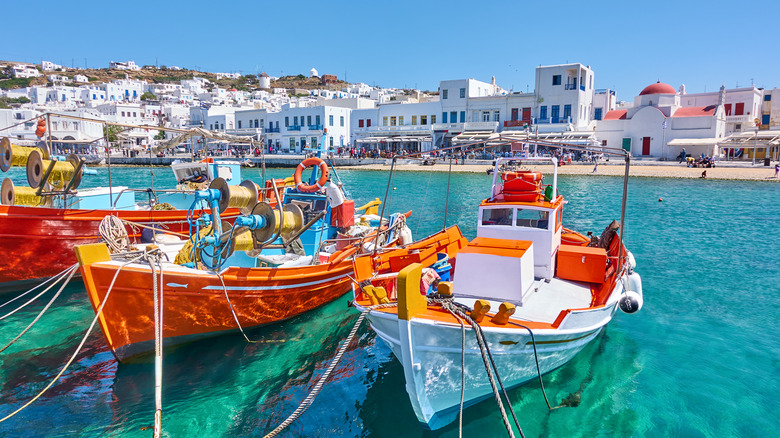 Roman Sigaev/Shutterstock
The nightlife on the Greek island of Mykonos is fabled. There's a bar for every taste, according to Discover Greece, from charming, hidden places to renowned establishments that will let you party from dusk to dawn. Greeka suggests a visit to Cavo Paradiso, where world-famous DJs play to crowds of thousands. But this article isn't about that. We promised to tell you why Mykonos is more than just a legendary party island; there are so many things to do here that don't involve clubbing.
Let's stick with the theme of drink (and food). Several travel bloggers, including Goats on the Road, recommend wine tasting at Mykonos Vioma Organic Farm, where you can try not just locally made wine, but products like hams and cheeses too. The Goats also rave about local dishes like spicy cheese spread (kopanisti) and thinly sliced pork (louza). Greece Travel Ideas suggest a cookery class with a local Greek family, where you can learn to make specialties like spinach pie (spanakopita) and tzatziki. With a full stomach, you'll be fueled up to explore more of this beautiful island.
Ancient history and modern culture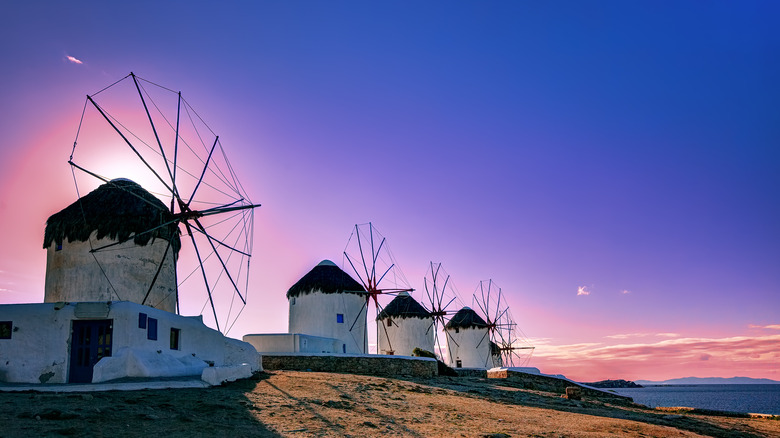 Lemonakis Antonis/Shutterstock
Some of the most famous photographs of Mykonos capture its grain windmills, which stand on the coast in Mykonos Town. Bloggers Goats on the Road highly recommend a visit to the disused mills, and not just because they're free: they're also a great place to watch the sunset over the ocean. Another recommendation from the Goats is to get off the island of Mykonos for a few hours and head to nearby Delos. At the UNESCO-listed site, you'll see fascinating remains of ancient temples where legend has it, Apollo was born.
Back on Mykonos, the Goats suggest going to the Aegean Maritime Museum to find out more about the island's seafaring history, as well as a trip to Armenistis Lighthouse, another great sunset spot. The Orthodox Church of Panagia Paraportiani, with buildings dating back over 500 years, is another great stop, according to Greeka. So is the Monastery of Panagia Tourliani, a beautiful building both inside and out, with colorful murals and a "hand-painted altar screen." For something more up-to-date, head to the Rarity Gallery, which showcases both famous and up-and-coming contemporary artists.
Glorious beaches and a charming town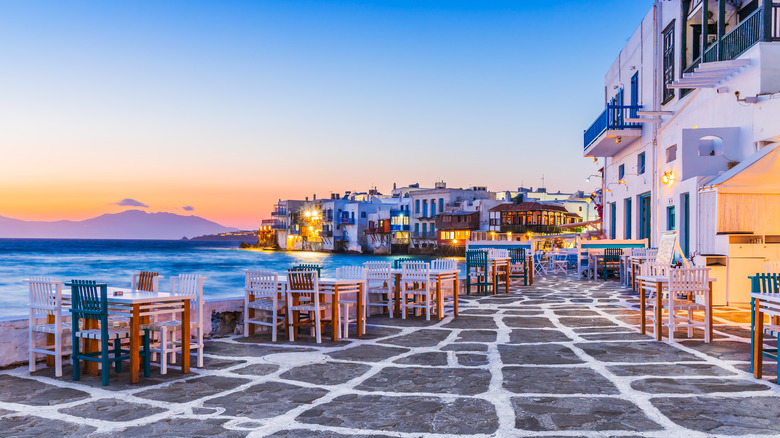 SCStock/Shutterstock
Let's start with the town, as there's only really one on Mykonos: Mykonos Town, also known as Chora. Here, you can stroll down the stone streets past traditional whitewashed houses and indulge in some shopping. The ideal place for this, according to Goats on the Road, is an alley called Matagianni, where luxury shops and boutiques jostle for space with cafés and tavernas, and you can pick up some souvenirs. One of the most popular parts of Mykonos Town is Little Venice, which lies along the harbor — the Goats call this place one of the greatest places to visit on the island.
Finally, as Mykonos is an island, it should come as no surprise that relaxing on the beach or hitting the water are popular activities. There are many beaches to choose from, each with its own character. If you like your beaches lively, head to Elia. If you want a chance at having the sand to yourself, choose Agios Sostis: what it lacks in bars and lounge chairs, it makes up for in serenity (per The Crazy Tourist). For a little more adventure, the Goats loved kayaking around the island for a different viewpoint, and scuba diving at Paradise Reef, where you'll see local marine life like octopuses and starfish.