Use This Tool To Find And Access Incredible Airport Lounges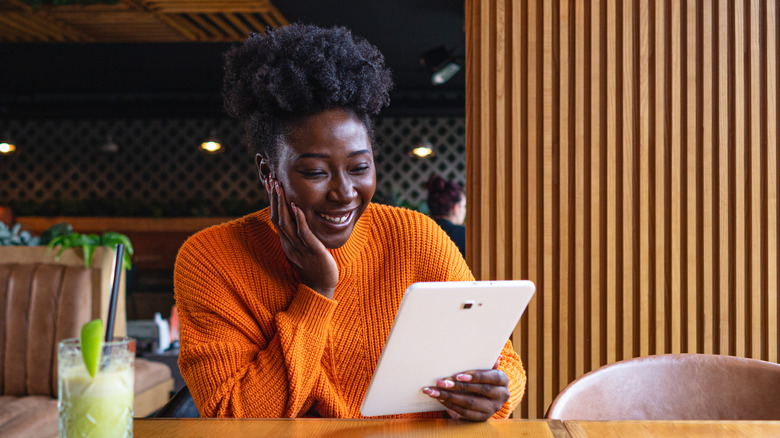 Fluxfactory/Getty Images
We all know the golden rule of arriving to the airport at least three hours early. It's better to be safe than sorry, but what happens when we have over two hours to kill before embarking on our journeys? Airports are expensive, and two hours can easily rack up extra unnecessary costs, whether it's buying a snack and a magazine to keep yourself entertained, or an overpriced martini and meal from an airport cocktail bar or restaurant. This is where lounges come in to make long airport waits not only a little more bearable, but full-on enjoyable.
Knowing which lounges are in which airports poses another challenge, however. Which ones have the best options for meals, snacks, alcoholic beverages, and amenities? Which ones can you even get into? Lounge Buddy is an app that was created to answer all of these questions, and to make being stuck in an airport, whether it's from arriving there too early or being on a long-haul layover, an experience that is relaxing, as opposed to frustrating.
How Lounge Buddy works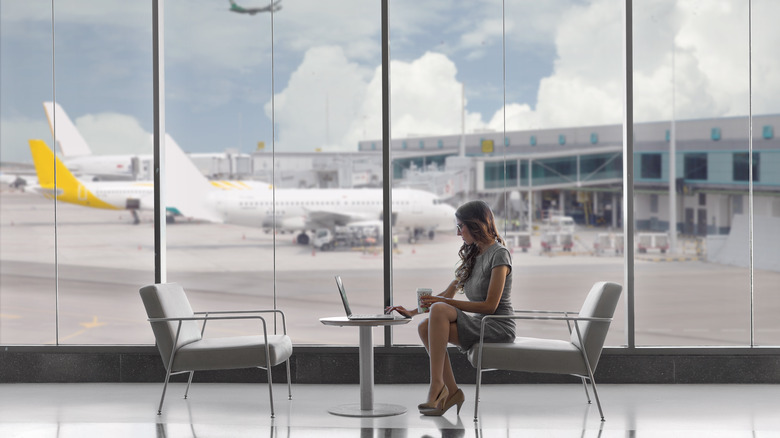 El Nariz/Shutterstock
Lounge Buddy is both a website and an app. To best utilize all it has to offer, download the app to your phone, and keep it in mind when on your next adventure.
Before traveling, once you know which airport(s) you will be traveling through, simply open the app, utilize the search bar to type in the airport you want a lounge in, and Lounge Buddy will list all of your options by terminal. To get every minute's worth of your lounge time, know which terminal you will be traveling through before heading to the airport (which is easy to do by simply Googling or visiting the airport's designated webpage).
Lounge Buddy will also list which amenities and inclusions are at each designated lounge. This could be standard offerings such as Wi-Fi, snacks, and flight monitors, but it can also list features such as premium food, wine and liquors, and even showers. Lounges are a great way to utilize those extra hours in the airport, whether it's to get some work done or to kick back and relax with a glass of bubbly and a bite to eat.
How to actually get into an airport lounge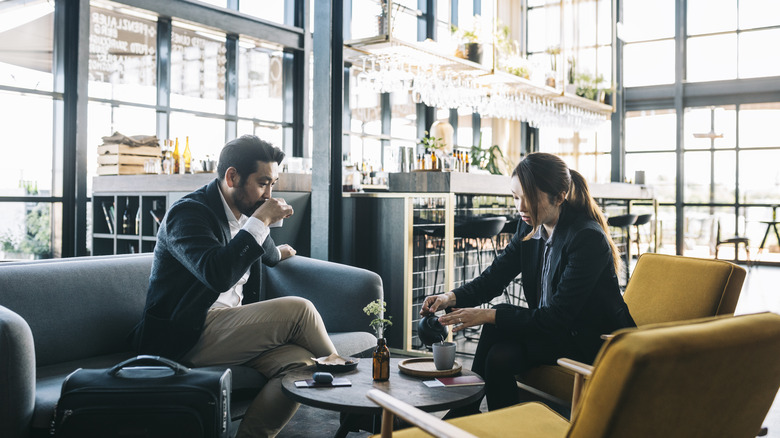 Visualspace/Getty Images
If you've never been to a lounge before, this information might feel foreign or even useless. Getting into a lounge does not require some special magical status. For many places, just about anyone with a boarding pass can get into one. Several airport lounges sell day passes, and Lounge Buddy offers that information. For example, the Air India Maharajah Lounge at New York's John F. Kennedy (JFK) Airport has a disclaimer on Lounge Buddy that states, "Walk-ins accepted, from $45 per traveler." $45 is a low price to pay for unlimited snacks, food, drink, and Wi-Fi compared to average airport costs.
Some credit cards, such as Chase Sapphire Reserve, include lounge access through Priority Pass. Priority Pass gives members access to over 1,400 lounges worldwide, and even without the Chase Sapphire Reserve card, an annual membership starts at $99/person. If you're a frequent traveler, a membership is well worth looking into.
If you are flying business or first class with an airline alliance, such as Star Alliance or SkyTeam, you likely have lounge access. This is something worth checking prior to travel. If you have status with an airline or an airline credit card, check to see if it includes lounge access. In most cases, it does.