Why This Outer Banks Beach Is A Yearly Favorite For Family Vacations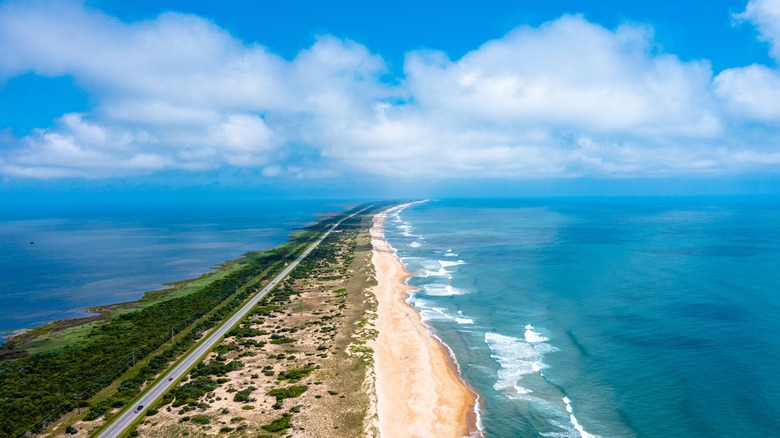 Kyle J Little/Shutterstock
According to National Park Service, North Carolina's Outer Banks welcomed over 3 million visitors to Cape Hatteras National Seashore in 2021. When you hear that number, you may envision bumper-to-bumper traffic, nightmare parking, and navigating crowded beaches. After (finally) finding parking, you unsuccessfully juggle sundries and desperately search for a patch of sand between a sea of umbrellas, coolers, blankets, and sunbathers. You then begin to hear the sand-and-sun-induced pouts from below. It's the kids. The idea of a crowded beach is not a relaxing one.
But an Outer Banks family vacation is not the sun burnt-faced setting that makes beach vacation movies so cringy. The sprawling Cape Hatteras National Seashore is approximately 70 miles long, stretching from Nags Head south to Ocracoke Island. While small villages sparingly dot the coast, you'll find miles of serene, uncrowded shoreline. Usually, 3 million annual visitors would translate to a less-than-relaxing beach vacation. But the Outer Banks, locally known as the OBX, can accommodate your idealistic vision of a peaceful family vacation.
Plan an Outer Banks family vacation to fit your style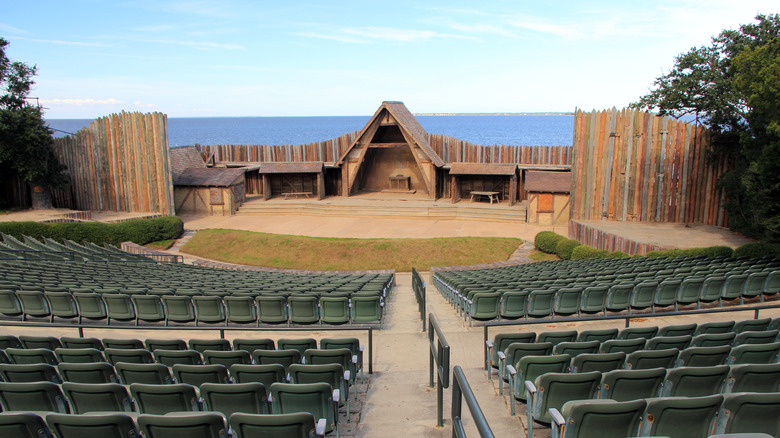 William Silver/Shutterstock
About seven miles north of Nags Head, you'll find the Wright Brothers National Park, where Wilbur and Orville Wright first successfully flew an aircraft in 1903. From the top of the memorial, you can enjoy spectacular views of the coastline, and the onsite museum is an awesome walkthrough for history buffs. From Nags Head, you're also a quick drive from Roanoke Island. Here, kids can see the 285,000-gallon shark tank at the North Carolina Aquarium, or you can plan a family outing to catch a performance of the Lost Colony, an outdoor musical that reimagines the plight of the island's first English settlers.
If you appreciate the slower pace of a beach vacation, then the south barrier islands of the national seashore may be more your speed. On Hatteras Island, the villages of Buxton and Fresco mix natural beauty with plenty of dining and boutique shopping options. The area of Cape Hatteras is also world-renown for its kite surfing and fishing. If you'd like quick access to both the north and south ends of the shoreline, you may enjoy staying in the villages of Avon or Rodanthe. Along with the quant beauty of both villages, you'd enjoy quick access to both the north or south for a day of exploring. You can even stay in the house from the movie the "Nights of Rodanthe," which towers over the shoreline.  
Dr. Beach prescribes Ocracoke Island for your family vacation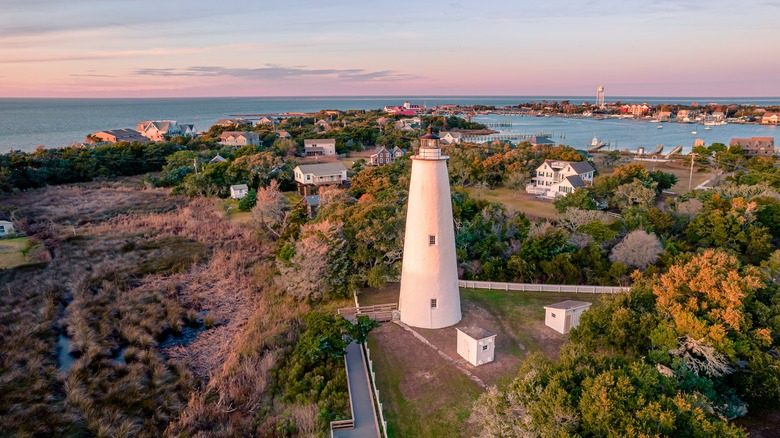 Chansak Joe/Shutterstock
While the entire Outer Banks seashore can offer an ideal family vacation setting, Ocracoke Island may be in a class of its own. A mix of natural beauty, recreation, village amenities, and historical lore, the island is only accessible by ferry. Ocracoke Island is located at the very southern tip of the Cape Hatteras National Seashore. To get there, you'll actually sail the waters where Blackbeard the Pirate was finally captured, per Time.
The village itself is known for its excellent seafood restaurants, galleries, and boutique shops, and the preferred mode of travel is via bike or golf cart, making exploring the island a fun adventure. Be warned, however, that Ocracoke also seems to have an ice cream parlor or "fudgery" on every corner. The kids will surely point them out.
Dr. Beach, a coastal expert and professor at Florida International University, actually ranked Ocracoke Island as his favorite beach of 2022, according to Forbes. While Dr. Stephen Leatherman's (aka, Dr. Beach's) opinion on beaches is certainly subjective (although appreciated by many beach enthusiasts), after vacationing in Ocracoke Island, it may be difficult to argue with the good doctor.