The Florida Beach Town Recently Named Best For Surfing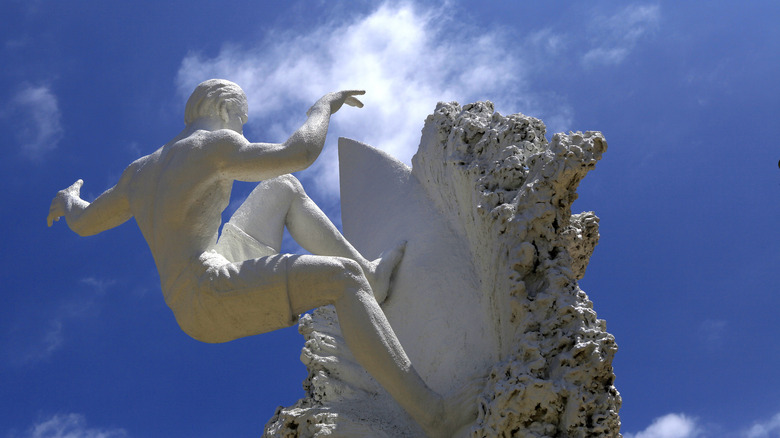 Isogood_patrick/Shutterstock
Located an hour east of Orlando, Cocoa Beach on Florida's Space Coast serves as the gateway to Cape Canaveral and Kennedy Space Center. Cocoa Beach also served as the launching pad for one of the greatest surfers of all time. And saying "one of" the greatest is only an exercise in diplomacy. The overwhelming consensus of any surfer and industry insider will agree that Kelly Slater is the greatest of all time, using any metric. And Slater learned to surf at Cocoa Beach — recently rated by ParkSleepFly as the USA's top surfing spots.
When thinking of surfing hotspots in America, most think of Oahu's iconic North Shore breaks, Half Moon Bay's massive maverick swells, or the consistent SoCal waves of Huntington Beach, San Clemente, and La Jolla. It's no secret, in terms of surfing destinations, that America's East Coast is a bit of an afterthought.
Sure, Ocean City in New Jersey and North Carolina's Outer Banks pump good surf on occasion, but again, most East Coast spots are blips on the radar. However, instead of a footnote of Kelly Slater's legacy, Cocoa Beach has become an increasingly celebrated surfing destination on its own.
Cocoa Beach has plenty of breaks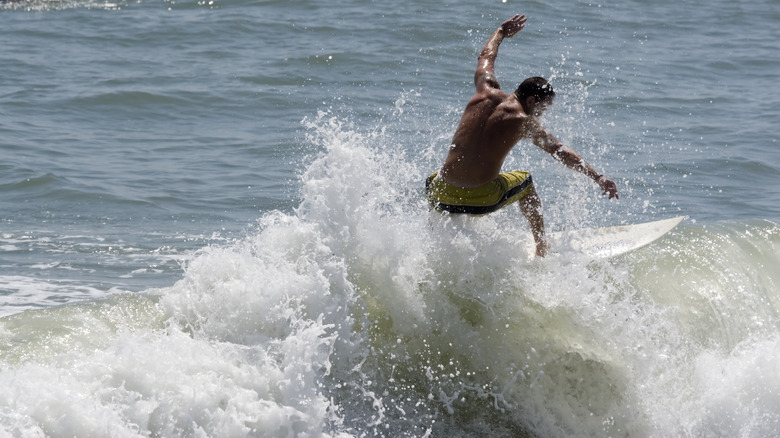 Joe Stone/Shutterstock
One of the biggest differences between surfing on the East Coast and other American surfing destinations is the frequency of quality waves. East Coast surfers typically cut their teeth (and their cutbacks) on "slop," while West Coast waves offer surfers pretty consistent lineups for days, weeks, or months.
This isn't a dig on East Coast surfing. Slop can still be fun to surf, and surfing less-than-stellar waves can obviously create phenomenal surfers. In 2022, East Coast-bred Slater won his eighth Pipe Masters and 56th career title, so let's not knock East Coast sets.
While Cocoa Beach doesn't offer consistent waves like SoCal, the area's breaks are comparatively better than other East Coast spots. Most first-timers will head straight to the waves by Westgate Cocoa Beach Pier, but locals typically prefer the less-crowded beaches found downtown or at 2nd Light Beach.
Surfing enthusiasts should also check out legendary First Peak at the Sebastian Inlet State Park, where Slater learned to surf. Even if it's not surf-able, First Break is an iconic spot that's produced a whole generation of professional surfers.
Things to do if the surf is flat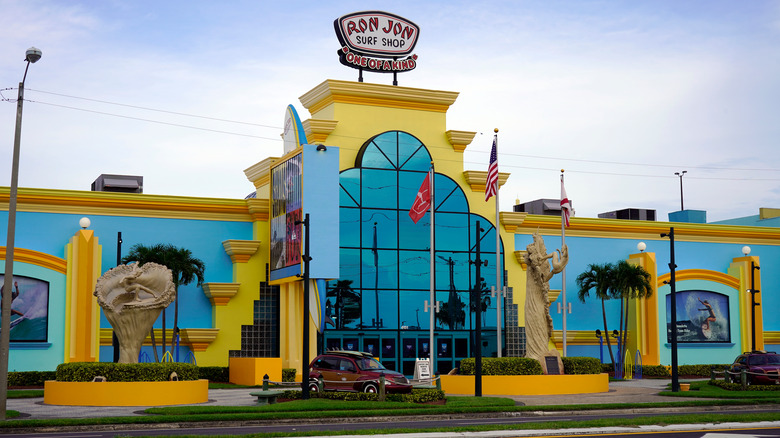 JennLShoots/Shutterstock
If you visit the area and it's flat (East Coast), there's still plenty to do in Cocoa Beach for surfing enthusiasts. Make sure to check out the Florida Surfing Museum, which celebrates the history and heritage of East Coast surfing. Located in the Ron Jon Surf Shop Complex, which is its own attraction, the museum features permanent and temporary exhibits that chronicle the history and culture of the area's surfing scene.
If you need some new gear, then browse the massive Ron Jon Surf Shop Complex. The original Ron Jon is thought to be one of the largest surf shops in the world (at least according to its website), and the shopping complex welcomes around two million visitors per year. And if the waves look friendly enough for learning, the shop offers board rentals and surf lessons. You may not become an 11-time world champion like Kelly Slater, but who knows? There's obviously something in the water at Cocoa Beach.