Fun US Destinations For A Labor Day Weekend Getaway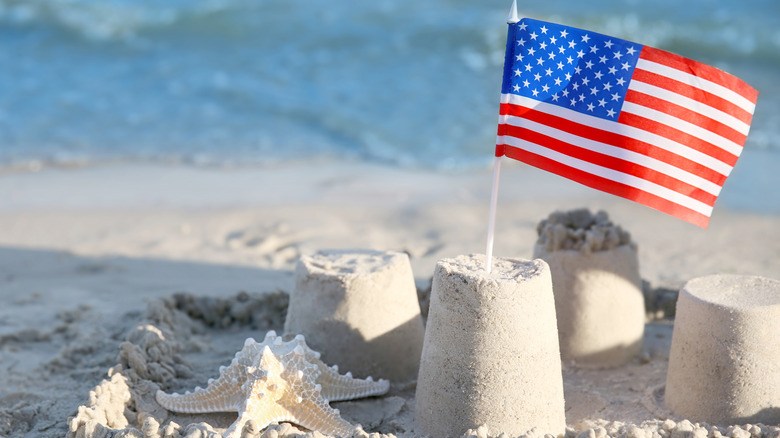 Africa Studio/Shutterstock
Labor Day weekend is the perfect time to commemorate the end of almost everyone's favorite warm season and enjoy a multi-day holiday. From road trips and far-off family outings to lively day trips and last-minute escapes, there are numerous ways to celebrate the unofficial close of summer. Whether you want to spend those precious last few days at the lake, on a beach, exploring new terrain, or simply relaxing, there are definitely more than a few spots to consider.
Of course, with Labor Day fast approaching, figuring out your mini-vacation details for your long weekend extravaganza sooner rather than later is a must. Still, with so many options across the country that cater to both travelers and vacationers alike, the good-time possibilities are practically endless. So, to help get the ball rolling and choose your own adventure, here are several fun U.S. destinations for a Labor Day weekend getaway you will never forget.
Mystic, Connecticut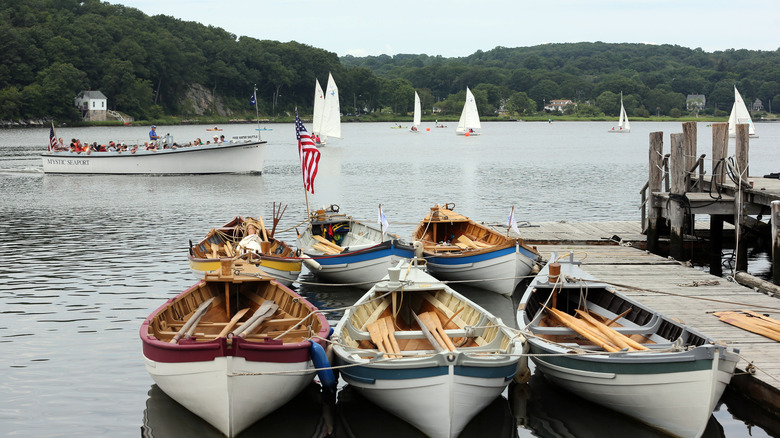 Tim Clayton - Corbis/Getty Images
For most people, Mystic, Connecticut is synonymous with the iconic Mystic Pizza restaurant. But that's not all this little coastal town has to offer. With a wealth of tourist activities on land and by sea, Mystic is the quintessential holiday destination. Here, Labor Day weekenders can enjoy everything from exploring Mystic's historic downtown area and partaking in some good old-fashioned recreation at the Mystic River Park to perusing this lovely little town's many museums, including the Mystic Seaport Museum and the Mystic Museum of Art (MMOA).
There is also a plethora of tours and sights to see when in town. So after a little rest and relaxation in Mystic, make sure you check out this destination's notable landmarks, stunning architecture, fascinating aquarium, and unique landscape. And history lovers, in particular, should schedule some time in Olde Mistick Village for colonial-style shopping, entertainment, and more. Overall, Mystic is the perfect go-to for anyone looking to experience that small-town feel. Plus, with incredible coastal scenery, fine dining, ample accommodations, and a diverse range of activities for the whole family, an exciting Labor Day weekend here practically plans itself.
Martha's Vineyard, Massachusetts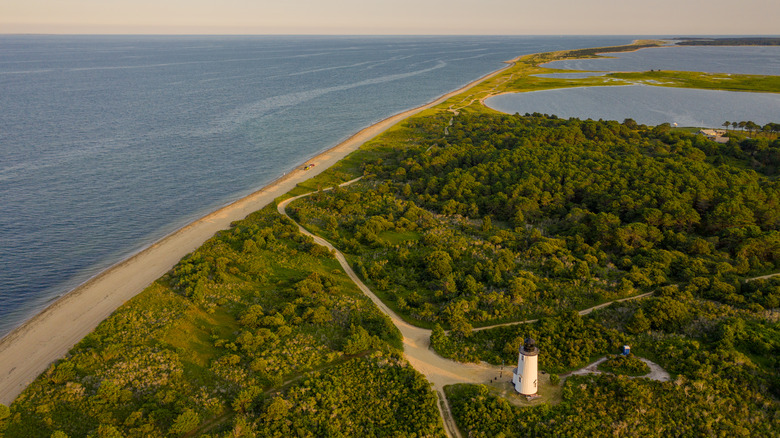 Tony Pullar/Getty Images
Yet another wonderful East Coast destination for Labor Day weekenders is Martha's Vineyard. Located just south of Cape Cod in Massachusetts, Martha's Vineyard is summer holiday-making at its finest. Typically from Memorial Day to Labor Day, the Vineyard is abuzz with visitors and excitement since this particular timeframe is considered this little isle's peak tourism season. That said, Labor Day weekend is an excellent time to experience all Martha's Vineyard has to offer.
Delivering everything from seafood to scenery, this gorgeous island is a delightful holiday just waiting to happen. What's more, Martha's Vineyard is brimming with points of interest, including the gingerbread cottages in Oak Bluffs, iconic summer homes in Edgartown, the "Jaws" Bridge, Gay Head Lighthouse, miles of pristine beachfront, and some of the best restaurants around. And this is just the tip of the iceberg. With Martha's Vineyard's lively downtown, its own distinctive take on New England culture, a rich history, quaint shops, more than a few possible celebrity sightings, and countless recreational activities, you can be sure to leave no stone unturned when celebrating summer's end here.
Sedona, Arizona
arboursabroad.com/Shutterstock
Sedona, Arizona is a hiker's paradise and an excellent getaway spot for weekenders craving some rugged adventuring paired with some much-needed pampering. In fact, Labor Day weekend is the perfect time to escape the hustle and bustle of it all by heading to Sedona and enjoying the great outdoors. With an impressive desertscape, stargazing tours, a charming city center, lovely spa resorts, plus an incredible arts and cultural scene, a truly well-balanced holiday awaits.
In addition to all of this, Sedona has quite a reputation when it comes to health and wellness. From spiritual tours, guidance, and enlightenment to yoga, meditation, healing therapies, and more, this breathtakingly beautiful destination is great for the mind, body, and soul. In terms of accommodations, Sedona visitors can opt for world-class lodgings that fit every budget or immerse themselves in all the surrounding beauty via a campsite stay. This lovely gem also has fine dining, lively entertainment options, phenomenal shopping, and ample day-trip opportunities, which you can partake in over the long weekend if you so choose. No matter what you get up to in Sedona, one thing is for sure: You are in for a real treat.
Malibu, California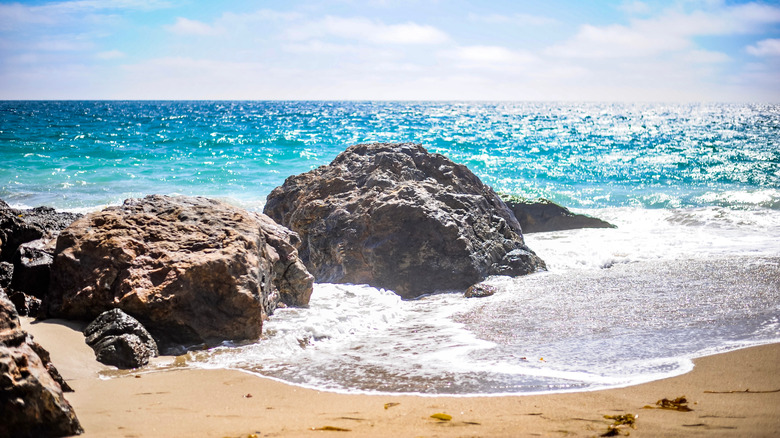 Strand Malibu Productions/Shutterstock
Beach lovers should set their sights on Malibu, California, especially if the goal on their Labor Day weekend getaway is to take advantage of golden sandy beaches and book lavish stays. For aspiring surfers, Surfrider Beach is the perfect beginner-friendly surfing destination. Besides relishing in miles and miles of beautiful coastline, visitors can also spend some time traversing Malibu Creek State Park. With more than a few multi-use trails and famous movie set ruins dotted about this expansive state park, outdoorsy folks who prefer to keep their feet on land can still have a fun-filled adventure in Malibu.
Alternatively, if you want to take it easy during the long weekend, then you should check out some of the many attractions like the Getty Villa, which just so happens to be a free art museum with untold wonders. You can also marvel at celebrity homes via a guided tour, or stop by iconic spots like the Malibu Pier. Other leisure activities to add to your Malibu Labor Day weekend celebration include tastings from wineries such as the Strange Family Vineyards, Summer Somewhere Wines, and Admirable Wines. And while savoring bold local wines, do yourself a favor and indulge in Malibu's thriving culinary scene too.
Seattle, Washington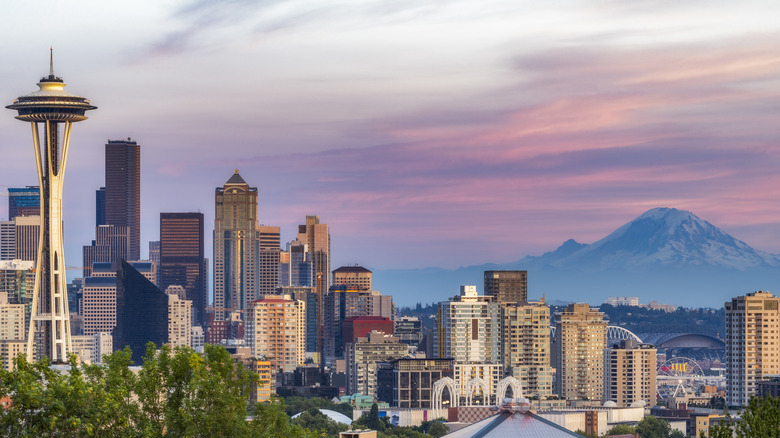 Chinaface/Getty Images
Likewise, nature lovers will be delighted with a long weekend in Seattle, Washington. With the ocean nearby, mountain ranges, ample farmlands, lush rainforests, deserts, and a truly action-packed cityscape, going to Seattle for a Labor Day weekend vacay is a fantastic way to appreciate summer in all its forms. Once you have thoroughly reconnected with the great outdoors, you can marvel at the skyline atop the Space Needle, book an underground tour of the original city, spend a few hours at the famous Pike Place Market, or visit one of Seattle's overlooked must-see attractions.
Moreover, since Seattle is the birthplace of a whole genre of music, it is not too surprising that several Labor Day weekend music festivals are happening in the Emerald City. Big shows that you do not want to miss here include the Bumbershoot Arts & Music Festival as well as the Washington State Fair, featuring a concert series, rides, and fanfare. The Oak Harbor Music Festival, meanwhile, showcases all genres with 30-plus bands. There are also a handful of other amazing festivals in honor of Labor Day, like the Labor Day Half, a half-marathon and all-night party; and the Evergreen State Fair, with deep-fried Twinkies, a demolition derby, and more.
Chicago, Illinois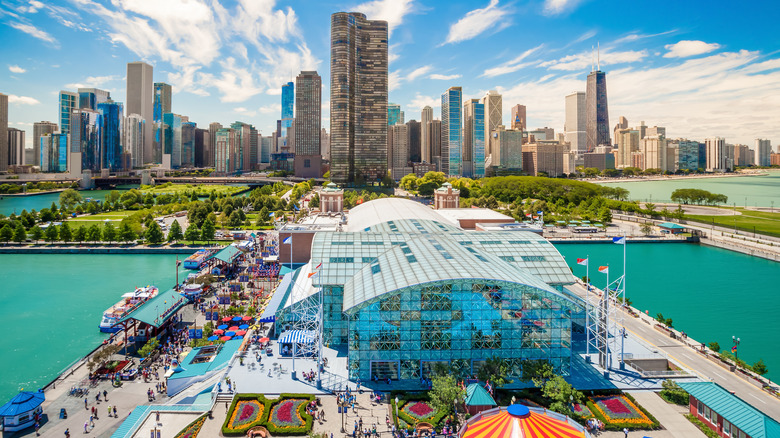 f11photo/Shutterstock
Chicago is one more iconic destination that knows how to put on a wonderful show. From Chicago's festivals and parties to cruises and art exhibitions, domestic wanderers will not be disappointed when visiting the Windy City this holiday. Not only does a Labor Day weekend trip to Chicago promise fun beyond your wildest imagination, but a getaway in this city also means you get to experience it all — diverse neighborhoods, delicious cuisine, stunning architecture, must-see sporting events, and countless tours.
What's more, the city offers visitors quite the nightlife scene with its many rooftop bars, including Devereaux, Z Bar, and the LH Rooftop. Chicago is also home to a wide array of trendy restaurants, world-class museums, grand theater productions (outdoor movies after dark are a nice alternative if you are not a fan of the stage), and pulsating nightclubs. So Chicago visitors can definitely expect to live it up this Labor Day. Similarly, during the daytime, fun-seeking weekenders can make the most of Lake Michigan and outdoor spaces like Millennium Park and Navy Pier. And if you love jazz music, then you should absolutely check out the Chicago Jazz Festival and the Labor Day Jazz Festival.
Outer Banks, North Carolina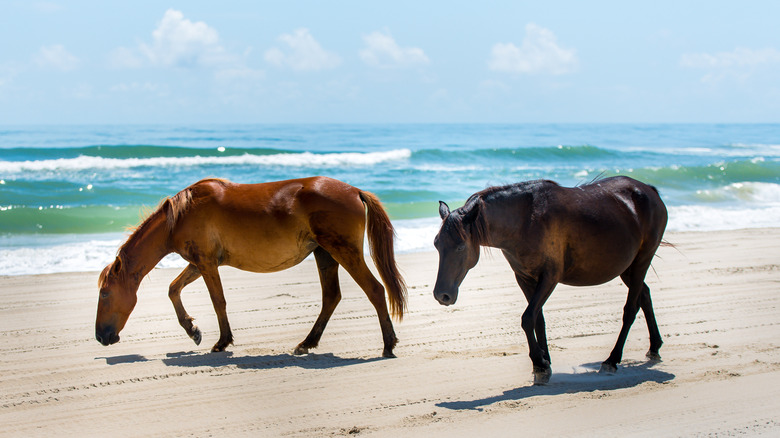 LEVAI/Shutterstock
For travelers looking to mix and mingle with other like-minded people this Labor Day weekend, the Outer Banks of North Carolina is worth considering. This area typically gets a little busy around major holidays, especially during Labor Day. But one look at this chain of barrier islands and you will quickly see why. Thanks to this paradise's gorgeous beaches, brilliant ocean vistas, welcoming southern hospitality, charming seaside towns like Manteo and Duck, and ample tourist activities, there is undeniably loads of fun to be had in the Outer Banks.
That said, whether you are a boater, a history buff, a seafood lover, a wildlife watcher, or just someone who loves summer vibes on the beach, the Outer Banks has something for everyone. A few notable long weekend excitements to check out when visiting include Jockey's Ridge State Park, the Wright Brothers National Memorial, "The Lost Colony" outdoor production, the Graveyard of the Atlantic Museum, and the Wild Horse Adventure Tours — just to name a few. Plus, several holiday happenings, like the End of Summer Labor Day Blast and the All American Labor Day Beer Mile, are sure to keep you well entertained.
Cannon Beach, Oregon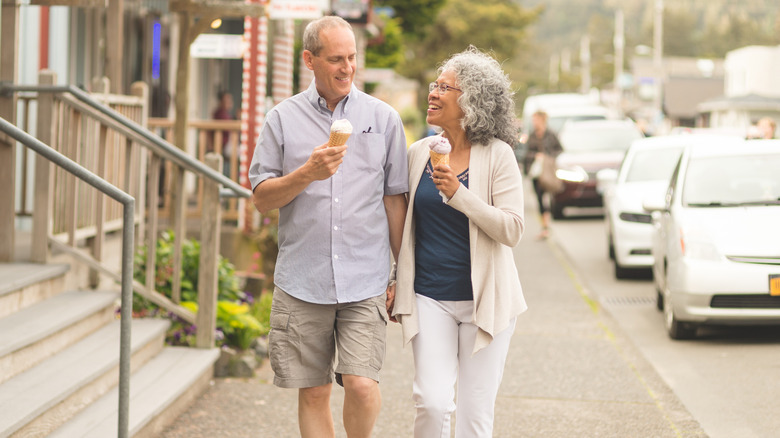 Fatcamera/Getty Images
Cannon Beach, Oregon is a great U.S. coastal destination that also offers visitors ample activities, phenomenal scenery, and all the makings of a joyous vacation, particularly for couples. Though on the smaller side, this city is truly a hidden gem on the West Coast. Roughly less than 80 miles from Portland, Cannon Beach is a seaside retreat with great restaurants, lovely cottages, bustling markets, art galleries, and even its own claim to fame: Haystack Rock.
A must-see larger-than-life rock formation, Haystack Rock is actually part of a National Wildlife Refuge that should be on everyone's bucket list. Once you have taken in the dramatic views of this monolith, more natural beauty, including waterfalls, forests, and tide pools, awaits in popular outdoor spaces like Oswald West State Park, the Hug Point State Recreation Site, and the Tolovana Beach State Recreation Site. And after all that stellar nature exploration, Cannon Beach visitors can make their way downtown for some delightful shopping, top-tier dining, a leisurely stroll, possibly a little theater-going at the Coaster Theatre Playhouse, and a wealth of varied entertainment.
Galveston, Texas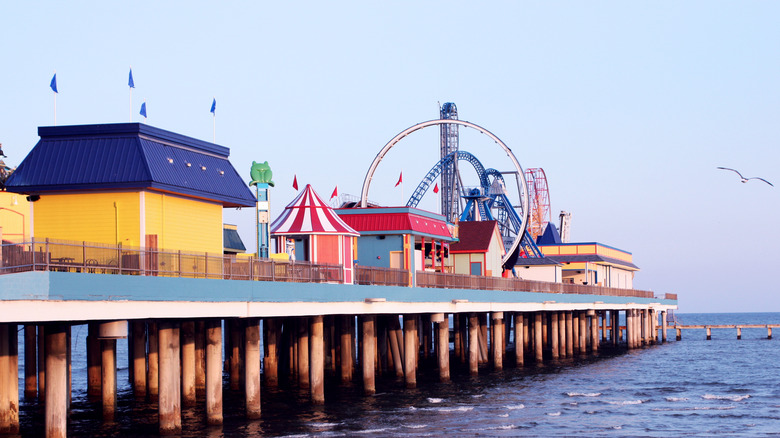 Kat-co/Getty Images
One of America's best budget-friendly southern vacation spots, Galveston is a true beach retreat with more than a few things going on Labor Day weekend. From daring adventure, ample beach time, and watersports to sandcastle-building lessons and yoga on the beach during sunrise, Galveston has a wide range of activities and attractions for out-of-towners in general. One popular point of interest in this sandy haven is none other than Moody Gardens. With approximately two million visitors annually, Moody Gardens is the epicenter for fun, and during Labor Day weekend, this beloved leisure facility and hotel only gets better.
This family-friendly establishment has educational programs, an aquarium, a rainforest, golf, ziplining, a waterpark, and even an amusement park. So, if you are looking for a place to take the family, Moody Gardens can accommodate you. On the other hand, there are a handful of beachfront resorts for vacationers who prefer an adults-only escape, including the San Luis Resort, Spa, & Conference Center; The Galvestonian; and the Grand Galvez. Galveston also entices and captivates Labor Day weekenders with its Galveston Island Historic Pleasure Pier, charming downtown district, and holiday-specific events.
Newport, Rhode Island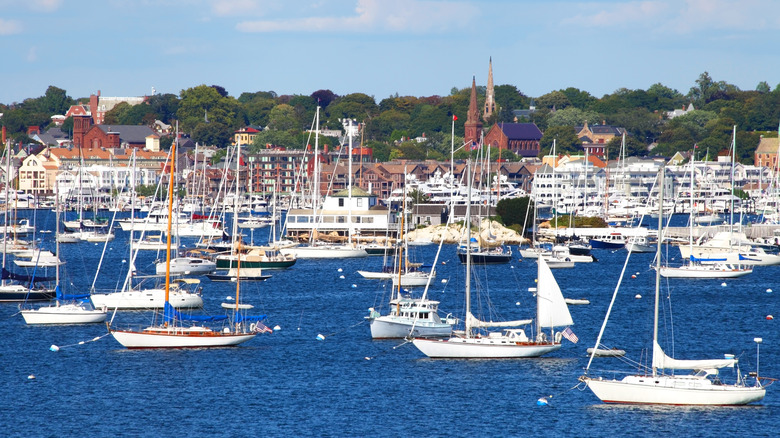 Denistangneyjr/Getty Images
Newport, Rhode Island is one of the top destinations for world-class sailing, appreciating Gilded Age mansions and architecture, and simply enjoying all things summer-related. For many domestic travelers, nothing is better than a summer holiday in Newport. So, celebrating summer's end in this quintessential city by the sea arguably makes sense. With free activities galore, seasonal concert series, parties, festivals, and all kinds of boating, Newport definitely knows how to give a proper send-off.
Of course, Labor Day vacationers can enjoy various other activities while visiting, like taking a picturesque stroll along the famous Cliff Walk or cruising down Ocean Drive for incredible views. Visitors can also make the most of their leisure time by sipping the latest vintages at the many local wineries, going on a distillery tour or pub crawl, and indulging in local fanfare. A bonus here is that there are more than a few ways to immerse oneself in this grand destination and explore this seaside town, including via bike, tour, rail bike, and trolly. So if you want an action-packed getaway with some New England flair, then Newport should be your go-to.
Lake Geneva, Wisconsin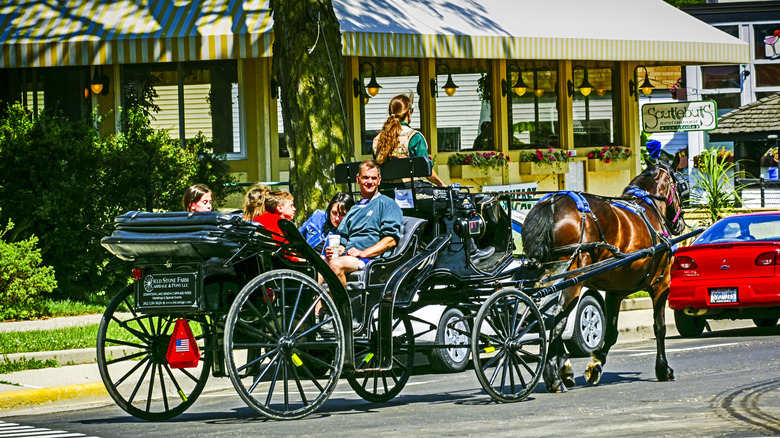 Csfotoimages/Getty Images
Right around the corner from Chicago, Lake Geneva is just one more great option for families and anyone looking to enjoy the great outdoors midwestern-style. Known for its crystal clear waters and bustling summer tourism, Lake Geneva is a little slice of heaven and a budget-friendly way to honor the close of the season. With resort pool parties, boating, water sports, and good old-fashioned cookouts afoot, a Labor Day weekend spent here is simply splendid.
Like other lake towns or U.S. cities by the sea, Lake Geneva pulls out all the stops for Labor Day weekend. So it definitely falls under the fun destination category. Lake Geneva visitors can relax with one last hurrah lakeside, explore this city's quaint downtown area, and check out holiday events with live music at Pier 290 or by attending such happenings like the Walworth County Fair. Overall, there are ample things to do and see in Lake Geneva for adults, plus parents and their kids. So, whatever you decide to do when in town for the holiday weekend in Lake Geneva, you can be sure it will be a fun time for all.
Moab, Utah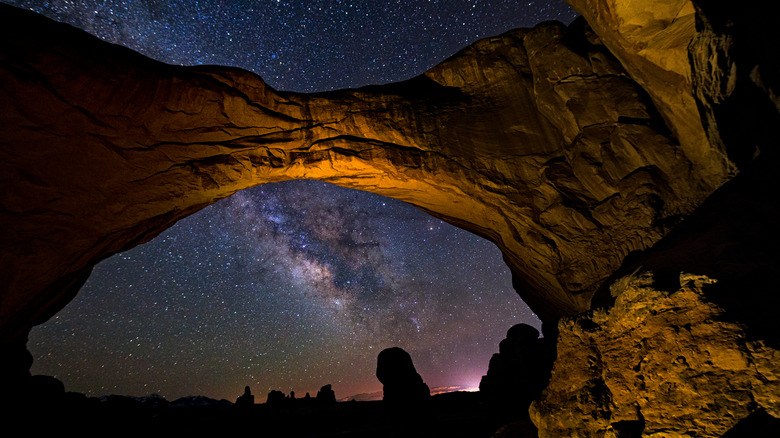 Adventure_photo/Getty Images
Moab, Utah may not have immediately made your shortlist of places to go this Labor Day weekend, but it is actually a destination that should not be overlooked. Moab is full of natural wonders, national parks, and outdoor recreation galore — making it another fun-filled locale to consider for a long weekend away. And early September is the perfect time to check out this red cliff-adorned desertscape.
Here, Labor Day weekenders desiring to keep things low-key can explore pristine wilderness, camp out underneath the stars, and have a front-row view of the Colorado River. On the flip side, Moab visitors looking for some thrills can delight in more than a few incredible outdoor spaces that are perfect for four-wheelers and off-roading, numerous hiking spots, several river tubing opportunities, towering landmarks to climb, and even an amusement park — Lagoon Amusement Park. Even if you couldn't care less about the holiday and just need an entertaining and peaceful getaway, then Moab awaits.
Las Vegas, Nevada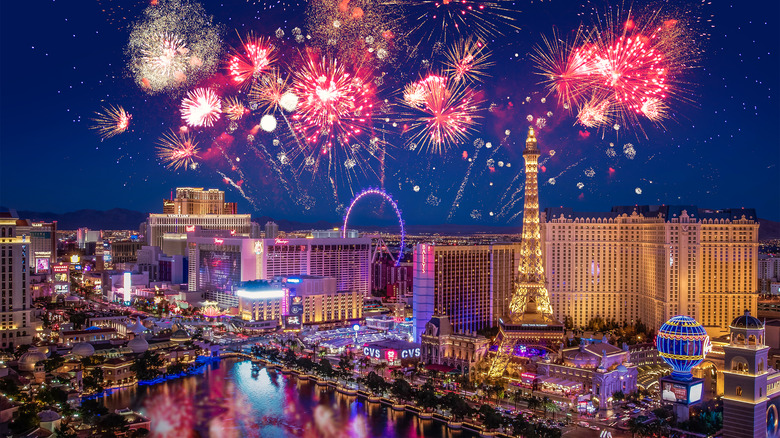 Marti Bug Catcher/Shutterstock
Last but not least, Sin City is the U.S. destination for travelers who are all about the good times, and there are plenty of things to do in Las Vegas that aren't gambling. From blockbuster parties and nightclub shenanigans to the Strip and all its entertainment options, Las Vegas undoubtedly takes the cake when it comes to Labor Day weekend getaways. With so much to do in general, coupled with holiday attractions, shows, and concerts, Las Vegas is one of the best places to be during any festive occasion.
What's more, even the dayclub scene in Las Vegas kicks it up a notch with all kinds of events for Labor Day. In fact, there are a few dayclubs with celebrity guests, musical performances, and strong cocktails worth checking out if you decide to party away the summer in Las Vegas. Party venues like the Encore Beach Club at Wynn Las Vegas, the Ayu Dayclub at Resorts World Las Vegas, and the Resort Pool at Red Rock Casino Resort Spa, for instance, are musts.
Ultimately, Labor Day weekend commemorates the U.S. workforce for their many social strides and economic achievements. But it is also the perfect time to see and do more with friends and family as fall approaches rather than just gear up for football season or grill in the backyard. So, why not make the most of your time off and explore any of these fun destinations in the U.S.?