America's Best Budget-Friendly Southern Vacation Spots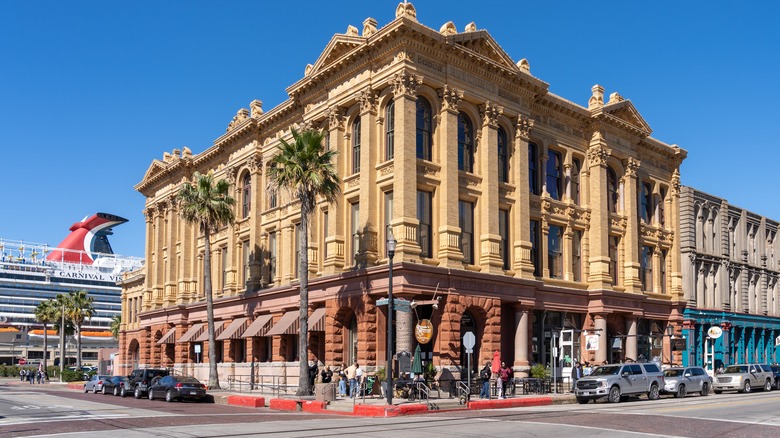 JHVEPhoto/Shutterstock
Money is tight for most people these days, and cutting costs is on everyone's to-do list. But even when you're budgeting, there's still room to have fun. You just have to be a bit more frugal and think outside of the box. 
Some of the southern U.S. states might not be your first thought when planning a getaway, but places like Louisiana, Texas, Mississippi, and Alabama are often more affordable and offer opportunities to explore new towns and cities, lounge by the beach, or hike in the mountains. Lodging can be considerably less expensive in these locations, and there are plenty of free or cheap activities that can entertain the whole family. So, there's no need to break the bank to pay for your next vacation. Head south to these budget-friendly destinations offering plenty of fun for not a lot of money.
Gulf Shores, Alabama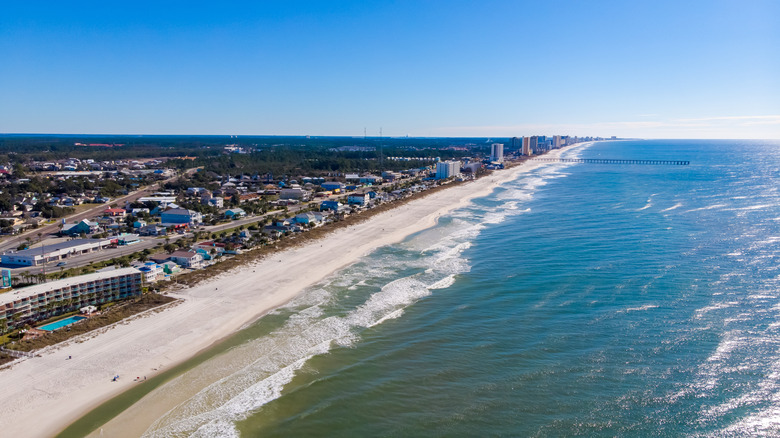 Pugalenthi Iniabarathi/Shutterstock
Beach vacations are usually pricey, but not in Gulf Shores, Alabama. One of the main attractions here is Gulf State Park with 6,150 acres of beaches, campgrounds, a lake, a nature center, cabins and cottages, and backcountry hiking and biking trails. USA Today recently named the Hugh S. Branyon Backcountry Trail at Gulf State Park the best recreational trail in the U.S. Stretching over 28 miles, this paved trail system traverses through numerous ecosystems and connects Gulf Shores to Orange Beach. Biking, hiking, rollerblading, jogging, rock climbing, and wildlife-viewing are some of the activities the whole family can enjoy — and entry to the park is free. You can also rent bikes for free through the park's bike-share program, which provides 50 bikes that can be used for up to three hours. 
If you'd rather relax on the beach, Gulf Shores has many miles of coastline to enjoy. Gulf Shores' main public beach aka Gulf Place is highly rated and offers volleyball courts, beach bars, lifeguards, restrooms and outdoor showers, and cheap, accessible parking. For something a little different, visit the Coastal Arts Center on Wolf Bay, a 10,000-square-foot gallery space showcasing the works of local artists. Admission is free, and for an additional cost, you can take a glass-blowing or pottery class. When you get hungry, seek out affordable eateries like Vinny's Pizzeria, the Original Oyster House, and DeSoto's Seafood Kitchen.
Gatlinburg, Tennessee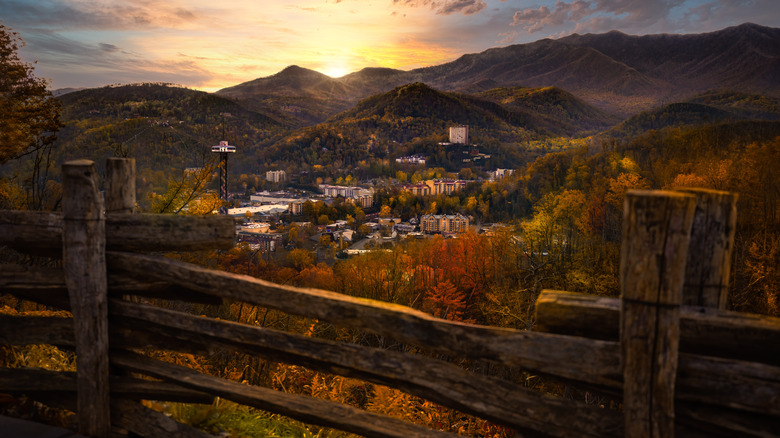 jdross75/Shutterstock
Nestled in the mountains in East Tennessee, Gatlinburg serves as a main gateway to the Great Smoky Mountains National Park. Spend your days exploring more than 800 miles of hiking trails through old growth forests, wildflower meadows, and waterfalls, and take in the stunning vistas. If hiking isn't your thing, you can also get great views in town from the Gatlinburg Space Needle and the Aerial Tramway, or walking across North America's longest pedestrian skybridge. Take a scenic drive along the Roaring Fork Motor Nature Trail, a 5.5-mile loop through old growth forests and past historic log cabins. Trailheads along this route lead to some of the park's many waterfalls. Cades Cove is another popular scenic 11-mile loop offering stunning views of the Smoky Mountains. Keep your eye out for white-tailed deer, coyotes, turkeys, and black bears, which can often be seen in the valleys. 
The town of Gatlinburg is pedestrian-friendly and perfect for an afternoon stroll from shop to shop. You can also walk along the Little Pigeon River, or access national park trails right from downtown. While you're walking, stop in for tastings at Ole Smoky's Barrelhouse Distillery or Sugarlands Distilling Co. Afterward, visit the highly rated Tennessee Jed's for affordable sandwiches and a southern favorite: Frito pies.
Jekyll Island, Georgia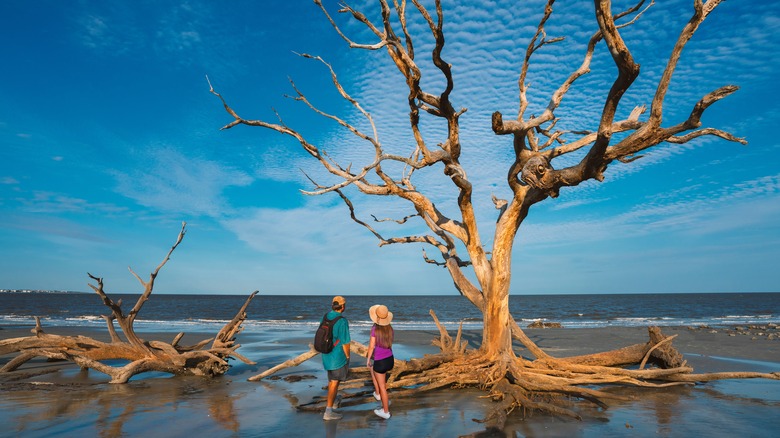 Margaret.Wiktor/Shutterstock
Jekyll Island's unique natural scenery with its iconic oak trees draped with Spanish moss makes it one of the most beautiful and photogenic destinations in Georgia. That being said, it's not as pricey as you might think. Search Airbnb and you'll find plenty of cute cottages and apartments available for rent for less than $100 a night. Settle in, then head to one of the island's beautiful beaches for sand, sun, and sea. Several beach parks, including South Dunes and Great Dunes, offer plenty of parking, restrooms, and picnic areas. And feel free to bring your furry friends, because all of Jekyll Island's public beaches are pet-friendly (as long as your pets are leashed!)
At dawn or dusk, head to Driftwood Beach, where decades of erosion have left behind remnants of once-living trees, creating a stark, otherworldly landscape. The massive Plantation Oak is a can't-miss attraction on the island. This centuries-old oak stands 112 feet tall and its limbs measure 128 feet across. Bring your bike or rent one and enjoy pedaling more than 24 miles of bike trails that will take you past dunes, beaches, and historic sites. If golf is your game, play a round at Jekyll Island Golf Club — Georgia's biggest public golf resort. After all that fun in the sun, head to the Beach House Restaurant + Taproom for refreshments and daily happy hour specials.
New Orleans, Louisiana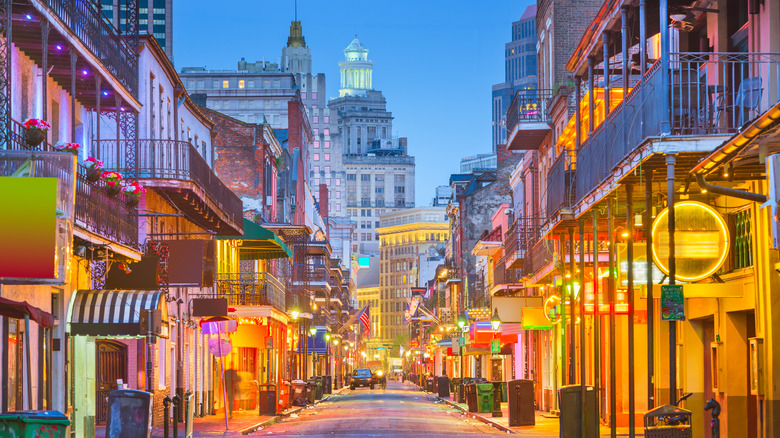 Sean Pavone/Shutterstock
Almost 1.5 million people flock to New Orleans each year for Mardi Gras, the lively celebration that turns the city into one big party. It's definitely worth experiencing, but if you're looking for an inexpensive getaway, it's not the best time to visit as prices on lodging and activities skyrocket. The rest of the year, New Orleans is an affordable small city that oozes character. Its historic center is the French Quarter, a charming neighborhood with colorful buildings and decorative balconies filled with plants and flowers. It's enough to spend a full day wandering the streets, taking in the architecture, and peeking into quaint shops and small boutiques. And don't forget to visit the city's many churches, including the St. Louis Cathedral, which is one of the oldest active Cathedrals in the United States. During hotter months, its cool interior is a welcome respite where you can enjoy the quiet and admire its tall stained glass windows and ornately painted ceilings. 
Across from the cathedral is Jackson Square, a pedestrian-only plaza where artists display their crafts. Musicians also showcase their talents, and at any given moment in the streets of the French Quarter, you might be surprised with an impromptu street performance — after all, you are in the city widely regarded as the birthplace of jazz. New Orleans also loves its food, so you must sample the city's favorites — po' boys, jambalaya, and muffulettas, to name a few — all of which can be found for cheap in small eateries throughout the French Quarter.
Greenville, South Carolina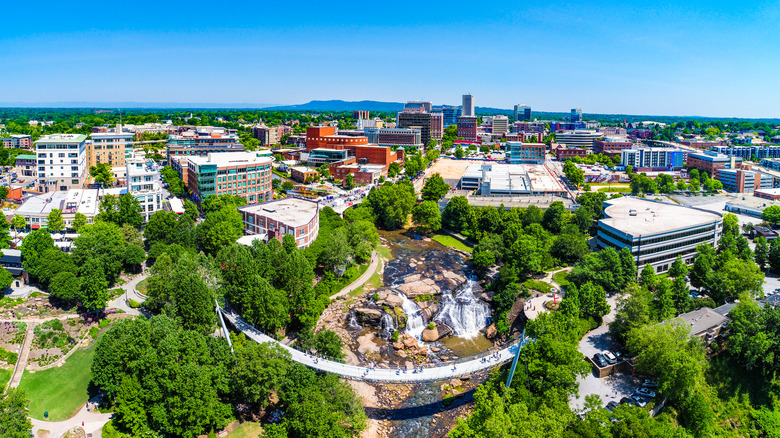 Kevin Ruck/Shutterstock
Greenville was named for General Nathanael Greene, but it could have just as well gotten its name for the verdant landscape that surrounds it, and its numerous parks and gardens. Just off the main street, Falls Park offers 20 acres of gardens, trails, picnic areas, scenic overlooks, and waterfalls along the Reedy River. Liberty Bridge, overlooking the park and the Reedy River Falls, appears to be floating with its single suspension cable. Running through Falls Park is the Swamp Rabbit Trail, a 22-mile walking and biking trail that links together a few of the city's attractions, including Unity Park and Cleveland Park. Downtown Greenville is pedestrian-friendly, with plazas, wide sidewalks, and outdoor cafes. Take a stroll down Main Street lined with small shops and boutiques. A free trolley with several routes offers an alternative way to get around and see different areas of the city.
One neighborhood not to miss is West Greenville. Sometimes referred to as the SoHo of Greenville, it has an artsy vibe with a unique design aesthetic, galleries, shops, and restaurants. The Greenville Center for Creative Arts in the Brandon Mill Complex hosts First Friday on — you guessed it — the first Friday of each month, when you can view exhibits from local and national artists, meet the creators, and get a glimpse of their studios. When your stomach starts to rumble, head to Gather Greenville, an inventive food court concept with numerous vendors, bars, and live music.
Eureka Springs, Arkansas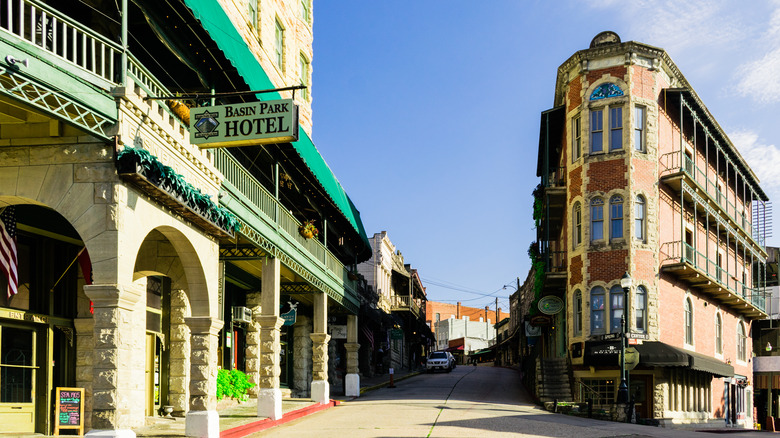 rjjones/Shutterstock
Tucked away in the Ozark Mountains in northwest Arkansas you'll find the tiny town of Eureka Springs, Arkansas, with a population of 2,220. Named for the spring waters that the original Native American inhabitants reportedly believed had healing powers, the town drew many Victorian-era visitors hoping to find health in its flowing streams and nearby lakes. Today, it's known for its historic district packed with well-preserved Victorian architecture. The downtown area is quaint and walkable, with plenty of restaurants, shops, and galleries. Eureka Springs lies along the Arkansas Art Trail, a self-guided journey through the state's arts and architecture. More than 400 artists call the town home, and the annual festival of the arts held throughout the month of May is a celebration of their crafts. If you miss the festival in May, you can always join the Second Saturday Art Gallery Stroll. 
No visit to Eureka Springs would be complete without a visit to one of its numerous natural springs, some of them located right in town. The Eureka Springs' Natural Springs Trail takes you past several springs and the small parks that surround them. The trail can be accessed from the parking lot of the Crescent Hotel. Just outside of town, you'll find endless natural beauty. Scenic parkways wind through forests, perfect for a long drive or motorcycle ride. Nearby Lake Leatherwood and Black Bass Lake offer opportunities for hiking, mountain biking, and boating.
Birmingham, Alabama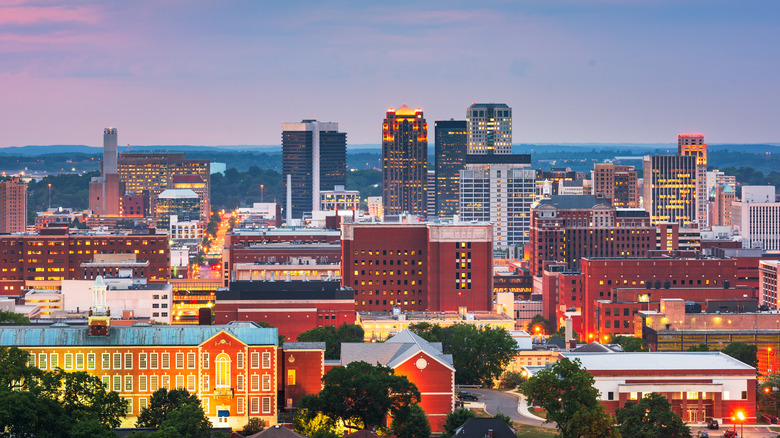 Sean Pavone/Shutterstock
The last several decades have seen Birmingham transform itself from a center of the steel and iron industry to a modern, cosmopolitan city. A revitalized downtown area and the influx of the medical research, banking, and service industries has led to Birmingham becoming one of the South's most vibrant cities. It's affordable, too, with the cost of living considerably lower than many of the nation's other urban centers. 
A wealth of free or cheap activities means a weekend stay won't break the bank. The Birmingham Museum of Art offers free admission to its collection of 25,000 works of art from around the globe. The Birmingham Botanical Gardens is also free to enter. Spread over 67 acres, there are at least 24 distinct gardens to wander through and admire the beauty of nature. Afterwards, you can take a walk through Birmingham's industrial history at the Sloss Furnaces, a national historical monument and the heart of iron production in the city. A self-guided tour will lead you to all the important sites across the 40+ buildings in the complex. To learn more about the city's history, visit one of its many historical districts, such as Morris Avenue/First Avenue North, an old warehouse district that's being transformed into a hip commercial and residential center. 
Galveston, Texas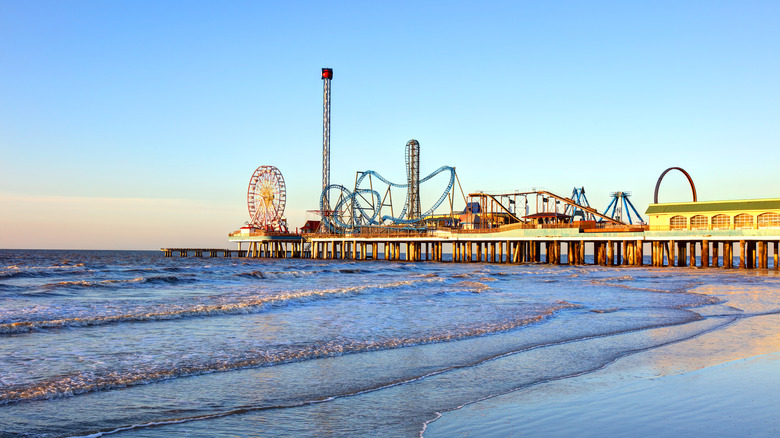 Denistangneyjr/Getty Images
Just 50 miles southeast of Houston, Galveston is easy to reach from a major airport, making it a great destination for a quick weekend getaway. The coastal city has a little something for everyone. Beachgoers will love exploring the island's 32 miles of coastline with its many different beaches — each offering a unique vibe to match any mood. If you're ready to party, check out East Beach the site of many outdoor concerts and other events throughout the year. Alcohol is allowed on this beach, unlike other beaches in the area, so you can catch a buzz while you catch some rays. One of the best choices for families is Stewart Beach, which offers lifeguards and family-friendly activities such as volleyball and sand castle contests.
Wildlife-viewing is also a top activity due to Galveston's location in the center of the primary migration route of birds traversing the Gulf of Mexico from the Yucatan Peninsula. Some of the best places for birding include the East End Lagoon Nature Preserve, Lafitte's Cove Nature Preserve, and Galveston Island State Park. You may also catch some wildlife on the free ferry ride to the Bolivar Peninsula. Enjoy the cool breezes and scan the waters for frolicking dolphins. Upon your return, take a stroll through The Strand, a commercial center with shops, museums, and restaurants. Stop into one of Galveston's many happy hours for cheap eats and drinks, including the all-day happy hour at Taquilo's Tex-Mex Cantina. 
Assateague Island, Maryland and Virginia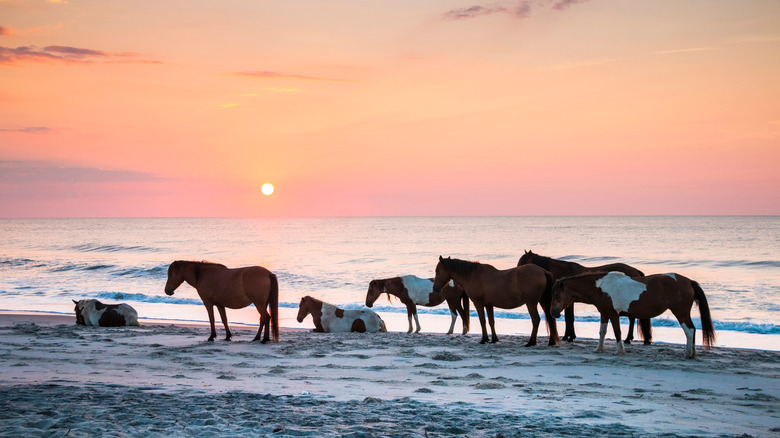 nathaniel gonzales/Shutterstock
If you don't mind roughing it a bit, camping is the best way to save money on vacation — and camping on Assateague Island off the coast of the Delmarva Peninsula on the Atlantic Ocean is a can't-miss opportunity. The island is best known and loved for its wild horses that have made a home on the 37-mile long stretch of coastline. In fact, they aren't actually wild, but feral. Their ancestors were domesticated animals that at some point were stranded on the island, forcing them to adapt to living in the wild. They are beautiful to watch, but visitors should always keep their distance and never feed them. Other large mammals live on the island, including white-tailed and sika deer and a small Asian elk species that was brought to the island in the 1920s. Several species of reptiles, thousands of shorebirds, and abundant marine life also make their home on the island. 
Fishing, crabbing, and clamming are popular activities — and catching your own dinner is certainly a good way to cut costs. You can also explore the island by foot or bicycle, with many miles of trails extending from Assateague to the neighboring island of Chincoteague, where you can explore the Chincoteague National Wildlife Refuge. The town of Chincoteague offers more comforts than Assateague, with its restaurants, shops, and lodging. 
Charlotte, North Carolina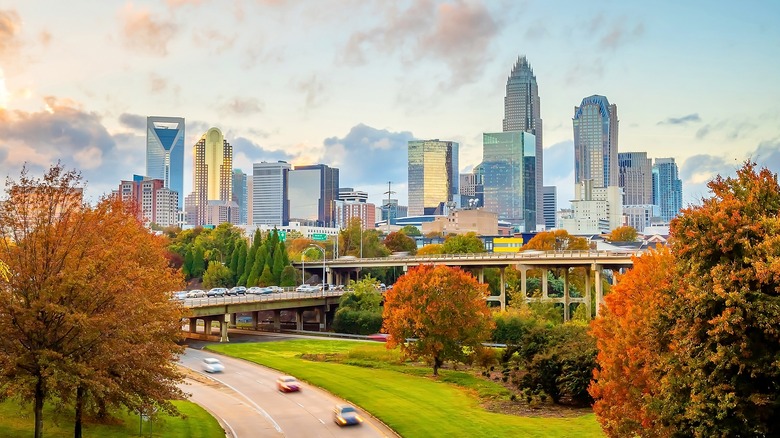 f11photo/Shutterstock
Let's start with the important stuff: Charlotte is home to numerous breweries, with new ones popping up regularly. While not the cheapest way to spend your vacation, hopping from brewery to brewery definitely isn't the worst way to pass your downtime. The good news is that with the Charlotte Brew Badge, which offers discounts at participating breweries, you can drink up without shelling out so much cash. If you're looking for a more family-friendly activity, Charlotte offers a ton of free and cheap options the kids will love. You can find outdoor movies and concerts around town, or check out one of the city's nature centers, such as the Reedy Creek Nature Center and Preserve in North Charlotte. Situated on 927 acres, it features live animals and hiking trails and frequently offers free activities, such as animal meet and greets and birding hikes. 
There are plenty of things to do in downtown Charlotte, which is actually called Uptown. The Bechtler Museum of Modern Art houses a collection of works from mid-20th century artists Picasso, Le Corbusier, Andy Warhol, and more. If you go on Wednesday between 5 p.m. and 9 p.m., admission is free. The Mint Museum Uptown, showcasing international art and design, is also free at that time. When you're ready to chow down, you can find cheap and tasty eats at top-rated spots Sabor Latin Street Grill, Yafo Kitchen, and Craft Tasting Room and Growler Shop.
San Antonio, Texas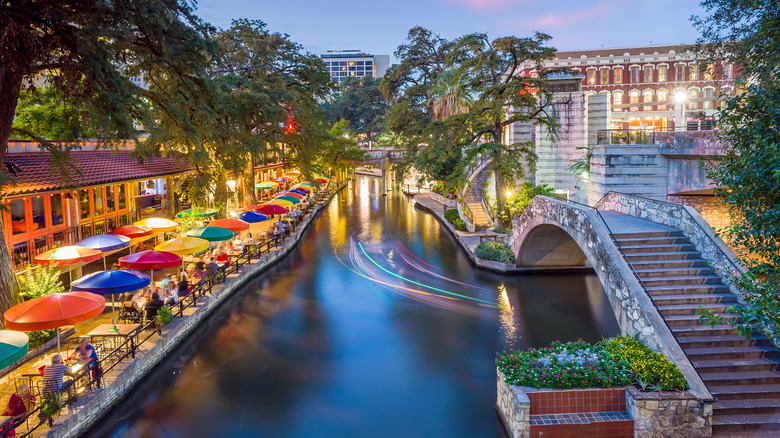 f11photo/Shutterstock
Love Venice, but can't afford the fare to Italy? Visit San Antonio's River Walk, called the Venice of Texas. The 15-mile path is composed of winding walkways and bridges traversing the San Antonio River lined with cafes, shops, and galleries. Special events throughout the year include artisan festivals, river parades, and live entertainment. The River Walk takes you past the Briscoe Western Art Museum, which showcases art and artifacts of the American West. 
From there, it's just a short walk to the Alamo, a historic Spanish mission and the site of the Battle of the Alamo in 1836. Spend some time exploring the church, gardens, and interactive exhibits, then walk a few blocks to visit another one of the city's historical landmarks, the San Fernando Cathedral. One of the oldest churches in the country, its architecture is a unique mix of Spanish Colonial and French Gothic. If you have the chance, come back at night to see "The Saga," a 7,000-square-foot projection of light and color onto the church's facade visually narrating San Antonio's history. Also in the historic district is Market Square — a multi-block Mexican market where you can find more than 100 vendors selling authentic crafts, clothing, and cuisine from South of the Border. Nearly every weekend, you'll also get to see free live music and dancing performances.
Dahlonega, Georgia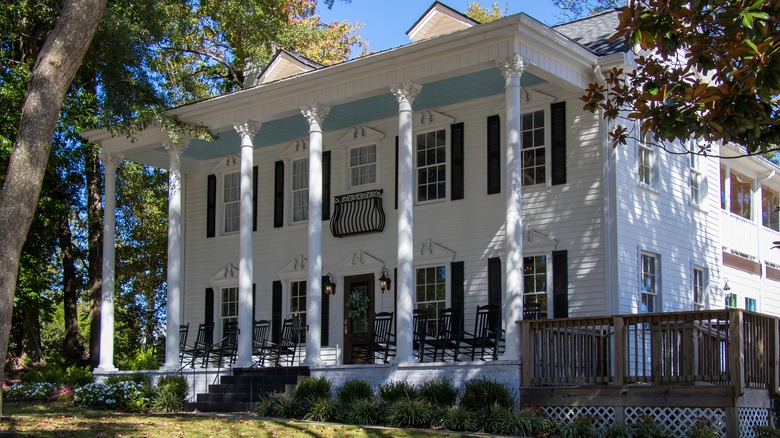 Jen Wolf/Shutterstock
Panning for gold, sipping wine, and hiking are just a few of the activities that await when you visit Dahlonega in the North Georgia Mountains. That's right, you can actually wade into the rivers and streams and possibly find yourself a few cents' worth of gold! Dahlonega was once a center of a gold rush, due to its location atop the biggest deposits of gold in the East. Most of it has been removed, however, so you're unlikely to strike it rich. You can learn more about Georgia's golden history at the Dahlonega Gold Museum located in the 1836 Lumpkin County Courthouse. 
The Dahlonega Butterfly Farm is a perfect family outing, where you can wander through the gardens and butterfly habitats and learn about their life cycle and importance to the environment. For an inexpensive way to get out on the river, try tubing on the Chestatee when the weather is warm, or rent a canoe or kayak on Lake Zwerner. If you prefer terrestrial activities, the Chattahoochee National Forest offers miles of backcountry trails. Or climb the staircase to the top of the 729-foot Amicalola Falls, the tallest falls east of the Mississippi. You can also access the Appalachian Trail from Amicalola Falls State Park and Lodge. Dahlonega is also the heart of Georgia's wine country, with several different wineries where you can sip and take in the picturesque scenery.