The Perfect Stargazing Tours To Do On Your Next Trip To Sedona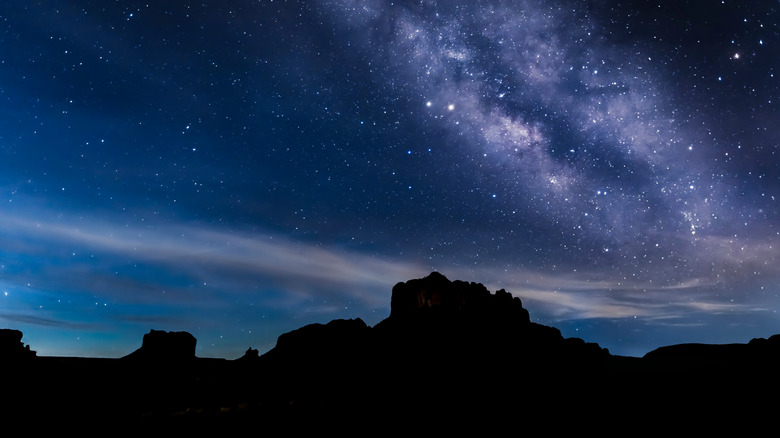 Kenneth Keifer/Shutterstock
Beautiful Sedona, Arizona has clear skies nearly year-round with plenty of sunshine during the daytime. At night, with very little light pollution in the area, it becomes the perfect place for stargazing. As an official Dark Sky Community, a designation given by the International Dark-Sky Association, it's something of a regional destination for stargazers.
The dark skies are also a point of pride among locals. The Sedona Chamber of Commerce & Tourism Bureau says the city's Two Trees Observation Area is a field where the Sirius Lookers — Sedona's astronomy association — often comes to view the night sky. Other popular areas include the 1.6-mile looping Baldwin Trail, Merry Go Round Rock, the Beaverhead Flat Scenic Overlook, Dry Creek Road, the Aerie Trailhead, and Fay Canyon. For those who want to do more than simply look up at the night sky, some places like Sedona Stargazing and the Enchantment Resort offer telescopes and tours, so you know what you're looking at.
Sedona Stargazing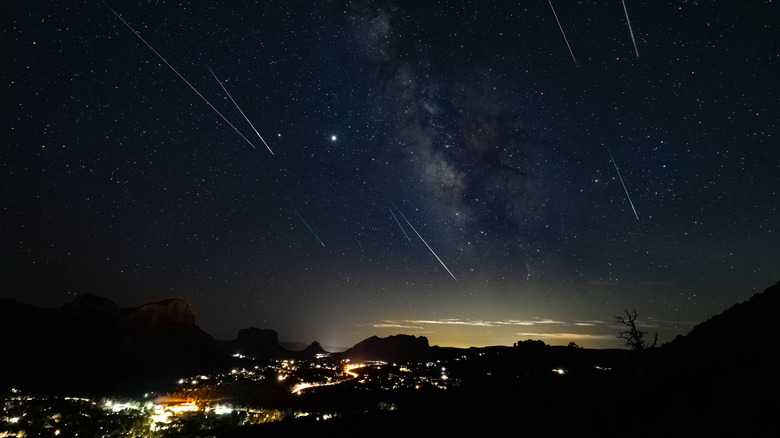 Diane Kulpinski/Shutterstock
Sedona Stargazing features guided tours by professional astronomers who are as engaging as they are knowledgeable. They have large telescopes and sophisticated laser pointers that show tour-goers many different parts of the night sky. Of course, not every object is visible every night, but Sedona's clear skies usually make for excellent sky viewing. Plus, the tour is offered year-round, ensuring limitless investigations into the celestial marvels above Earth.
The tours give an overview of constellations and their history. Then, you'll get your up-close look at six or more astronomical objects. Those who take the tour regularly get a telescopic view of the moon, shooting stars, planets, galaxies, star clusters, and much more. Prices range from $76 for children, $117 for adults, and $989 for private tours of up to six people. The tours begin at different times during the year and can change depending on the weather or other events.
Enchantment Resort and Lowell Observatory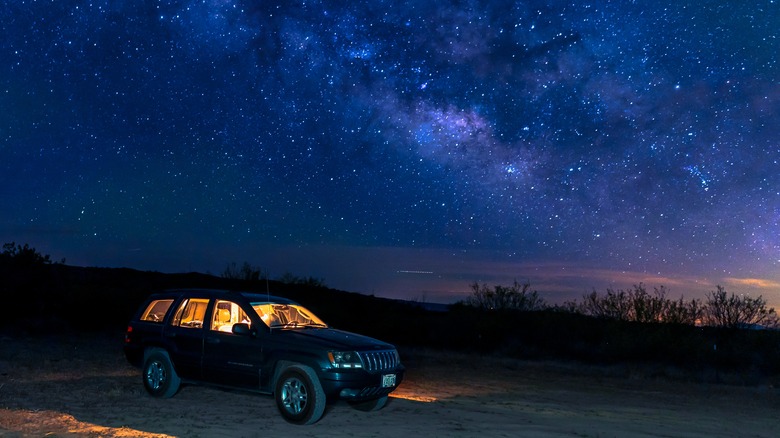 Manuela Durson/Shutterstock
At Enchantment Resort, hotel guests are treated to a similar experience. Patrons are invited to bring their cell phones to take photos through the telescope, and the events are complimentary every Tuesday and Saturday evening. Folks can also reserve private stargazing activities with astronomers.
If you don't want to take a stargazing tour or stay at a sky-friendly resort — or even if you do — the Lowell Observatory is a must-stop in Sedona. Open daily from 10 a.m. to 10 p.m., the observatory offers a multitude of talks and tours that could keep you there for all 12 hours.
There's the Story of Pluto Tour, a Constellation Tour, stargazing at the Giovale Open Deck Observatory, and so much more. Each of these is included in the cost of general admission. Special "Meet an Astronomer" events are also held throughout the year and are included in the entry price. Whether you decide to go on a tour, a resort stay, or on your own, you're sure to find a miraculous night sky in Sedona.