Best US Cities For Art Lovers To Visit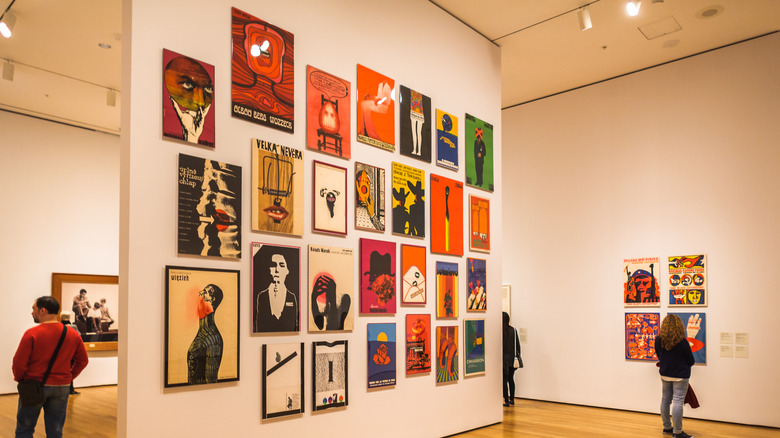 Anton_Ivanov/Shutterstock
There is no denying the fact that the U.S. is home to some of the most incredible works of art, museums, street art, and innovative spaces. In particular, when you think of art, a few places come to mind — and typically, New York, with its incredible gallery scene, San Francisco, with its thriving arts community, and Los Angeles, with its decadent yet eccentric art market, are at the top of the list. But if you happen to be an avid connoisseur of the arts, there are several other spots on the map to consider for your next vacation.
From small locales brimming with fascinating artwork to bustling cities with world-renowned art scenes, there really is no shortage of domestic destinations that offer thought-provoking exhibitions, grand sculpture gardens, art tours, and iconic symbols of creative expression. So if you want your next cultural getaway to provide ample opportunities to immerse yourself in all things art-related, then you definitely have some great options. In fact, here are the best U.S. cities for art lovers to visit that are sure to fit the bill.
New York City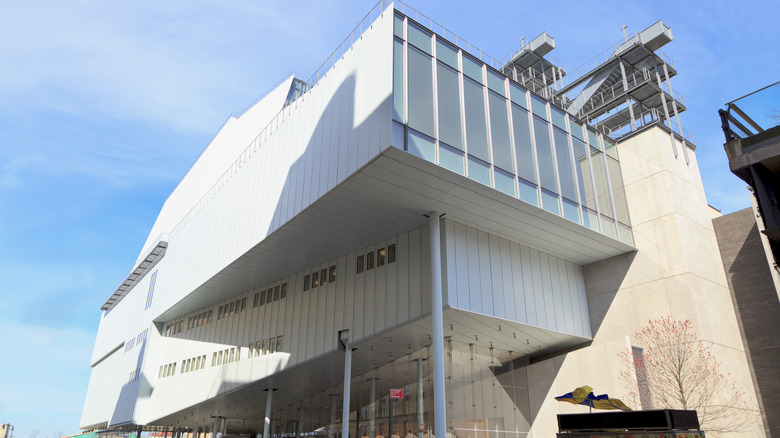 Mizoula/Getty Images
New York has built quite a reputation when it comes to the arts. With its legendary galleries, show-stopping museums, an abundance of cultural experiences, and more, New York City is always a must on any art lover's list. Some of the best spots in this city to marvel at art include The Metropolitan Museum of Art (Met), the Whitney Museum of American Art, the Museum of Modern Art (MoMA), and the Guggenheim — to name a few.
Besides these famous havens for art, New York City visitors in search of culture can also head on over to art-rich boroughs such as SoHo, Greenwich Village, and Chelsea for a truly spectacular time appreciating countless galleries. Here, art fans will find it all — contemporary paintings, sculptures, award-winning photography, fine art, minimalistic masterpieces, and then some. There is also a plethora of hidden gems, Instagram-able creations, street art, and architectural wonders practically around every corner in the self-proclaimed and longstanding center of the art world. Plus, with Broadway, endless inspiration, and every type of artistic expression one can think of on display here, New York is truly a cultural treasure that should be on everyone's radar.
San Francisco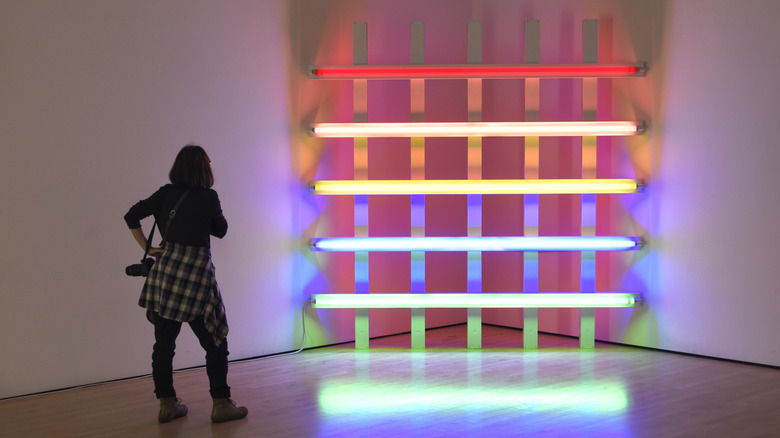 Robert Alexander/Getty Images
Yet another haven for creative types is none other than San Francisco. With highly celebrated art institutions, theaters, and museums, it is no wonder this place is brimming with art, culture, and an overall inspirational vibe. Here, art aficionados can spend hours, if not days, exploring notable spots like the Museum of Modern Art (which showcases painting, photography, sculpture, media art, and more), the de Young Fine Arts Museum (which highlights art from all over the world), and the Legion of Honor, with its assortment of European paintings and decorative art. Plus, the famed de Young Museum and the Legion of Honor have joined forces to offer art lovers unfettered access to one of the largest public arts institutions in the city.
In addition to these fantastic art houses and spaces, San Francisco is home to the Fort Mason Center for Arts & Culture, Mission Cultural Center For Latino Arts, and the historic American Conservatory Theater (A.C.T.). The Golden City is also full of incredible architecture, gorgeous murals, and vibrant attractions that are sure to please even the toughest art critics. So do yourself a favor and check out all of these great artsy points of interest and everything else that San Francisco has to offer.
Los Angeles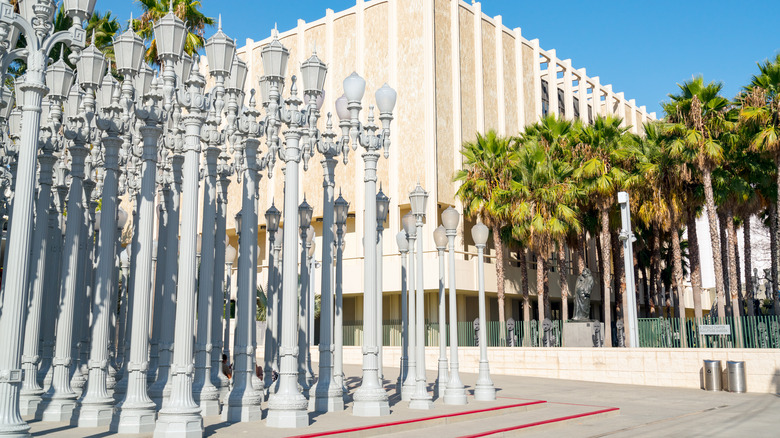 Darren Tierney/Shutterstock
From the minute wanderlusters land at Los Angeles International Airport (LAX), they are given a taste of this city's phenomenal art scene, thanks to the LAX Art Program located here. Beyond the airport, visitors will find a host of museums, centers, and artsy tourist spots. In fact, places like the Los Angeles County Museum of Art (LACMA), with its nearly 149,000-piece collection of outstanding works of art and great outdoor Instagram-worthy exhibits, are reason enough to make your way to the City of Angels.
But that's not all art lovers will find in this city — The Getty Center, Hammer Museum, Museum of Contemporary Art (MOCA), The Broad, Revolver Gallery, Downtown Art Walk, and the Arts District are all located here and are in-town musts. Other incredible Los Angeles creative venues include the Walt Disney Concert Hall, Angels Flight Railway, The Huntington Library, Art Collections & Botanical Gardens, and the Watts Towers Art Center, all of which deserve visitors' undivided attention. Likewise, street art and mural fans are in for a real feast for the eyes, no matter where they are in this creative multicultural mecca. And this does not even include the famous performing arts scene that calls Los Angeles home.
Chicago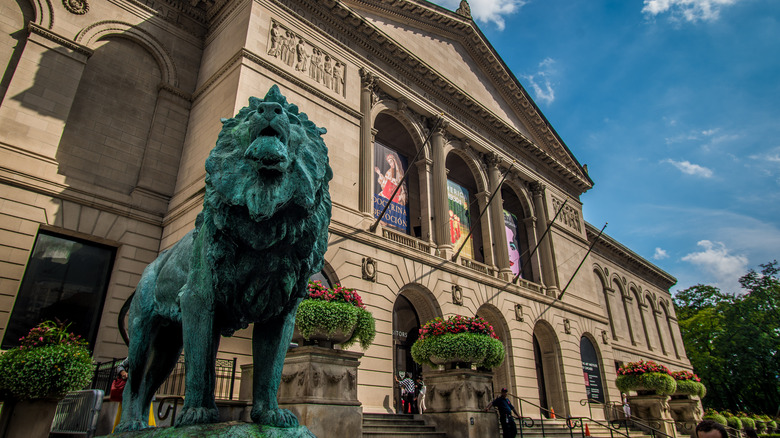 Joshua Fawzy/Shutterstock
Chicago is also a popular artsy destination because there is art everywhere you turn. With ample architecture, sculptures, and interesting works of art throughout the city, this internationally recognized design and art hub is a feast for the eyes. The Windy City has over a dozen or so renowned museums, including the Art Institute of Chicago, the Museum of Contemporary Art, and the Museum of Contemporary Photography (MOCP).
The Art Institute of Chicago, in particular, has 300,000 works of art, must-see exhibitions, guided tours, and more. Visitors can head to the Museum of Contemporary Art for live performances and thought-provoking exhibits. And for a superb artsy experience, MOCP does not disappoint with its collection of 16,800 plus creative works. While in Chitown, you can also enjoy some outdoor art viewing at Millennium Park, Wabash Arts Corridor, and Rogers Park: Miles of Murals, and take in all the architectural sights via a tour. After appreciating all artistry both indoors and out, Chitown visitors can make a fun evening of it at the various art galleries, theater districts, and ongoing performance art events held throughout the city.
Portland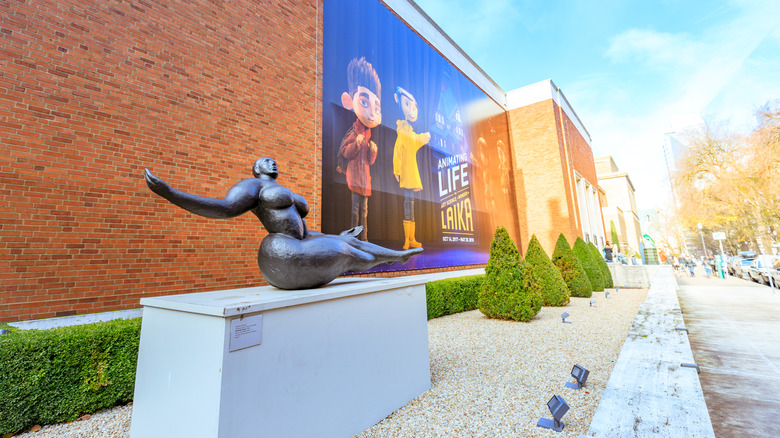 Artran/Getty Images
With its buzzing creative and cultural scene, Portland is also another great option for art fans. In fact, this Northwestern city in Oregon has lovely galleries, art walks, and phenomenal music and hosts more than a few art festivals during the year. Art institutions like the Portland Art Museum are also dedicated to showcasing diverse talent and history, with a specific focus on the indigenous people of the area. Other notable art houses in Rose City include Oregon Contemporary and the Elizabeth Leach Gallery.
Rose City visitors can also enjoy various events and attractions at Portland'5 Centers for the Arts, Portland Center Stage at the Armory, and the Portland Japanese Garden. For lovers of performance art, Portland'5 Centers for the Arts is the place to be (though there are technically five venues that make up this artsy haven). Likewise, the Portland Center Stage at the Armory dazzles with its famed theater productions. Portland Japanese Garden, on the other hand, is a lovely space with both outdoor works and indoor art exhibitions. Plus, the Portland Street Art Alliance ensures the city is brimming with diverse work, so art lovers should make it a point to wander about town or book a street art and graffiti tour if they have room in their itinerary.
Berkeley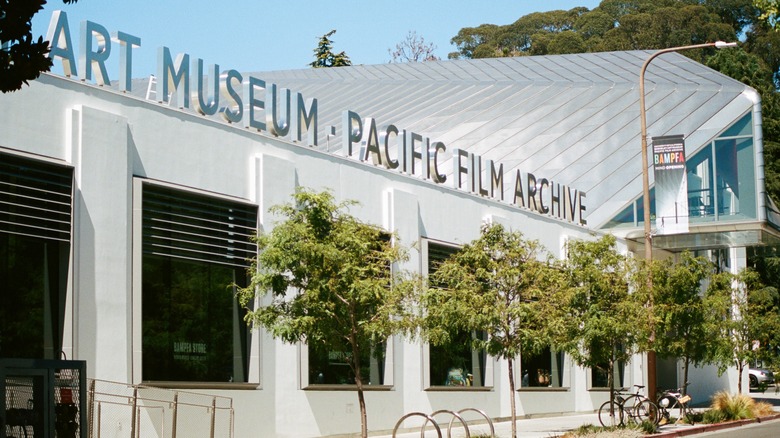 Smith Collection/gado/Getty Images
Berkeley, California, is definitely an excellent choice for art museum enthusiasts. With over a dozen art houses to peruse, a variety of UC Berkeley collections open to the public, amazing galleries, rave-worthy theater productions, and then some, lovers of all things art-related will feel right at home here. In-town musts include the Berkeley Art Center, Aurora Theatre Company, ACCI Gallery, and the CAL Performances, and that is just to start.
This famed college town also has a wealth of other cultural centers, theaters, and art institutions that showcase just how artsy Berkeley actually is. That said, no art fan can visit this city without spending some serious time in the Berkeley Art Museum and Film Archive (BAMPFA). Two museums in one, BAMPFA is an absolute gem that allows visitors to engage with modern art, film, photography, and the visual arts. With multiple levels, exhibits, an in-house library, a café, reading rooms, an amphitheater, and more, BAMPFA could very well end up being the only vacation activity you need. But, just in case you want to venture beyond this delightful art space, Berkely is teaming with spots where one can take note of all the up-and-coming talent and indoor and outdoor points of interest that highlight the wonderful works of art littered about the city.
New Orleans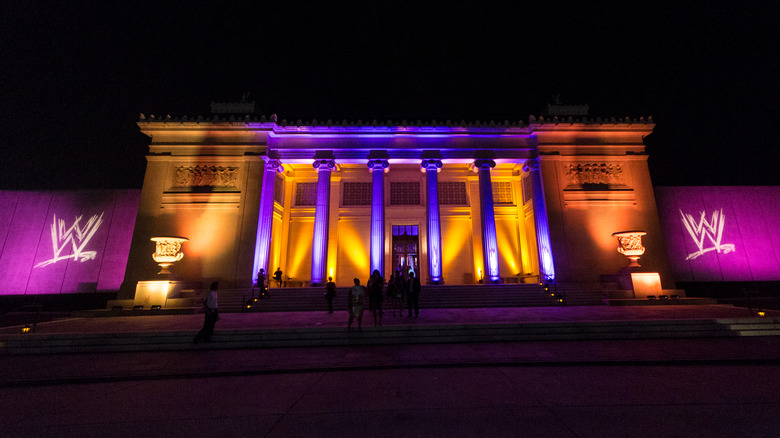 Josh Brasted/Getty Images
With such a rich culture and history, New Orleans was bound to have a memorable art scene. Here, art fans can experience the full beauty of the Big Easy with convenient access to museums, warehouses, public art spaces, street murals, performance arts centers, art tours, and more. New Orleans also has quite the Arts District filled with countless galleries — particularly near Julia Street and Magazine Street.
Other spots to check out when enjoying the Big Easy include the French Market, Jackson Square, and the Dutch Alley Artist's Co-Op. At the French Market, visitors can marvel at diverse artistic works handcrafted by local artists, listen to music playing in the distance, and sample all the fanfare here. Alternatively, Jackson Square is an open-air artist colony that highlights a more grassroots style of creativity. The Dutch Alley is also a wonderful addition to your itinerary if you are looking for fine crafts, pottery, jewelry, and mixed media works. And for a more traditional art adventure, New Orleans has several great museums worth perusing, including the New Orleans Museum of Art, the Contemporary Arts Center, Sydney and Wanda Besthoff Sculpture Garden, The Guardians Institute, as well as the Algiers Folk Art Zone and Blues Museum.
Austin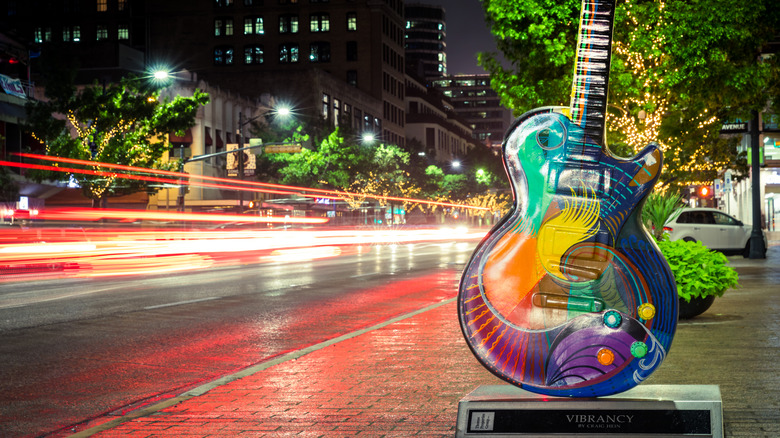 Onfokus/Getty Images
Austin, Texas, has always had an eclectic vibe with its assortment of musicians, actors, artists, and creative types. As a result, Austin is so much more than a great art destination — the city itself is infused with inspiration, creativity, and true artistry. Visitors can sample it all with its many museums, festivals (music and film), gardens, galleries, street art, and theater stages.
Plus, with its mix of mediums and an emerging indie art scene, the Live Music Capital of the World definitely knows a thing or two about art. A few notable artsy gems in Austin include the Volcom Garden, the Blanton Museum of Art, the Bullock Museum, and the MASS Gallery. The Volcom Garden offers a full culture experience as it is an art gallery, a live music venue, and a boutique. Of course, visitors looking for the city's largest selection of diverse public art should check out the Blanton Museum of Art. Alternatively, The Bullock Museum paints a different picture, that of Texas and its unique story, and the MASS Gallery focuses more on Austin's creative narrative. So art lovers interested in delving deeper into Austin's collective scene should check out all these spots and more.
Marfa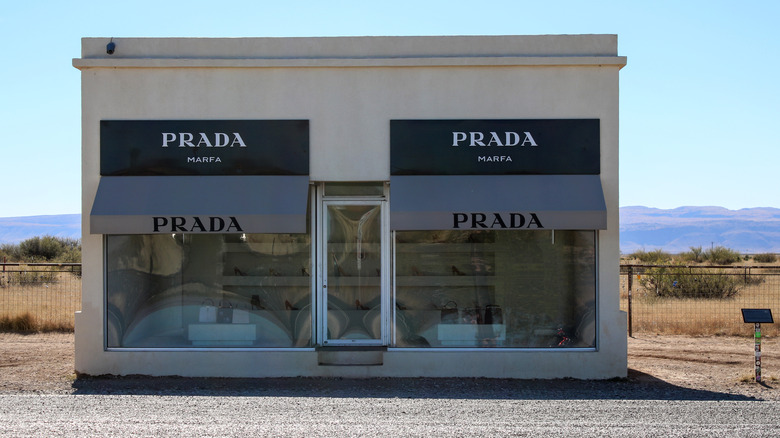 Theresajam1/Getty Images
This small town in Texas has made quite the name for itself when it comes to creativity and art. Marfa is actually an ideal destination for art lovers who are not biased toward a particular medium. Here, fans of art, in general, can appreciate the stellar works of painters, photographers, filmmakers, musicians, performers, and, of course, the legendary masterpieces of New York minimalist Donald Judd.
While there, immersing yourself in all the creativity in Marfa, make sure you do not forget to stop by some of the rave-worthy galleries like the Ballroom Marfa, Exhibitions 2D, and the Jennifer Esperanza Project. Ballroom Marfa is a unique, non-collecting art space that showcases contemporary works and hosts everything from exhibitions and showings to performances, screenings, and concerts. For minimal and reductive style works, Exhibitions 2D is absolutely worth a look-see, and the Jennifer Esperanza Project focuses mainly on curated vintage and contemporary art, plus photography. That said, lovers of all things art-related should make their way out to this artsy desert destination to marvel at all the distinctive forms of artistic expression located in this city that have undoubtedly taken the art world by storm.
Santa Fe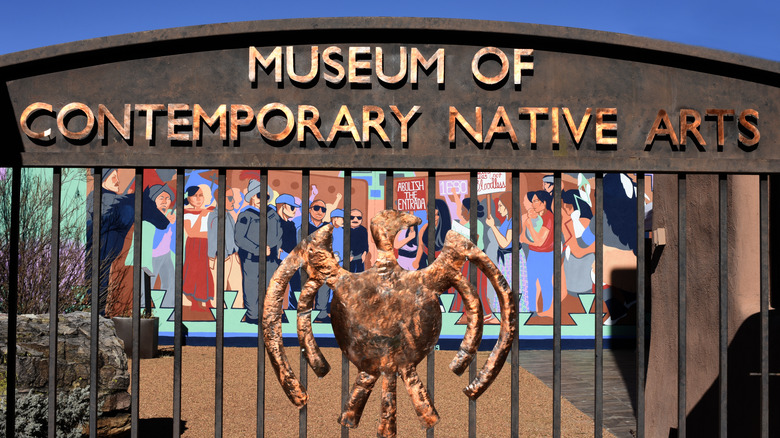 Robert Alexander/Getty Images
Known as an artistic paradise, Santa Fe is actually right up there with the likes of Los Angeles and New York City. Many of the greats, such as Georgia O'Keeffe, Rina Swentzell, and Pablita Velarde, have resided in this lovely city in New Mexico. The City Different has also had a front-row seat to more than a few major art movements and is home to a lively art scene.
With a large selection of galleries, museums, art institutions, and local art markets, art enthusiasts should run to check out this facet of the art world. For traditional art lovers, the New Mexico Museum of Art is a fantastic option with its extensive collection of American, European, and Native American works of art. Other extraordinary places in Santa Fe that are perfect for art fans include the Adobe Gallery, the Georgia O'Keeffe Museum, the Santa Fe Artists Market, and the Institute of American Indian Arts. And to top it all off, for contemporary art connoisseurs, a stop at the Santa Fe Railyard Art District, with its seven galleries, is also a definite must while appreciating all the art here and enjoying all the inspiration that is likely to follow.
Washington, D.C.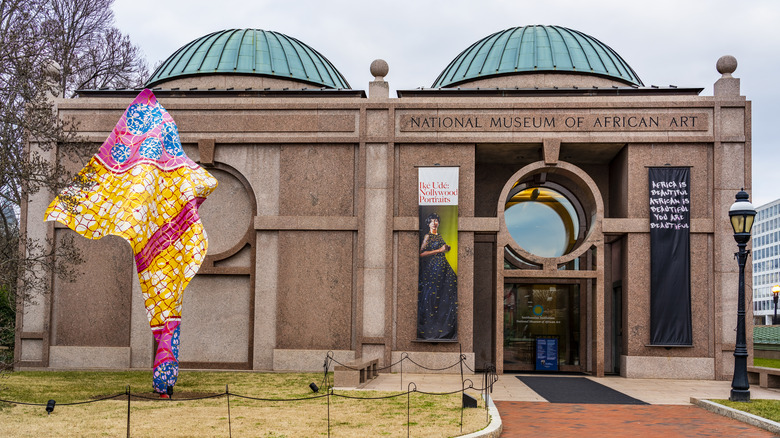 Traveler1116/Getty Images
World-class everything is the name of the game when it comes to Washington, D.C. — and this is absolutely the case when dealing with the art and history scenes here, which are very much intertwined. In the way of museums alone, the nation's capital boasts over 70 museums. So, art fans can expect their trip itinerary to be rather full when in the District. Some first-rate options in Washington, D.C., include the National Gallery of Art, the Renwick Gallery and the Smithsonian American Art Museum (SAAM), the National Museum of African Art, and the John F. Kennedy Center for the Performing Arts.
The National Gallery of Art has a robust collection of works, ample exhibitions, and even a stunning Sculpture Garden. Likewise, the Renwick Gallery and SAAM are touted as having the most inclusive art collection covering three centuries. Of course, the National Museum of African Art highlights the importance, richness, and complexity of African American artists and their various creative achievements. And the John F. Kennedy Center for the Performing Arts is an art lovers go-to for opera, the symphony, ballet, comedy, dance, theater productions, jazz, international artistry, and more. Plus, the city, as a whole, is full of unique artsy spots like Culture House and First Friday DuPont.
Tucson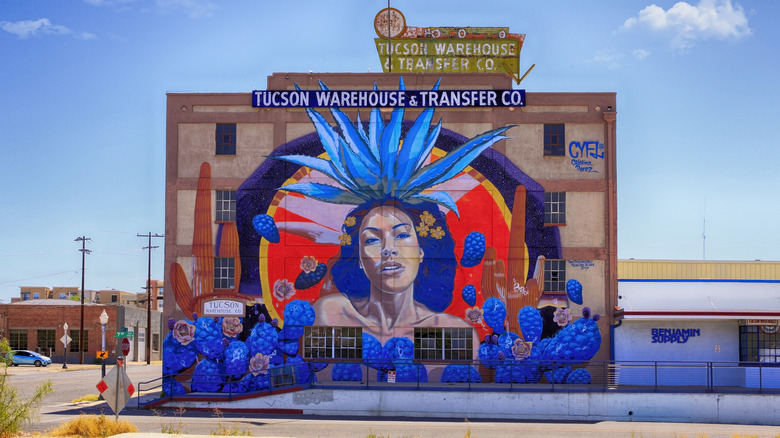 Csfotoimages/Getty Images
Finally, in Arizona, Tucson is just one more phenomenal destination for art lovers. A mini creative hub with a wealth of artsy and cultural experiences, the Old Pueblo is the perfect spot for anyone looking to enjoy the arts to the fullest. With top-rated museums, countless galleries, vibrant street art, glass-blowing workshops, creative classes, art tours, historic theaters, several venues for the performing arts, art festivals, indoor and outdoor exhibitions, and then some, Tucson is genuinely an artistic playground.
Tucson visitors can stop by the University of Arizona's Center for Creative Photography, spend some time in the Museum of Contemporary Art (MOCA) Tucson or the University of Arizona Museum of Art, and even catch an Arizona Theatre Company production at the Temple of Music and Art. Plus, there is almost a gallery for every kind of art form here. From live entertainment and film to architecture and poetry, there is no shortage of artsy activities in Tucson. So, avid travelers who love the arts should definitely make it a point to schedule some cultured adventuring in Tucson or in any of the other above-mentioned art meccas for a truly awe-inspiring and art-rich holiday.