Nashville's Best Spots For Outdoor Dining And People Watching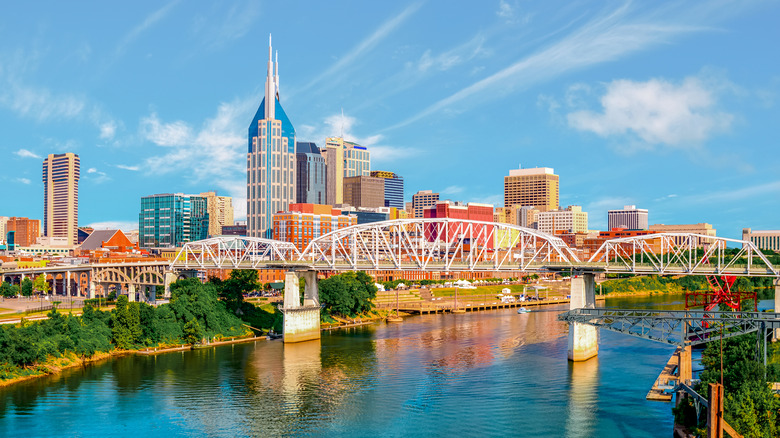 NNER/Shutterstock
As exciting an endeavor as globetrotting is, visiting a new city can actually be pretty overwhelming – especially if your destination is known for its bustling nightlife and wild stag parties. Sometimes what you really need when traveling in a new place like Nashville is to find somewhere laidback to grab a bite to eat while immersing yourself in the local culture. Luckily, the Music City has plenty of outdoor areas that are prime for people watching over a delicious meal.
Nashville takes its food almost as seriously as it takes its music. It's not hard to find high-quality, great-tasting grub in the Music City, and pairing your meal with a nice spot outside to people-watch is a low-key activity that can help you wind down after a full day of exploring the city. A great view isn't too hard to come by in Nashville either and our list of outdoor spots is perfect for travelers wanting to indulge in the famous NashVegas strip while also experiencing the city like a local.
Tootsies Orchid Lounge
We're starting off with a NashVegas must, as Tootsies is one of the most iconic bars on the strip. The honky-tonk consists of three floors with separate vibes, each fit with its own bar and live stage. The real gem of Tootsies, though, is its rooftop terrace where you can enjoy a drink under the night sky and spy everything going on in Nashville's biggest attraction.
Tootsies is open pretty much around the clock, from 9:30 in the morning to the early hour of 3 a.m., and live music is booked for almost the entirety of that time. With its position on the strip, you're able to see a lot of what is going on down below on Broadway from the rooftop, which could make for a pretty interesting view no matter what time you decide to patronize the bar.
In the earlier hours of the day you're likely to witness tourists exploring the city and getting into the southern spirit, but as the evening approaches and late-night sets in, the strip is alive with drunken celebrations. If you don't mind quick fare and bar food, Tootsies' rooftop bar is the perfect place to either casually observe the strip or join in on NashVegas' bustling nightlife scene.
Acme Feed and Seed
The view and vibes of Tootsies can't be beat if you're looking for a traditionally honky-tonk Nashville experience, but there are many more eclectic experiences to be had here. Similar to Tootsies, Acme Feed and Seed offers three stories of entertainment all with slightly different levels of charm, with its rooftop venue paying homage to the building's rich history. Once a grocery store turned hatchery, Acme Feed and Seed has been transformed into a beloved bar and venue on the strip that has as much happiness within its walls and rooftop as on the strip it overlooks.
Patrons can expect more than a quick bite or easy bar food here, as Acme Feed and Seed has a full menu of carefully crafted items that satisfy any palate. Travelers who want to take advantage of the gorgeous rooftop views over Lower Broadway should order on the first floor and bring their food to the roof – the extra effort is so worth the elevated experience of having the stellar atmosphere complement what will likely be an excellently put-together meal.
White Limozeen
Dolly Parton is an important figure in country culture and Nashville has many odes to her throughout the city. The Graduate Hotel has another, and it's in the form of a flamboyant, fully decked-out pink rooftop bar. White Limozeen consists of an indoor bar, outdoor lounge, and pool area that looks as if a Barbie Dreamhouse was conceived in the art deco era. The design is pure feminine energy and as bold and eclectic as Dolly herself. With vibes this immaculate, you'll be dreaming of the hot pink canopies long after you leave the Music City.
For travelers wanting to take a dip in White Limozeen's Governor's Pool, a reservation is necessary. Taking your evening from the bar to the pool is a great way to elevate your experience here, and late-night swims are also available. We can't think of a more appropriate way to do it right in Nashville than swimming under the night sky in an extravagant Dolly Parton-themed rooftop bar.
Denim
Unlike most cities, the downtown area isn't the go-to spot for a great time in Nashville. That title is reserved for Broadway, the strip of neon-clad honky-tonks that draw in countless Nashville bachelorette parties and country fans from all over. That's certainly not to say that downtown Nashville doesn't have its fair share of gems, though, and one can be found 21 stories up on the roof of The Joseph.
Denim is a luxurious dining experience with a wide view of Nashville's cityscape no matter where you are seated. While you may choose to sit outdoors, the indoor portion of the bar features floor-to-ceiling windows for an optimal view of the city.
While the patio and interior are both nothing to scoff at, Denim's pool is the real thing of beauty here. If you've never sipped uniquely crafted cocktails poolside while over 200 feet in the air, Denim should be on your radar for your next trip to Nashville.
The Pharmacy Burger Parlor & Beer Garden
It is a very possibility that a burger from The Pharmacy will ruin you for all future cow consumption – it's a risk you just may have to take, though. Their burgers are freshly made and even the burger buns are locally sourced. The only thing about the restaurant that's better than its burgers is its stunning outdoor area and beer garden.
Stepping into The Pharmacy's beer garden is like being transported into a lush oasis of greenery, as tiered levels of picnic tables are surrounded by large trees and other plant life from both the ground and sky. Paradise on Earth really might consist of eating an unexpectedly tasty burger under a canopy of leaves and fairy lights.
The Pharmacy Burger Parlor has three locations throughout Nashville with its flagship restaurant being in East Nashville. The neighborhood is laid back and away from the strip, making it an ideal place to get to know locals and another area of Nashville that isn't geared specifically toward visiting tourists.
Minerva Avenue
Music isn't the only creative outlet that Nashville residents hold dear to them, as they are pretty talented when it comes to visual art as well. We're going to the city's Buchanan Arts District, or "The Buc," for this one, and Minerva Avenue plays up the area's artsy scene by infusing art and music culture into its modern, yet nostalgic style and experience.
This spot combines good food with solid vibes and art from decades gone by. The outdoor dining area is spacious enough to hold a good amount of people and still allow you to hold your own space, as opposed to a typical night in NashVegas squeezing by randoms while in crowded, shoulder-to-shoulder honky-tonks.
Minerva Avenue not only has unique vibes as well as good food and cocktails, but they also double as a hookah bar and have bottle service. By offering a more upscale, yet low-key cocktail bar in an interesting and up-and-coming area, Minerva Avenue provides a great space for locals and visitors to mingle while enjoying fresh drinks and even fresher air.
The Treehouse
Named for its patio's signature style and design, The Treehouse looks just like a larger-scale, cleaned-up version of your childhood treehouse. While it certainly does its best to heal your inner child, the farm-to-table restaurant also aims to heal the body and soul. By providing a carefully crafted menu with locally sourced ingredients, all hands at The Treehouse put a little love into everything they offer guests. From the chef-driven menu to the hand-carved wooden tables patrons eat off of, the touches here are personal to say the very least.
Loving details aside, though, the outdoor seating alone is enough to make you want to spend time here. The atmosphere and design almost make you believe you're high in the sky in an artfully and skillfully made treehouse. The Treehouse is a great option for dinner in Nashville, especially if you want a unique experience that allows you to explore the East End.
The Nashville Sundae Club
The Nashville Sundae Club is your one-stop shop for everything sweet, and sweetness doesn't have to stop at sundaes and milkshakes. The dessert shop certainly has plenty of choices when it comes to ice cream options, and we are talking much more extensively than just cups or cones here.
The shop also offers pastries, breakfast items, and even alcoholic desserts are on the menu. For those who want to indulge in a dessert drink but refrain from alcohol, there's an entire menu of hot cocoas to choose from.
Even though it doesn't have a patio or a set outdoor area where you can enjoy your ice cream or other chosen indulgence, The Nashville Sundae Club is located in The Gulch, which makes it the prime location to get a cone to go and take it on foot through the neighborhood. The Gulch is one of the most popular neighborhoods outside of the strip and is prime for window shopping and people-watching.
Centennial Park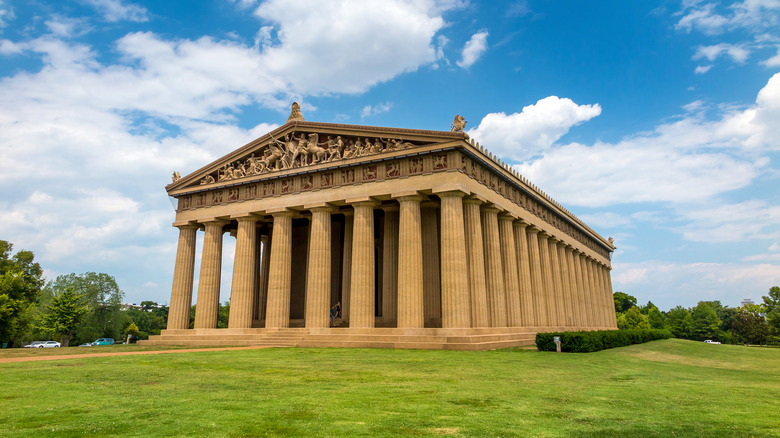 f11photo/Shutterstock
Centennial Park is vital to Nashville and is one of the main parks that people flock to in order to get out of the concrete jungle that any city can resemble. The park is well over 100 acres of nature and attractions, including an art center and a scale replica of the Parthenon. Trails, sports courts, and a dog park can also be found on the massive patch of land.
What you won't find here is a restaurant, honky-tonk, or upscale rooftop bar. That shouldn't stop you from enjoying what the park has to offer. If you're okay with bringing a picnic lunch, definitely don't miss out on finding your spot at Centennial Park — whether it be on the steps of the Parthenon or spread out over the grass near Lake Watauga. It'll be much less crowded than the popular Nashville neighborhoods, but there will still be plenty of people to observe while you are picnicking. Plus, you'll have a completely new perspective of what it's like to live slowly in Nashville.
Cumberland Park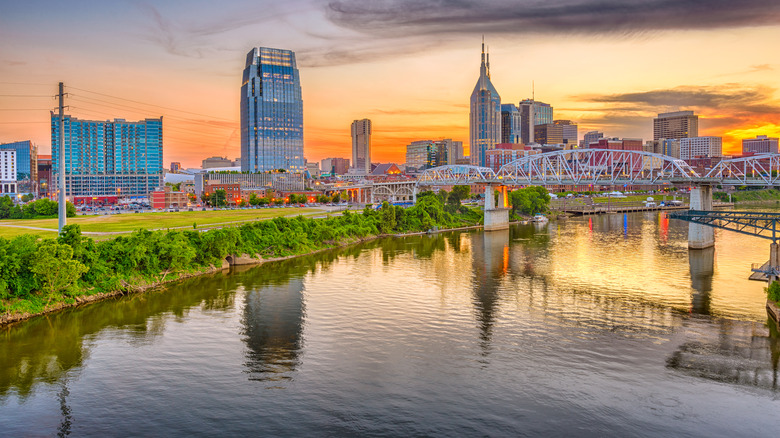 Sean Pavone/Getty Images
Where Centennial Park is a more classic gathering spot, Cumberland Park is geared toward younger children and local families looking for a day out that will wear out the kids in time for bed. With a splash pad and a few play spaces for littles to be distracted with, it's the perfect place for parents who want to sit back for a bit and enjoy an on-the-go meal or picnic while their kids have a blast. Older kids will enjoy the ropes course and climbing wall, as the entire park is basically one huge playground.
In a town full of adult-centric attractions, Cumberland Park is one of the most family friendly things to do in Nashville and it doesn't disappoint. Even if you aren't traveling with your family or young children, though, the park still has plenty of value. The park is right on the river and has a gorgeous view of both the waterway and the city complete with two river bridges, offering a unique perspective of the city not often experienced by visitors.
Prince's Hot Chicken at the Assembly Food Hall
Nashville is known for a lot of things, but when it comes to its food there is no other dish more renowned than the Nashville hot chicken sandwich. Many restaurants in cities throughout the country have tried to recreate it in an ode to its namesake city, but no one does it quite like the original – Prince's Hot Chicken is said to have begun the now-famous recipe nearly 100 years ago.
One of Prince's Nashville locations is in the Assembly Food Hall in the Downtown district, just a few blocks from the Country Music Hall of Fame. The hall contains a large number of bars and restaurants, as well as a few stages for live performances, but the crowning jewel of the building is its rooftop, which claims to be Nashville's largest. The view from the top of the building is immaculate, and there are few better ways to take in downtown than this. Come at sunset and watch the sun go down over the city for the ultimate Nashville photo opportunity.
Sky Blue Cafe
Nashville may be known all over for its hot chicken sandwiches, but you know they can do a good biscuit as well. A homemade biscuit that is miraculously both fluffy and crispy at the same time is an art worth learning and the country music capital of the world sure has studied well. Sky Blue Cafe is one of the many restaurants in the city that exemplify this talent with baking biscuits and they should be on your radar when searching for a place to grab breakfast in Nashville.
One of the smaller and more modest places on this list, Sky Blue Cafe is often overlooked by travelers and people just visiting the city for a short time. It really shouldn't be, though, as the biscuit sandwiches are the bomb and the little cafe has a small outdoor section on the sidewalk that, if you're lucky enough to nab one of the tables, allows for the reward of a coffee and breakfast while in the ideal people watching position.
Nashville Zoo
Dinner and a show is common practice in the Music City, as nearly all the popular restaurants and bars have stages that are filled with live performers covering popular country songs. If you get lucky, you'll hear an original song by an up-and-comer, but either way, your meal will very likely have some form of entertainment attached to it. If you think out of the box, though, your meal could very well have a completely different kind of show going on while you eat.
Nashville comes equipped with its very own zoo that has five different dining options that make it possible to enjoy exploring the different areas of the facility while you have lunch and enjoy your day in nature. While the Nashville Zoo does indeed have regular animals, there are so many different exhibits within the zoo for you and your family to learn and see. A 4-D theater, zip line, and a rope course jungle gym that any kids you bring along will love.
As for the animals themselves, the Nashville Zoo is the home of over 300 species that are spread over 90 acres. Nashville's zoo is one of the largest in the country and is a popular destination with plenty to see. It's safe to say that you'll be here for longer than it takes to eat your lunch. You'll want to set aside a few hours to people – and animal – watch here.