Fun Family-Friendly Things To Do On Your Next Trip To Nashville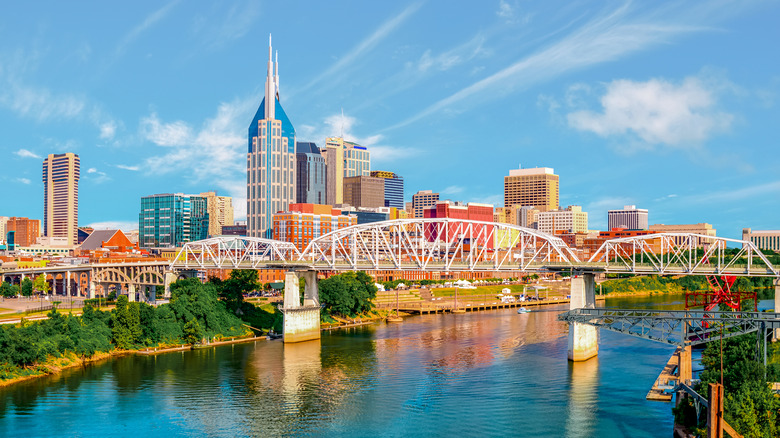 NNER/Shutterstock
Nashville is one of the biggest destinations in the United States for a fun-filled weekend trip for both the girls and guys, making it a top spot for bachelorette parties as well as bachelor events. Even though plenty of visitors flock to the Music City for a booze-filled celebratory trip, there is quite a lot to do for families in Nashville as well – after all, the locals have kids too!
While there are plenty of family-friendly activities in Nashville that you can find in pretty much every other large city in the United States like amusement parks and a diverse zoo, the Music City also has a way of shining its individuality through attractions that are very unique to the city itself. A trip to Nashville can be fun, educational, and memorable for the whole family, especially those with a musically inclined or impassioned member. No matter what your family is into, though, each member will find something in the city to suit their interests. Don't be surprised if your family never wants to leave!
The only tour of Nashville you'll need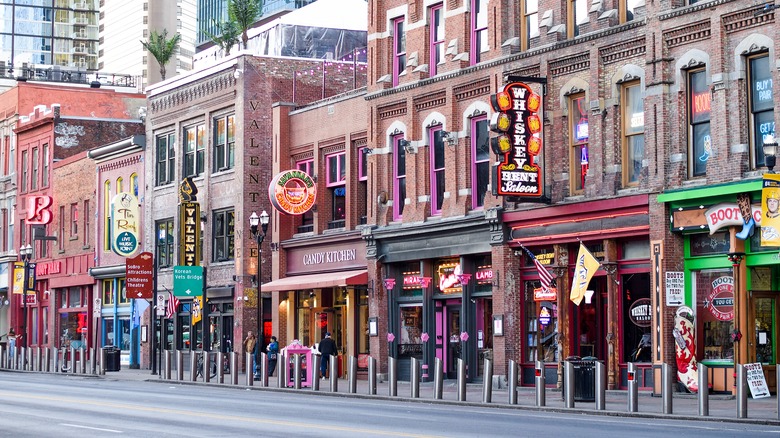 Rachael Martin/Shutterstock
Depending on how long you're visiting, you'll likely want to get the most out of Nashville in a relatively short time frame, and you'll likely not want to fill your time with a bunch of tours – especially since a lot of Nashville tours seem to be booze-centric. It is definitively worth taking the Hop On Hop Off Bus tour, though, as it is packed with information and entertainment for all ages. The Trolley Tours offering acts as both an informational experience and transportation throughout the city and with almost 2,000 reviews and a near-perfect star score of four and a half, it's hard to deny the value of such a well-received experience.
Those who invest in the Hop On Hop Off tour are free to do just that, jump on the trolley and indulge in whichever of the 13 stops along the way catch their interest. They have all day to make use of the trolley, and with over 100 points of interest along the route, a day no matter how packed just doesn't seem like enough.
The trolley travels to Nashville's most popular neighborhoods, making it a pretty solid way to navigate the sprawling city, while the experienced guides lay out some of the best things to do in each area. From Music Row to SoBro and The Gulch, tour patrons will be able to navigate Nashville like they live there by the time they run through the route.
Go see a game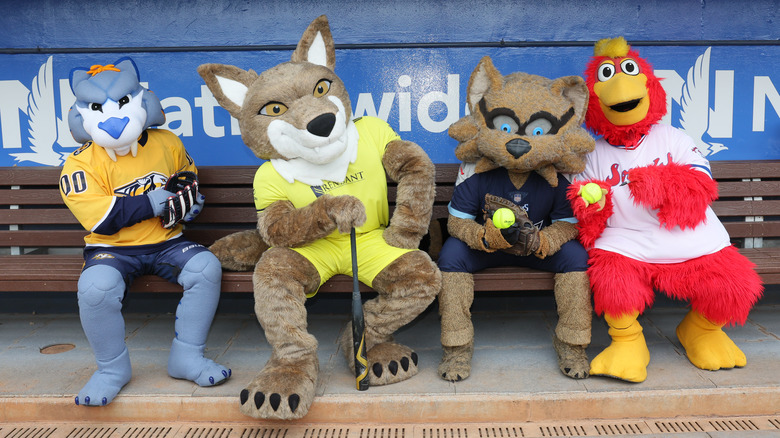 Terry Wyatt/Getty Images
Nashville is home to a number of professional sports teams, including the NFL's Tennessee Titans. Their stadium is near impossible to miss when traveling into the city, making it a perfect point of interest to families entering with kids. Despite being one of only 30 cities in the country with its own NFL team, though, fans of Nashville's Titans have been named among the most toxic and negative, possibly making one of its other teams more desirable for visitors to sit in on a game.
Watching the city's only other current major league team, the Nashville Predators at Bridgestone Arena, will make NHL fans happy and their hockey games are a memorable family bonding experience. Though there are proposed plans to bring a major league baseball team to Nashville in the coming years, the Nashville Sounds are one minor league team that scratches that ballpark itch a lot of Americans seem to have. Families who opt for seeing a ballgame at First Horizon Park have much more to look forward to than hotdogs and foul balls, as there is actually a more extensive menu at the ballpark's own restaurant The Band Box, as well as a mini golf area called The Country Club with outdoor games for baseball fans of all ages to enjoy. Families who bond over sports shouldn't miss the opportunity to see the more sporty side of Nashville.
Visit museums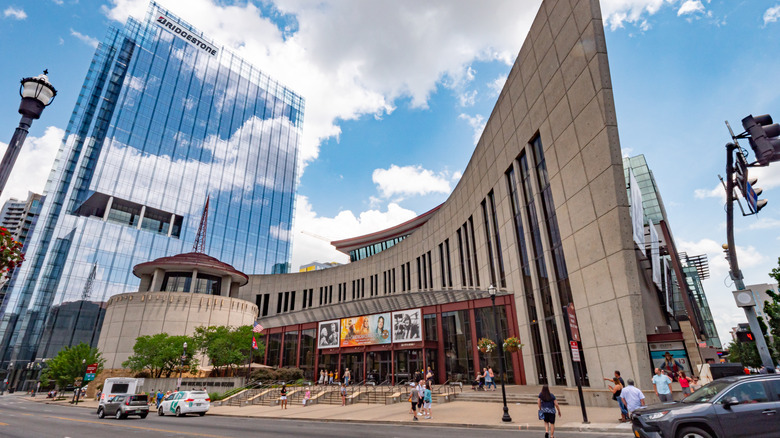 4kclips/Shutterstock
Taking kids to museums, while educational, can be stressful. Continuously telling kids "no" and "don't touch that" isn't a great way to spend a vacation, and Nashville's Adventure Science Center is one place where kids anywhere from toddlerhood to childhood can run, climb, and touch pretty much anything. If you're looking for a purely kid-centric activity, specifically after a long day of seeing sights the adults have been excited about, the sensory-heavy museum is an affordable way to give the kids hours of entertainment and stimulation.
Both well under an hour outside of Nashville, the aMuse'eum Children's Museum in Columbia and the Discovery Center at Murfee Springs are also great options for parents with smaller children, especially on days when indoor play is needed. For families road-tripping with toddlers into Nashville from the south, either museum could become a valuable stop along the way. Nashville's Frist Art Museum is a more traditional museum, but is also oddly very family friendly with hands-on art projects and interactive stations for children that are continuously evolving.
If your family is indeed into the museum scene, there is one you shouldn't leave Nashville without visiting and that's the Music Hall of Fame. Nashville has an incredibly important music scene and history, and even though it may not be as kid-centric as the others mentioned, the whole family will find value in this unique-to-Nashville attraction.
Get some grub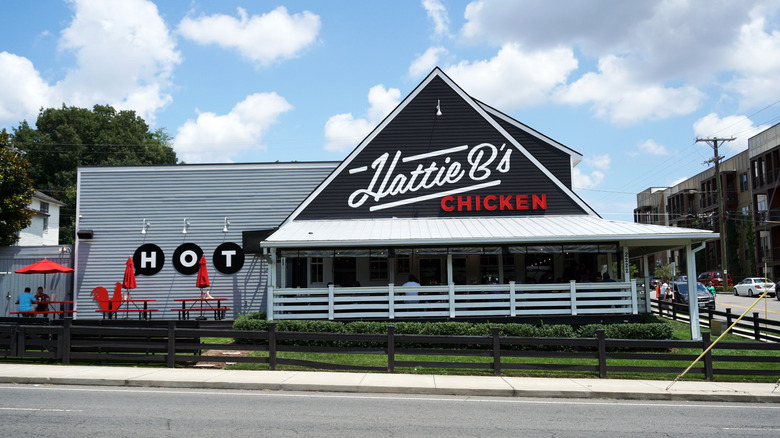 Josiah True/Shutterstock
Everyone's gotta eat, and it sometimes feels like kids spend all day asking for food. Nashville is home to some pretty amazing food culture, between the famous hot Nashville chicken sandwich and biscuits made from scratch, the southern city eats pretty well.
Visitors who want to experience some of the best fried chicken the city has to offer have a mountain of choices to pick from — people in Nashville really know how to cook a mean bird. A ton of restaurants might have a Nashville chicken sandwich on their menu, but the father/son duo of Hattie B's are so successful with their recipe that they have 10 locations, four of which are in Nashville. 400 Degrees and Big Shake's are also local favorites for the iconic dish — just make sure you can handle the heat. As far as biscuits in the Music City go, anything with "biscuit" in the name is fair game; Biscuit Love with locations in both The Gulch and Hillsboro Village is a case in point.
Families who are looking for great food in Nashville outside of its claims to fame have plenty of options as well, as any and all kinds of food can be found throughout the city in the best way. The Pharmacy Burger Parlor & Beer Garden is likely home to the best burger you'll ever eat in your life and Hawkers Asian Street Food is a must for lovers of a high-energy environment and eclectic comfort food.
Go on a dessert date
Possibly the only thing better than top-tier food is some creative and tasty desserts — most kids would likely agree. If you're visiting Nashville, you might as well see what their dessert scene is like, and there are plenty of businesses that focus on the sweetest part of a meal. Nashville takes its donuts pretty seriously, and bakeries like Five Daughters Bakery and Fox's Donut Den are both well-known for the fresh donuts they make daily. 
There is one dessert in particular that Nashville is known for, though, and that is the Goo Goo Cluster. This sweet is America's first candy bar that was made up of more than just one overarching ingredient like chocolate and was somewhat of a big deal in the chocolate sphere. Even though they are still sold all over the world, Goo Goo Clusters' brick-and-mortar store remains in Nashville, and there is much more than just prepackaged desserts to light up your kids' eyes. A candy-making chocolate experience is possible at the storefront, and families can design their own custom candy bar and learn everything there is to know about the candy.
See a live performance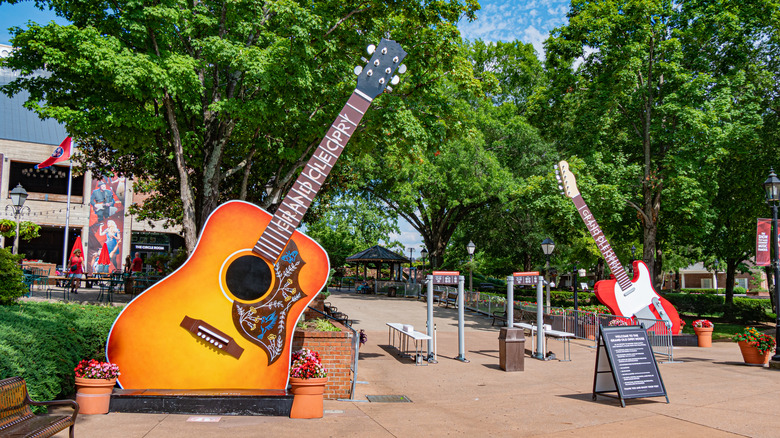 4kclips/Shutterstock
If you're visiting Nashville for any amount of time, you will likely come across some live music, whether it be a busker or a band playing on stage. It's common for bars and restaurants to feature a live band or performer and they have a regular rotation, so you won't have to go far to get the Nashville experience.
While live music is pretty much everywhere in Nashville, a trip to the Grand Ole Opry is pretty much standard for travelers wanting to see the main attractions the city has to offer. Some of the most famous musicians in recent history have played on its stage, and it has become a go-to place for shows, as the show typically changes multiple times a week with both up-and-coming artists and world-famous ones.
If you are looking for a performance that's more kid-centric, seeing a show at Nashville Children's Theatre is a great experience for the whole family and it acts as a gateway for children to enjoy theater. Nashville Children's Theatre placed in Time's top five for theaters with young audiences and is a wonderful addition to your vacation that will help create lasting memories for your children.
See why its called NashVegas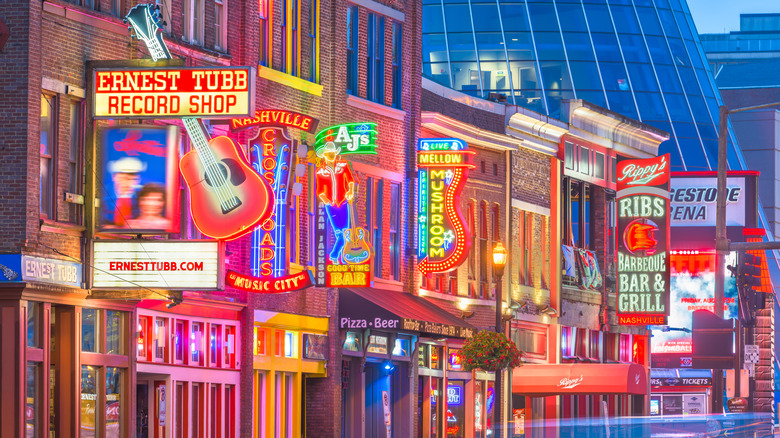 Sean Pavone/Shutterstock
While the vast majority of bars on Nashville's Broadway, the famous neon-lighted strip of the Music City, do not permit anyone under 21 in the afternoon and a lot don't even allow anyone underage during the day, there are still ways for the whole family to see one of Nashville's biggest drawl. Wildhorse is the closest thing you're going to get to a kid-friendly venue on the strip, and it even has a kid's menu. You'll be able to check out some live music with the kids here and semi-experience NashVegas — they even have line dancing lessons!
There are also a number of restaurants with rooftops in the area that will allow you and your family to watch the mass of people visiting the strip. On a nice day, there's nothing quite like sitting on a Nashville rooftop overlooking Broadway. Check out Acme Feed & Seed or The Lookout at Ole Red for a relaxed vibe you can share with the whole family.
While you're on the strip, take the kids to pick out their own cowboy boots and/or hats as a funky souvenirs that will hold both charm and value. Boot Country and Betty Boots are near neighbors and right on the strip, both with a pretty huge selection of designs. While cowboy hats can typically be found anywhere they sell boots, Rustler Hat Co. is within walking distance from the strip and offers handmade cowboy hats with personal touches.
Explore the parks of Nashville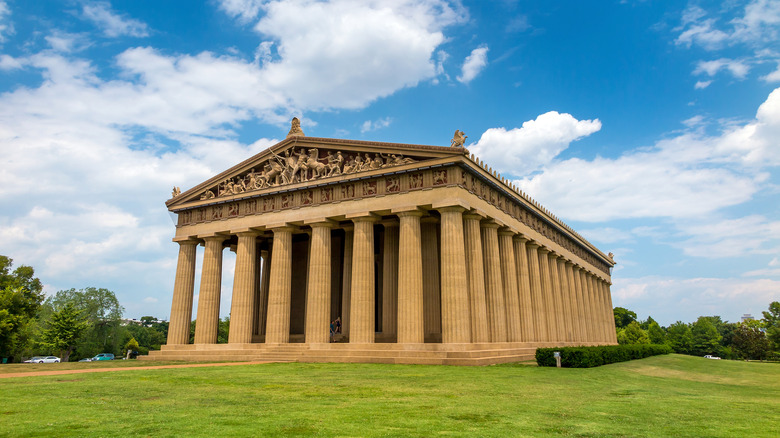 f11photo/Shutterstock
There are plenty of parks worth a visit in Nashville and the whole family will love seeing what the city has to offer in the way of community spaces. Fannie Mae Dees Park is loosely named Dragon Park for its defining feature, one long mosaic sculpture that is in the shape of a dragon. Though it does have a playground, kids and adults alike will enjoy playing on the curvaceous dragon, which doubles as a large art piece.
A trip to Centennial Park will have you thinking you stepped into Greece by mistake, as it is home to a full scale replica of the Parthenon. The grand sight provides a great history and cultural lesson for kids, along with insight into an ancient culture. Stepping inside the Parthenon, visitors are met with the 42-foot golden statue of Athena holding Nike, goddess of victory, in the palm of her hand. While not a sight you'd expect to see during a visit to Nashville, it's one that shouldn't be left out of a family trip.
Cumberland Park runs alongside the riverfront of Nashville and shouldn't be counted out if you're bringing kids along on a vacation to the city. It contains a number of play areas for kids, including a nature playground that has a splash pad and interactive games. There are also areas with a rock climbing wall and a ropes nest for kids who crave activity.
Take a walk through the city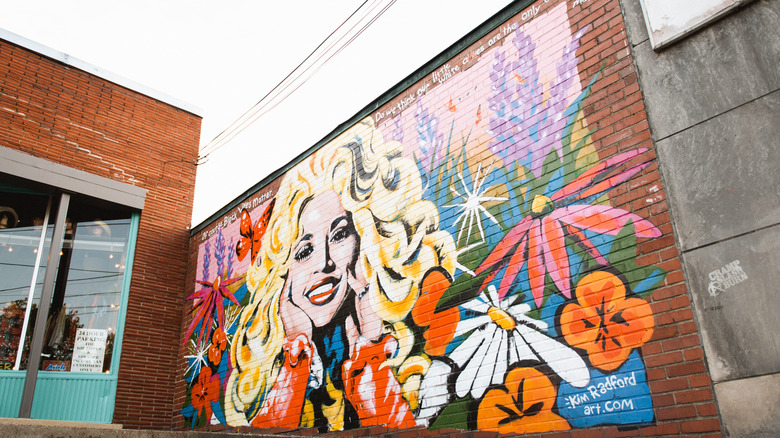 Jason Kempin/Getty Images
One of the best ways to truly experience a city is to walk around in it. If you are just driving or taking ride shares from your room directly to each attraction, you are missing out on a lot of what makes the city its own and what the locals know of each area.
Nashville is covered in beautiful murals, which serve as big and small odes to music throughout the decades. Free Tours By Foot offers a self-guided tour through Nashville that focuses on a lot of the more famous and appealing murals of East Nashville, and taking the whole family around to see the influential art is both a great bonding opportunity and a way to get some great family pictures to remember the trip.
Exploring the neighborhoods of Germantown and 12 South will be both relaxing and eventful, as the neighborhoods have plenty to look at but are full of locals living everyday lives rather than tourists. Hillsboro Village is a great place to walk around if you are looking for local shopping opportunities, and you may even spot a celebrity business or two.
Learn about music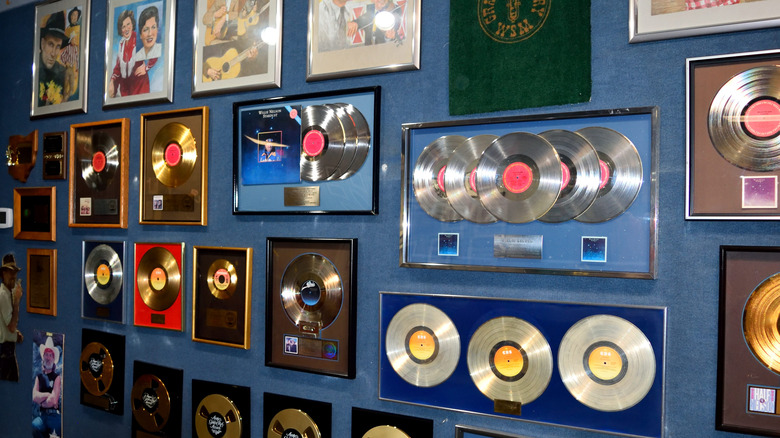 Paul Brennan/Shutterstock
If you don't use a family trip to Nashville as an excuse to teach your kids all about music and its history, you're really missing out on a solid opportunity here. Nashville is the place for music lovers, and families that homeschool or even just treat education as an at-home priority could spend an entire trip to Nashville focusing on both the history and foundations of music, and a "field trip" to the city could actually be a great addition to your children's curriculum.
Nashville is naturally rich in culture and the music presence of both old and new is felt heavily throughout the city. Taking a trip to the Country Music Hall of Fame and Museum offers learning resources to families that make it easy for the whole family to learn. Other artist-specific museums and learning experiences should be taken into consideration as well, like the Johnny Cash Museum and the Willie Nelson and Friends Museum. The Gallery of Iconic Guitars at Belmont is a great place for kids to visualize the different forms that guitars can come in and understand how an object can have a full history and an important place in our culture.
Check out special events
Like anywhere, Nashville will have different opportunities depending on when you visit. It's worth doing a little research before you arrive to find out if there are any special events or pop-ups happening in the city that fall on a day you will be visiting. While there are new things happening in Nashville all of the time, there are some annual and regular events that you can count on and plan for when you're scheduling your vacation.
If you are traveling to the Music City during the spring or fall, Musician's Corner in Centennial Park will be available on select days and it should be on your itinerary. The live music event is free to all and is very family-friendly — you can even bring your dog! Spring also brings the Cherry Blossom Festival and the fall hosts Cheekwood Harvest, which offers a number of different events worth checking out. Nashville during the holiday season is something to witness as well, as NashVegas lights up from all directions in the winter. The Nashville Zoo puts on a huge, detailed, and artistic light show called Zoolumination that takes elements from the Chinese New Year, and it's a great activity to do with the family.
Get a stellar view of the city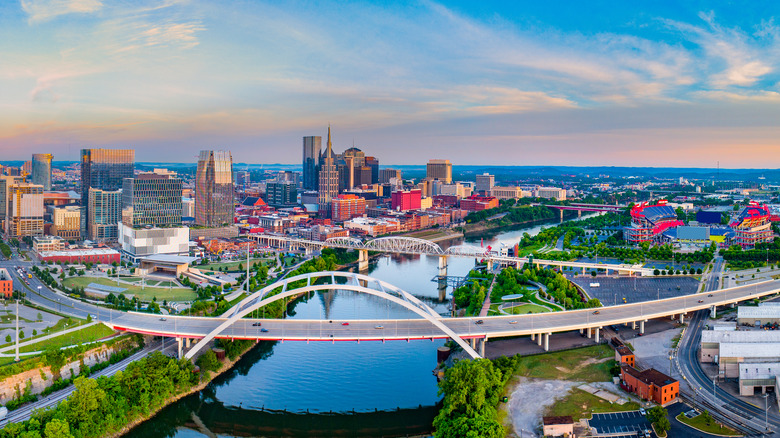 Kruck20/Getty Images
There are certainly many sides of Nashville, most of which you need to actually be on the ground within the city to see. The many skyline views of the city, though, are some that everyone should see at least once, and they can be seen from either a plane or one of Nashville's glorious pedestrian bridges.
Gateway Bridge, also known as Korean Veterans Memorial Bridge, and John Seigenthaler Pedestrian Bridge, both go over the Cumberland River and are not far from one another. In fact, a trip to Cumberland Park can result in visitors finding their way to either bridge. Visitors can walk either bridge and take in some pretty spectacular views of Nashville's cityscape. Many families have found the walking bridges to be perfect spots to get a family photo or two, and they could certainly make your next Christmas card a little more envy-worthy as the resulting photos will showcase your trip to Nashville as a fun and memorable one.