The Top 5 Countries To Visit If You Love Coffee (One Is Unexpected)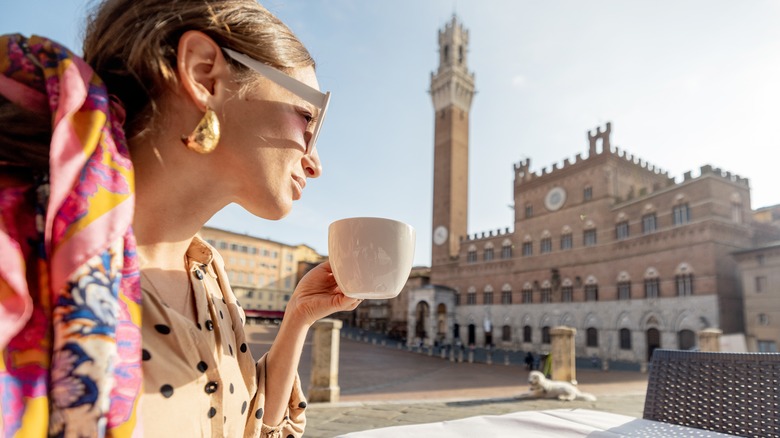 RossHelen/Shutterstock
Whether picking up a latte at the Starbucks drive-thru or roasting beans at home, most people who enjoy coffee will want to try the local brew when they travel. If you're looking for an extra special coffee experience for your next vacation, there are several places around the world that take pride in their coffee culture and are just waiting for you to come and try it.
When you think of countries that are associated with coffee, your mind might first wander to Central and South America. If that's you, your instincts are right on the money. Countries in these regions are well-known for producing some of the world's best coffee. However, it's not just about where it's grown but how it's roasted and the drinking experience, too.
To get the most out of international coffee culture, we'll take you on a journey around the globe to places that not only grow the best beans but make the best coffee, too. And there's one on this list that may even surprise you.
Colombia remains a leading coffee producer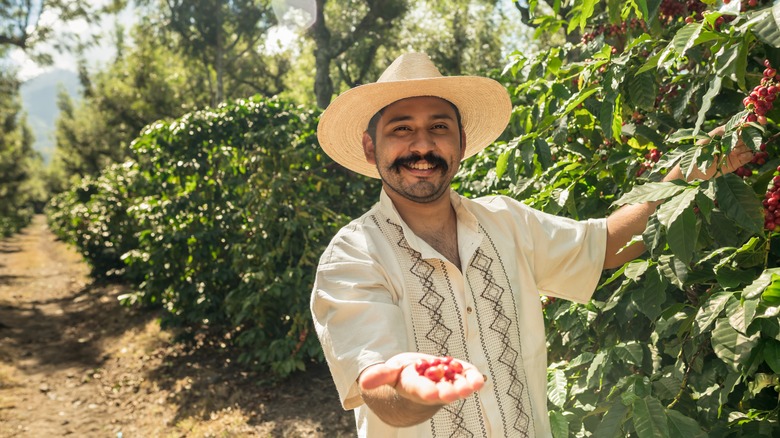 SALMONNEGRO-STOCK/Shutterstock
Colombia will probably be the least surprising entry on this list. Though it's not the top coffee-producing country in the world — that title is held by Brazil — it is globally recognized for its amazing coffee and the country's ability to grow the now-ubiquitous Arabica bean.
This species of coffee bean is actually quite difficult to grow, requiring a high-altitude environment with consistent temperatures year-round. While Arabica is not native to Colombia, the country just so happens to have the perfect climate and elevations to grow this bean all year long. The history of coffee in Colombia is quite storied and long, but to summarize, Colombia and the Arabica bean is the world's first and most successful example of a global ingredient branding campaign.
Today, travelers and coffee lovers alike can visit one of the many haciendas around Colombia to learn more about coffee production and how it may differ from region to region. The top coffee-producing regions in Colombia are Caldas, Risaralda, and Quindío — which form the famous "coffee triangle." You can also visit the Antioquia region if you're in Medellin, or Cundinamarca if you're in Bogota. Just know that, no matter where you find yourself in Colombia, a good cup of coffee is not far away.
Get an eco-friendly brew in Costa Rica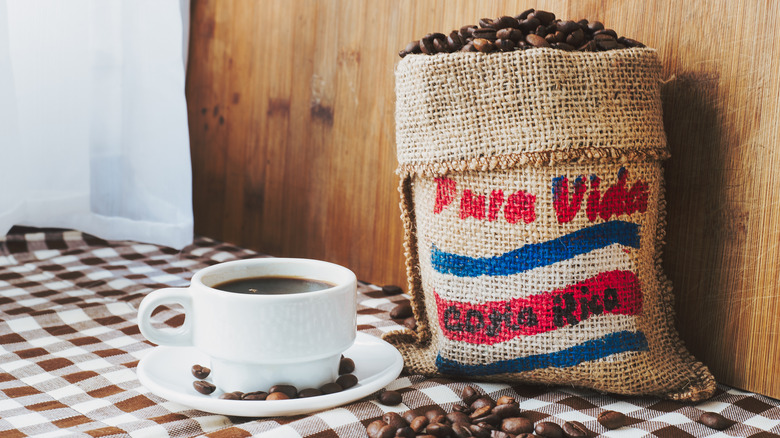 Ruben Gutierrez Ferrer/Shutterstock
Costa Rica is another Arabica producer which claims to grow some of the best coffee in the world. What makes Costa Rica different from Colombia? Well, in Costa Rica, it is actually illegal to produce any other type of bean besides Arabica. The soils are also enriched with volcanic ash from the many volcanoes you can find around the country, and its numerous microclimates allow for a greater variation in the taste of Arabica coffee.
For example, in Turrialba, the coffee is lighter-bodied with mild acidity. In Tarrazú, the flavors are a bit bolder, and the coffee there may be reminiscent of the chocolate-and-orange Jaffa cake. What makes coffee in Costa Rica even more unique, though, is the care that goes into every part of the production and harvesting process. All the beans are handpicked by experienced farmers and farm hands, ensuring that only the best and ripest beans are selected for processing.
This care that Costa Ricans have for their coffee is also reflected on a national level in how they treat their environment, too. Costa Rica actually produces 99% of energy from renewable resources like wind, geothermal, and hydroelectric, and more than 98% of the country is free of deforestation. So, when you visit, you're not only getting access to some of the world's best coffee but also contributing to an eco-friendly economy.
In Italy, coffee isn't just a drink, it's an art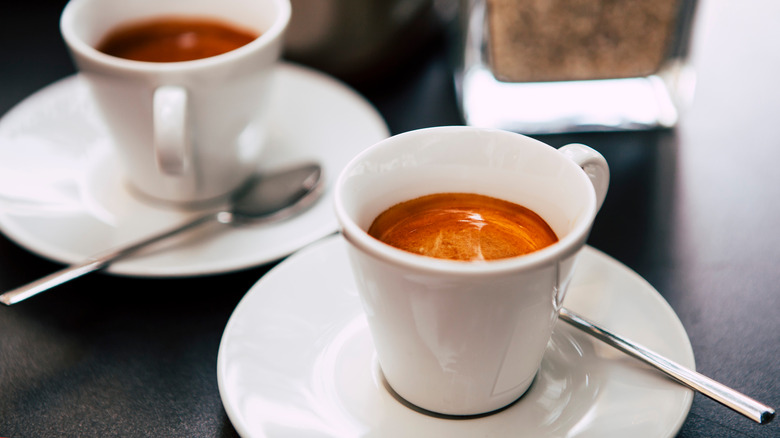 Andrei Molchan/Shutterstock
Why do we have a tendency to associate Italy and coffee? Maybe you never thought of it before, but when you consider how much coffee jargon has its origins in the Italian language — espresso, americano, macchiato — it starts to make sense.
Unlike in North America, coffee isn't just go-juice in Italy. It's not a replacement for lack of good sleep and a prerequisite for dealing with the gen-pop out in the world. In Italy, coffee is art. For Italians, it's an excuse to pause work and go to the local coffee bar to gossip with friends or coworkers. It's an after-dinner drink for digestion, sobering up, and delaying the inevitable end of your beautiful night out.
Here's how to enjoy coffee in Italy like an Italian. Walk into a café and head to the cash desk to pay first if it's busy. Ask for a caffé (a shot of espresso). It should be around €1 euro. After paying, go to the bar, put the receipt down, and tell the barista, "Un caffé, per favore." Stand at the bar. If you really want to blend in, prop yourself up on the foot rail and "chiacchiere" (chit-chat) with your mates while you wait. Say "grazie" when you receive your coffee, add some sugar if you like, and sip or chuck it down like a shot. Congrats, you just enjoyed coffee in Italy like a local!
Vietnam's drip coffee is a test of delayed gratification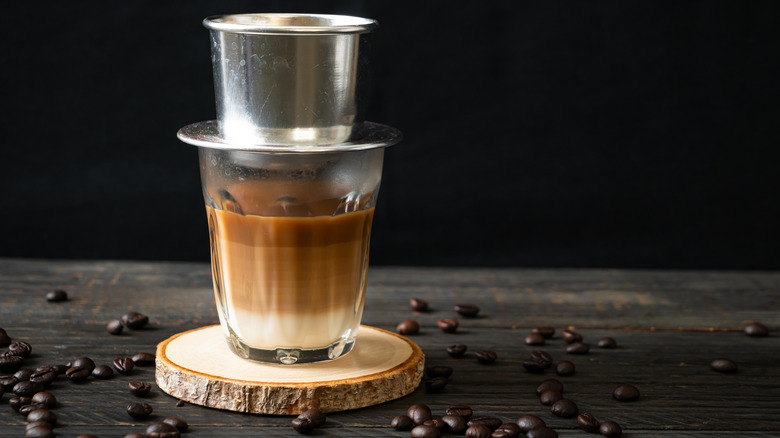 gowithstock/Shutterstock
We already named the top producer of coffee in the world — Brazil — but would it surprise you to find out that Vietnam is the second? After its colonization by the French, Vietnam adopted coffee or "ca phe" into its food heritage and began to grow its own beans in the Da Lat region. This area is known as the "Europe of Vietnam" due to its climate, and it's where you'll find a lot of Vietnam's agricultural and horticultural production.
Instead of Arabica, though, here you'll find Robusta, an equally sought-after bean but with a very different taste profile. While Arabica is milder and less bitter, for those that like strong, full-bodied flavors, Robusta is your golden ticket.
Vietnam's drinking culture is a lot like Italy's. They drink their brew from early in the morning, and late into the night, and use the pastime of coffee drinking to gossip, called "ba tam", and people watch. Though, that's probably where the similarities to Italian coffee culture begin and end.
In Vietnam, you'll largely be served your coffee iced unless you request otherwise. Typically, the coffee will be made with a "phin" which is a French-style drip filter that slowly allows hot water to drip through the coffee grounds, resulting in a rich flavorful brew. You'll need to be patient, though, as this isn't a fast process. However, it makes the final results all that more rewarding.
Australia pays homage to the bean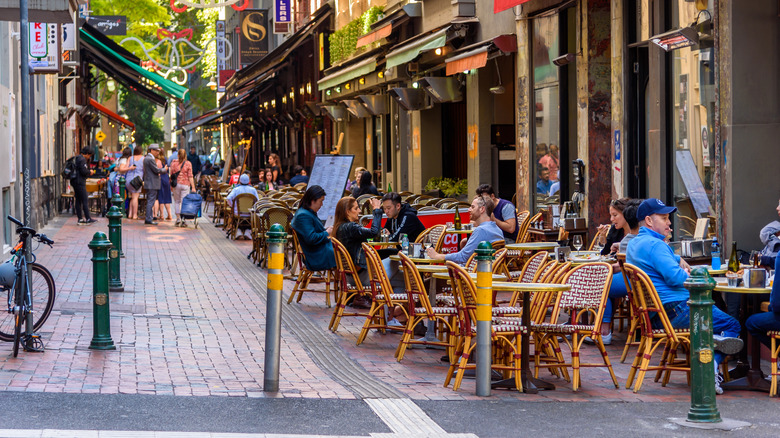 Adam Calaitzis/Shutterstock
After WWII, an Italian diaspora landed in Australia, with many of the immigrants settling in Melbourne, located in the southeastern state of Victoria. Greeks, also considered prolific coffee lovers, immigrated to Australia, too. As a result, countless cafés began to appear around the 1950s, but it wasn't until the early 2000s that someone finally said, "Hey, this coffee could be even better." This was largely thanks to Mark Dundon, a co-owner of the Seven Seeds Coffee Roasters, who pioneered a local coffee roastery in Melbourne to improve quality control. Once this happened, coffee worship took off.
As better coffee became the norm, the average person became more knowledgeable about coffee. People would develop personal preferences and tastes for certain blends, varietals, and ways of brewing. And so, coffee culture has become ingrained in the cultural landscape, with thousands of coffee shops appearing around Melbourne and beyond, each serving a better cuppa than the last.