How To Look Like A Local When Traveling In Italy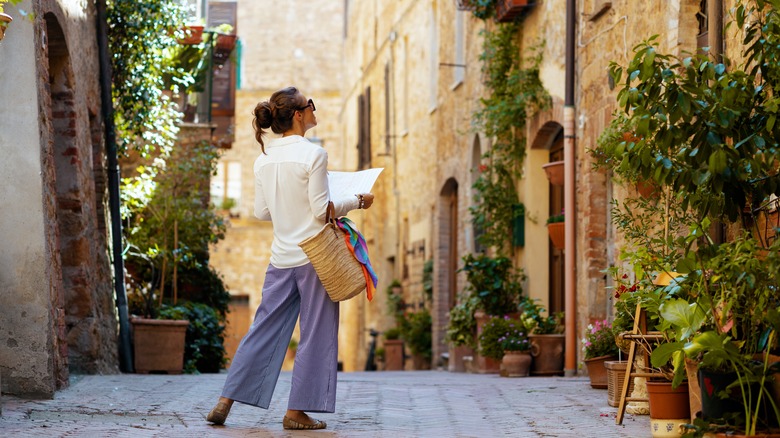 Alliance Images/Shutterstock
Baseball caps, running sneakers, and backpacks; aka, the American tourist's uniform in Europe. Unfair stereotypes aside, American tourists often stand out in Europe, especially in Italy, a country that is renowned for its fashion sense. And while there is nothing wrong with standing out, there are several reasons why you might want to look like a local during your vacation. 
Firstly, the more you blend in, the less likely you are to be targeted by pickpockets and purse-snatchers or be on the receiving end of a scam. Italy is a safe destination for travelers with low levels of violent crime, but it does suffer from relatively high levels of petty theft. Criminals target tourists who tend to carry more cash than the average local and be less aware of their surroundings. Secondly, people still judge others by appearance. As obvious and unfortunate as this is, you'll likely get better treatment in restaurants and other businesses if you dress in a more Italian style — that means more smartly than how the average American dresses at home.
What not to wear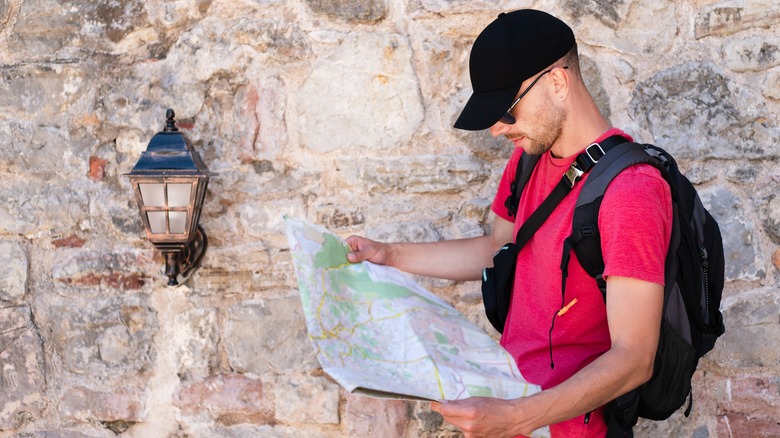 Yuliia Markova/Shutterstock
Rules are made to be broken, by tourists and locals. If you, as an American, want to dress the same in Italy as you do in the States, more power to you. However, if you've decided to try to blend in, here are some don'ts. 
Let's start from the bottom. It's a myth that Italians don't wear sneakers in the city: they do. However, popular sneakers in Italy are often different from those that are common in the U.S. Proper running shoes tend to be reserved for just that in Europe, so unless you're off for a jog, ditch them. Flip-flops in the city are also a no, mainly because of the abundance of cobbled streets, and the fact that you'll likely be walking a lot in Italy. 
Moving up to your clothing, athleisure wear is a no-go; leggings and sports T-shirts aren't really worn outside of the gym in Italy. Bright colors, letter jackets, football jerseys, cargo shorts, and camouflage should be left at home, along with your baseball cap. Backpacks are also a no for several reasons. Sports packs make you look like a tourist, you often aren't allowed to take large bags into tourist attractions in Italy, and they're fairly easy to steal from (no, the solution isn't to wear them on the front if you're trying to blend in.) Fanny packs scream American abroad, too. 
What to pack instead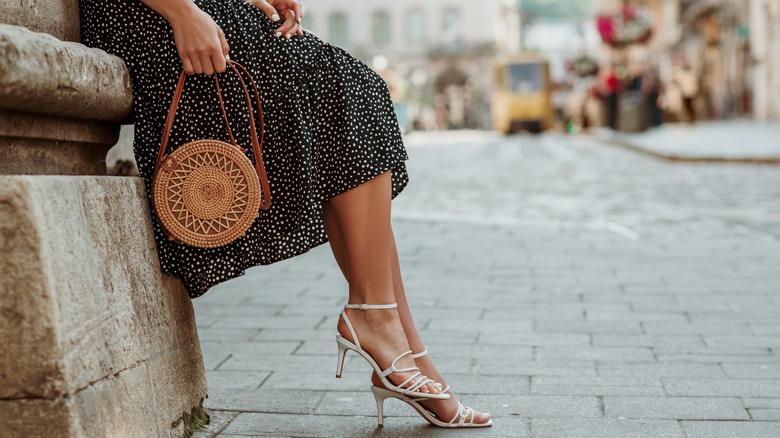 Victoria Chudinova/Shutterstock
We've just run through a list of don'ts, so here are our dos. Urban-style sneakers like Converse, Adidas Superstars, and the Italian brand Superga are common in Italian cities. In the evenings, leave the sneakers behind and opt for smarter choices like loafers, sandals, or high heels. 
It's wise to pack a smart-casual wardrobe when heading to Italy. Italians tend to dress simply and stylishly and in fitted rather than baggy clothing. Choose neutral colors like black, dark blue, beige, and white and pack button-down shirts and blouses; chinos; knee-length or below skirts; and a blazer or leather jacket if you're traveling in the shoulder seasons. When it comes to accessories, sunglasses and scarves are in. Buy a scarf with a hidden pocket if you want somewhere secure and stylish to put your valuables. Instead of your backpack, carry a shoulder bag and put as little as possible in it. Another myth we want to dispel is about shorts: Italians wear shorts, even in the city. However, if you opt to do so, stick to a longer, well-fitted pair in a neutral color. 
If you really want to look like a local in Italy, indulge in some shopping while you're in the land of the seriously stylish. You don't need to blow your vacation budget on a whole new wardrobe filled with Italian designer labels like Gucci and Versace. European favorites Zara and H&M will do just fine. And then, decked out in your European finest, join the Italians in their nightly catwalk show — la passeggiata. 
Cultural etiquette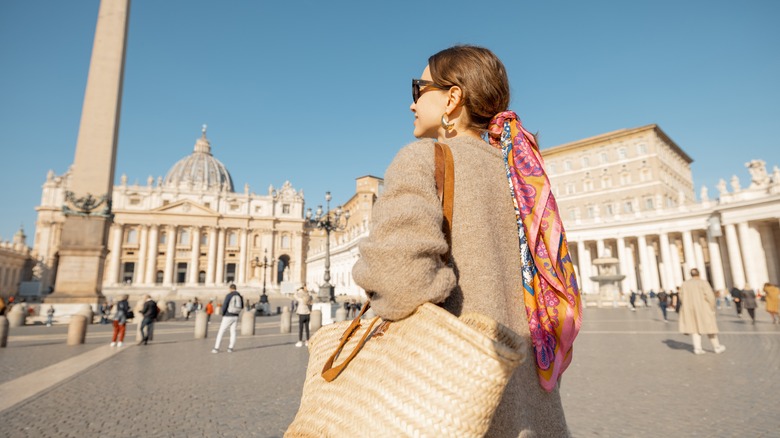 RossHelen/Shutterstock
Learning about cultural etiquette when you're in Italy is about more than just blending in: it's a show of respect toward the country, too. So while your football jersey might not offend anyone, wearing tiny shorts in a church probably will. Many churches, museums, and other tourist attractions have dress codes in Italy. In the Vatican, for example, there's a no shoulders, no chest, no knees rule for dressing, and this is replicated at many other sites all over the country. This is a big reason why we recommend long pants, capris, or shorts and skirts below the knee, as well as blouses and shirts rather than tank tops.
There's also an expectation that people visiting churches in Italy should be quiet. And this brings us to a bit of an awkward point. Americans are loud, so you need to lower the volume. On the r/Travel forum on Reddit, poster dracosilop wrote "Sometimes I can hear Americans over 100 meters away in a place where there are 200+ people." Don't be that American: fire up your inside voice. And the last tip on speaking etiquette: don't say "ciao" to people unless they say it to you first. Instead, go for "buongiorno" in the morning and "buonasera" from the afternoon onwards. 
Food and drink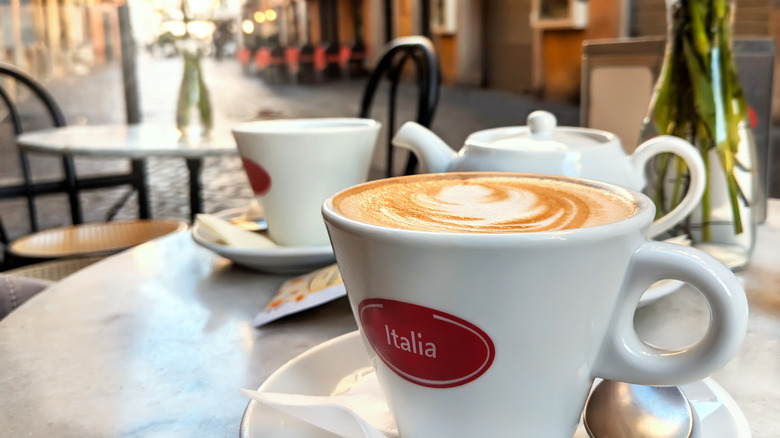 Michael Ting/Shutterstock
There are some food and drink rules you can abide by in Italy so you don't stick out like a sore thumb. One is that Italians don't tend to drink cappuccinos after 11 A.M. While you can, you will be marked out as a tourist if you have a cappuccino on your table at dinner. And speaking of dinner, don't add ketchup to your pizza or, god forbid, your pasta.
The r/Italia forum on Reddit has some great advice about interacting with servers in Italy. Several users stated that you shouldn't expect servers to act like waiters do in the U.S. You might encounter several waiters during your meal, and it's likely none of them will be falling over themselves to accommodate your every whim, so relax a little and lower your expectations when in restaurants. Also, tipping is not mandatory in Italy, but it is always appreciated.
All of that being said, we don't want you to hide your Americaness entirely, and neither do the Europeans. In the r/AskReddit forum, the question "Besides their accent, what's one way you know a tourist is American?" got some very positive answers. One user finds it "sweet" how Americans greet people they don't know with "Hey, how are you?", while another user praised Americans' confidence to approach strangers on the street. So be yourself in Italy. Just in a slightly quieter voice than normal.