The Best Time Of Year To Visit Colombia To Avoid Big Crowds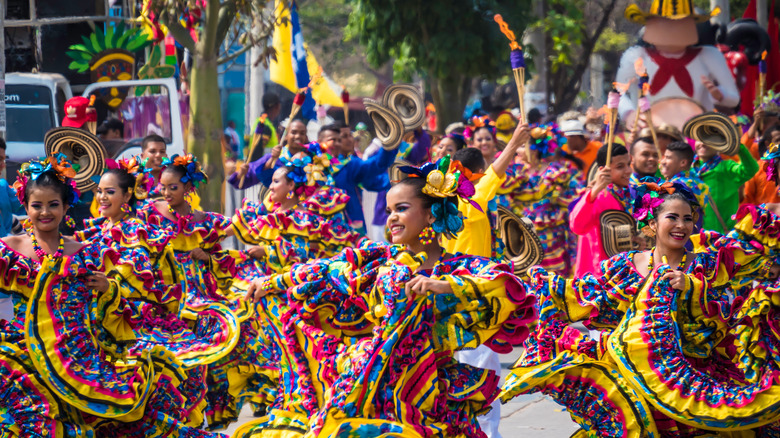 doleesi/Shutterstock
When considering when to visit Colombia to avoid crowds, you must first figure out what type of crowds you're avoiding. Are you trying to avoid party crowds? Other international tourists? Holiday season crowds? The bustling day-to-day crowds of a metropolitan city? While some destinations can be (but probably shouldn't be) categorically defined as having an "on-season" and "off-season," Colombia isn't one of those destinations.
Colombia is a geographically diverse and large country, so your specific destination and the timing of your trip will both largely (and often equally) dictate any influx of crowds. While suggesting to you to avoid the holiday season, which occurs between December and February, to avoid crowds is pretty easy; the answer just isn't that simple.
Per SouthAmerica.travel, Christmas, New Year, and Carnival celebrations all take place during the winter season, which is between December and February. To plan the best time of year to visit to experience the thinnest crowds, we'll look at both the dynamics of Colombia's domestic holiday travel and the tourism traits of Colombia in general.
Holiday crowds and domestic Colombian travel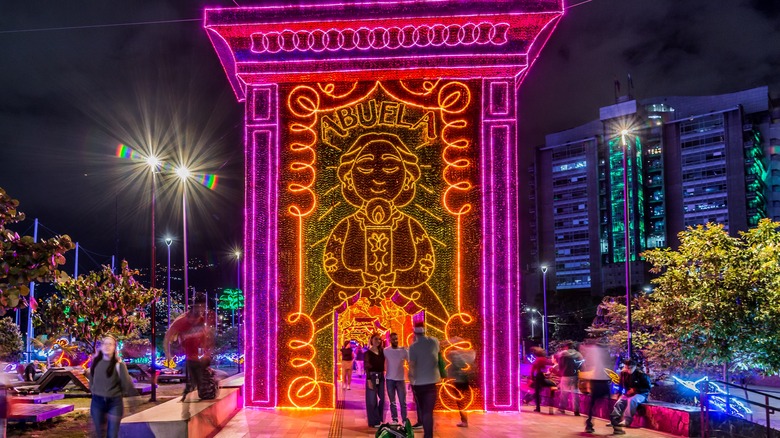 oscar garces/Shutterstock
As far as holiday crowds, it really depends on the city. According to Casacol, January and February may be the best months to visit Medellin, weather-wise. However, due to work and school holidays, many Colombians tend to leave Medellin to vacation in smaller Colombian villages, towns, or the coast. That said, the dry weather between December and February will still welcome international tourists to major cities.
As a side note, Medellin loves Christmas. Although Medellin may be a bit more crowded in December than in January or February, walking among the city's Christmas lights is probably worth it. So, if you're looking for a less-crowded experience while exploring Medellin, visiting during the holiday season may actually be a good idea. That said, you'll find Cartagena, Santa Marta, and other coastal cities bustling during this time of year.
While Christmas and New Year may thin out crowds in major cities due to domestic travel, Easter and Carnival celebrations can be a different story. You'll find celebrations and crowds in almost every city and village. While the Barranquilla Carnival is one of the world's largest, many other Colombian cities hold their own Carnival celebrations.
Cloudy skies clear out crowds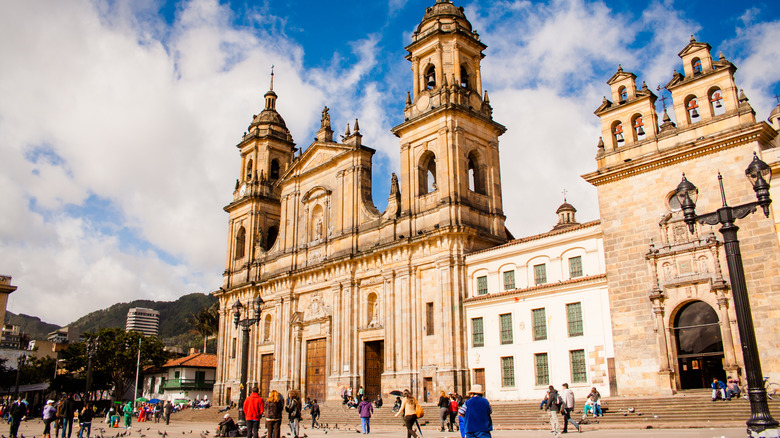 Marcelo Rodriguez/Shutterstock
The variance in seasonal temperature does not change much throughout Colombia, whether you're in the Andes or the Caribbean coast. However, the country does experience a dry season and a wet season, but characteristic rainfall does differ by region.
For instance, in mountainous Bogota, you can experience dry weather during both December and January, as well as between June and September. However, in Cartagena, it can rain pretty consistently (at least for some of the day) from May to November, per U.S. News & World Report.
Needless to say, Colombia's dry seasons coincide with more festivals, tourism, and crowds, while the wet season may really put a damper on one day of sightseeing or your entire vacation.To play it safe, visiting during shoulder season months may be your best bet. This could mean visiting Cartagena in March or maybe Bogota in September. It may not be completely dry, but you won't experience peak crowds, either. 
If you plan accordingly, you can really avoid large crowds any time of year when visiting Colombia. It's just a big country with lots of options. That said, Barranquilla in late February may be a little much. The Carnival definitely celebrates its crowds.