14 Best Places To Visit In Southeast Asia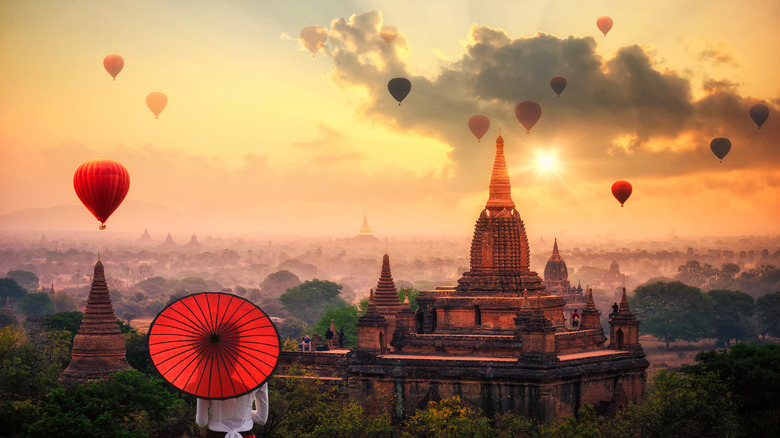 Travel mania/Shutterstock
With its combination of natural beauty, historic sites, exceptional food, and mind-bogglingly affordable prices, Southeast Asia is one of the best areas for travelers to explore. Across this diverse region, there is an adventure waiting for any type of traveler, from beach bums to city slickers. The remote islands and busy cities in Southeast Asia will suck you in and quickly become some of your favorite destinations.
Southeast Asia is also one of the best places in the world for solo travelers thanks to its abundance of hostels, welcoming vibes, and cheap rates. Flights from North America and Europe take a very long time to reach this region of the world, though. That's why you'll want to choose the countries you visit very wisely. Otherwise, you'll need to hop back on a plane for another full day of flights. While the task of choosing a vacation destination can be a little daunting, you can't go wrong with one of the following 14 best places in Southeast Asia to visit.
Bangkok, Thailand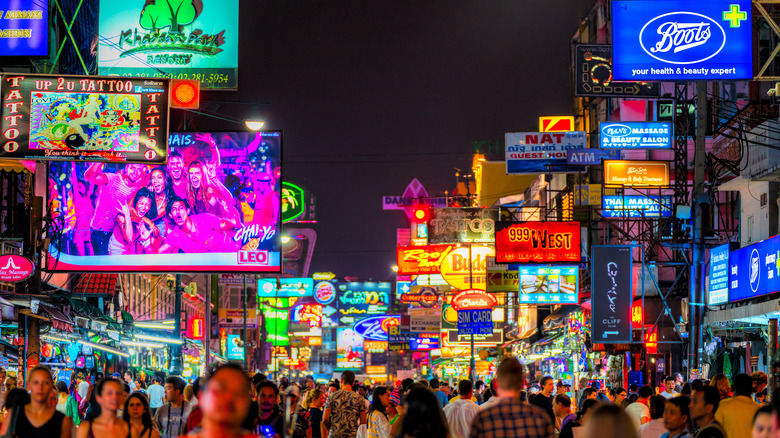 Luciano Mortula - LGM/Shutterstock
Bangkok is a bustling major city in Southeast Asia that's probably the easiest place to fly into for most people visiting from North America and Europe. It makes sense to use Bangkok as your jumping-off point to a big Southeast Asia trip. While some people choose to get in and out of Bangkok, visitors should opt to spend at least a day or two here getting to know the capital of Thailand. There is a wealth of activities to do and things to see in Bangkok. 
First, you'll want to try all the great restaurants in Bangkok before getting a little more adventurous at the legendary Khao San Road. Here you'll have the chance to put your stomach to the test as you munch on things like fried grasshoppers, crickets, scorpions, and even tarantulas. For travelers who want to stay on the safe side, the famous city offers plenty of regular street food, too. 
Between dining, head over to some of Bangkok's temples, such as Wat Phra Kaew and Wat Pho. Bangkok's iconic temples are renowned and will leave you humbled by their beauty.
Finally, finish out your days in Bangkok by sipping down drinks at one of the city's many rooftop bars. Some of the best rooftop bars in Bangkok are Sky Bar, Hi-So Rooftop Bar, and Vertigo. All in all, Bangkok is the perfect introduction to Thailand and Southeast Asia in general.
Chiang Mai, Thailand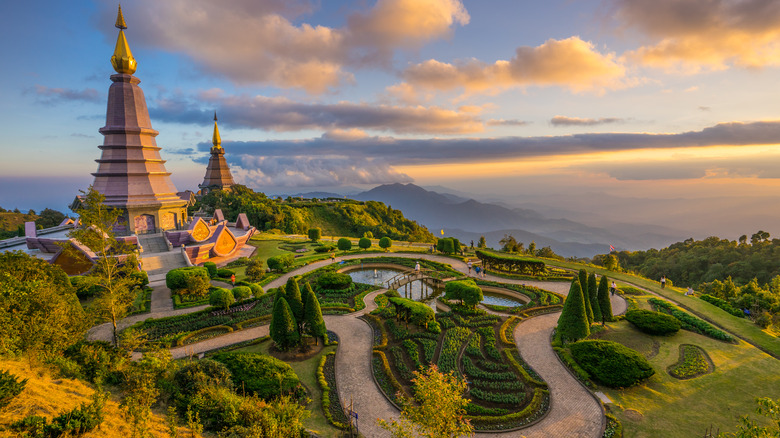 Naihei/Getty Images
Chiang Mai in Northern Thailand is one of the most charming and fun destinations in the entire country. Every night, vendors cover the sidewalks with their fare, creating an entertaining maze of street food and markets to dive into. There are actually several different night markets to choose from across the city, like the nightly Chiang Mai Night Bazaar and Tha Phae Walking Street on Sundays. Night markets are something to look forward to and somehow never get boring.
During the day, though, the real adventure in Chiang Mai comes to life. There are intricate, beautiful temples to discover, like Wat Phra That Doi Suthep at the top of a mountain and Wat Phra Singh in the Old City. You can also go on hikes through the jungle to swimmable waterfalls or get one of the most affordable deep tissue massages of your life.
One of the best things to do in Chiang Mai is book a day trip to hang out with rescued elephant families in the wilderness. Just make sure you only book with an ethical elephant sanctuary like Toto's Elephant Sanctuary, which doesn't allow riding. Even if you simply spend all day getting to know Chiang Mai riding around on a motorbike, it will be unlike anything you've experienced before. It's a special Southeast Asia destination that you'll likely fall in love with.
Koh Samui, Thailand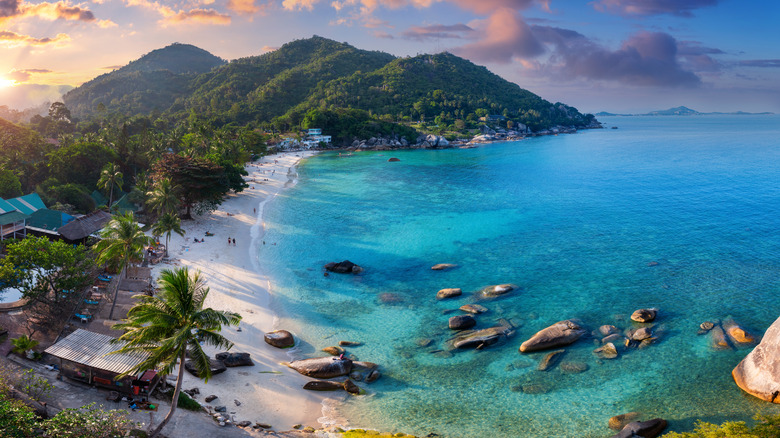 Tawatchaiprakobkit/Getty Images
Travelers who prefer days splayed out on the beach will never want to leave Koh Samui island in Thailand. It's a favorite destination in Southeast Asia for romantic honeymoons in paradise. Koh Samui is absolutely covered in luxurious resorts and picturesque beaches that will take your breath away. 
Whether you're searching for a beachside resort that will cater to your every whim or a more intimate, secluded oasis, Koh Samui has you covered. Some of the best beaches across the island include Chaweng, Lamai, and Silver Beach. If you somehow grow bored of lounging the day away and sipping on cocktails, there are plenty of activities around the island, too.
Koh Samui is home to several Buddhist cultural sites, such as Big Buddha Temple and Wat Plai Laem. You can also go shopping or grab a bite to eat at the Fisherman's Village by Bophut Beach. Alternatively, thrill-seekers can take an ATV drive through the jungle on a guided tour. Koh Samui provides the perfect balance of adventure and relaxation.
Koh Rong Sanloem, Cambodia
In Southeast Asia, it's hard to find a cool place that isn't completely overrun by other visitors. Understandably, the region's beauty is a hotbed for travelers who want to catch a glimpse. For travelers who want to visit a peaceful island still relatively untouched by the effects of tourism, head to the island of Koh Rong Sanloem in Cambodia. 
Koh Rong Sanloem has that wild island feel, with immaculate beaches and epic, unspoiled scuba diving spots. It's definitely a laid-back type of island where most of the activities available involve lounging on the shores or taking a dip in the waters. You can sit back with a cocktail or some homemade local food and watch the monkeys swing through the trees. The island will provide all the space you need to fully relax and recharge. 
When the sun goes down, take a boat ride out to the deeper part of the ocean to see the famous bioluminescent plankton. When you move through the water, blue sparks of light will come off the plankton and shimmer in the water. It's quite the trippy sight and makes you realize how much of the world is a mystery.
Siem Reap, Cambodia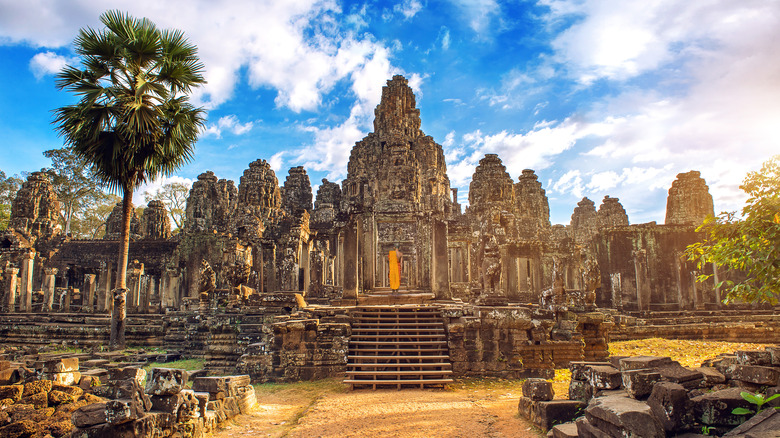 Guitar photographer/Shutterstock
When you're visiting Cambodia, there is one activity that's practically required for newcomers — a visit to Angkor Wat. You don't want to miss this enormous temple complex in Siem Reap, Cambodia. Even if you've never heard of it before now, it should immediately go on your bucket list because it's one of the most impressive sites in Southeast Asia. As the largest religious structure in the world, it's one of the most incredible feats of humankind, period.
Angkor Wat is so huge that visitors need more than just a day to see the entire thing. The whole complex is actually 400 acres. You may even want to hire a guide to provide insight into everything you're seeing.
While Angkor Wat will take up a big chunk of your time in Siem Reap, there are plenty of other things to do in this Cambodian city, too. The Cambodia Cultural Village, Angkor Silk Farm, and Banteay Srey Butterfly Center will all keep you entertained in Siem Reap. When you're finished with your activities for the day, don't forget to go for a stroll along the lively Pub Street for some drinks, grub, and partying.
Kampot, Cambodia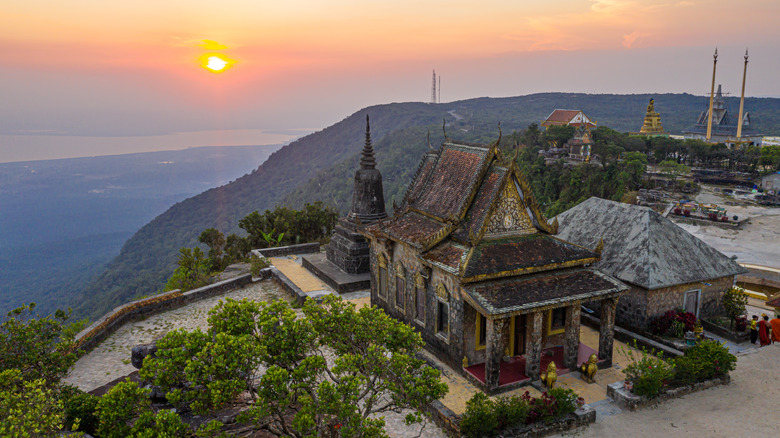 Nhut Minh Ho/Shutterstock
Kampot, Cambodia is home to a wealth of thrilling outdoor activities that will get your heart pumping. Here you can get on the back of a dirt bike and take off on an adventure through the jungle (with a responsible guide, of course). You can hop on a paddleboard or aboard a kayak to explore the lengths of the Kampot River. 
Throughout the area, there are plenty of spots for rock climbing available at the massive Climbodia climbing site. Some of the climbing routes are suitable for newbies and others are better for advanced climbers. Anyone who loves outdoor adventure will get a kick out of this lively Cambodian city. However, if all this activity sounds like it will be too much for you, there are also things to do for tamer travelers. 
You can still experience the beautiful Kampot River on a calmer river cruise at sunset. Rent a motorbike and ride up Bokor Mountain to see the famous Bokor Palace. Visit a pepper plantation to learn about Kampot's long-standing history in the pepper industry. Alternatively, just simply wander around the Kampot Night Market to munch down on local goodies and shop for trinkets.
Hanoi, Vietnam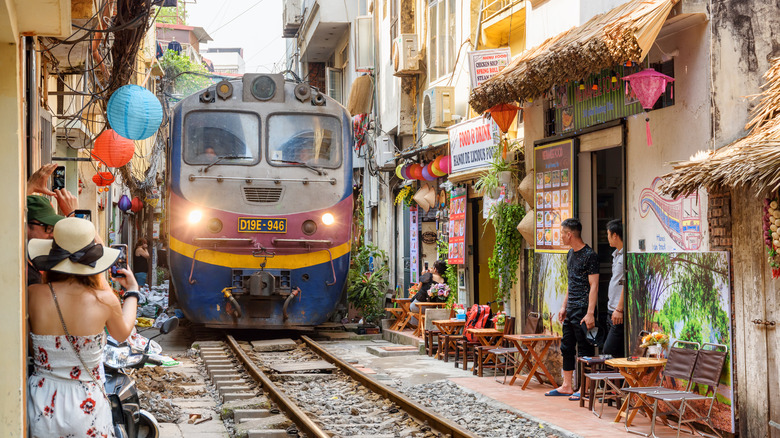 Efired/Shutterstock
You can imagine how much good stuff there is to do in Hanoi, the capital of Vietnam. Now, take that imagined number and triple it. That's a more accurate assessment of how much fun you can have here. Hanoi is over 1,000 years old and there are a few key things to do in the city that every visitor has to check out.
Hanoi is known for its traditional water puppet shows in theaters across the city. It's a fantastic afternoon activity for families with kids, but it's a nice thing to do for really any Vietnam visitor. There are tons of affordable activities for budget travelers, like biking around Turtle Lake or getting an exterior glimpse of the Ho Chi Minh Mausoleum. There are a few stunning temples to check out, including Tran Quoc Pagoda and Ngoc Son Temple. If you're really in need of a dose of excitement, book an overnight cruise that travels along the nearby Ha Long Bay. 
However, the real star of the show in Hanoi is all the scrumptious Vietnamese street food you can get your hands on. Hanoi has plenty of tours to get a deeper sense of the area, including food tours, free walking tours, and even cooking classes to learn how to make all the Hanoi specialties you crave. Plus, Hanoi offers some of the cheapest accommodations you'll find.
Ha Giang Loop, Vietnam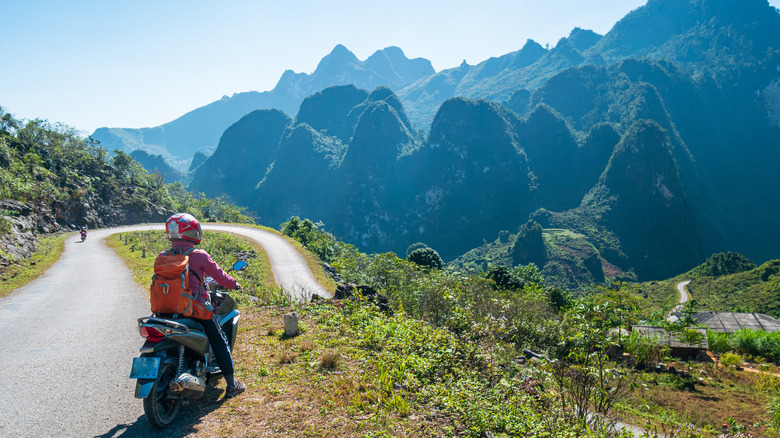 Fabio Lamanna/Shutterstock
Most people hit all the major cities on a trip to Vietnam, but one of the best places in the entire country to explore is the Ha Giang Loop all the way in the north. Travelers on the hunt for the adventure of a lifetime in Southeast Asia will find it on the Ha Giang Loop. The entire route spans over 217 miles and takes anywhere from two days to five days to complete on motorbike. Taking a motorbike trip around this region of Vietnam will bring you through landscapes that you probably thought could only exist in fiction.
During the day, you'll spend hours on the twisting, winding roads of northern Vietnam. Throughout the entire journey, you'll be completely surrounded by bountiful mountains reaching far up into the sky. Each evening, you'll reach little towns with cozy homestays that will treat you like a member of the family. It's a humbling and eye-opening trip, but you should only attempt to drive it yourself if you're experienced on a motorbike. Otherwise, hire a driver because these roads are no joke.
Describing the experience and showing photographs of the Ha Giang Loop doesn't quite do it justice. You need to see it with your own eyes to believe it. The Ha Giang Loop is easily one of the most beautiful places in Southeast Asia and that's saying a lot for a region that's dripping with beauty.
Nusa Penida, Bali, Indonesia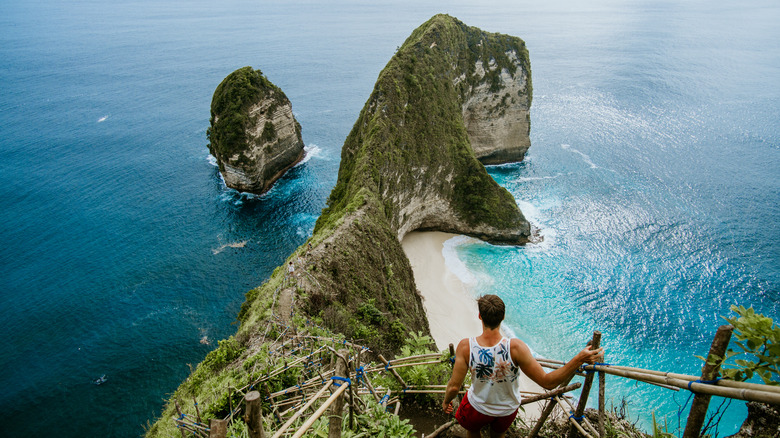 kasakphoto/Shutterstock
Bali is a lot of travelers' first destination in Southeast Asia, but little do they know there is a tiny island off the coast of the mainland that's even cooler than the usual tourist spots. One of the most famous places in Indonesia for its natural beauty is Nusa Penida island. This magical island and its jaw-dropping attractions are like something you'd see on a postcard.
You may recognize Nusa Penida's most popular attractions from the social media posts of your favorite influencers. Spots like Kelingking Beach, Angel's Billabong, and Thousand Islands Viewpoints are so scenic that lots of Instagrammers constantly want to capture them. When you're done getting to know all the most photo-worthy tourist attractions, there is still plenty of stuff to do on this multifaceted island. 
Get a sense of the local culture and watch a prayer session at Pura Goa Giri Putri Cave, or test your capacity for vertigo by walking the steep steps down to Peguyangan Waterfall. Every day you're in Nusa Penida, there will be something unbelievably incredible to do. It is truly a work of art by mother nature and it's no surprise that it's one of the coolest places to visit in Southeast Asia.
Luang Prabang, Laos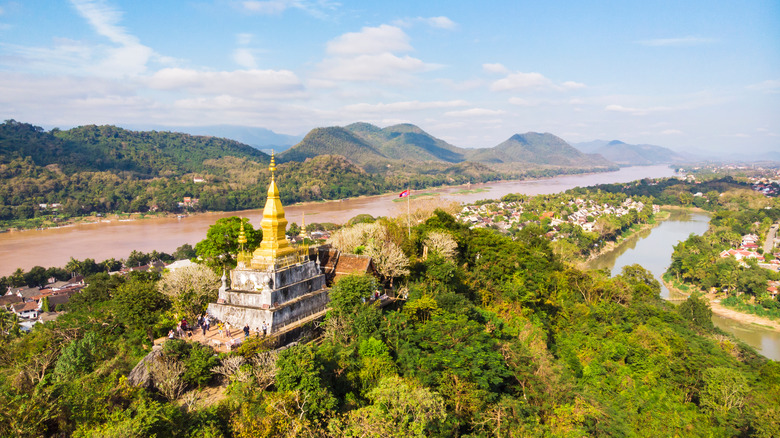 diy13/Shutterstock
The enchanting, UNESCO-ranked town of Luang Prabang provides visitors with a truly magical setting in the mountainous region of Laos. The city is optimally located right next to the Mekong River and there is a wide range of things to do in Luang Prabang. Whether you're hungry for the outdoors or want to see man-made wonders, you'll find both in Luang Prabang.
Start by embarking on the hike to the massive Kuang Si Falls. After soaking up Laos' nature and getting plenty of photos of the well-known waterfall, visit one of Luang Prabang's more than 30 different temples. Some of the most enchanting ones are Wat Xieng Thong and Wat Mai Suwannaphumaham. Next, take a river cruise along the Mekong River or just leisurely walk around to check out the city's notoriously beautiful architecture.
If you want a real glimpse into the local culture and spirituality, wake up extra early to catch the Alms Giving Ceremony that starts from the city center and works its way out towards the side avenues. During the ceremony, the city's monks come out to collect offerings that will help take care of the poor. You can participate by offering a piece of fruit or some sweets. When you're done for the day, don't miss the Luang Prabang Night Market with its endless handmade goods, souvenirs, street food, and more.
Langkawi, Malaysia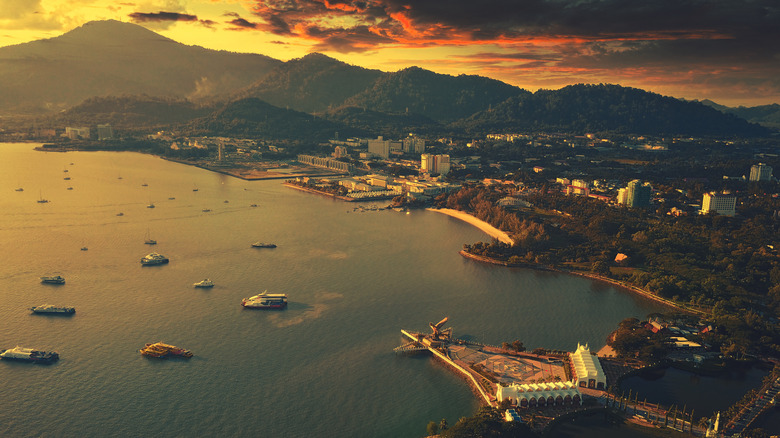 Hlib Shabashnyi/Shutterstock
You'll come to find that Southeast Asia is rich in island paradises. You could visit a new one every year and still have more to see. However, one of the best islands in the whole region is Langkawi located off the coast of Malaysia. 
It's such a top destination in Southeast Asia that Langkawi actually has its own international airport. So, it's possible to fly into Langkawi from another Asian country. Langkawi features pristine, relaxing beaches and some of the country's most expansive, gorgeous landscapes.
Nearby Langkawi, there are actually 104 other fun territories dotted along the sea to explore on a day of island hopping. As a tropical island, there is lots of nature and wildlife to see in Langkawi, and the best way to see it all is by joining a boat tour. The other cool thing about Langkawi is that it's duty-free, meaning that there's no tax on the island. So, make sure you take the opportunity to shop until you drop.
Boracay, Philippines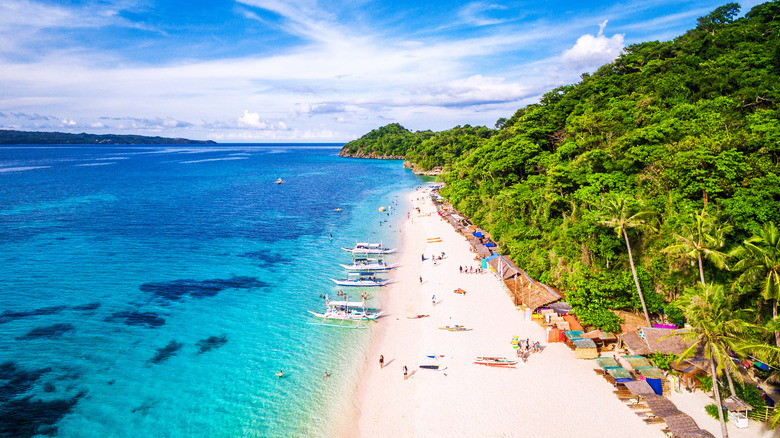 R.M. Nunes/Shutterstock
The archipelagic country of the Philippines consists of over 7,000 islands, so it's easy to understand why it's one of the best vacation destinations in all of Southeast Asia. The only problem is that with so many equally tempting options, it can be hard to pick a place to go in the Philippines. Among all the potential destinations, one of the best choices for any type of traveler is Boracay. 
The island of Boracay provides the ultimate beach vacation. There are several exquisite beaches to choose from and each beach offers a different signature activity. There are thousands of puka shells to find at the family-friendly Puka Beach and White Beach is perfect for sailing or water sports. If you prefer a more private beach experience, Balinghai Beach tucked away in a cove is the right fit. The island also has some of the clearest waters you can imagine, making it an ideal spot for snorkeling or scuba diving.
Bagan, Myanmar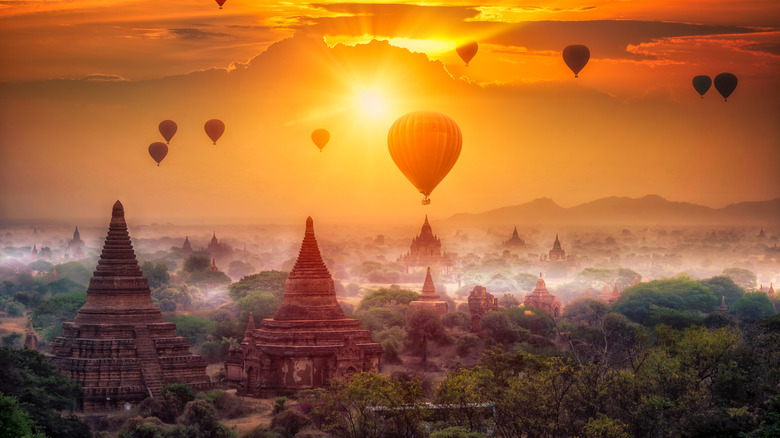 Travel mania/Shutterstock
There are lots of ways to take in the eye-catching sites and landscapes of Southeast Asia, but what if you could soar through the air in a basket carried by a giant balloon? It sounds like something out of a dream, but actually, taking a hot air balloon ride is one of the most mystical things to do in the region. You can find this heart-pumping experience in real life when you visit Bagan, Myanmar. 
You'll fly right over the city's 2,000 famous historical monuments and see intricate temples from above. It'll leave you in absolute awe. However, hot air balloon season in Bagan only lasts from October to April, so you'll need to schedule your trip around this period to partake.
After your memorable hot air balloon ride, the fun in Bagan is long from over. Get a different perspective on the sites you flew over by riding a bike to the city's temples or catch the fiery sunset dip down below the Irrawaddy River. Plus, you can never get bored with eating all the Burmese food you can handle. 
Singapore, Singapore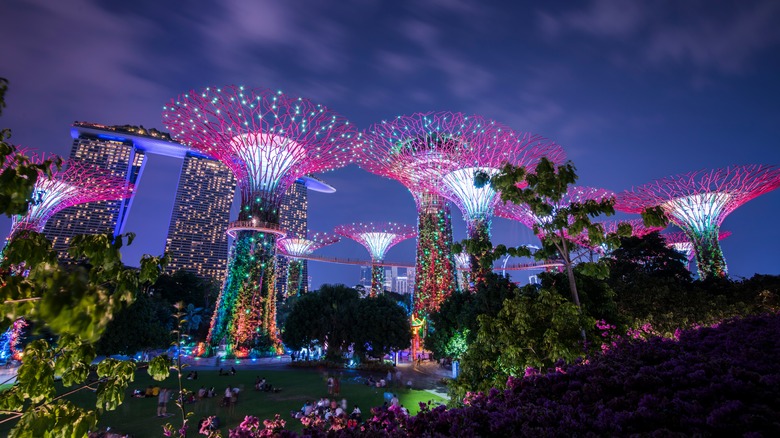 Shadow of light/Shutterstock
Even though Singapore is a relatively small city, it has built a reputation as one of the most iconic places to visit in Southeast Asia. When you get there, you'll understand why so many people are attracted to Singapore. It's kind of like a city plucked from a totally different world with its futuristic architecture and sites. 
Kick off a trip to Singapore by visiting one of its most recognizable attractions: the enchanting Gardens by the Bay. These magical gardens are signified by their 150-foot-tall "supertrees," which are quite literally gigantic manmade trees that tower over the gardens. The supertrees aren't just for show: They generate solar power and even collect rainwater. You can walk among the supertrees through an elevated pathway; just make sure you go at night to see the garden fully lit up.
After a little hike through the supertrees, get a taste of luxury at the Marina Bay Sands. Some of the city's very best restaurants and bars are located inside this famous building. Alternatively, budget travelers can get an affordable smorgasbord of food at one of Singapore's signature food courts, like Chinatown Complex Food Center or Maxwell Road Hawker Center. These places are a huge step up from the old mall food courts you're familiar with.