The Best Time To Visit Bali To Avoid Crowds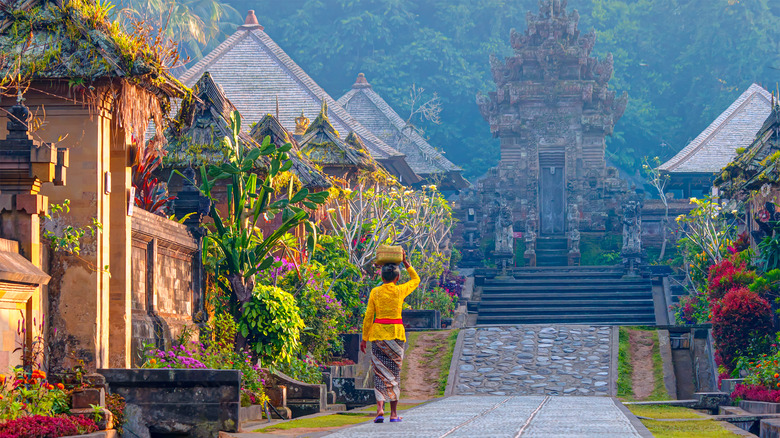 muratart/Shutterstock
When you think of Bali, you think of lush rice terraces, tranquil temples, paradisiacal beaches, and ... elbowing someone out of the way to get the perfect sunset shot. No, you probably don't think of that last one, but sometimes, that's the scene that confronts visitors to this beautiful Indonesian island. An image search for "Bali crowds" may well leave you gasping for air. Worse, traveler Meagan Drillinger, writing in Business Insider, confessed that the crowds — and the garbage that comes along with them — made her regret even traveling to Bali.
No one should be surprised that Bali can be crowded: in 2019, over six million foreign tourists descended on an island that is just slightly bigger than the state of Delaware. And, of course, certain spots in Bali attract tourists more than others: spiritual Ubud and the picturesque south of the island are two main areas. We don't want you, like Drillinger, to regret your trip to Bali. So when can you go to dodge the crowds?
The quietest time to visit Bali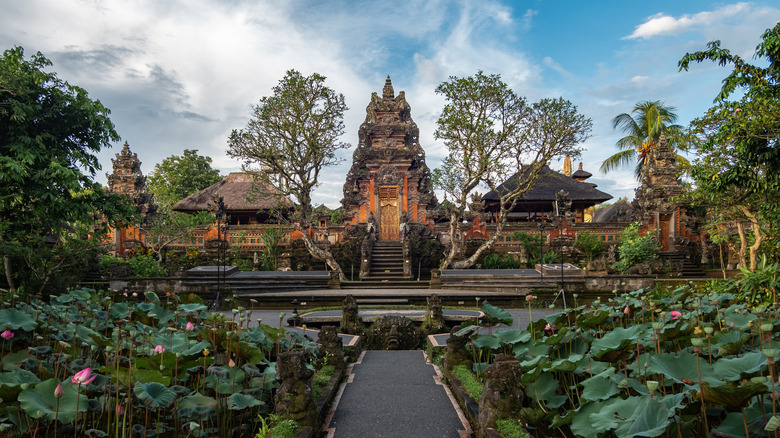 R.M. Nunes/Shutterstock
If you want to avoid the hordes in Bali, come outside of peak season, which is in July and August, and December and January. This is The Broke Backpacker's advice. It's during these times that you'll encounter larger crowds and higher prices in Bali. In contrast, February to April is the low season on the island when crowds are at their most sparse.
However, there might be a reason crowds stay away during these months: the rainy season. According to Kuoni, the rainy season only starts to peter out in April, and because of this, they recommend May, June, and September as ideal months to visit the island for a mix of fewer crowds, cheaper prices, and good weather. Travellers Worldwide picks mid-March to May as the best time to visit Bali for the same reasons. May comes up a lot as an ideal month for a visit to the so-called Island of the Gods, so it's then that you're likely to have the best Bali vacation.
Other ways to avoid the crowds in Bali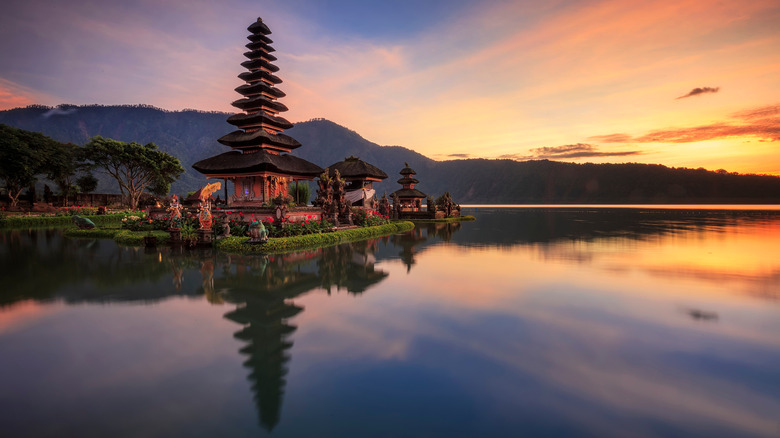 Gede Suyoga/Shutterstock
It's not just the time of year that can affect how crowded Bali is: the time of day can make a big difference to how many people are at many sites too. The Culture Trip recommends getting up with the sun to have beaches to yourself and to observe local Balinese life. They also suggest avoiding some very touristy spots at their peak times: the magnificent Tanah Lot is an example of a place you might want to bypass at sunset, for example.
There are some places where you'll always encounter a lot of your fellow travelers, though, no matter what time of year or day. Hotels.com calls out Kuta, Legian, and Seminyak for the dense crowds, and Business Insider's Meagan Drillinger adds Canggu and Ubud to that list. Luckily, there are many places in Bali that aren't as popular with the Instagrammers and Bintang-loving crowds. (If that's your jam, go for it, but if you're reading this article, we're guessing it's not.) Many travelers, including Our Globe Trotters, love the quieter north and east coasts of Bali and highly recommend a visit to Lovina and Amed, among many other peaceful destinations. If you can't avoid the high season, consider staying in these areas for a more serene trip.