The Most Budget-Friendly Time Of Year To Visit Bangkok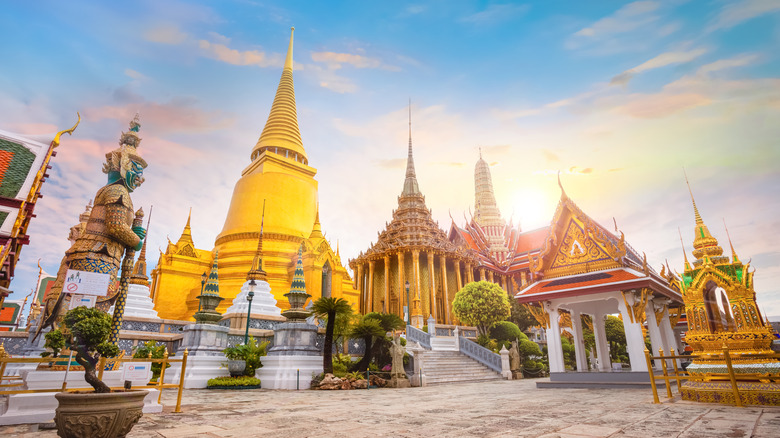 cowardlion/Shutterstock
Bangkok is glass skyscrapers and ancient temples; fine dining and delicious street food; designer stores and clamorous markets. It's also the wet and the dry season. From November to March, the country experiences its cool, dry season, when the humidity retreats and temperatures go as low as the mid-70s. The daytime heat is pleasant and the evenings can be cool; this is the most popular time to visit Bangkok and is priced accordingly. Flights and hotel rates are at their highest during Thailand's temperatures are at their most agreeable.
If you want to avoid these higher prices, April to October is a more budget-friendly time of year to visit the Thai capital. These are the hottest, rainiest months in Bangkok, but bring with them hotel deals and cheaper flights as many tourists stay away. In fact, prices can drop 50% from their peak season highs. Another advantage is that tourist attractions can be less crowded outside of peak season.
A visit to Bangkok during the rainy season means stepping into a soupy world of high humidity and frequent downpours. However, you shouldn't expect relentless rain from April to October. April sees relatively low rainfall but the highest temperatures of the year as well as high humidity. The rain starts in May and lasts through to October, but even during the height of the rainy season, you can expect to see some sunshine. The rainstorms often come in the afternoons and tend to take the edge off the day's intense heat.
Surviving the rainy season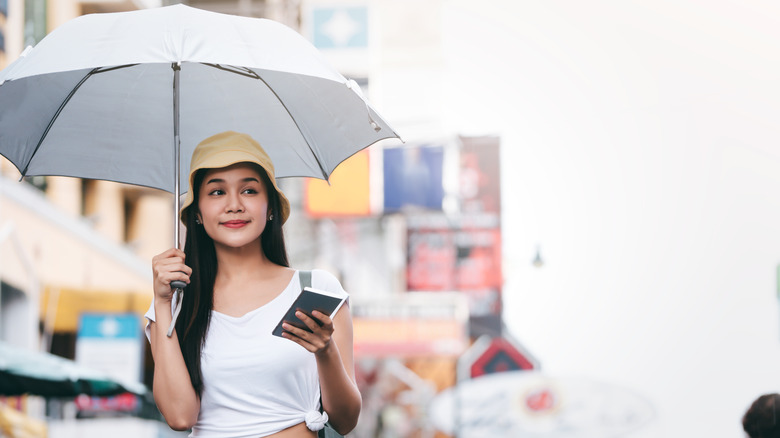 dodotone/Shutterstock
So how do you visit during the rainy season and enjoy it? First, bring waterproof shoes, a breathable waterproof jacket, and a small umbrella. This is your kit. Second, don't wear long trousers, but if you must, absolutely don't wear white trousers. They will get splashed with mud and you'll probably underestimate the depth of a puddle and end up submerged to the ankle. It's better to wear shorts or a skirt. May to September is also peak mosquito season in Bangkok, so wear repellent to keep from getting bitten.
There are also tons of things to do indoors in Bangkok, so you won't be out in the rain all the time. You can visit the Bangkok National Museum or Sea Life Bangkok Ocean World, get an incredible massage, or explore ICONSIAM, Bangkok's indoor floating mall. The Thailand Grand Sale takes place from June to August, so bargain hunters can trawl the malls and find some great deals. Finally, if you're in Bangkok in April, you'll get to celebrate Songkran, the Thai New Year. Embrace the heat and prepare to get wet as the city takes part in a huge water fight to wash away the old year and welcome in the new.
Other ways to save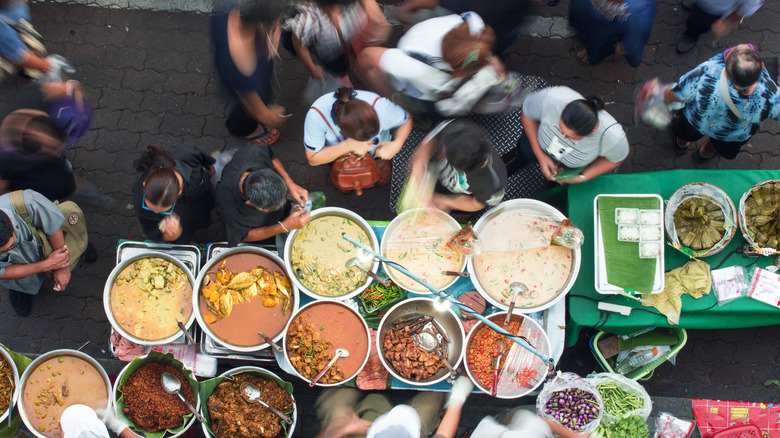 Anansing/Shutterstock
While visiting in the rainy season will allow you to save on flights and accommodations, there are other ways to be savvy with your cash when in Bangkok. Our biggest tip is to eat street food; food stalls line the streets of the city and you can buy delicious local dishes like noodle soups and barbecued meat for around ฿60 ($1.75.) If it's too hot to eat on the street, visit one of the city's many indoor and blessedly air-conditioned food courts.
While you're wandering the streets looking for food, you can also take advantage of the cheap prices in the markets. Street markets in Bangkok are stuffed with reasonably priced clothes and accessories and are excellent places to practice your bartering skills. Another tip is to take public transport. The MRT (subway) and BTS (skytrain) are convenient and easy to use, and fares start from ฿16 ($0.45.) An excellent alternative is the Chao Phraya Express Boat, which plies the river and costs from ฿14 ($0.40). It's a trip with a view, and a chance to enjoy the charms of riverside Bangkok on the cheap.