What First-Time Cruisers Can Expect When Boarding A Cruise Ship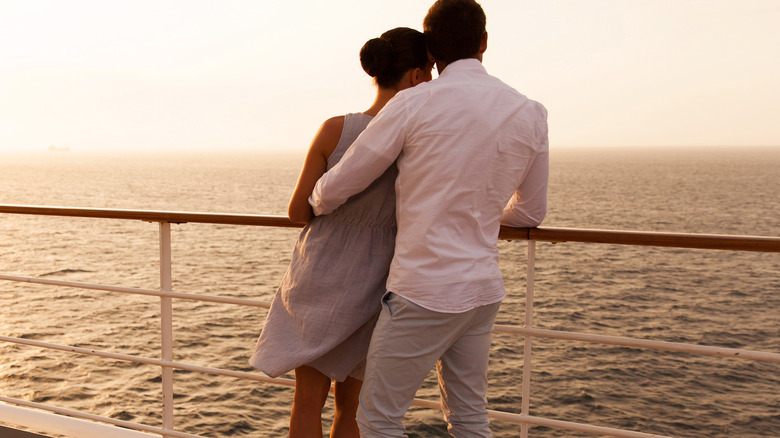 Michaeljung/Getty Images
Whether it's your tenth or hundredth, seasoned cruisers always remember their first trip aboard a cruise ship. Experiences like watching the sun rise or set over a vast ocean, catching your first glimpse of a port city, or getting to taste a variety of different dishes all in one trip can make for an unforgettable experience. On your first cruise, you'll quickly learn why so many travelers consider cruising to be their favorite way to travel and explore a variety of destinations in one fell swoop. And you can enjoy it all from the comfort of a luxury suite while getting to enjoy amazing food each night, amazing shows, and fun activities both onboard and off.
But getting the most out of a cruise is easier said than done. It's important to plan and do your research before boarding. Especially if it's your first time. While booking and enjoying a cruise is much easier than your typical overseas travel there are still some choices you will want to weigh and logistics to consider. This will ensure your trip goes smoothly and you get the most out of your first cruise.
Preparing for your first cruise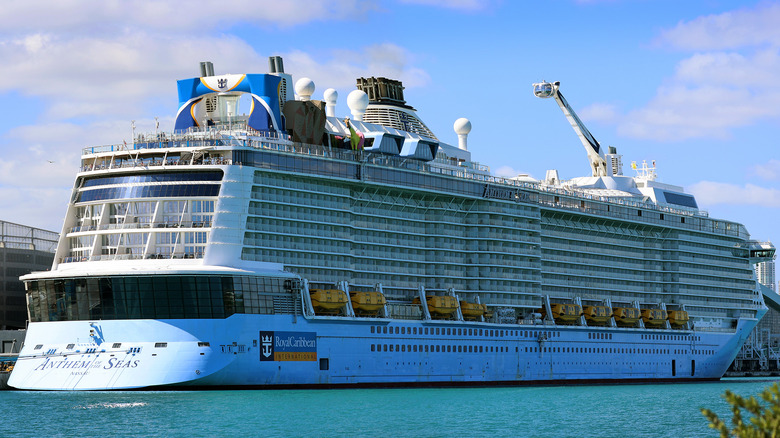 Joe Raedle/Getty Images
Before you even book your cruise, you'll want to do a little research about the different cruise lines out there, their ships, and which ones will suit your style of travel. Some ships will be more geared toward families, such as the Disney Cruises. Others, like Carnival Cruises, are known as the "fun ships" that have mass-market appeal for a lower cost than most other cruise lines. There are also your more upscale options like Viking or Princess, which offer a more refined cruising experience for passengers 18+ in age.
Next, no matter which cruise line you choose, you'll want to pick the destination or itinerary that appeals to you the most. Whether you want to tick off some once-in-a-lifetime locations in the Mediterranean, feel the heat in Southeast Asia, or explore the Mexican coastline, you can be sure you'll have some incredible experiences regardless of which cruise line you choose.
Where you go, for how long, and the ship, will also depend on your budget, so be sure to do your research to find the best deals and start looking to book way in advance. Think nine months to a year before you plan a trip if you're considering a very popular cruise line and itinerary.
What to expect once onboard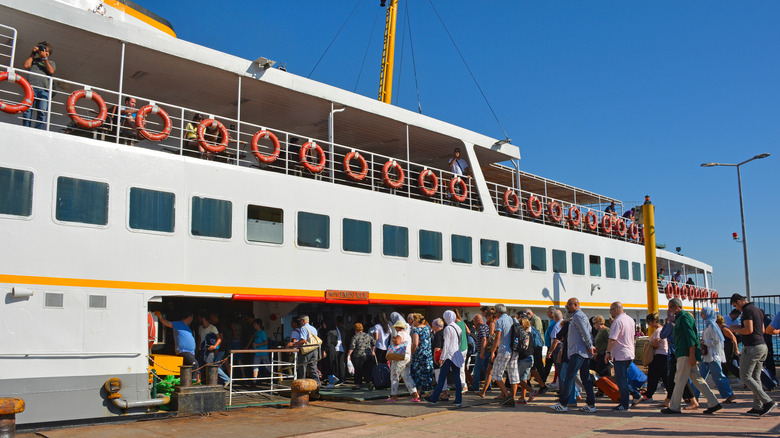 Dragoncello/Shutterstock
Depending on where your port of call is, you may want to consider driving or flying in a day or two early to give yourself plenty of time to get to your ship. This will allow you to start your trip without stressing if you miss a flight or some other emergency comes up the day you're supposed to leave.
When you board will depend on the location and cruise line. While you could board early thinking you'll beat the crowds, you may not be the only person with this idea. Arrive a bit later once that first rush has passed, and take your time to board. Just don't be late, the boat will leave without you!
Once you arrive at the embarkation area, you'll go through a similar security process as you would entering an airport, just without the additional steps, like removing outerwear, electronics, or liquids. A porter will take your bags to your room, and you'll proceed to the check-in area. Here you'll receive your keycard, which will be used to board the ship and enter your room.
Finally, it's time to explore the ship and wait for the muster drill — a safety drill that is mandatory for all passengers– and roll call. Take some time to get comfortable in your room and wander around the various decks to familiarize yourself with each area of the ship.