Is An Extra-Long Cruise Right For You?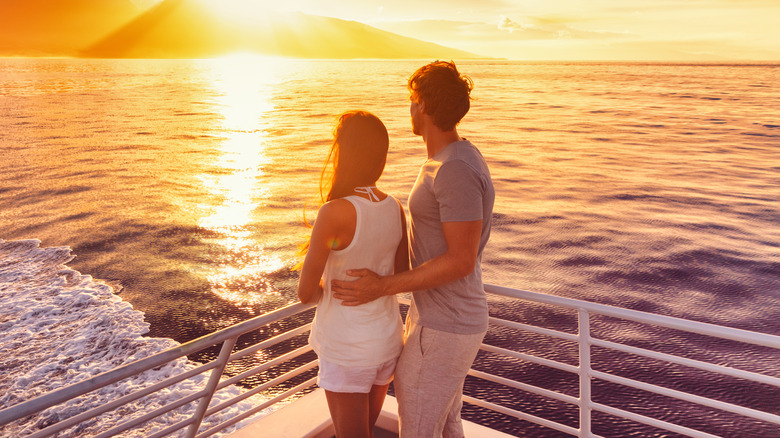 Maridav/Shutterstock
Exploring the beautiful open seas aboard a cruise ship is, for lots of people, one of life's many joys. People love cruises for many reasons. Besides the opportunity to explore different places, travelers can meet other like-minded people from all around the world. There are also different entertainment options, and all-inclusive packages can make your vacation even more enjoyable and stress-free. Cruises also offer passengers the chance to enjoy a variety of amenities and activities such as swimming pools, spa treatments, organized sports and games, shopping, restaurants, and bars. Additionally, there are often educational presentations aboard cruise ships that provide insight into local cultures or customs. Above all, cruises allow travelers to relax in luxurious surroundings with easy access to multiple destinations during their trip without ever having to board a plane or train.
In recent years, a new kind of cruise has been growing in popularity: extra-long cruises. These types of cruises are generally longer than three weeks and allow cruisers to take extended trips around the world all from the comfort of nicely-furnished cabins. Extra-long cruises offer the same amenities and activities that shorter cruises do, just with the added bonus of having more time to explore different destinations. So pack your bags and head to the closest port!
Types of extra-long cruises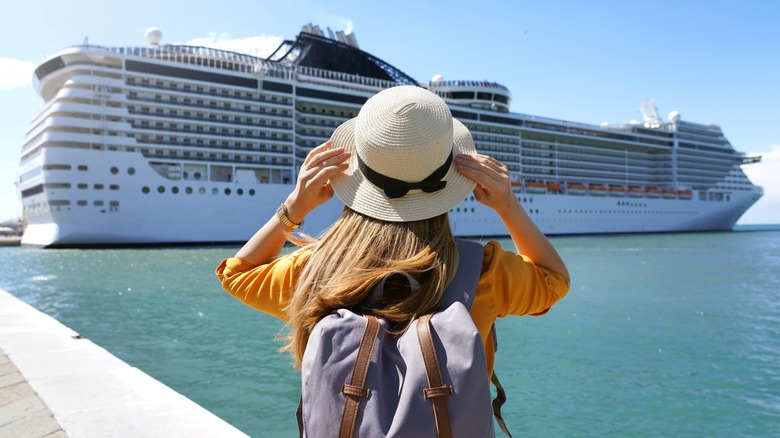 Zigres/Shutterstock
Extra-long cruises come in a variety of durations and sizes. You can embark on cruises anywhere from 50 to 200-plus nights and travel around the globe, checking off 60 countries or more (!) along your journey. The best part is, with so many cruise lines beginning to expand their offerings to include extended-duration cruises, you'll have your pick of the proverbial litter depending on your needs, expectations, desired destinations, and budget.
Most extended-duration cruises promise travelers the opportunity to visit a variety of countries but some may focus on just one or two continents or a handful of regions, such as Celebrity Cruises' 52-night journey that takes you to destinations around the Mediterranean, the Indian Ocean, and all the way down under to the beautiful Australian and New Zealand coastlines. Others like Royal Caribbean's 274-night Ultimate World Cruise can take you to multiple countries without you ever having to lift a finger for travel planning.
Now, the level of luxury you're expecting will of course depend on your budget but, for the most part, you won't be staying in modest accommodations and many of the details of your stay will be taken care of with excursions, food, and beverages all included. Some take it even a step further, with Royal Caribbean's Ultimate World Cruise providing business-class airfare, hotel and airport transport, on-shore excursions, laundry services, Wi-Fi, and more.
How extra-long cruises are different from shorter cruises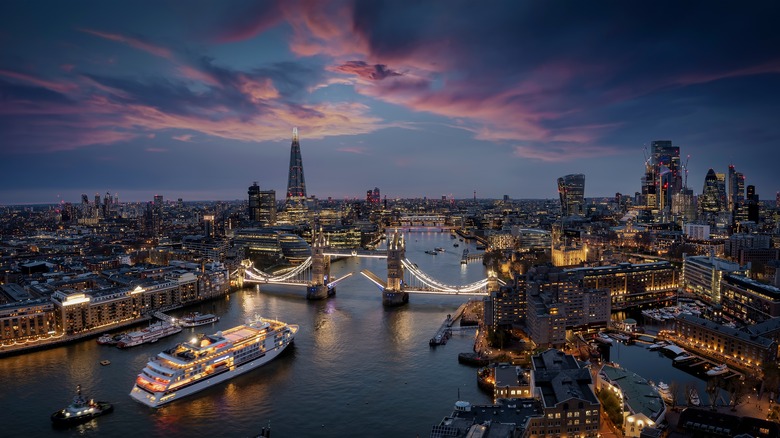 Sven Hansche/Shutterstock
Besides the obvious of spending more days and nights cruising the high seas, an extra-long cruise can provide cruisers with the incredible opportunity to spend more time discovering the world while still really indulging in all that a cruise has to offer.
On a shorter cruise, you may not have the time to explore the whole boat and all its amenities while also exploring the destinations along the way. Being able to take advantage of all the excursions at each stop without feeling like you're missing out on the on-boat activities is a great advantage with extra-long cruises. And, because these cruises are significantly longer than most other trips, travelers have the opportunity to leisurely meet new people and make friends from all around the world while getting to explore the world with them! What better way to build new friendships, right?
Activities you can do on an extra-long cruise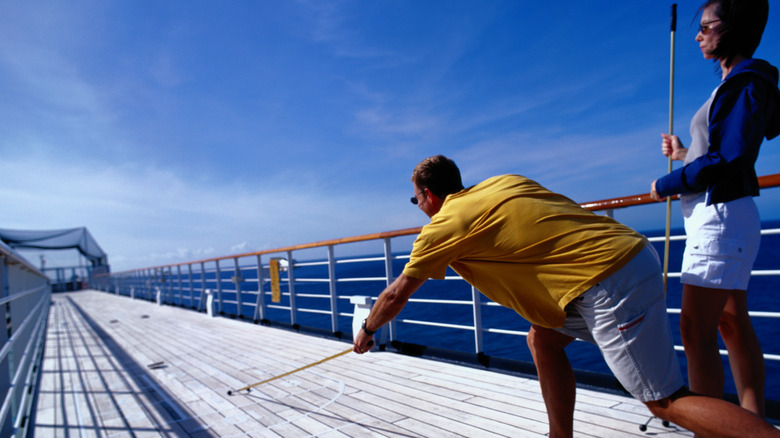 Steve Mason/Getty Images
Much of the activities and amenities you'll find on regular cruises can also be found on extra-long cruises, too. This is because the majority of ships used for long cruises are not boats specially built for long cruises but rather just follow a long trek around the globe with passengers embarking and disembarking for whatever duration and segment they choose.
That said, typically newer ships are the ones sent out on longer itineraries whereas older ships are used for shorter ones. This means you'll find updated rooms, restaurants, bars, theaters, and other amenities on newer ships in comparison to older counterparts. This allows cruisers to experience the latest and greatest a cruise line has to offer on their ships. This can mean more modern pool decks, elaborate activities like zip lining and rock walls, and otherworldly and immersive entertainment spaces. Additionally, with more ports at your fingertips along your extended journey, you're sure to have even more varied experiences and excursions than you would with a shorter cruise.
Communities you can build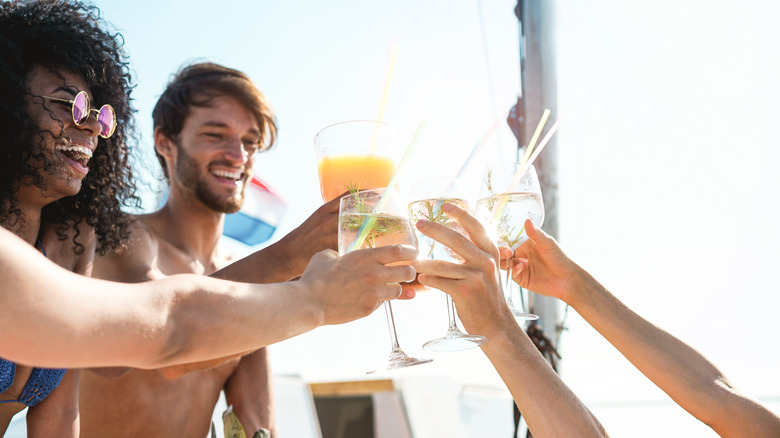 DisobeyArt/Shutterstock
An extra-long cruise can be the perfect opportunity to create a tight-knit community of passengers who embark on a journey together. On a long cruise, you'll have the chance to really get to know your fellow travelers and build strong friendships during your weeks- or months-long voyage. From book clubs and card games to communal meals and shore excursions, there are plenty of ways for cruisers on a long cruise to bond with one another.
One way that many people make friends aboard and remain so after the cruise has long since ended is by staying in touch through social media. You can join special groups on Facebook or other platforms dedicated specifically to those who have been on the same extended cruise, providing both a place for people to reminisce about their shared experience as well as keep up with what their former shipmates are doing now.
Cruise lines that offer extra-long cruises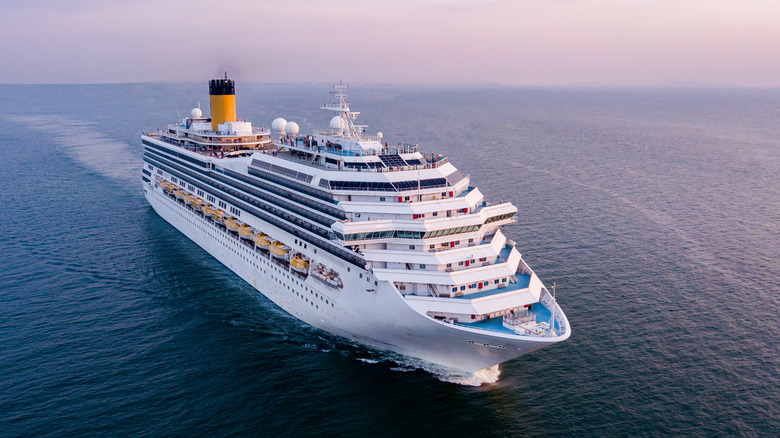 apiguide/Shutterstock
Many popular cruise lines offer extended or extra-long cruises such as Princess Cruises, Cunard, Royal Caribbean International, and Viking Cruises. Each one offers a different take on popular globe-trotting routes. However, some focus on particular regions over others and, of course, each boat will have a different "vibe" that may be better suited for some cruisers over others.
For example, Viking Cruises promises passengers what they call a more "cerebral" experience geared towards experienced travelers who prefer shore excursions as opposed to the party and casino scene found on some American cruise lines. If that sounds like something more your speed for a 100-plus-day excursion, you're in luck! The Viking Sky offers two extended cruises: the Viking World Voyage I and the Viking World Voyage II. If you're a party animal or you're just someone who loves onboard activities as much as shore excursions, you'll probably want to check out Royal Caribbean or Cunard. Their onboard activities and entertainment are globally recognized as being top-notch fun for cruisers of all ages.
Budgeting for extra-long cruises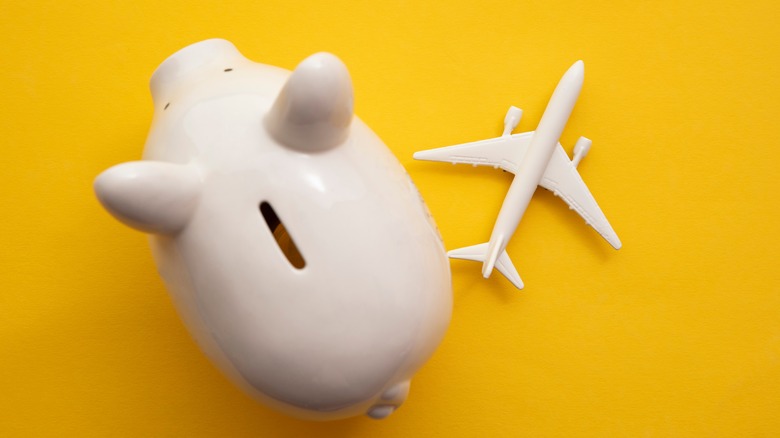 Ink Drop/Shutterstock
Extra-long cruises are a great way to explore the world, but they come with a hefty price tag. Depending on the cruise line and itinerary you choose, an extra-long cruise can cost anywhere from several thousand dollars to tens of thousands of dollars. While this may seem like a lot at first glance, it's important to remember that these extended voyages offer more than just transportation: They provide travelers with an all-inclusive experience that includes food, entertainment, activities, and shore excursions. Still, you will want to avoid these money-wasting activities on your cruise.
When budgeting for your extra-long cruise, there are several factors you'll consider when choosing what is the best value option for you and your travel companion's needs: accommodations (i.e., cabin size), onboard amenities (such as specialty restaurants or spas), tips/gratuities (on some lines these are included or factored into your overall bill either before or after departure), airfare if needed, and any additional services such as private transfers or pre/post hotel stays. Additionally, where you're sailing from and how long your voyage is expected to last will also affect your final costs; longer trips tend to have higher fares than shorter ones due to fuel consumption and if you do multiple shore excursions, the costs can add up quickly.
The people you'll meet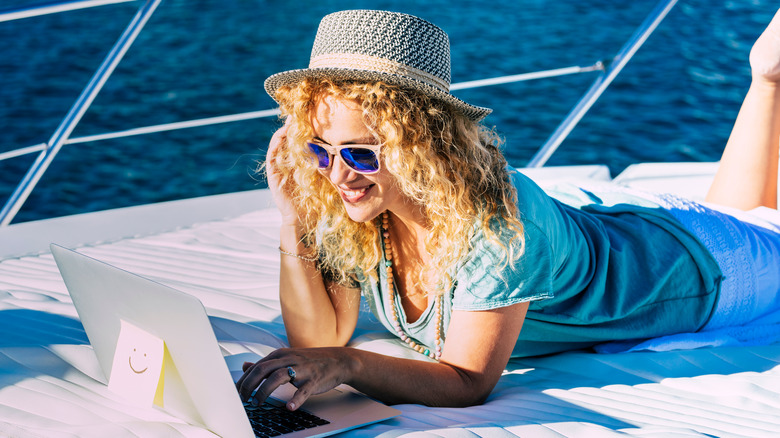 simona pilolla 2/Shutterstock
Extra-long cruises are often associated with retirees and older people with more disposable income who are taking time to explore the world in comfort. However, if you're a younger person interested in extended cruises, don't worry about feeling like you've stumbled into a retirement community. With remote working becoming increasingly popular in recent years, young professionals have begun to take advantage of the opportunity to work from anywhere, including on board a cruise ship. From professionals and entrepreneurs to adventurers and more, you will soon find yourself making friends with people from all walks of life and maybe even doing some professional networking.
Additionally, extra-long cruises offer a unique opportunity to meet people from all over the world and make lasting connections with a global community. This can be an incredibly rewarding experience as you discuss different cultures, share stories and experiences, and even gain insight into cultures and places you've never been.