Lincoln Park Is The Family-Friendly Neighborhood Pick For Chicago Travelers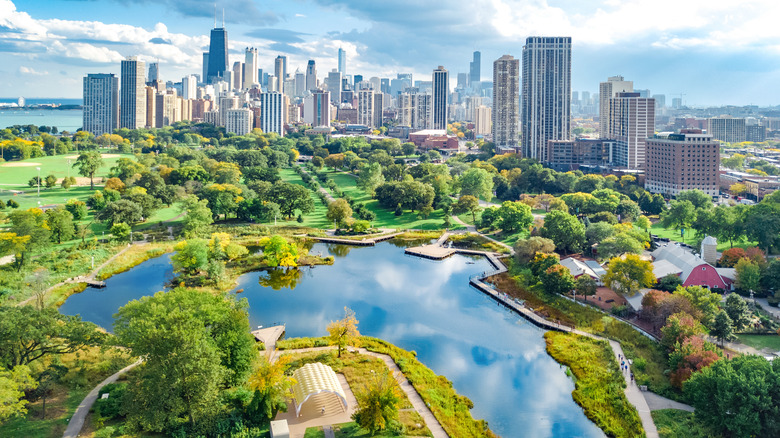 JaySi/Shutterstock
There are many things that attract travelers to the Windy City. Its 77 neighborhoods offer a taste of Chicago's diverse offerings in terms of food, culture, and other things to see and do. Marvel at the city's skyline, climb the Willis Tower for an eagle's-eye view of the buildings, or ride a Segway for a closer look at the city. From music and food to the arts and architecture, there's bound to be something that catches your family's attention.
While downtown is a hubbub of urban living filled with bustling energy, it isn't always like that for other areas of the city. If your family prefers peace and quiet, head to Lincoln Park. Here, you'll understand why Chicago is also known as the "City in a Garden." Families will enjoy Lincoln Park's nickname and other green spaces in the neighborhood. But aside from outdoor attractions, you can also head inside museums, restaurants, and theaters to learn more about the city.
Nature on display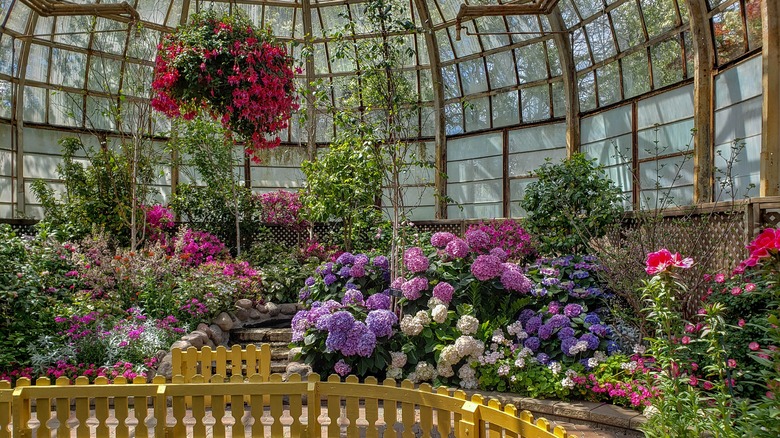 ChicagoPhotographer/Shutterstock
With about 1,200 acres, Lincoln Park is Chicago's biggest park (per Chicago Traveler) and features several attractions that can easily take up a whole day to see and explore. There's the Lincoln Park Zoo, one of the oldest zoos in the country. The free zoo is home to animals of about 200 species, and the Kovler Seal Pool and the Kovler Lion House are popular exhibits. Then there's the Lincoln Park Conservatory, consisting of four display houses built during the Victorian era. These hold exotic plants such as palms, tropical flowers, and ferns that stay green and lush all year round. Learn more about these plants and animals at the Peggy Notebaert Nature Museum, or go there to watch the daily butterfly release.
If you need time out from admiring the animals and plants, head to the Nature Boardwalk, where a bridge over South Pond offers a spectacular view of the city's skyline. And while you're strolling through the park, play a game of "Who's That Statue?" with your children. The park is filled with statues of notable people, including General Ulysses S. Grant, founding father Benjamin Franklin, and author Hans Christian Andersen. While you won't find representations of Andersen's work here, Oz Park is dedicated to L. Frank Baum's famous book. Here, you'll find statues of beloved characters from "The Wonderful Wizard of Oz." There's also a playground named after Dorothy and an "Emerald Garden" filled with flowers.
Food for the eyes and tummy
Jon Bilous/Shutterstock
Although Lincoln Park is very nature-centric, don't dismiss the architectural gems you'll find while strolling about the park too. Both Alfred Caldwell Lily Pool, a National Historic Landmark, and Café Brauer in Lincoln Park are of the Prairie-style architecture, according to the Chicago Architecture Center. Or, take your architectural admiration to the water. A river cruise or boat tour provides a different view of the designs you admired on foot.
While children may or may not appreciate the city's architecture, they'll be grateful for the food you'll come across in Lincoln Park. Of course, there's Chicago's deep-dish pizza. Mommy Poppins suggests trying one at Pequod's as well as the other food options available in the area. Head to Nookies Too for a brunch of pancakes and eggs and The Wiener's Circle for char-grilled hotdogs. For snacks, there's a local Foxtrot Market at 902 West Armitage Avenue, or visit the Green City Market if it's a Saturday or Wednesday during peak season. Green City Market is a farmers market where you can find local vendors selling baked goods, jams, honey, and more.