Must-Know Tips For Choosing Your Ultimate Honeymoon Destination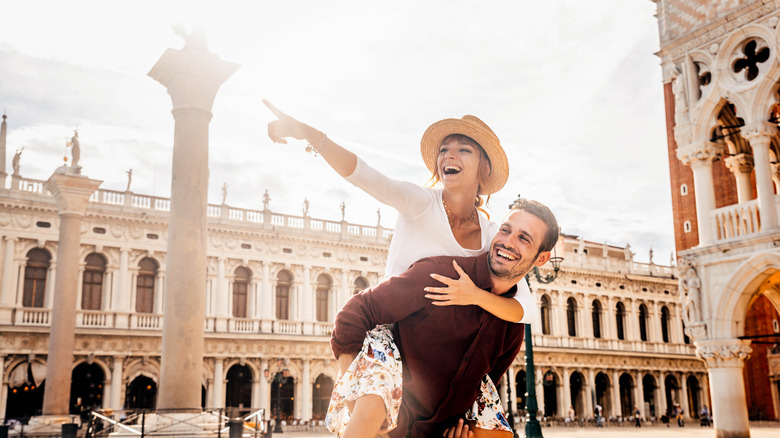 DavideAngelini/Shutterstock
So you're going to be married! Or, maybe you are already married and are finally circling around to going on a well-deserved honeymoon. Either way, you've got quite an array of options to choose from for where you'll be traveling with your life partner. Luckily, there are a few simple ways to narrow down the search, and we've laid them all out for you.
There's a lot that goes into choosing your honeymoon destination, from price to weather to even differing opinions of the newlyweds. All of those factors are important, but it's still possible to find that dream destination where you can spend the time you have allotted to explore a new place with the one you love and kick off a happy and lengthy life together.
Investing the time and money into a honeymoon has been linked to resulting in longer and happier marriages, so really it's a fun way to start out your married life on the right foot – you've just got to know how to choose where to go! Not to worry, though, we'll walk you through it.
Talk it out with your partner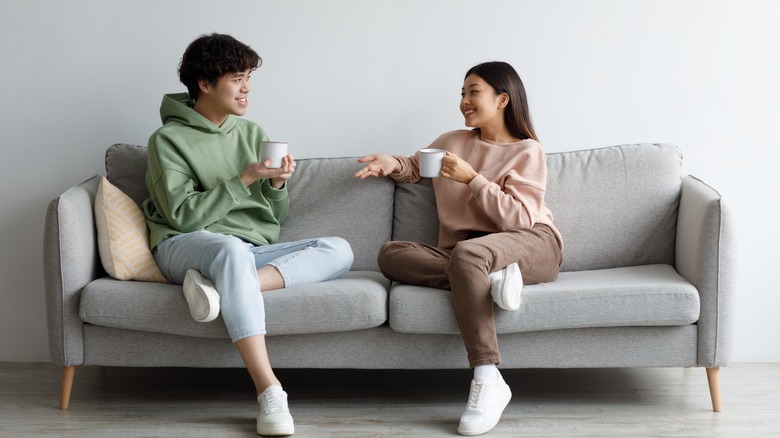 Prostock-studio/Shutterstock
Your very first step in deciding where you should honeymoon is to have a conversation with your newly wedded partner. To avoid any hurt feelings, discomfort, or all-around misery on what will hopefully be one of the best vacations of your life, it's best to be on the same page with the other person in your relationship. While you should probably know each other pretty well at this point, it doesn't hurt to double-check what each of you wants in terms of a romantic getaway together.
Chances are that you've already shared your life goals and deepest dreams with one another, and now it's time to daydream about your perfect honeymoon — especially now that it may be close to becoming an actual reality. You both should be able to check off some of your dreams' boxes, even if they clash with one another.
If you long for a beach vacation while your partner wants to head into the mountains, for example, it's not likely either of you will have the exact honeymoon you have envisioned in your mind. However, you can make compromises and incorporate aspects of both types of destinations into your plans. While you'll both probably be perfectly happy spending one-on-one time with the other anywhere you may go together, it's best to plan for both partners to get to see their dreams come true, if only in small ways.
Lock down your budget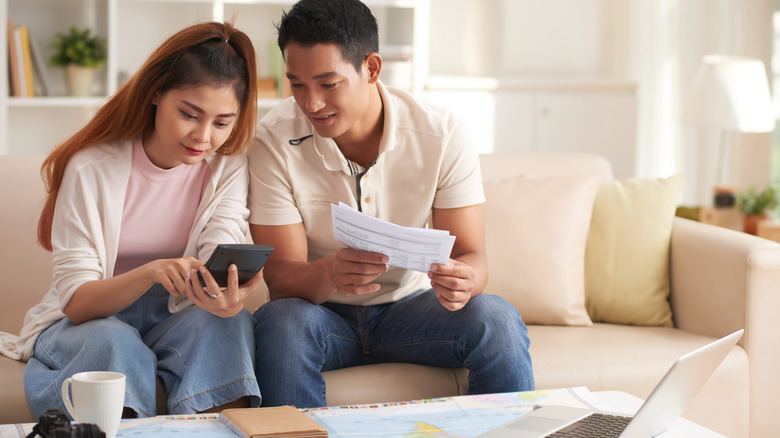 Dragon Images/Shutterstock
When talking to your partner about potential honeymoon destinations, money probably will – and should – come up. One of the first things you are going to need to consider is how much money you can put aside for a trip, and both newlyweds should be in agreement of how much they are willing to spend.
There are plenty of other money-suckers that come with marriage, like the cost of the wedding itself and potentially purchasing a home together, and the importance put on these different goals will most likely impact your honeymoon. It's important to lay out each goal and how long/how much money each will take to achieve. This, your cost of living, and how much money you have coming in will all work together in determining just how much you can put towards your honeymoon, which could in turn decide which destinations are feasible.
A lot of different aspects go into the cost of a honeymoon and each destination on your list of possibilities will have a different price tag for them. The average honeymoon costs around $5,000 and that is a good savings goal for couples who have not yet fleshed out their budget. However, you should be prepared to expand your budget in case your eyes are bigger than that of the average honeymooner. But on the other hand, there are plenty of budget-friendly honeymoon destinations as well.
Decide how long you can honeymoon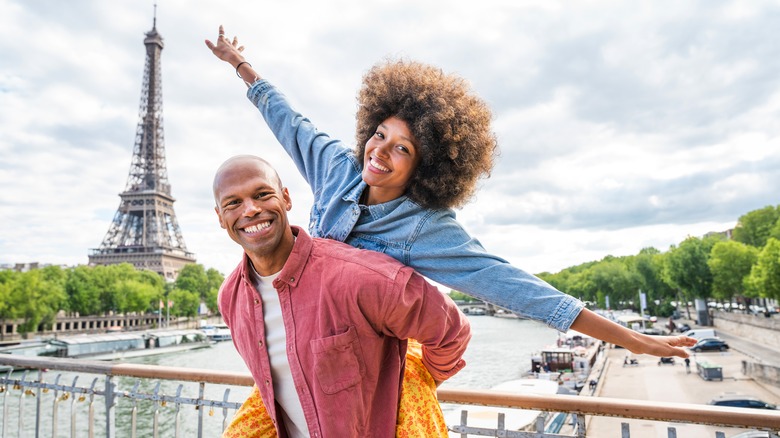 oneinchpunch/Shutterstock
Finding the time to vacation can sometimes be a struggle, especially when you have to consider two different schedules. While you may already be used to your partner's work hours and have already incorporated them into your life, planning a wedding and then honeymoon in terms of time away from work for two people working for companies with different policies can be hindersome. The last thing you will want to do on your honeymoon is to worry about work, so make sure you have your time off before setting out, and giving plenty of notice will probably help as well.
The average honeymooner takes at least a week for a trip with their significant other, with most honeymoons ranging between seven and 12 days. Taking a good chunk of time to usher in a new life with the one you love is a great idea, and it will act as a nice payoff for all the wedding planning.
If you can only spare a long weekend or so for a special getaway for the two of you, you will likely not want to spend a large percentage of that time traveling. You are already naturally down two days for travel if you are flying or have a decent drive ahead of you. Travel time must be taken into account when choosing a destination, and the loss of time needs to be weighed against the worth of the potential destination itself.
Know when you'll be honeymooning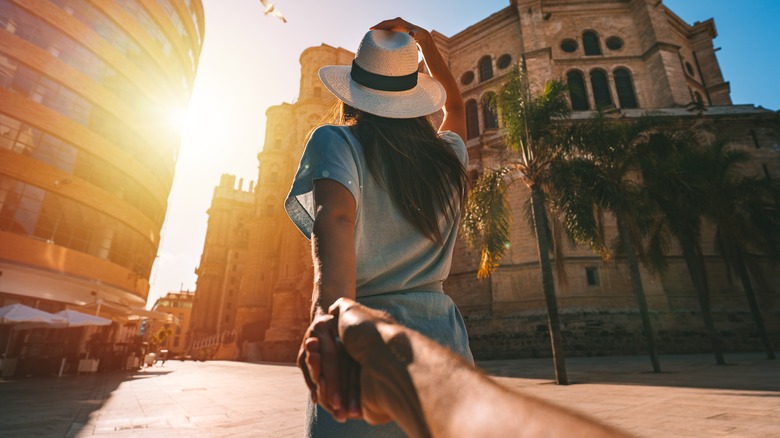 Creative Cat Studio/Shutterstock
Traditionally, the honeymoon happens right after the wedding and signifies the beginning of a new life with your forever partner. It would then be a given that your honeymoon would take place in the same season as your wedding. However, recent years have seen couples putting off their honeymoon due to work conflicts, childcare concerns, or lack of funds. There are plenty of more positive benefits in delaying your honeymoon, though, like gaining an additional honeymoon period.
Whether you decide on going on your honeymoon right after the wedding or waiting, you will need to consider what time of year you are heading out on a vacation, as some destinations can vary a great deal between peak season and off-season. Traveling during the off-season certainly has its benefits, but they may not align with your dream getaway. If you desire a less crowded venue when celebrating your love with your partner, then going on the off-season may fit well. If you are more interested in soaking in a city to its fullest and enjoying what people flock there for, you may be more of a peak-season traveler.
Before hitting the confirm button on your honeymoon booking, make sure you're not about to step off the plane during monsoon season. While off-season traveling could be a great thing for your honeymoon, you'll need to research whether your destination will still be safe and enjoyable.
Ask for suggestions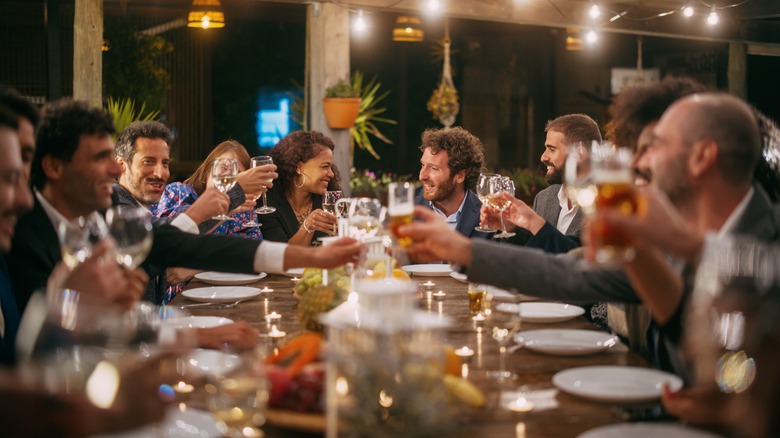 Gorodenkoff/Shutterstock
Planning both a wedding and a honeymoon on top of inviting a whole new person to share your life can be overwhelming. You're not alone, though, and you are not the first to go through it. Ask your friends and family where they think would be a good place for both you and your new partner to explore, they will likely be thrilled to offer suggestions and help. Getting feedback about other people's experiences and where they have been, especially people who know you personally, can lead to some really great ideas you may have never thought of if you hadn't asked. Involving your loved ones in your plans signifies their continued presence in your new phase of life as well.
To make the process more natural and involve your friends and family in the planning from the very beginning, you can even make your wedding RSVPs a little more unique by asking invited parties where you should honeymoon. If you don't have your honeymoon planned out by the time the wedding rolls around and you plan on taking it after you get settled in your new life, use the wedding itself as an opportunity to get honeymoon suggestions. You can easily ask wedding guests for their own honeymoon stories or suggestions at your reception. Asking for marriage advice is a popular reception activity for wedding guests, so why not honeymoon advice as well?
Consider a multi-destination honeymoon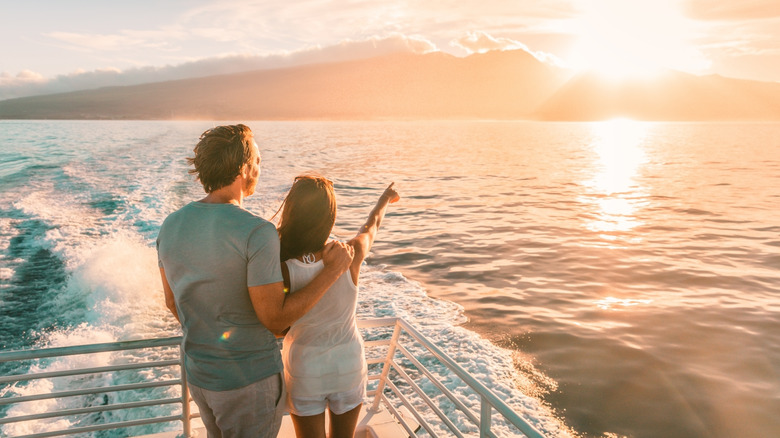 Maridav/Shutterstock
Why pick one place to share and explore with your partner when you could have many? If you two still have too many options on your destination list after narrowing it down or you're the type that would enjoy a fast-paced and highly stimulating adventure, planning a honeymoon that hits multiple destinations may be just the thing to take your honeymoon to the next level.
Embarking on a cruise is a great way to see multiple locations without the hassle of too much planning, all while being able to relax and take in the scenery. Similarly, a European honeymoon potentially allows for plenty of destinations. Traveling in Europe may take quite a bit more planning and is a more involved way to have a multi-destination honeymoon, but it's relatively easy to see many countries and cultures in a more than accommodating amount of time. You'll want to research the best way to see all the places you want to include on your trip, as the European train system is extensive.
Consider combining the wedding and honeymoon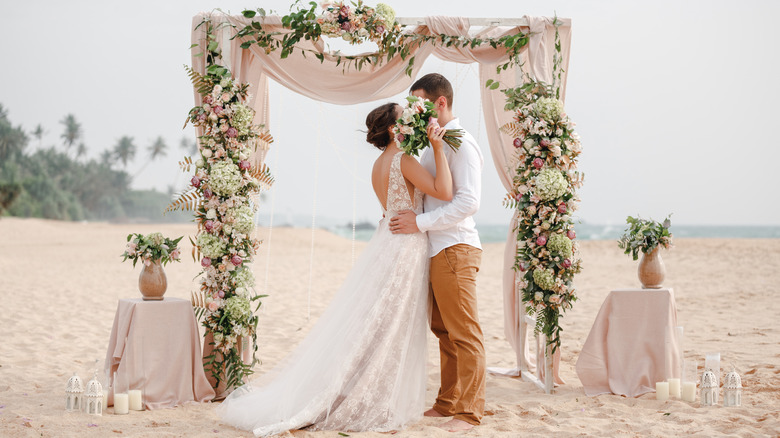 PhotoSunnyDays/Shutterstock
One way to take a little stress off of planning two separate events could be to have a destination wedding at the place you want to honeymoon. As you can probably guess, destination weddings do have some drawbacks that the bride and groom, along with their families, may take great issue with. The biggest complication that comes with a destination wedding is asking your guests to travel long distances in order to be there for you on your big day. While it sounds like a dream to go on one big vacation with all the people you care most for in the world, it's unrealistic to expect everyone to be able to make a trip work in their budget and work schedule. Choosing to have a destination wedding may mean sacrificing some from the guest list, but it may be worth looking into if it sounds appealing.
Combining your wedding and honeymoon into a destination wedding typically is more affordable for the bride and groom than having two separate, high-budget endeavors. This could potentially allow the newlyweds to have both the wedding and honeymoon of their dreams that just couldn't have happened if booking two different locations. You will have to weigh the benefits with the sacrifices of taking a non-traditional route, but the increased resources directed toward your honeymoon may just be worth it.
Decide how you'll be staying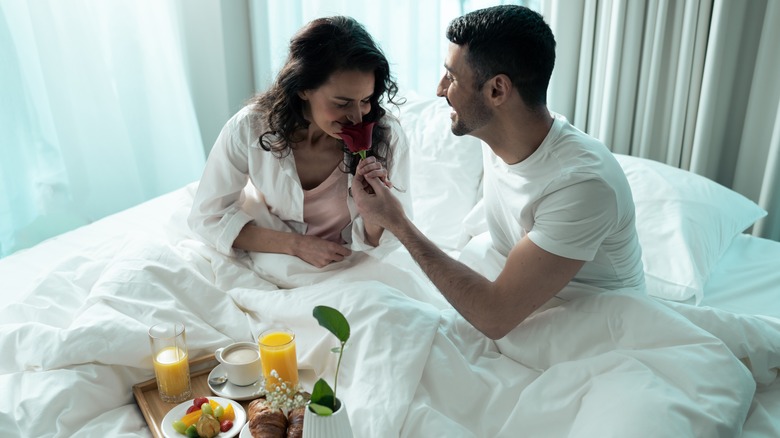 Stock Unit/Shutterstock
For plenty of couples, the honeymoon is largely spent in the bedroom. Considering this, you'll want to figure out what kind of accommodations you'd like. Picture your perfect honeymoon, are you staying in a luxury hotel, a villa, or something completely different like a glamping tent? Where you stay will be a large chunk of your budget, but splurging here may be worth it if you imagine you'll make good use of your room.
If you are planning to make extensive use of your accommodations during your vacation, it's wise to consider the food situation before committing any money toward a room. Is there room service or a resident restaurant available? How close are the nearest restaurants, and is takeaway or delivery an option? If you are a couple who loves to cook for each other, does your stay include access to a kitchen, and is it private?
There are so many different forms a honeymoon can take, and no one way is wrong as long as both you and your partner are enjoying it. However, making sure you book your stay somewhere that has the accommodations and amenities available to enjoy is vital. A two-person tub, private balcony, or rose petals and nightly champagne are just a few of the many amenities you may look for to make your stay special.
Explore possible romantic excursions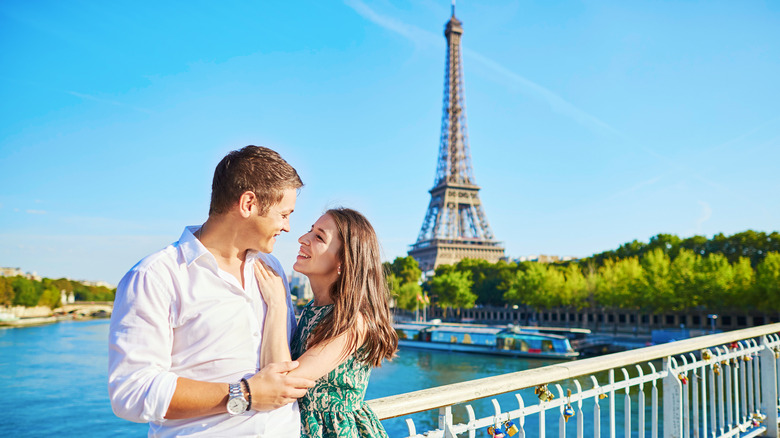 Encrier/Getty Images
Even if you are the type of couple to do nothing but spend time in your room and order room service during your getaway together, you may want to plan some romantic things outside of the room, too. After all, you did spend the money to travel all the way to a new place, so you might as well experience some of it. Romance can be found everywhere, so be sure to soak in your surroundings as much as you're soaking in each other. 
You can either explore possible excursions after you lock down your honeymoon destination, or you can build your trip around specific romantic points of the world. For example, Paris is associated with romance and the Eiffel Tower has become something of a symbol of love. Similarly, the many love lock bridges of the world have turned into a traditional way to show love, as partners write their names on a lock and attach it to a bridge, ensuring their love with last forever as they throw away the key.
Planning romantic activities or at least one big gesture during your honeymoon will help ensure that it is not only memorable but that you and your partner have moments together that are unique and loving with just the two of you. Even if your specific destination lacks a large love scene, there are plenty of ways to make a normal attraction one with a romantic edge, especially since love will already be on the mind.
Keep some plans to yourself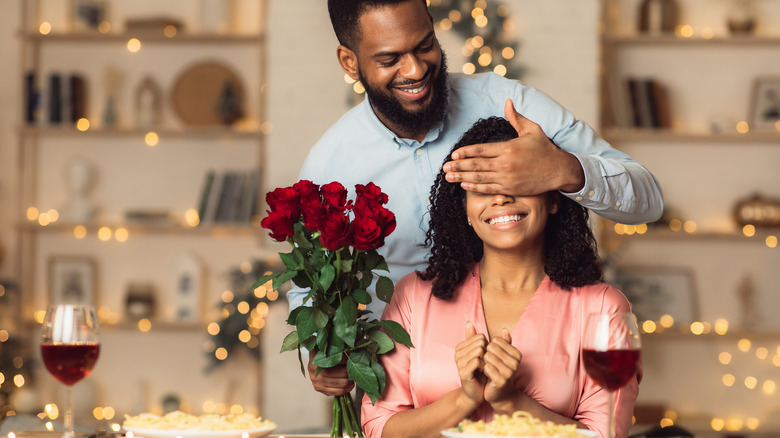 Prostock-studio/Shutterstock
One of the best ways to keep romance alive is to keep thinking of the other person and planning little unexpected gestures that you know they'd love, as humans crave surprises. Show your partner how much you care, make your honeymoon one they will surely never forget, and set up your marriage as one that is thoughtful and giving by multiplying the romance with a surprise or two. Whether it be setting up a romantic gift basket or flowers with the hotel for your arrival or planning a whole activity that you haven't yet told your partner about, the gesture will not go unnoticed and is a great way to elevate a honeymoon.
While you should certainly be discussing the vast majority of vacation plans and expectations with your partner, keep some surprises in store for them – and hopefully they do the same for you. In fact, it's okay to communicate that you want to have some surprises set up during the honeymoon from both sides so that no one is left blindsided or hurt that they were left out. A romantic gesture in the form of a surprise should only heighten the experience, not bring it down. Communicating expectations and boundaries will not spoil a surprise, only let the other person know that there could be unexpected detours or gifts.
Know how to get around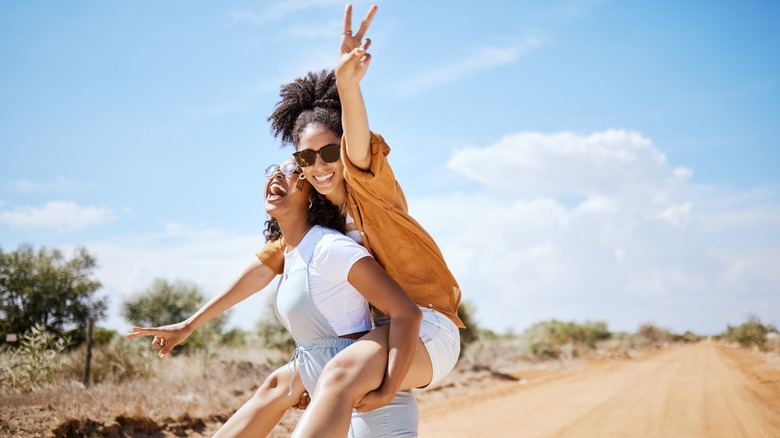 PeopleImages.com - Yuri A/Shutterstock
Taking a road trip could be the perfect honeymoon if you and your partner are into that, but a lot of couples choose a different route. If you are not driving to your destination, the transportation available in potential destinations may have an impact on where you eventually decide to go. If you don't mind spending the money and taking a ride share everywhere, that's totally fine. However, there are plenty of cities that have a stellar public transportation system.
If you decide to explore Europe, it's actually incredibly easy to country-hop and experience a lot of different places in not a lot of time. U.S. cities like Chicago, Boston, and New York also have relatively good public transport systems that can get you across the city with just a little time, fare, and some brainpower. If you're thinking about a smaller town for your dream honeymoon, you may want to look into renting a car or, if it's a really small town, a couple of bikes could help you get around with ease.
While getting around most likely won't be the biggest factor in choosing a destination, it is something you will need to consider. If you want to make the most out of your honeymoon, get to where you want to be, and eliminate the stress of figuring it out on the fly, looking into how you will traverse your destination is wise.
Do a quick Google search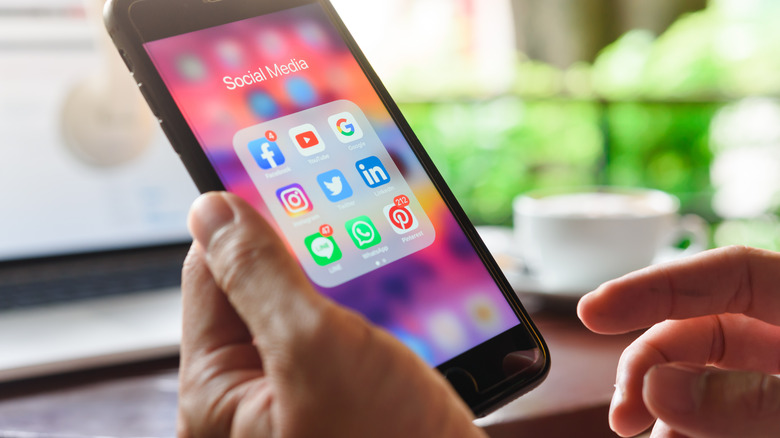 Vasin Lee/Shutterstock
You should research your potential destination both before and after you have it locked down. Once you know when your honeymoon will be, check and make sure that there are no festivals or events during that time that you and your partner don't want to be a part of. While events like this can be fun, they can also bring in a lot more traffic and people, which is something you probably won't want during your honeymoon.
After you have locked down where you want to spend your honeymoon with the love of your life, head over to Google to make sure everything is looking travel friendly. There is nothing that kills the romance quite like getting to your destination and the city has been transformed by civil unrest. Shortly before you leave, do a little research into what is going on at your destination and make sure you and your partner won't have any issues visiting and moving about freely in the area you have chosen.
Pass it to a professional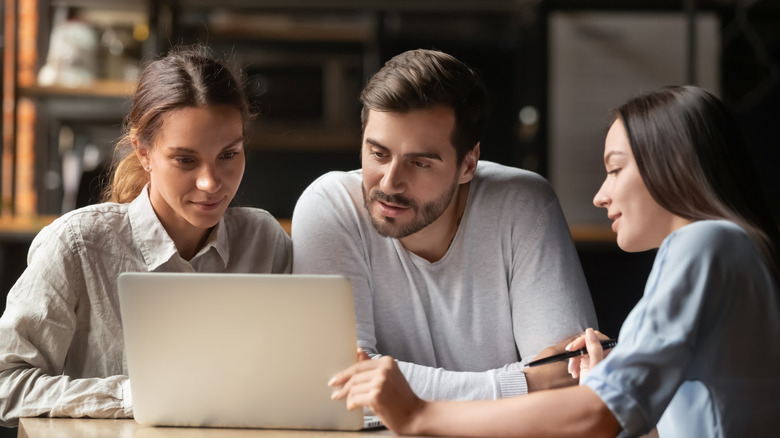 fizkes/Shutterstock
Getting married is huge, and it not only comes with planning a whole new life with another person, but also a number of obligatory gatherings and a wedding that will hopefully lead to a memorable honeymoon, which in turn also has to be planned out. With that being said, there are wedding planners and travel agents for a reason — they provide a service that should take a whole lot of stress off your plate. If you get overwhelmed with balancing all the different aspects of a honeymoon, there is no shame in reserving some of your budget for hiring some help.
Not only could hiring a professional planner to organize and streamline your honeymoon help take the task off your plate and make sure your trip is everything you may have dreamed of, but they can also suggest destinations and outings that you may never have considered before. They schedule honeymoons for a living, chances are they will be familiar with what all is available in a location and can pinpoint what you and your partner may find fun. They may even know a destination that is a better fit for what you are looking for.
Sometimes planning can get so stressful you just want someone else to take the reins. A professional can be extra helpful if you'd like some of your trip to be a surprise even for you, keeping the whole honeymoon out of sight and mind until the time comes to depart.