The Best Budget-Friendly Honeymoon Destinations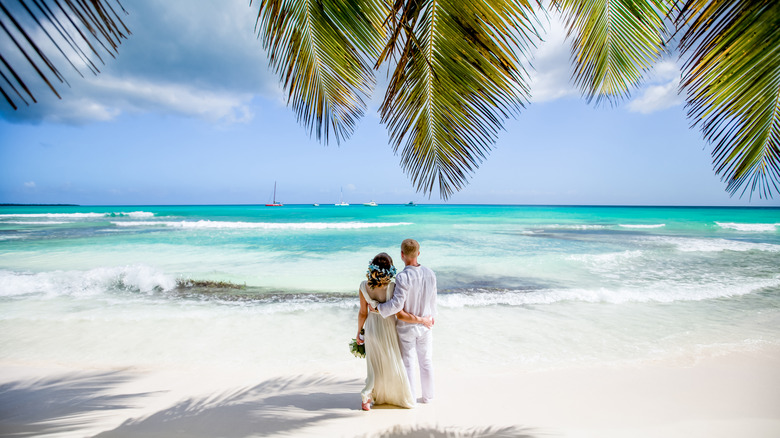 Irina Montero/Shutterstock
Once the nuptials are done, the honeymoon is always the next thing on your mind. As newlyweds, this precious getaway provides an opportunity to bond and spend some much-needed quality time with your soul mate. Choosing the right destination can be nerve-racking and some couples find themselves in a pickle as to where they should spend their first few weeks as a married duo. There are hundreds of locations worldwide that would be a great fit. The million-dollar question is, which one?
From lovely sun-kissed beaches in South America to secluded safaris on the great plains of Africa, there's a place for you. Sure, you could spend plenty of time doing Google searches or you could simply sit back, relax, and take a look at these wonderful destinations hand-picked as your options. You'll definitely find a locale you and your sweetheart will love.
Lamu, Kenya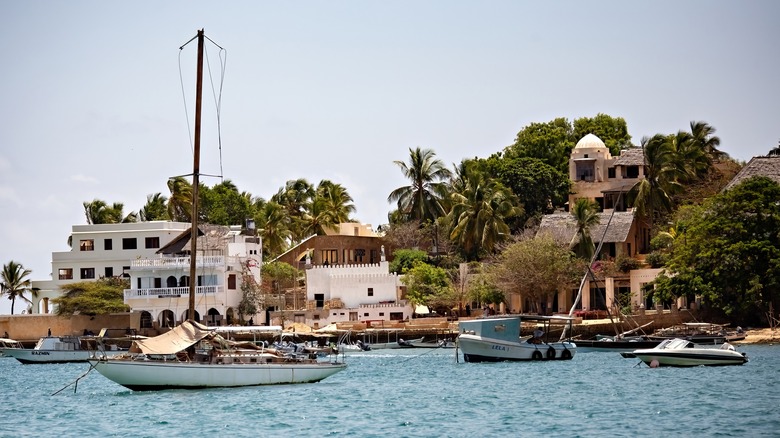 Sun_Shine/Shutterstock
Even though Lamu dates back to the 14th century as a major trading center, it still maintains its originality, no wonder it secured a spot among the UNESCO World Heritage sites. Today, Lamu offers a host of beautiful coral guesthouses like the Lamu House Hotel, Subira House, and Kijani Hotel that have been painstakingly preserved, making them slices of paradise for you and your sweetheart.
One of the things you simply must try in Lamu is the mouthwatering Swahili cuisine. From tasty biryani to scrumptious coconut curry, there's a whole bunch of dishes ready to excite your taste buds. Play games with your one and only at the stunning golden beaches or better yet, hire a dhow to take you to Kizingo, which is located southwest of the island, for a more secluded, off-grid experience. One interesting thing you'll notice about Lamu is a large number of donkeys. But why? Well, turns out that they are the main means of transport around the island. Estimates put the total number of donkeys on the island at about 6,000, and there's even a donkey sanctuary to care for the beloved hardworking animals
Serengeti National Park, Tanzania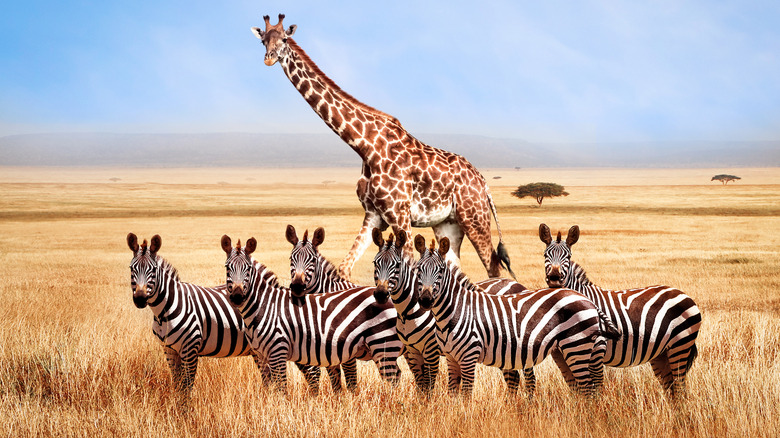 Delbars/Shutterstock
The great African savannah not only offers a secluded honeymoon experience but also an opportunity for you to bond with your lover in some of the world's most unique terrains. Tanzania's Serengeti National Park is home to some truly mesmerizing landscapes and a flurry of wildlife. When it comes to choosing your lodging, there are basically two options. You can opt for a permanent lodge that comes with an array of amenities, including gyms, spas, and swimming pools. On the other hand, if you'd like to have a fuller safari experience, mobile-tented camps are a great option. And no, these are not just a bunch of tents out in the wild. Think of large, well-decorated tents with outdoor seating and ensuite bathrooms coupled with gourmet meals. Just imagine the sound of zebras and wildebeests grazing just a few feet from your tent.
You'll find several travel and lodging companies offering exclusive honeymoon packages. Expect items such as couple's massages, bush picnics, exquisite candlelit dinners, and private game drives. One of the Serengeti's main allures is the annual migration of approximately 1.5 million wildebeests to Masai Mara National Reserve in search of pasture. It is now the seventh Wonder of the World, so your entire experience watching these glorious creatures escape crocodiles and fierce lions will be a honeymoon highlight.
Lisbon, Portugal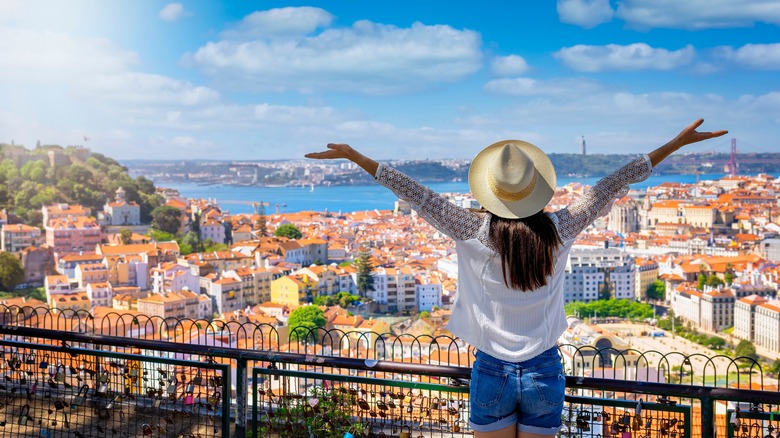 Sven Hansche/Shutterstock
This gem of a place is home to some stunning architecture, pristine beaches, and savory delicacies. As newlyweds, Lisbon offers tons of fun-filled activities and attractions to keep you occupied. Ideally, plan for at least a three-day stay to get a full feel of the city. The peak season comes in the middle of the year between June and August, so if you can, plan for an earlier honeymoon, say in May or March. The late spring temperatures aren't unbearably hot, so it's also a favorable time.
The best places for your honeymoon staycation are mostly found around historical centers, so plan for the districts of Alfama, Bairo Alto, or the Avenida da Liberdade. They're all pretty close to the city's main attractions, so you won't have to spend a lot on transport. While in Lisbon, there are a couple of activities you definitely have to try out. The famous number 28 tram that passes through a couple of districts offers an excellent opportunity to take in the city's beauty. If you're looking to keep things sweet while enjoying this vintage ride, be sure to grab a Pastel de Belem tart at the Pastéis de Belém bakery. Of course, no visit to Lisbon would be complete without a stroll on the beach, so take some time to unwind on the Carcavelos beach with its clear waters and beautiful golden sand.
Puerto Rico, Caribbean Islands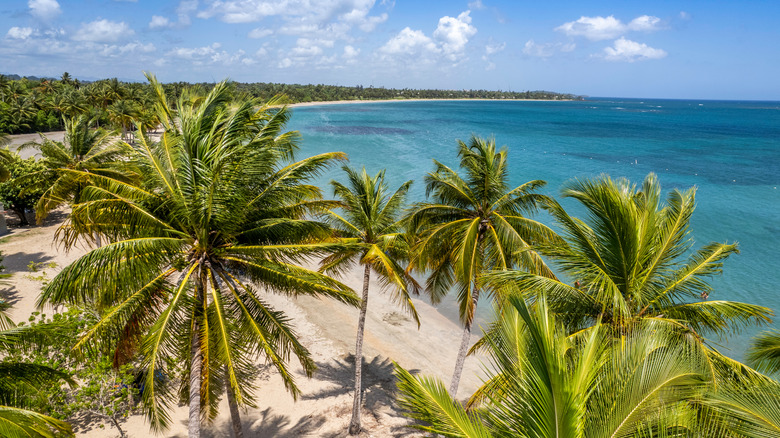 Javier Cruz Acosta/Shutterstock
The Caribbean Islands are a honeymooner's paradise you don't want to miss. You'll find lots of activities to do and plenty of attractions to see and explore as newlyweds. First things first, the lovely Flamenco beach. This gorgeous destination is one of Culebra's beaches and is located outside of the mainland. As a couple, you'll get to experience the beach's white soft sand and calm waves and even take a snorkel with the sea turtles in the crystal clear waters. If you're both history enthusiasts, Old San Juan hosts some incredible colorful historical sites ready to be explored such as the Castillo San Cristóbal and La Fortaleza.
Looking for some adrenaline-pumping activities to start the honeymoon on a high note? Then head to the Toro Verde Adventure Park to try a never-ending zip-line, the longest in America by the way, which cuts through the Puerto Rican mountains. The Museo de Arte de Ponce is an art lover's paradise that features some impressive pieces from Puerto Rico and Europe. Aside from the art, the museum's structure and gardens are a part of the country's heritage. Finally, the moment you've been waiting for, some wine. The Finca Vista Bella winery offers a fine taste of the local wine made from grapes sourced from all over the world. The vineyard's unique ambiance makes it an excellent spot for a romantic wine-tasting session that will make you fall in love with each other even more.
Florence, Italy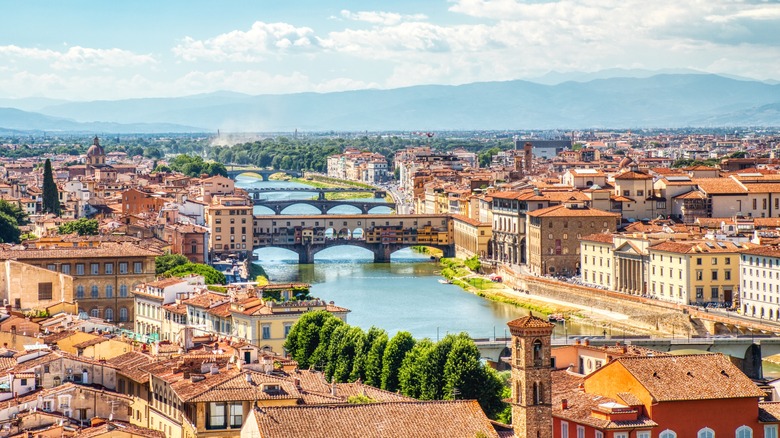 RomanSlavik.com/Shutterstock
Formerly a hub of banking and finance during the Renaissance, the city of Florence is one of Italy's most picturesque places. An old-town aura, nimble streets, and a wide array of culinary delights give Florence the sort of feel that you won't find anywhere else. A summer honeymoon might be rather crowded as many tourists flock to the city. September and October are better suited as the summer heat has subsided and the streets tend to be less crowded. Early morning walks around the city's landmarks give you ample time to enjoy the city's diverse landscape without the inconvenience of too much crowding. Find some time to explore the cathedrals and museums and get to enjoy the beautiful panoramic views Florence offers as you hold each other tight like never.
If you're planning a short stay, the city has several hotels ranging from three-star to five-star, and you won't break the bank to secure an awesome treat for your significant other. Some incredible options to consider are Helvetia & Bristol, Otantotto Firenze, or Sina Villa Medici. For a longer stay, say a month or more, an Airbnb loft might just do the trick, and save you a couple of dollars. One of the stand-out features of Florence is the cooking classes, so if you would like to learn new recipes, this is the golden opportunity to whip up some gnocchi or homemade pasta, among other Italian signature dishes.
Bali, Indonesia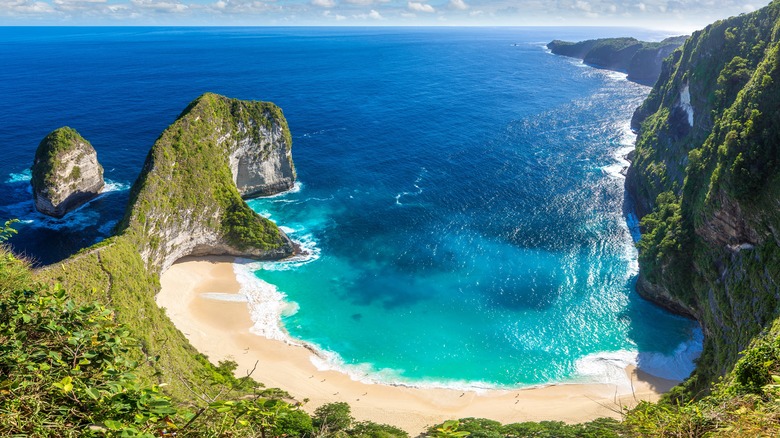 Sergii Figurnyi/Shutterstock
Nestled in the middle of Indonesia, Bali is a historically rich town filled with awe-inspiring wonders ready for you to explore. Thanks to its unique location, this amazing island province offers a bunch of fun-filled activities you can engage in as newlyweds. Since Bali is located so close to the equator,  it has heavenly weather year-round. Think of a year-long summer, only with a bit more humidity. You can go on your honeymoon in May, June, or September since the humidity is more forgiving and room prices are more affordable.
Speaking of accommodations, Bali has a host of options for every type of traveler. You can pick from five-star resorts to cozy guesthouses or even get a private villa where you can enjoy some quality alone time together. Another great idea is exploring the island's vast array of waterfalls and volcanic lakes or hiking up the challenging Mount Agung while holding hands. There's a wide variety of stunning beaches, not to mention an endless supply of waves if for all your surfing and snorkeling desires.
Kingston, Jamaica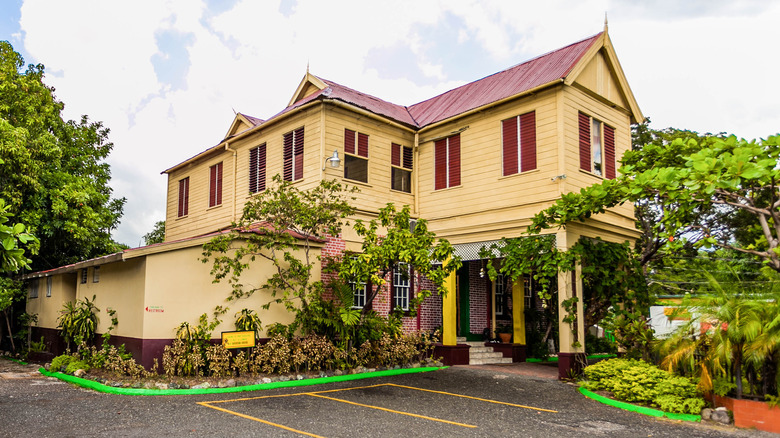 Photo Spirit/Shutterstock
Besides being the birthplace of reggae, there's a lot Jamaica brings to the table. From world-class luxury resorts to beautiful beaches, Jamaica is no pushover when it comes to the ultimate honeymoon experience. It's worth noting that Jamaica has three international airports — Kingston, Montego Bay, and Ocho Rios. Each city has something unique about it, and for Kingston, that unique quality comes from the culture and art that originated here. If you're at all interested in Jamaican art and music, you'll find something entertaining here. For starters, Bob Marley's house and the museum dedicated to him are located in this city, as well as the Liberty Hall museum honoring Marcus Garvey. 
Take care when picking your hotel in Kingston, as there will be plenty to choose from. Some of the best-rated spots we found are the Spanish Court Hotel in the middle of town, and the Terra Nova and The Courtleigh hotels. Some of the top attractions you'll be close to from most hotels include the beautiful and community-attracting Emancipation Park and the place where Bob Marley made his music, Tuff Gong Recording Studios.
Remember, the peak season here is between mid-December and April, so it's best to book your honeymoon in November or early December to beat the crowds.
White Mountains, New Hampshire, United States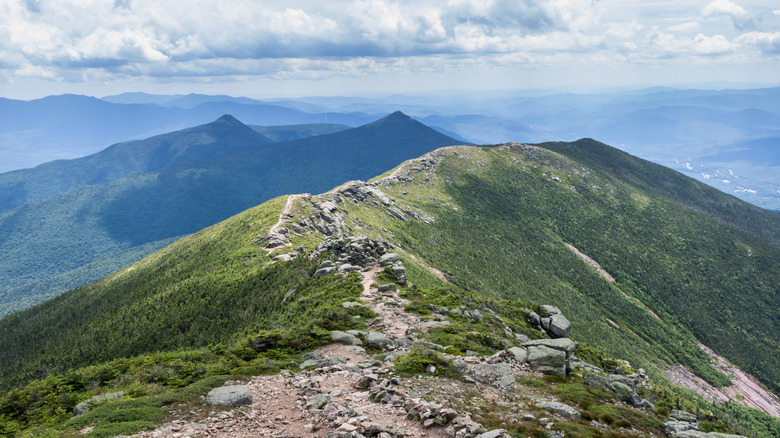 Joseph Jacobs/Shutterstock
If you're the outdoorsy, adventurous, nature-loving couple, New Hampshire's White Mountains will be your dream come true. The towering mountains cover approximately 25% of the state, offering some jaw-dropping scenery throughout the year. Luxury hotels like The Glen House, The Lyme Inn, and The Centennial offer an inexhaustible array of activities that are sure to keep you on your toes.
Your to-do list will be fully packed simply because there's so much to do. It's totally feasible to go biking, hiking, horseback riding, swimming, and maybe even play a few games of tennis while visiting the area. Winter honeymooners can opt to make memories while snowshoeing, taking a sleigh ride, going snowboarding, and seeing the sites while cross-country skiing. If you'd like to keep things indoors, there are several galleries and museums to visit as well as historic sites throughout the mountain range. 
Phuket, Thailand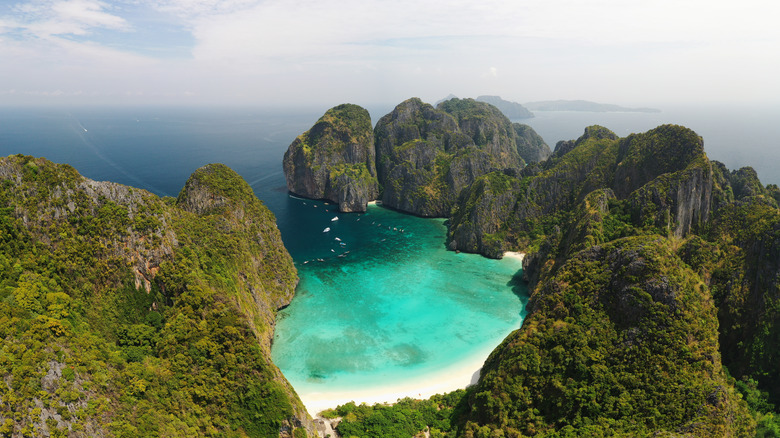 Apisitwilaijit/Getty Images
The largest island in Thailand, Phuket province lies in the south of the country. Summers tend to be scorchers with high levels of humidity, so a winter honeymoon would be a better choice here. Even in the cooler months, one thing Phuket stands for is its astonishing beach life. Boasting over 40 beaches with beautiful blue waters, expect to find lots of beachfront resorts offering a broad selection of water activities you two can enjoy. Comfy lounges, top-notch restaurants, and lovely sunsets are just a few things you can look forward to during a honeymoon here.
Phuket is a melting pot of different ethnicities and religions, and a visit to Old Phuket Town will give you a taste of that diversity. Another destination you should consider visiting is Hat Nai Yang, which is home to a delightful pine garden and is an excellent spot for swimming and unwinding as you discuss your life goals. The Phuket FantaSea is the first Thai-based theme park showcasing local culture. There are even special performances that blend advanced special effects with Thai culture.
Oahu, Hawaii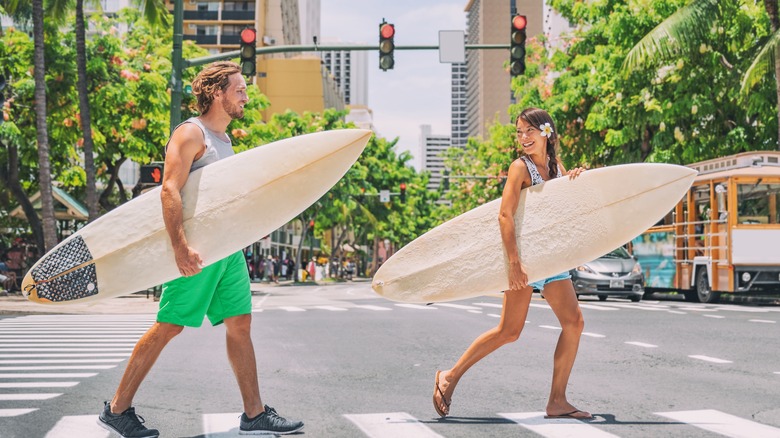 Maridav/Shutterstock
One thing Hawaii is quite famous for is its rather steep prices in terms of luxury hotels. Oahu though, on the other hand, offers a pocket-friendly staycation for your honeymoon, allowing you to enjoy your special time together without too much damage to your wallet. As the capital of Hawaii, Oahu houses a large proportion of the island's diverse population and offers lots of activities for you to enjoy with your better half. To get a glimpse of Honolulu's excellent views, take a hike up Diamond State Park. Better yet, take to the skies with glider rides and take in awe-inspiring views of the island. The bird sanctuary located on Mokulua Islands is only a kayak away, where you get to see lots of turtles and diverse exotic bird species. You could also take a drive on Pali Highway and snap a bunch of pictures together at the famous Pali Lookout. 
As you're planning your Oahu honeymoon, you'll realize that most of the hotels are in Waikiki. Although there are luxurious options, you can book long-stay rentals or short-term hotels at more affordable prices. As expected, the weather here is inviting almost all the time, though there are some months that are better to visit Hawaii than others. Who knows, maybe you'll stumble upon your new favorite beach or a romantic, well-kept secret spot on the island. 
Tulum, Mexico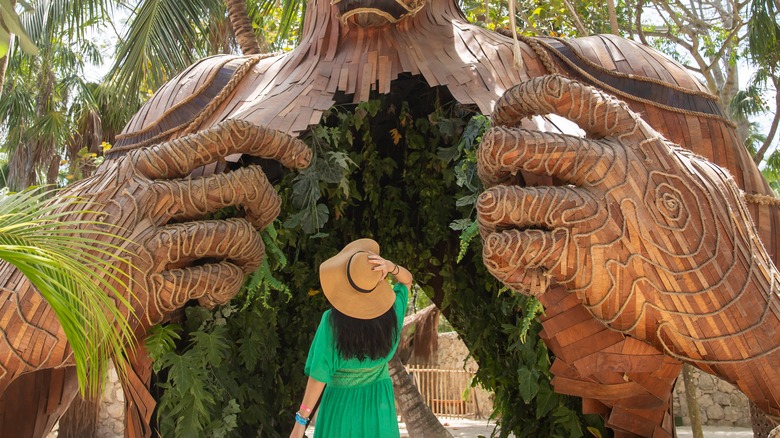 Marian Weyo/Shutterstock
Honeymooners adore Tulum and it's easy to see why. Tulum is a picturesque town eastwards of the Yucatan Pueblo, and it boasts one of the world's largest coral reefs, which is second only to the Great Barrier Reef. You won't find any direct flights to Tulum since there's no international airport, so you'll need to land in Cancun and take a 90-minute car ride. There are cheap, group shuttles that can take you from the airport to Tulum, though they do take slightly longer due to many stop-overs. When booking your arrangements, keep in mind that hurricane season peaks here between August and October.  Late autumn and early winter are great times to visit since the humidity isn't as intense.
When it comes to accommodations, Tulum features some incredibly affordable yet beautiful rentals. Some worthwhile options include the Hilton Tulum Riviera Maya All-Inclusive Resort, the Kimpton Aluna Resort, and the Xperience Tulum Hotel. Once you're settled, you can take a tour of the Mayan Ruins, enjoy the thrills of an adventure park, spend some time at the Sian Ka'an Reserve, and of course, head out to the beach.
Plovdiv, Bulgaria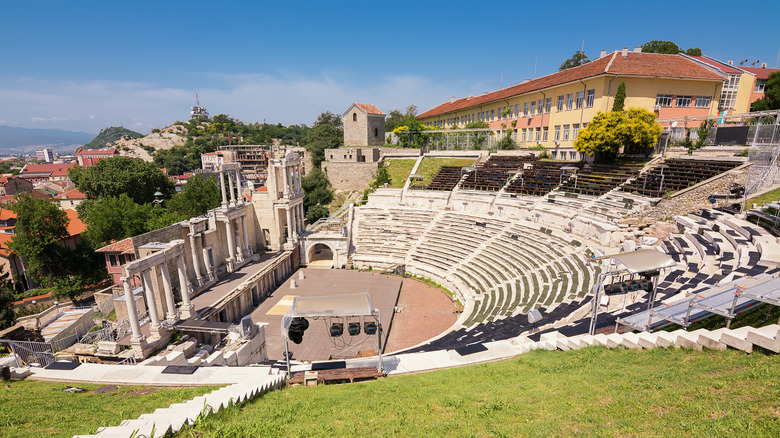 Angelo DAmico/Shutterstock
Bulgaria might get forgotten about a lot, but it's actually one of the more affordable travel destinations in Europe, meaning you can plan a beautiful honeymoon getaway in this lovely city without having to break the bank. If you'll be visiting Plovdiv, look for accommodation in the Old Town since you'll get better access to all the attractions that are a bit farther from the main center. Old Town has some impeccable Bulgarian buildings that are well-preserved and offer amazing views. Other places you should check out are the Ancient Theatre, the Roman Stadium, and Glavnata.
For your accommodation needs, you can check out Gallery 37, Residence City Garden, or Landmark Creek Hotel. They're all top-rated hotels offering world-class services and facilities. If you're looking for activities to try, enjoy a full-day visit to Asen's Fortress, a trip to the all-natural Wonderful Bridges, or a hike or drive along the Rhodope Mountains.