Solo Travel: Your Guide To Exploring Berlin Alone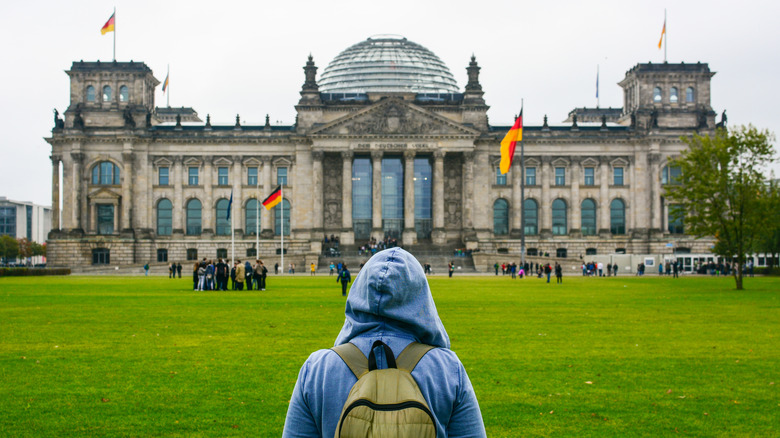 Kavun Halyna/Shutterstock
Berlin is one of the best cities for solo travelers in all of Europe, thanks to its range of different activities, an abundance of trendy hostels, colorfully-painted streets, and legendary nightlife scene. Berlin is like a whole world in itself with a million little things to discover. It's a favorite city for young travelers hoping to meet new people and get a sense of European culture on a solo adventure without breaking the bank. 
With an introduction like that, you're probably more than ready to book a flight, pack your bags, and get on a plane to Berlin immediately, but hold your horses! While the German capital is a prime choice for a solo travel destination, there are a few things you need to know before your trip. Solo travelers must be a little more cautious and well-planned than the standard Berlin visitor. Luckily, it's very possible to have a problem-free and incredibly fun time exploring Berlin alone as long as you heed the advice in this guide.
Take public transportation from the airport into the city center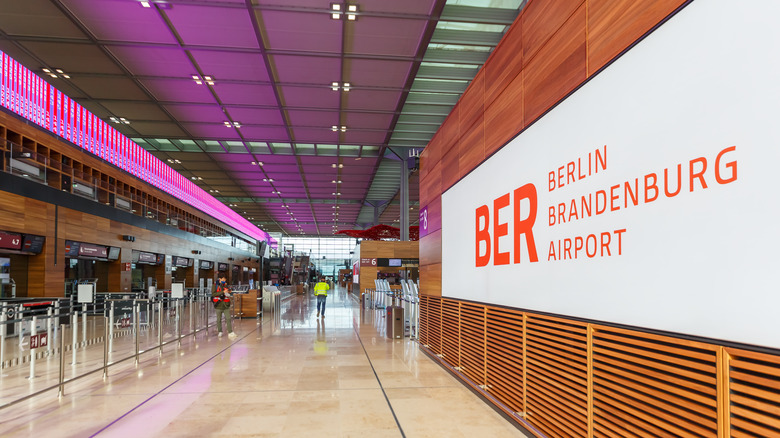 Markus Mainka/Shutterstock
Your flight finally lands in Berlin after what feels like eons and the last thing you want to do is groggily make the journey from the airport to the city center. However, it's a reality you must face. As of 2021, Berlin only has one major international airport left in the area, and unfortunately for jet lag-stricken solo travelers, it's located more than 30 minutes outside of central Berlin. As awful as that sounds, it doesn't have to be a complete nightmare if you have a plan of action. 
Brandenburg Airport (BER) has lots of convenient and affordable ways for solo travelers to make their way into the center of Berlin without contracting a stress headache. By far, the best way to reach the city center from the airport is by taking the train. It only costs 3.80€ and takes just 30 minutes to get to the heart of Berlin. 
Another good public transportation alternative is utilizing the city's comprehensive bus system that runs every 10 minutes from the wee hours of the morning until late at night. The bus runs more often than the train and it is an easy ride, but it takes around 45 minutes to an hour. The only transportation option you should avoid as a bright-eyed solo traveler in Berlin is the taxis. Those bad boys can run you up a bill of 50€ and it still takes just as long as the bus ride.
The best time to visit is May to September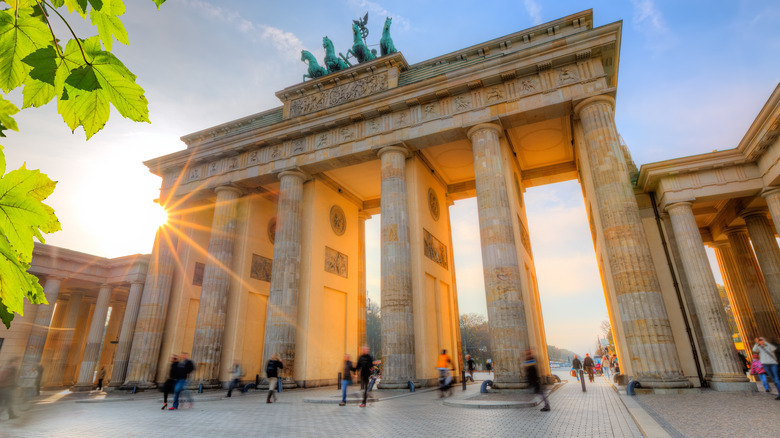 Sborisov/Getty Images
Every year, Berlin evolves from a bright, sunny utopia to a frigid, unforgiving tundra that gives even seasoned locals a chill. Berlin, Germany might have a certain charm when it's covered in a thick layer of snow, but it's not the optimal condition for a solo traveler. It's difficult enough to trek around a big city like Berlin all by yourself. Adding freezing cold temperatures and unpredictable weather on top of all that? It's a recipe for disaster. 
Instead, opt for the warm and very predictable spring/summer season from May to September. Besides the fact that the weather is just generally more pleasant, there are a few reasons that solo travelers should book a trip to the German capital around this time. Since temperatures will be up in the '80s, you'll be able to pack lighter clothes and leave more valuable room free in your bag. There are tons of activities and events happening around Berlin during this season, like Fête De La Musique and Lollapalooza. There is a social energy in the air during the warmer season, too, so it'll be easier to make new friends as a solo traveler.
Think about which Berlin neighborhood you will like the most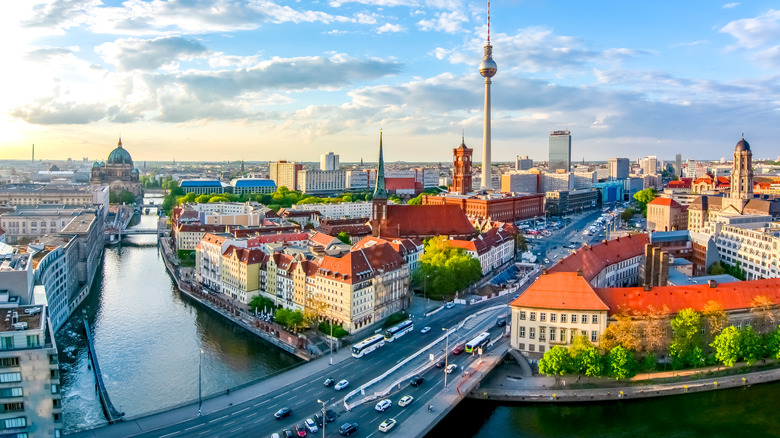 Mistervlad/Shutterstock
Berlin is no small town; it's a giant metropolis with 12 districts that are all very unique from one another. Each one will provide a completely different experience, with some being chill, historical hotspots and others lively party hubs. One type of traveler might hate a neighborhood that someone else absolutely adores. 
In the neighborhood of Mitte, the historic center of Berlin, you'll find a treasure trove of cultural sites and world-renowned museums. It's also a popular university area, so it's a great spot for solo travelers to meet new friends. However, it can be a bit busy and expensive. If you're looking for the best Berlin neighborhood for budget travelers, you might prefer Kreuzberg. Before you commit yourself to an entire week or more in any of Berlin's neighborhoods, figure out which one is going to be the best fit for you and your solo trip preferences.
Stay at hostels, but know what type of hostel you're staying at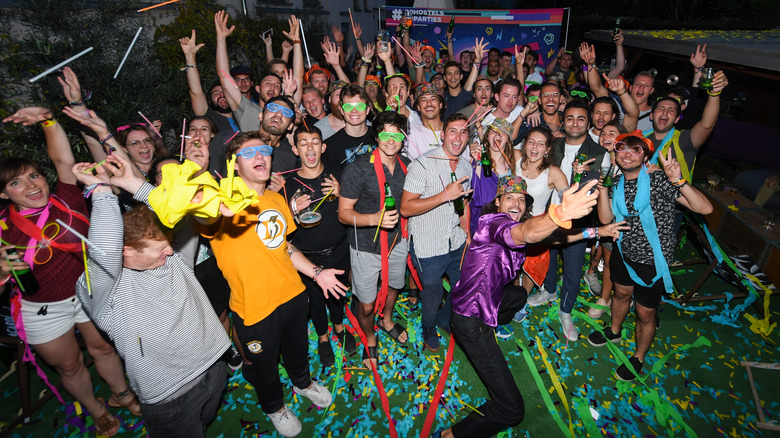 James D. Morgan/Getty Images
The fear of being alone is one of the biggest factors that stop people from solo traveling. The truth is, it's really easy to make friends when you're traveling alone. Especially in a big city filled with young people, like Berlin. There are tons of ways to make new friends when you're exploring Berlin alone, but one of the simplest ways to connect with other travelers is by staying at a hostel. 
Hostels are practically designed to help solo travelers make friends and have tons of fun. Not only does it provide a social atmosphere, but it's also one of the cheapest accommodation options available. Making them the best places to stay in Berlin for solo travelers. 
However, all hostels are not created equal and it's important to know what you're getting into. Hostels in Berlin can range from chill budget and eco-friendly hostels to raging party and adventure hostels. Keep in mind that party hostels take that title quite literally — there will be noise and music all night long. A restful atmosphere won't be in the cards. To avoid ending up at a hostel that's not quite your style, read the description and reviews for a place before booking.
Visit the major historical sites & partake in free talking tours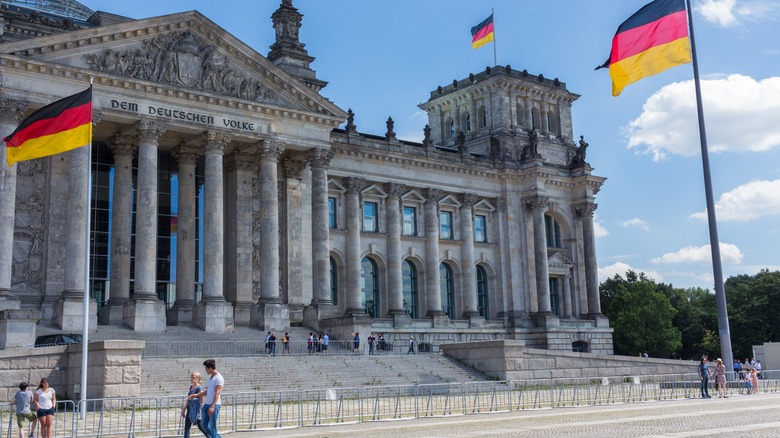 Alekk Pires/Shutterstock
Berlin is jam-packed with some of Europe's top historical and cultural sites. You could visit a handful of them every day and still never run out. There is the Brandenburg Gate, the Berlin Wall, The Holocaust Memorial, Berlin Stasi Prison, the Reichstag, and so much more. Taking a solo trip to Berlin isn't just about having fun and partying every night, it's also about getting in touch with the city's background and learning about its past. 
Luckily, Berlin knows that its eclectic range of attractions can be a lot to take in all at once and offers visitors tons of easy ways to access all these places, like free walking tours. These walking tours are fantastic for solo travelers on a budget who want an easy way to meet other tourists. Plus, these excursions give you a deeper sense of the city and its main highlights. There are tours in Berlin that give visitors a comprehensive overview of the city and ones that focus on things like street art and war history. Whatever it is you're interested in, Berlin probably has a walking tour for it if you look hard enough.
Plan your budget in advance and stick to it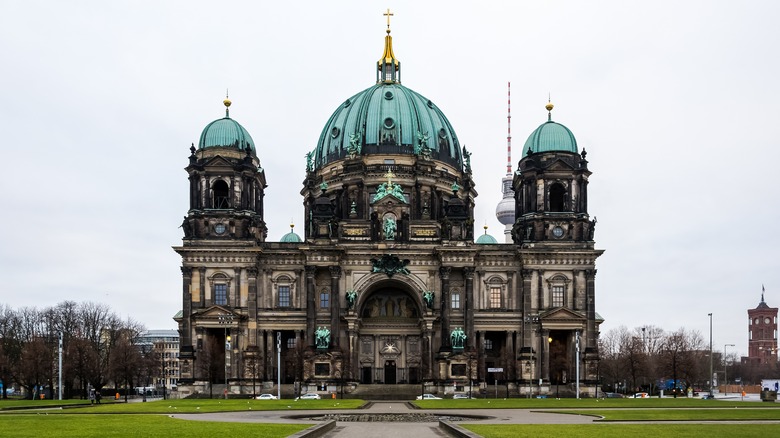 Mltz/Shutterstock
Even though Berlin isn't considered the most expensive city to visit in Europe, it definitely isn't the cheapest either. If you're a solo traveler who is covering the cost of an entire trip by themselves, Berlin can quickly eat away at your bank account. On average, it costs anywhere from 56€ to 170€ per day to travel in Berlin alone. That's a pretty big range, so if you're not planning properly, you could end up on the wrong end of that spectrum. 
There are a couple of ways to ensure that you stay on the safe side of your Berlin solo trip budget, though. First, set a full trip budget for yourself that's slightly higher than what you expect to spend, that way you give yourself a little wiggle room to work with. Once you set this budget, stick to it as best you can. A couple of spontaneous vacation splurges can take you way over your budget. You can also save money during a solo trip by avoiding the high season, booking your accommodations well in advance, and eating the local cuisine since it tends to be the most affordable food option. By doing these things you can save yourself from running out of funds all alone in the big city of Berlin. 
Take advantage of Berlin's public transportation system with a WelcomeCard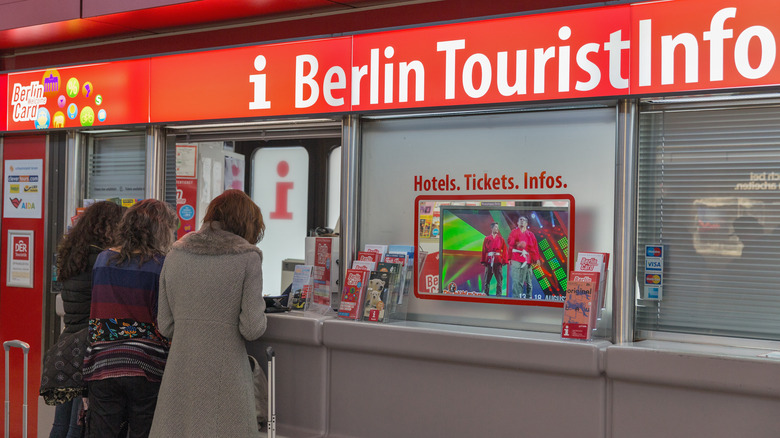 Sergiy Palamarchuk/Shutterstock
A city with a comprehensive public transportation system is basically a dream come true for solo travelers, and hey, it just so happens Berlin checks that box. You can get practically anywhere in the city by using Berlin's public transportation, which is amazing for solo travelers who are trying to save money on a trip for one. The buses, trains, and trams running through Berlin are clean, safe, and much more affordable than taking taxis or ride-share services all the time. It costs around 3€ for a single ride. 
The better option for solo travelers exploring the city is the Berlin Welcome Card. The Welcome Card costs a flat fee and provides unlimited access to public transportation in Berlin. It also comes with discounts on popular attractions and a free city guidebook complete with a map. The handy card can give you as little as 48 hours or up to six days of riding Berlin's public transport around the capital city. It's the ideal hack for solo travelers who want to reach every corner of Berlin as the locals do.
Dive into the wild Berlin nightlife starting at 12 a.m.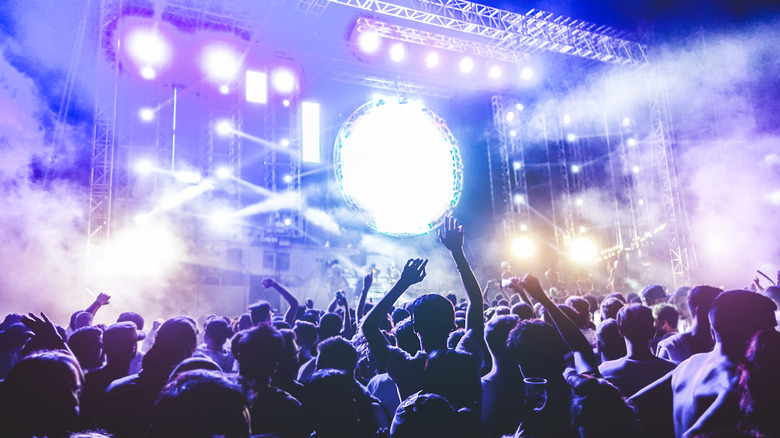 DisobeyArt/Shutterstock
Berlin is notorious for its nightlife and it lives all the way up to that reputation. The party districts of Berlin aren't playing any games when it comes to their eclectic clubs, bars, and lounges. While solo travelers should absolutely take part in all the fun of Berlin's crazy party scene, there are a few key things to keep in mind. 
First of all, it's important to know that the party doesn't start until 12 a.m. at the very earliest in Berlin and the crowds don't really start forming until a couple of hours after that. That might be a fairly late start to the evening, but there won't be much to find before these early morning hours. Berliners are night owls and you have to fit in with their tendencies to get a taste of the scene. 
Even though Berlin's nightlife is heaps of fun, solo travelers must be a little more cautious and prepared than the average party-goer. It can get pretty crazy out there, so make sure you stay completely aware of your surrounding and always watch your drink closely to ensure nobody slips anything in it. Even though Berlin is generally safe if you keep your wits about you, some areas can be dicey when night falls. So, know the neighborhood you're visiting and avoid crossing over into any dangerous territory like Görlitzer Park.
Be wary of scammers and pickpockets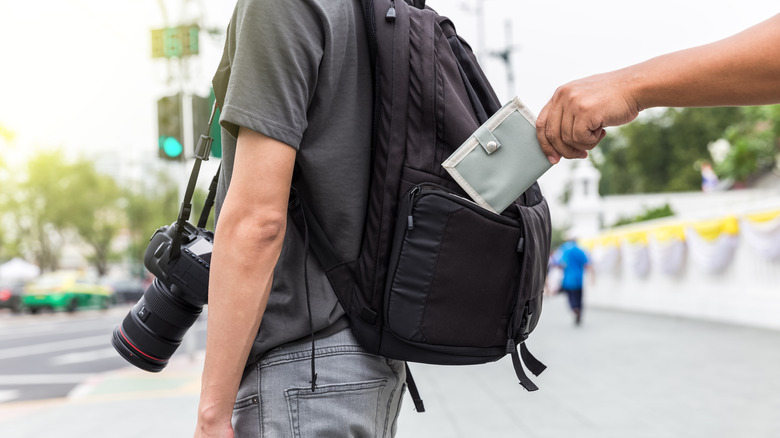 onsuda/Shutterstock
No matter where you're traveling, there is always the potential for criminals and thieves to be on the hunt for tourists — Berlin included. You're even more likely to be targeted as a solo traveler, but there are a few ways to avoid it. The easiest is to learn about all the common scams in Berlin before you set off wandering the city alone. 
One of the most prevalent scams in Berlin is called the photo scam. During this sneaky operation, a local will ask you if you could take their photograph. When you go to return the camera, they intentionally let the camera slam to the ground and then say you broke their camera. Now, you're caught in an argument with a tricky criminal who is insisting you give them money to pay for the device. It gets a lot of people, so make sure you don't take anyone's nice camera to help them out with a photo unless you're absolutely positive it's not a hoax. 
Another common scam is the guessing game scam. In this elaborate swindle, a scammer runs a game on the streets where bystanders guess the box a ball is in. As guessers are hyper-focused on the balls, the scammer's co-conspirators pickpocket the unaware tourist. This is just the beginning of the list of scams that run rampant in Berlin, but knowing even just a few common scams in the city will help you be more aware. 
Try Bratwurst and other iconic Berlin cuisine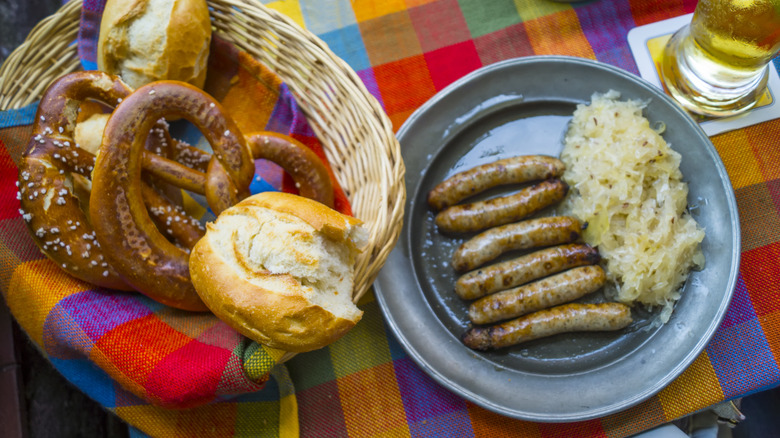 Kryssia Campos/Getty Images
Berlin offers its visitors delicious foods from all over the globe, but if you're a newbie to the city, you want to go straight for all the delicious German cuisine. Trying a city's local foods is a fantastic way to get more in touch with the local culture. Why not take the phrase 'getting a taste of the city' literally? Berlin's culinary scene is just as rich as its nightlife or historical attractions, so it won't be difficult to find tempting dishes. 
In Berlin, a dining excursion includes a lot of hearty, meaty plates, such as eisbein (ham hock), currywurst, (curry-seasoned pork sausages), and Königsberger Klopse (veal meatballs). However, there are also a few key staples for people who prefer non-meat snacks, like Brezeln (pretzels) and Pfannkuchen (German-style pancakes). Though the pickings are definitely slimmer in this department, Berliners love their meat. If you are stuffed with local delicacies, Berlin has plenty of other restaurants with creative, international food, too.
Learn a few key German phrases to help you get around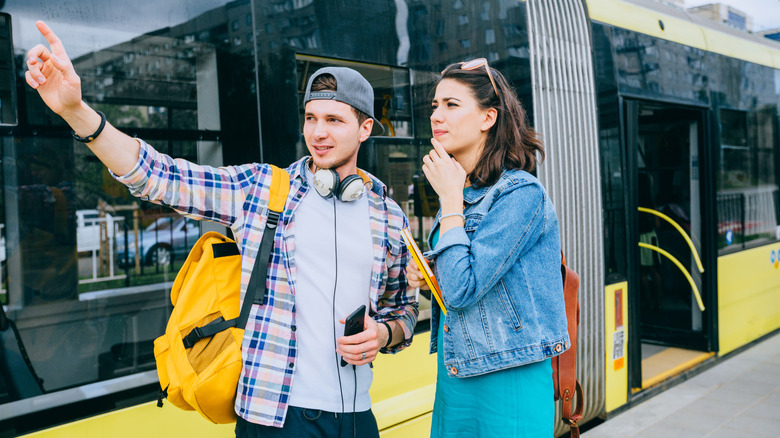 Iryna Inshyna/Shutterstock
The scariest thing you can face when you're traveling alone is encountering an emergency situation in a foreign country and not being able to communicate with anyone to even yell, "Help!" It's straight-up dangerous. As a solo traveler, you always need to remember that you're alone out there in the big, wide world and won't have anyone else to rely on for things like communicating in the local language. That's why solo travelers should always learn a little bit of the native tongue when visiting a faraway destination. 
Exploring Berlin alone, there are a few essential words and phrases that will help you along your journey. A good place to start is mastering danke (thanks), bitte (please), Ich brauche Hilfe (I need help), and Wie komme ich zu... (How do I get to..?). Knowing these few German phrases can help you make new friends, communicate better with the locals, and gives you the capability to help yourself in an emergency situation. Plus, making the effort to at least learn please and thank you is just a nice thing to do as a visitor in a new place. 
Get an introduction to Berlin's stunning street art and graffiti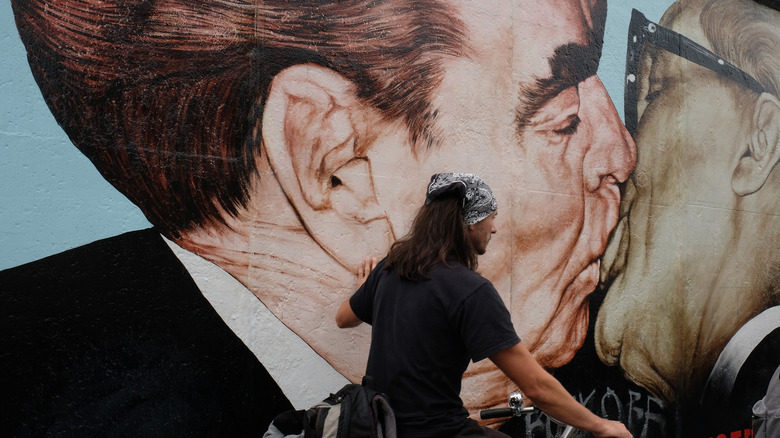 Kaveh Kazemi/Getty Images
One of the things that set Berlin apart from other capital cities is its wealth of colorful, popping street art. It really gives you a glimpse into the beauty and uniqueness of Berlin. It's truly an artist's city. Not to mention that these masterfully created street art pieces are the perfect spot for bright, Insta-worthy photos of your solo trip. A traveling win-win. 
Berlin is a big place, though, and it can be difficult to find these works of art unless you're looking in the right nooks and crannies. Luckily, this is such a big thing in Berlin that street art hotspots are some of the most popular attractions to visit in the city. One of the most well-known of these open-air galleries is the mile-long East Side Gallery on the oldest stretch left of the Berlin Wall. The pieces were crafted by 118 artists from 21 countries and were meant to immortalize the political changes happening around that time. It's a beautiful sight.  Some of the other top places to find stunning street art across Berlin is Kreuzberg, Hackescher Markt in the Mitte neighborhood, and Shöneberg.