The Best Way To Take In The Scenic Beauty Of Germany By Car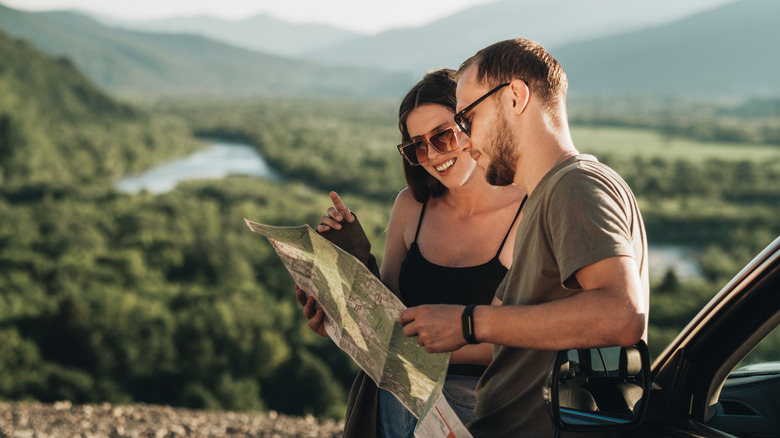 Romvy/Shutterstock
If you and your significant other are looking for a romantic adventure, then look no further than Germany's beloved Romantic Road (especially in the early summer months). This iconic route stretches 350 miles from the beautiful city of Würzburg, makes a small detour through Austria, and ends in picturesque Füssen (via Romantic Road Germany). This offers traveling couples an opportunity to explore some of Europe's most incredible landscapes. Through its charming fairytale-like towns, decadent food experiences, and awe-inspiring natural scenery, this truly is the perfect escape for travelers and couples alike.
Does your partner enjoy nature, eating delicious foods, or learning about unique history? The Romantic Road can satisfy all of your travel expectations and may be the perfect pairing for a romantic hotel stay in Germany. The most iconic features you will see along the way are the medieval castles, lush forests, and quaint little villages that have some of the best food in Germany. This is a magical experience for anyone looking for a romantic getaway with a little something for everyone. Whether you just met last week or have been married for 20 years, the trip along the enchanting Romantic Road is not one you will want to miss seeing with your love.
Where couples should start their Romantic Road journey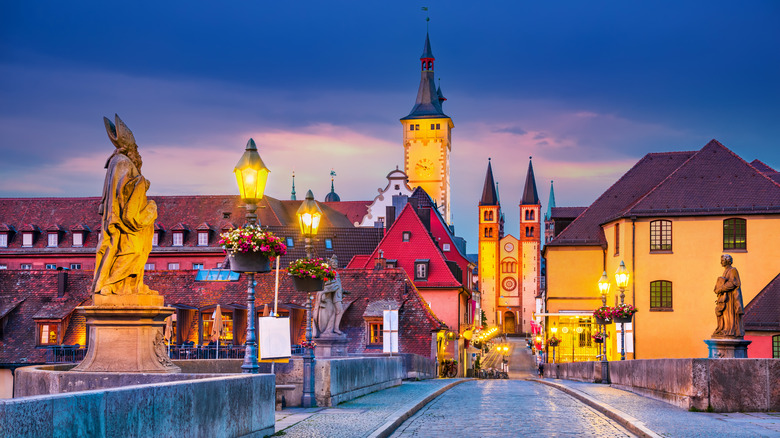 ecstk22/Shutterstock
The Romantic Road runs through Bavaria, Germany, but where is the best point for travelers to start? According to The Planet D, for convenience, it might be best to start your journey on the northern end of the Romantic Road in Würzburg and make your way through the must-see towns along the way. This is the most convenient option due to Würzburg's location near Frankfurt Airport. According to World Data, Frankfurt Airport is one of the largest in Germany so you will likely find great flight options from your home country, and renting a car should be a breeze. By starting here, you can land and get going right away on your journey along the Romantic Road!
At the end of your journey, you'll find Füssen, which is the location of the Romantic Road's most stunning destination, the Neuschwanstein Castle. So why not save the best for last? Füssen is just a 1.5-hour drive from Munich so if you don't want to backtrack you should be able to find flights home from there.
Regardless of which direction you begin or end your trip, The Planet D also writes that travelers should aim to spend a minimum of four days on the Romantic Road. This will give you enough time to enjoy the many amazing sites and time to appreciate the truly lasting memories you're making with your other half.
Best places to stop along the Romantic Road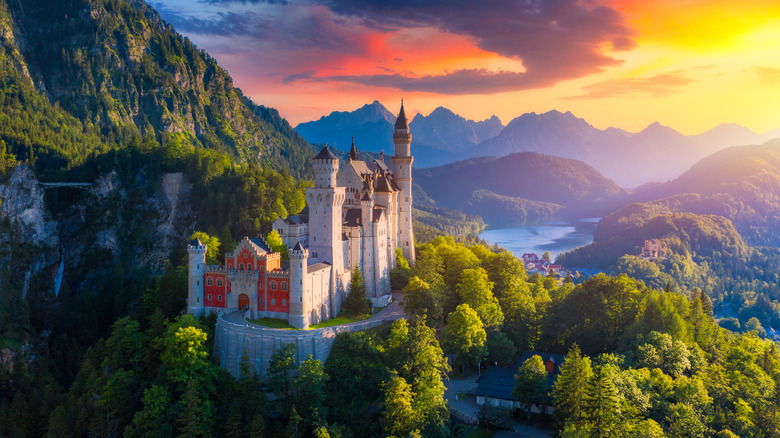 DaLiu/Shutterstock
Like all new beginnings, take some time to explore Würzburg, the kick-off point of your journey. The Planet D writes that Würzburg is home to some of Germany's most beautiful architecture, including the Marienberg Fortress and Würzburg Residence. From there, travelers can make their way south, where they will pass through historic cities like Rothenburg ob der Tauber and Nördlingen.
Rothenburg ob der Tauber is a quaint town that The Planet D writes has been perfectly preserved since medieval times. Visitors can take part in one of the amazing tours. One of the best, Rick Steves writes, is the Night Watchman tour, led by a black-cloaked man who takes tourists on a guided walk through the town, playfully sharing the colorful history of Rothenburg ob der Tauber. Divergent Travelers writes that Nördlingen is another stunning stop along the Romantic Road that shouldn't be missed. They recommend parking outside the fully intact city wall (the only one you'll find along the Romantic Road!) and walking around the perimeter of the city.
Last but certainly not least, is Füssen. This is one you cannot skip, especially if you're traveling with a Disney lover! Füssen offers stunning views of nearby Neuschwanstein Castle — one of Europe's most iconic sights. According to the official Neuschwanstein Castle website, this castle was actually the inspiration for Disney's Cinderella castle and feels just as magical when you see it in person.