Be Cautious When Visiting This Beautiful New York Waterfall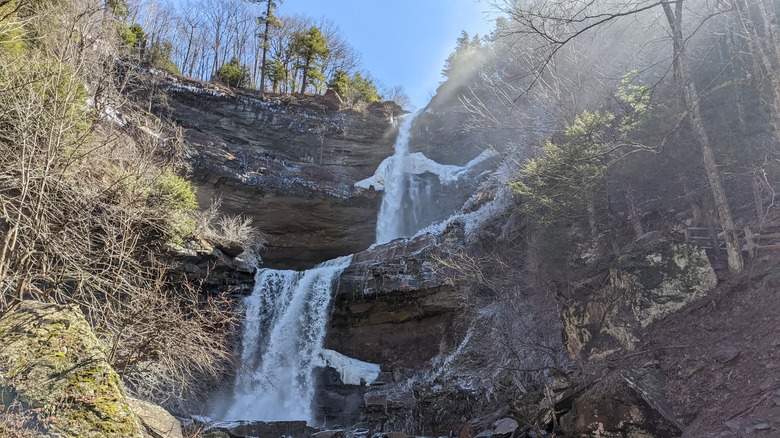 Smn Jlt/Shutterstock
One of the tallest waterfalls in the entire state of New York is Kaaterskill Falls in the eastern Catskill Mountains. This gorgeous draping of lacey water falling over two tiers of rock is wonderful to see, and it's only 2.3 miles to hike there and back. Not only can you do this in about an hour and a half, but there is parking, plenty of other hikes in the area (which is called the Kaaterskill Clove), and you don't have to pay a fee to enter. You can camp nearby, and it's open to the public for the entire year. 
All of this is great and makes for a lovely day out in New York State. However, this hike isn't a mere garden stroll. There is some danger here. The trail is steep, there are stairs on part of it, and people have died on this hike, falling from the falls. Theses deaths have led to recent rule changes and safety renovations, as well as the closure of one of the parking areas (the Molly Smith lot) because of traffic danger. We'll tell you everything you need to know about Kaaterskill Falls and how to stay safe if you hike there. 
What to know about Kaaterskill Falls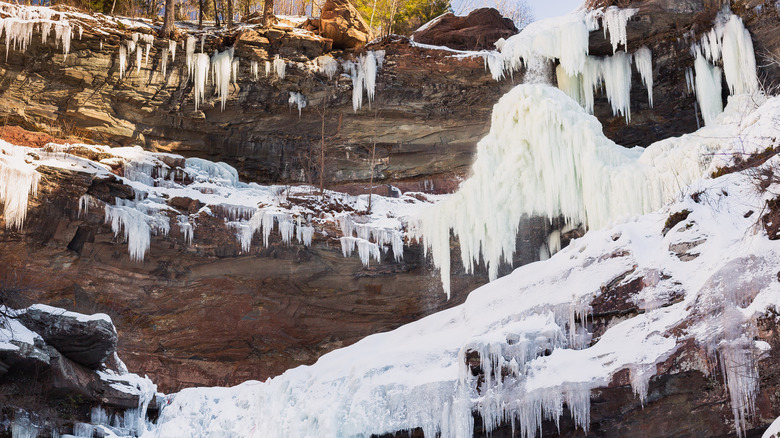 Jay Chung/Shutterstock
Though the hike up to Kaaterskill Falls is short, it's also steep. You're going to gain about 400 feet of elevation, and you'll reach 1,946 feet above sea level. The falls themselves are in two tiers, and they drop 260 feet. You'll also pass by Bastion Falls, which is smaller and is actually visible from the road. You'll hike along Spruce Creek, and the views are spectacular. There are over 200,000 visitors here each year; so if you're going to go, do it early in the day or in the middle of the week. 
Dogs are allowed on leashes only. To get to the trailhead, you should park in the lots at Laurel House Road, Schutt Road, or South Lake (which may have fees). One thing to note is that there are no garbage cans in the park, which means you have to pack in and out. If you're bringing lunch or you have garbage, take it with you to the parking lots. There are port-a-potties, however, which is a big plus. 
If the name Kaaterskill Falls sounds familiar to you, perhaps you've read the 1819 Washington Irving story "Rip Van Winkle," which mentions the falls. Or you may have seen the 1826 painting "The Falls of the Kaaterskill" by Thomas Cole. There is also a 1998 book by Allegra Goodman called "Kaaterskill Falls" that you might have read. Now, let's dive into how to keep yourself safe on this hike. 
How to stay safe at Kaaterskill Falls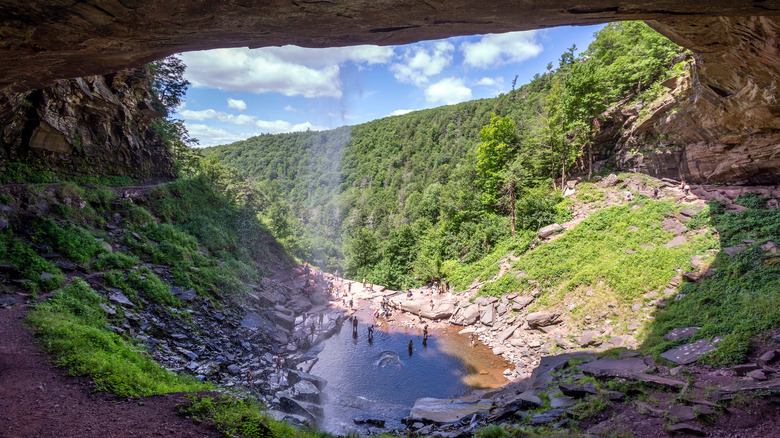 Cory Seamer/Shutterstock
Kaaterskill Falls is a wonderful place to visit, but at least nine people have died there since 1992, slipping on ice, moss, or the wet rocks in the area. In addition to trail renovations, there were new rules enacted to address the safety issues in the park. The rules state that you cannot have fire, glass containers, alcohol, portable stoves, generators, or audio without headphones or earbuds unless you're in a designated camping area. You cannot enter the water or falls unless you're more than 150 feet upstream of them. You are not permitted to enter restricted areas. Now, here's the big one: You cannot get any closer than 6 feet from the cliff's edge. Many of the ledges are unsupported and/or slippery, and you can fall right off the falls. There is no selfie worth injury or death!
Another thing to remember is to wear good shoes while hiking anywhere with slippery rocks or ice. As always with hikes, let people know where you're going to be and set up a check-in time when you get back, because the cell service here isn't always reliable.