This West Coast Lakeside Spot Is A Great Addition To Your Wine Vacation Bucket List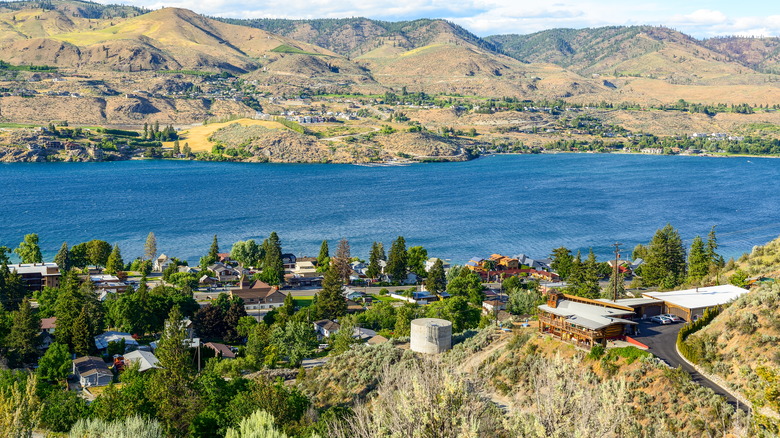 4nadia/Getty Images
From Mount Rainier to Olympic National Park, Washington State's natural wonders are a sight to behold. About a five-hour drive away from Seattle is Lake Chelan, an underrated nature destination in the Pacific Northwest. The gorgeous lake, known for its distinct blue hue, was created from glaciers. Lake Chelan's visitors can take in the beauty of the lake and the surrounding region in a variety of ways, including through its wineries. Lake Chelan's Wine Valley is home to more than 40 wineries and is one of the best places in the U.S. to visit for wine tastings.
It features 300 acres of vineyards where various grape varieties are grown, including Pinot Noir, Chardonnay, Merlot, and more. Likewise, Lake Chelan's Wine Valley is split into five wine districts: South Shore, Downtown Chelan, North Shore, Downtown Manson, and the Columbia River. According to HistoryLink, wine has been made in Lake Chelan since the late 1800s. However, the first official winery did not open until 1998. Now, Lake Chelan is a must-visit for wine lovers that should be added to their travel itinerary. With scenic views and one-of-a-kind wine experiences, it will be hard not to fall in love with Lake Chelan.
Unique wineries in Lake Chelan
With so many options, narrowing down which wineries to stop by during a visit to Lake Chelan can be difficult. One of the top-rated wineries on Yelp and Trip Advisor is Vin Du Lac Winery & Bistro. Located in Downtown Chelan on the shores of Lake Chelan, Vin Du Lac charges $10 for a tasting of the three wines of your choice. This is only offered Friday-Tuesday from 12 to 6 p.m., and if you buy a bottle, the $10 is refunded.
In addition, you can enjoy your wine with a meal from Vin Du Lac's bistro, which serves both lunch and dinner. The bistro is only open Friday-Tuesday from 12 to 8 p.m. Menu options include a charcuterie board, burgers, flat iron steak, and more. On the North Shore, you'll find Lake Chelan Winery. They have free daily wine tastings and winery tours on Wednesdays and Thursdays at 2 p.m.
Likewise, Lake Chelan Winery has a cheese shop, Lake Chelan Cheese, open every day from 11 a.m. to 5 p.m.  In the summer, Lake Chelan Winery cooks BBQ in their vineyard. The tasting room at Lake Chelan Winery is open from 11 a.m. to 6 p.m. Sunday through Thursday and from 11 a.m. to 7 p.m. on Friday and Saturday.
Tsillan Cellars (seen in the TikTok above) on the South Shore is an Italian-inspired winery that has daily wine tastings for an unspecified cost. Onsite dining is available at Sorrento's Ristorante, which is known for its incredible architecture and lakeside views.
Lake Chelan wineries that offer lodging
If you want the ultimate wine vacation in Lake Chelan, consider staying at a winery. Siren Song Winery and Restaurant and Callan Cellars on the South Shore have accommodations for overnight guests. Siren Song Winery and Restaurant has a two-bedroom villa with lakeside views in their vineyard. The average price per night of the villa is $318 and can be booked on VRBO. Even if you're not interested in staying at Siren Song, you can enjoy a $25 wine flight and a pizza in their vineyard lounge.
Similarly, Callan Cellars has a three-bedroom cozy cottage (pictured) next to their tasting room. The quaint home sleeps eight and averages $195 a night on VRBO. It includes lake views and a stunning garden. Callan Cellars has daily wine tastings at their tasting room. The cost of the tasting fee is unclear, but reservations are recommended.
Nevertheless, there's more to Lake Chelan than wine. There are countless outdoor activities. Visitors can swim, kayak, paddleboard, and more on Lake Chelan. All of this and hiking can be experienced at Lake Chelan State Park. Likewise, make sure to take a stroll in Downtown Chelan. The small town is home to several historic buildings, including one of the oldest movie theaters in Washington, the Ruby Theater.
While Lake Chelan is a road trip from Seattle, visitors can shorten the drive if they fly to Pangborn Memorial Airport (EAT) in Wenatchee. The flight is less than an hour, and the drive from the airport to Lake Chelan takes less than three hours.