Wine Lovers Should Add This Overlooked California Town To Their Travel Itinerary Immediately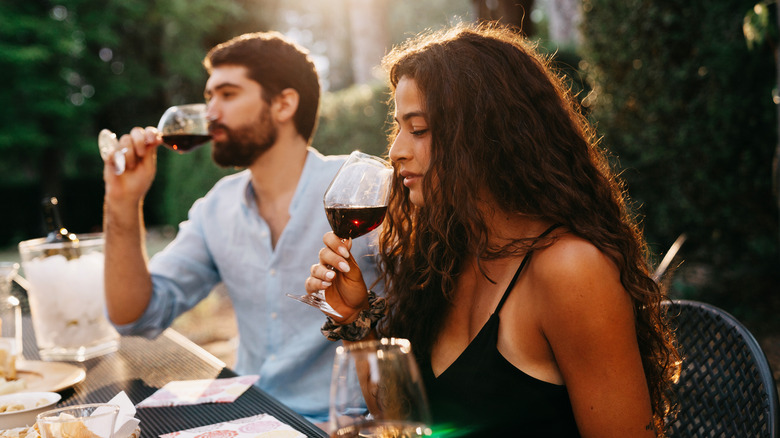 Filippobacci/Getty Images
Every wine lover is familiar with the world-famous Napa Valley. But one small community in this popular wine country is sometimes overlooked. With only 164 residents, this tiny town is known for its big-flavored wine, especially its Cabernet Sauvignon. Home to 25 wineries, two phenomenal restaurants, and two hotels, it has a lot to offer — which is why every oenophile should add this hidden gem to their Napa Valley travel itinerary.
Tucked away on Highway 29 in Napa Valley between Oakville and St. Helena, the Rutherford area produces wine known for its famous Rutherford Dust. "It's an apt descriptor, as there is an undeniably 'dusty' characteristic to the ancient, mineral-rich soils of Rutherford, which were formed millions of years ago and spread out from the hills as alluvial fans," Lauren Pesch, president of the Rutherford Dust Society, explained to the Napa Valley Wine Academy.
With so many tasting rooms in Rutherford offering the unique spiciness of Cabernet's Rutherford Dust, as well as a range of Bordeaux wines, Sauvignon Blanc, and Sauvignon Gris, wine lovers will need plenty of time for exploration. Luckily, Rutherford also offers fantastic dining and accommodation options.
Where to sip and savor in Rutherford
Spondylolithesis/Getty Images
Napa is one of the best places in the U.S. for wine tasting. In Rutherford, popular places include Caymus Vineyards, Grgich Hills Estate, and Peju Winery. Family-owned since 1972, Caymus Vineyards is famous for its dusty Cabernet. Tastings start at $50 per person and are by appointment only. Grgich Hills Estate is a family-owned certified organic winery, with the added benefit of allowing walk-ins and being dog-friendly and kid-friendly. Tastings start at $75 per person. Peju Winery is yet another family-friendly winery that also allows walk-ins. Tastings start at $40 per person. Their unique on-site 50-foot tower now appears on the label of every estate-bottled wine, and guests will enjoy the beautiful sculptures in the well-manicured gardens.
More wineries in Rutherford worth visiting are Mathew Bruno Winery (tastings start at $50 per person) and Rutherford Hill (tastings start at $60 per person). At Mathew Bruno Winery, guests can taste delicious wines inside a Victorian home. And at the hilltop property of Rutherford Hill, guests are treated to some of the best views of Napa Valley. They also have the added option of sipping while touring mile-long caves.
And with all this sipping and savoring, visitors to Rutherford will appreciate a freshly cooked meal. The Restaurant at Auberge du Soleil and the Rutherford Grill are both fantastic options. The former is a fine dining restaurant with a whopping 15 Michelin Star awards, and the latter is a local favorite offering American comfort food.
Where to stay in Rutherford
Rutherford offers two accommodation choices. The more luxurious option is Auberge du Soleil (room rates start at $1,050). Nestled on a 33-acre olive grove, the hotel is iconic in Napa Valley and known for its gorgeous views, famous restaurant, and excellent service. Guests will enjoy walking through the sculpture garden, which features over 100 artworks, competing in a friendly tennis match, cycling the 47-mile Napa Valley Vine Trail, cooling off in the pool, and taking a complimentary yoga, Pilates or meditation class. And, of course, since this is wine country — guests can also enjoy a 90-minute guided wine tasting experience at the hotel. The hotel's expert sommelier will teach the fundamentals of wine tasting and offer detailed explanations of the wines available throughout Napa Valley.
Alternatively, the Rancho Caymus Inn (standard king starts at $480 per night) is a historic boutique hotel in Rutherford. With cream-colored walls, dark wooden beams, plenty of unique decorative accents, and a lovely pool, the Rancho Caymus Inn is an idyllic accommodation in Rutherford. Plus, from 5:30 p.m. to 6:30 p.m., guests can enjoy complimentary wine tastings featuring local Napa Valley wines.