The Biggest Tourist Traps In Las Vegas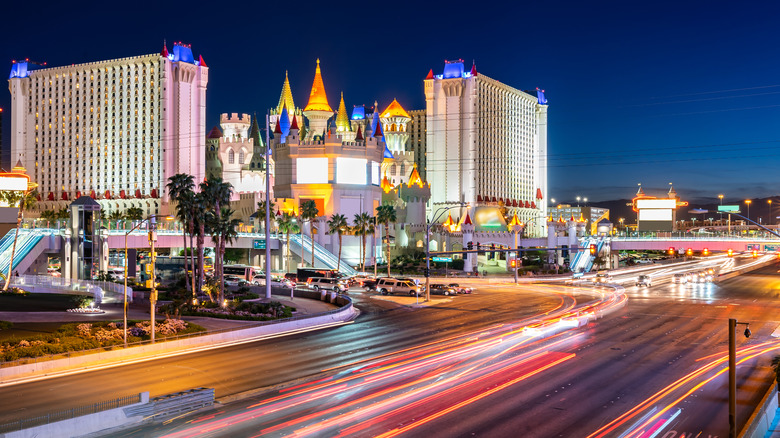 vichie81/Shutterstock
Whether designed to hit visitors with extra fees or entice them into activities that aren't worth the money, Las Vegas has a plethora of tourist traps. From triggering huge mini bar charges by simply removing something from the fridge or getting coerced by street "vendors," you could find yourself in one of these traps.
Las Vegas is so notorious for fraud that the city is ranked 4th in the country for fraud reports. As a whole, Nevada even ranked 3rd for fraud and theft reports in 2022. Knowing that, it's definitely worth being a little more diligent than usual. For context, other major tourist cities like New York City, New Orleans, and Los Angeles aren't even in the top 10. That gives you a better understanding of how significant the fraud issues in Vegas are. Nevada fraud and scams even run the gamut from investment to banking to tax-related, so there are many ways to lose your dough.
Sometimes, shops or vendors can convince you that their tickets are legit, and you wind up with a fraudulent ticket at a show. Scam artists have gotten pretty convincing through the years, so when it doubt, remember the saying, "If it seems too good to be true, it probably is." Even if you're a frequent Vegas visitor, it's worth brushing up on these traps so you know which tourist traps to avoid and don't leave Sin City with a whole lot less money.
Aggressive street performers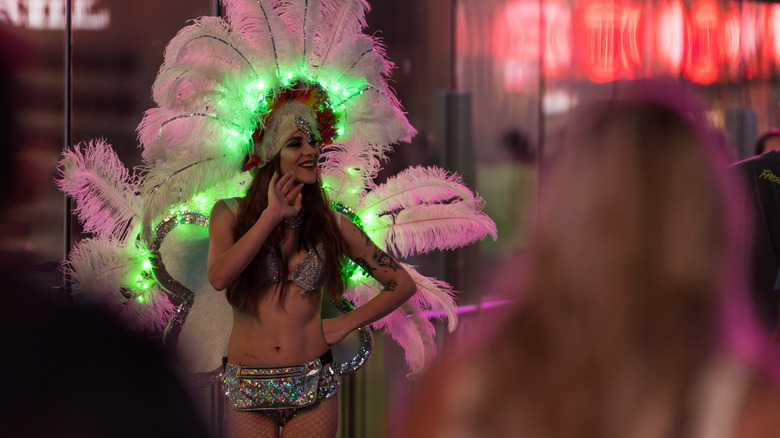 400tmax/Getty Images
This trap is just like ones in many big cities, especially Times Square in New York City. You'll see a celebrity lookalike and want to snap a quick pic, which they will happily accept, and then shake you down for an absurd fee afterward. Sure, that Elvis impersonator may be really nice — until you don't have the cash they want.
Even on the off chance you interact with a genuinely kind street performer, you never know if someone is going to turn on you. It's better to not engage than risk owing someone $50 for a quick photo. Reports have been that these folks, especially ones in costume, earn hundreds of dollars daily. After all, if it weren't a lucrative opportunity, the performers wouldn't be doing their hustle day in and day out. The potential earnings, on top of the fact that they are unlicensed, have created a lot of friction between the street performers and licensed street vendors who have to pay the city for vending permits. 
Vegas visitors have reported being accosted by performers for as much as $40 for a photo, not realizing how much the photographer would want afterward. Once the photo is taken and the performers demand the excessive amount, they can reportedly get confrontational. One guest even told the New York Post that a performer almost ripped the wallet out of her boyfriend's hand for the cash after their photo-op.
Street photographers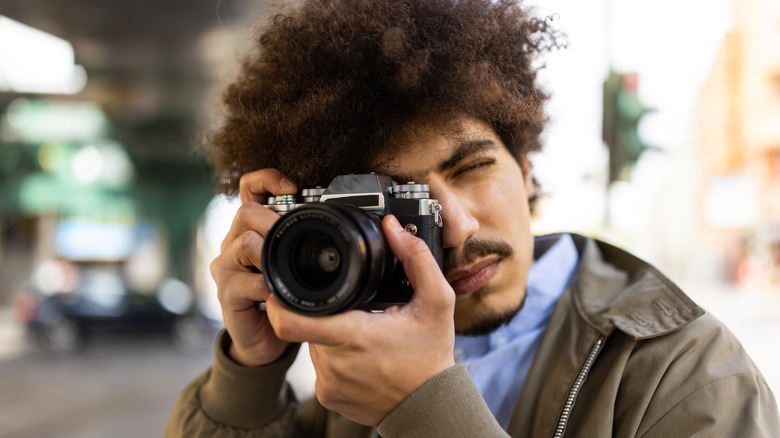 Alvarez/Getty Images
Especially in iconic locations like the Welcome to Las Vegas marquee sign, folks will dress with official-looking identification, posing as Vegas photographers. These photogs are not, in fact, associated with the city and are not going to help you without a cash fee afterward. There is no such thing as an official City of Las Vegas photographer; if someone tries to tell you otherwise, they're scamming you. If you don't engage, they may try to tell you that you have to stand in a particular place for photos or otherwise try to direct your photo-taking. Just ignore them.
This scam is so common that there is even a warning sign at the Las Vegas marquee sign cautioning visitors that there are no official photographers. This same warning sign says that photos are on a first come basis, there are no reservations, and vendors are not permitted to conduct business at the sign. Instead, you could bring your own tripod or ask another visitor to take your photo. Other tourists are often more than happy to reciprocate, especially if you offer to then take their photo in return.
Further, don't be fooled if other tourists engage with these not-so-official photographers. They can be helpful and obviously make money through tips, or else they wouldn't be there. Go for it if you don't mind tipping them to help with your photos. Just know that they aren't legit city photographers, no matter what they tell you.
Mini fridge payment triggers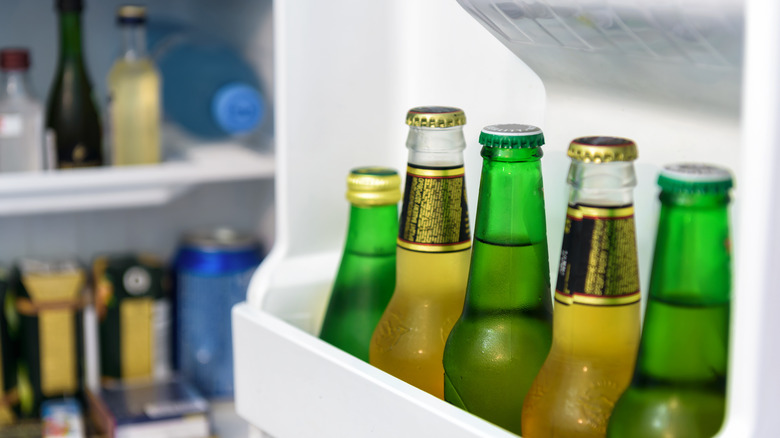 Viacheslav Lopatin/Shutterstock
Hotels all over the world are known for up-charging items in their minibars. Las Vegas is clearly not an exception, though their policies are sometimes more incredible than most. Still, they don't all have fridges with triggers. These triggers can charge you for items after a mere minute of removing items from the fridge. That's bad news if you plan on trying to store anything in your fridge. Some hotels will also charge a fee for emptying the fridge you don't plan to use.
It's possible that refrigerated medication is an exception. Once a charge from moving a mini fridge item is incurred, it's often automatically put onto your bill, even if the item is returned. So, ask the front desk upon check-in about how to proceed. Additionally, it would be best if you prepared for the hotel to ask for proof that it's medication before using the fridge.
What makes the Vegas minibar charges stand out from other cities is that some hotels, like the Vdara, have essentially tricked guests into charges by leaving items around the room. It's become commonplace for hotels to have complimentary water bottles, even sometimes snacks, left on the dresser or desk. If it's not in the minibar itself or labeled, it's often free to consume. Yet Vdara guests have been charged upwards of $25 a bottle for bottled water in the past. If you encounter something like that in your room, it's better to ask before consuming it.
VIP club entry passes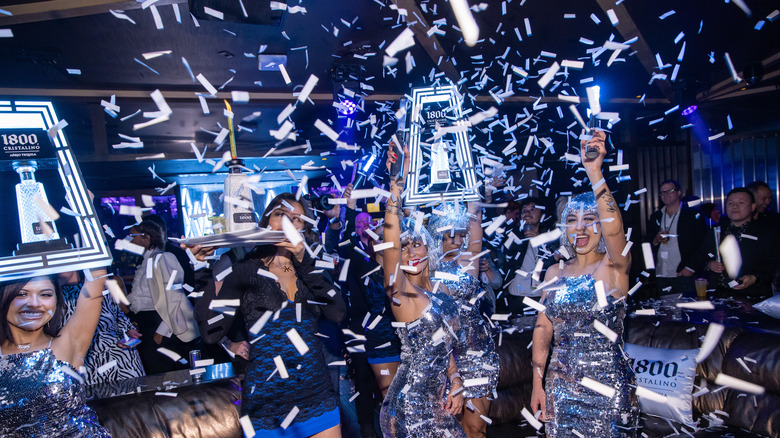 Mat Hayward/Getty Images
Las Vegas is rife with people lining the Strip, handing out promoter cards. While these cards usually advertise adult services or strip clubs, sometimes so-called promoters will be handing out "VIP club passes." These club passes will, of course, cost you. Not only will you be paying for the VIP cards themselves, but the VIP access might not save you any time or even get you better access.
When approached by a  supposed promoter, you should either deny the pass or take it and never use it. You're often better off going to the club, getting in line, and heading in just like anyone else. You could also potentially purchase a VIP club experience directly from the business itself rather than go with a random street promoter. Especially if you're a man or in a group of men, it is improbable that anyone will give you VIP passes. Men often outnumber women in clubs in Vegas, so it doesn't make sense for a club promoter (legit or not) to encourage the ratio to get bigger. To be honest, your best bet for VIP treatment is to buy bottle service. 
Be sure to check a site like No Cover Nightclubs before ever paying for VIP admission. A bunch of clubs in Las Vegas have no cover charge at all. It would be a shame to pay someone for a VIP pass only to discover that the club doesn't charge a cover anyway.
Fake ticket vendors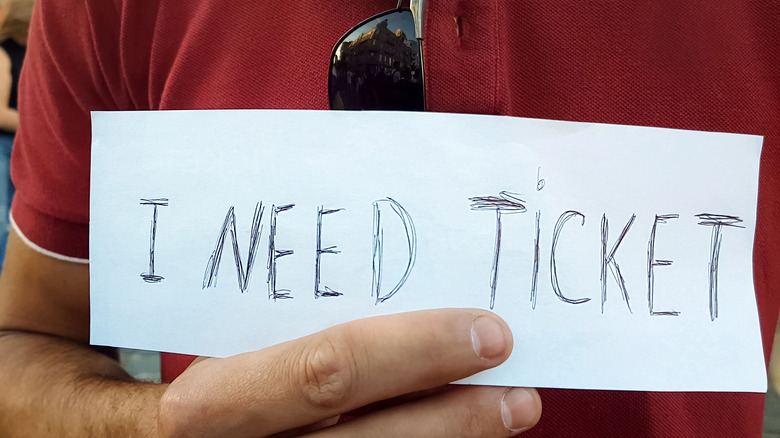 Motortion Films/Shutterstock
There are many ways to get cheap show tickets in Las Vegas from reputable vendors. Authentic third-party vendors can get tickets cheaper buying wholesale. You'll save money purchasing through them, though fake street vendors will try and take advantage of cheap seat purchasers by selling fake tickets. Actual legitimate vendors have several locations around Vegas, with Tix4Tonight being the largest third-party discount vendor in the city. Always look up a ticket vendor before purchasing anything from them, as you can find out if they can be trusted. 
Bigtime gamblers may also be able to earn free tickets through their casino loyalty programs. Casinos like MGM or Caesars have loyalty cards that can frequently rack up comps for shows and even hotels. Just a few hours of playing slots could get you enough reward credits for a smaller show around the Strip. If you need guidance on utilizing the loyalty programs, there are often reward customer service folks at the resorts or casinos to help. 
If you want to avoid discount vendors altogether and don't mind a small gamble, you could try your luck at the box office. Starting around two hours before a show begins, the box offices sometimes have deeply discounted last-minute tickets available — these crop up same-day because of last-minute cancellations. Should you have a free evening, it may be worth dropping in on a box office to try your luck — it'll cost you less than losing big at a casino anyway.
Airport or random store slot machines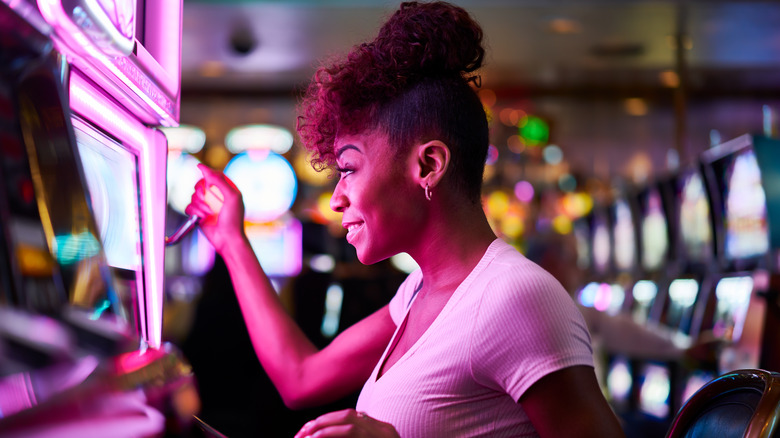 Joshua Resnick/Shutterstock
We'd be lying if we said that your odds of winning money on slot machines in Vegas are good. Still, people win money on these machines in Sin City every day. That said, you should absolutely avoid slots in places like the McCarran International Airport, grocery stores, and convenience stores. These machines have a much lower rate of return, and you are highly unlikely to win any money.
Part of the problem is that the further away from the casinos the slot machines are, the less regulated they become. With less regulation putting pressure on the private machine companies, it becomes easier for the machines not to work as intended. Or the easier it is for them to be manipulated against the player. 
Occasionally, someone will win big, like a $300K airport slot machine winner, but it's essential to recognize that those wins are few and far between. Despite the lesser odds, airport slots in particular tend to do well profit-wise because they have a captive audience. Bored flyers waiting for their flights are the perfect group for these machines to target, one would assume, especially if they are also leaving Vegas with any windfall. With returns that are 8% lower than casinos on the Strip, it's better to avoid airport slots or non-casino slots altogether in Vegas.
Long-haul cab rides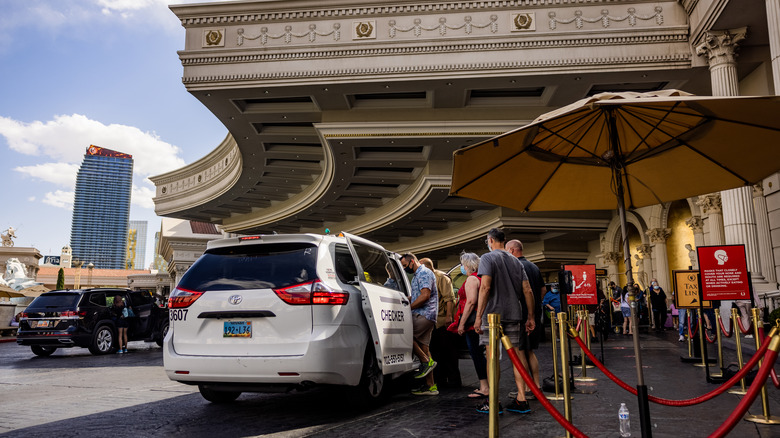 Bloomberg/Getty Images
This is not a Vegas-specific scam; cabbies run this hustle worldwide. When taking a cab in Vegas or anywhere, you want to pay attention to how you're getting to your destination. Taxi drivers may try to take advantage of your naivete of the local routes by taking you a much longer way to rack up mileage (and your cost). One way to avoid being taken to the cleaners is by looking up the best route on your phone.
Even though this common scam practice can be found elsewhere, Vegas has made the long-haul cab ride scam into an art form. Many cabbies (20-50%) participate in this practice, costing tourists millions of dollars a year. By taking you a longer way to your hotel, the ride could cost just a few dollars more than you anticipated. However, it can also cost several times more than it should, so tourists need to be aware of the practice. 
One way to avoid this scam is to tell your driver to not take the tunnel. Since the nickname for this practice is "tunneling," that phrase will indicate to them that you know this practice exists. You can take it up a notch by also telling them to take Paradise or Swenson. This way, you can also pay attention to street signs to see if they're listening or still trying to long-haul you.
Timeshare presentations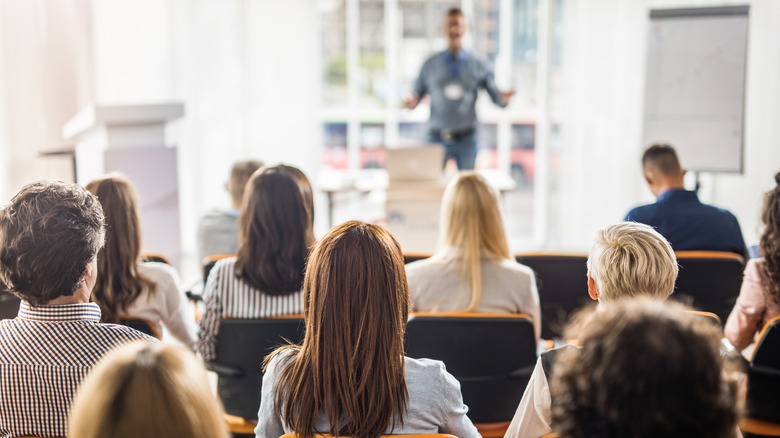 Skynesher/Getty Images
Like many tourist destinations worldwide, Las Vegas is not immune to the tricky tactics of timeshare presenters. With enticing offers like free machine pulls, show tickets, hotel perks, and other activities around the city, it can be hard to say "no." These presenters will lure you in even from inconsequential-looking stands around the Strip, and the presentations can be a tough sell situation, which isn't great for folks looking to relax on vacation.
Presenter kiosks can be intimidating. Salespeople man them to implore you to attend the presentation, ready to offer you just about anything you want to experience around the city. Don't let them strong-arm you into sacrificing hours of your vacation unless there is something really enticing that you couldn't otherwise afford, or you're ready to give a firm "no." Be aware that it can be really hard to stick to your guns; the hard sell with tempting statistics is tough to walk away from.
Timeshare kiosks and presentations may seem more frequent around Vegas than other places you've visited. That's because Nevada has the 5th most timeshares in the country. Even beyond that statistic, Vegas is the second most popular timeshare destination in the U.S., just behind Orlando, Florida. Timeshares are a $100 billion business. Where there's big money and the potential to save on vacations, there are also people to be financially taken advantage of.
Unknown resort fees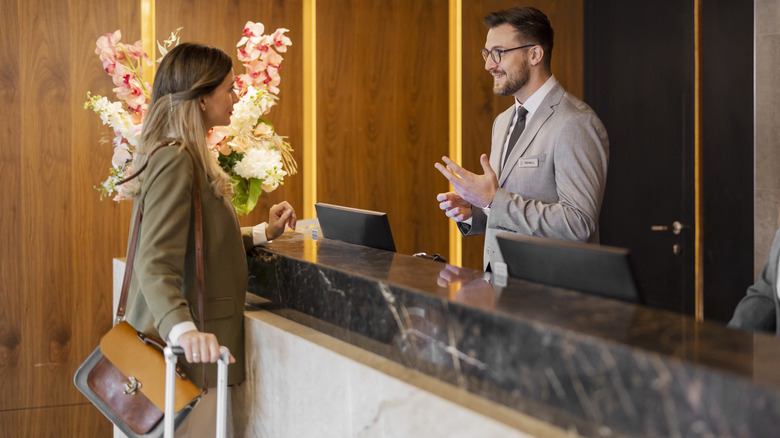 Pixelseffect/Getty Images
Las Vegas is known for having some incredibly cheap per-night hotel rates. But some hotels that offer those cheap rates (and even those that don't) make up some of that money by having exorbitant per-day resort fees. These fees can make your hotel stay significantly more expensive than you anticipated if you are unaware of them. Some of these resort fees can be over $50 a night and vary between hotels in Vegas.
There is a myth purported online that you can refuse to pay the resort fees, but that's not really true. You can try to sweet talk your way out of them or try to file a dispute on your credit card after the fact — or just accept that it's part of doing business in Vegas. However, resort fees aren't a secret. You will be told about them when booking the hotel room. Pay attention to the details of payment before proceeding. If there are not transparent details about resort fees in place, call the hotel before arrival so that you aren't surprised.
One way to avoid these sometimes unavoidable fees is to make sure the hotel you're booking doesn't have them or, if they do, they're low. If you don't mind not being on the Strip, many of the hotels in the Fremont Street area (downtown Vegas) don't have these fees at all, or they have very low resort fees. Plus, the hotel rates are also often cheaper than those along the Strip.
Free stuff that isn't really free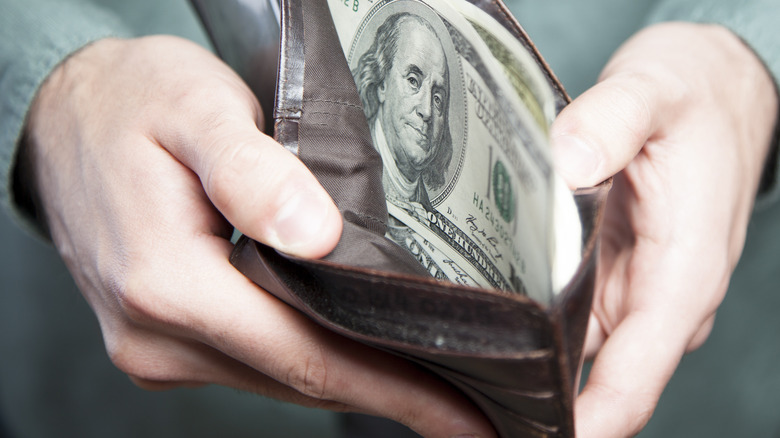 Bill Oxford/Getty Images
Monks with friendship bracelets, musicians with CDs, or anyone on the street trying to give you something for free — those items are not going to be free. In fact, any musicians giving away CDs (which are probably blank) or anything else will demand money even if you reluctantly take it or they force it into your hand. Like many of the street scams, this is not unique to Vegas.
Even outside of the apparent pay-me element of this scam, situations like this are perfect for pickpockets, too. The person giving away goods could easily be a distraction so that someone else can sneak away with your valuables while you're preoccupied. One of the easiest ways for someone to make off with your money is when you're taking cash out of your wallet. Don't be a target for theft — avoid people trying to give you anything on the streets.
You should also be aware of checking on valuables on your person, like a phone and wallet, when in public. If you think someone is trying to pickpocket you, know they're also watching your hands, and they'll know exactly which pocket to pick. You're better off keeping your valuables in your front pockets and just placing your hands in them if you're concerned that someone is about to steal your belongings.