Dangerous Vacation Spots In Mexico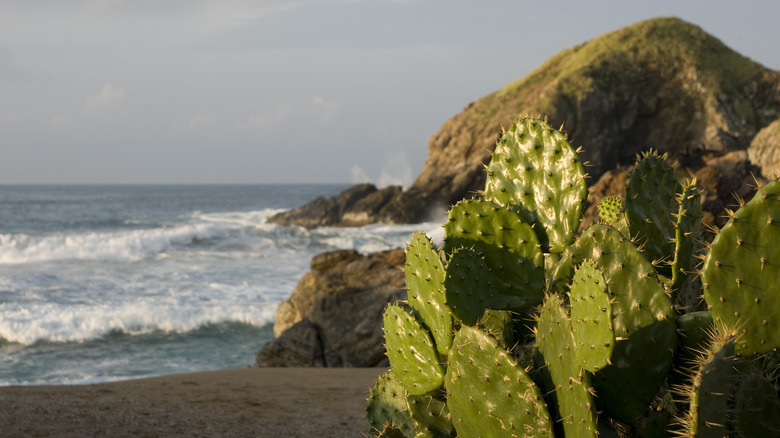 Diamirstudio/Getty Images
Mexico is a country of contrasts. On the one hand, you have beautiful landscapes, fascinating history, and a mix of incredible cultures. On the other hand, there are cartels, corruption, and the potential for natural disasters. While Mexico isn't one of the most dangerous vacation destinations in the world, it does have spots that can be sketchy. If you're planning a trip here, it's worth doing some research to suss out which places are safe and which come with potential risks.
According to the Mexican Ministry of Tourism, over 66 million international tourists visited Mexico in 2022. Most flew into popular tourist destinations like Cancun, Los Cabos, and Puerto Vallarta. This is not surprising, considering these locations are where you'll find some of Mexico's best beaches and safest resorts. But what if you want to get off the tourist trail and explore little-known beach towns, bustling cities, and charming pueblos?
The media may make it seem like Mexico is downright dangerous outside of the main resort areas. That's not necessarily true. There are many amazing places you can explore safely, provided you keep your wits about you. The key is to stay informed and be aware of the places where you could potentially run into danger. To help you out, we've compiled a list of vacation spots in Mexico where you should be vigilant.
Acapulco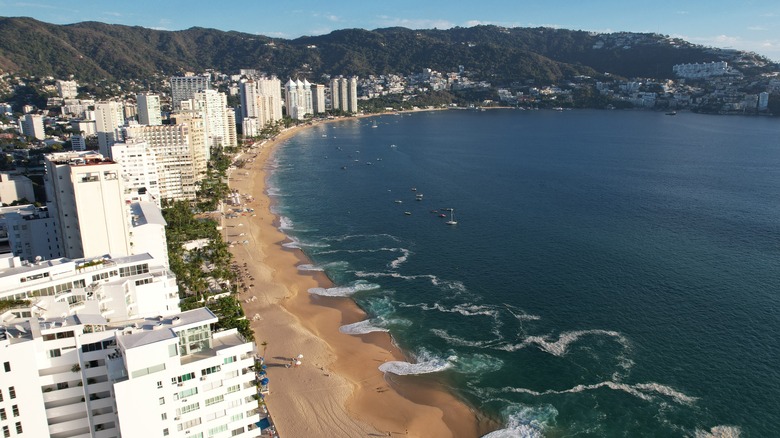 ViollettaKzm/Shutterstock
Once a seaside playground for the Hollywood elite, Acapulco took a turn for the worse in the mid-2000s when drug-related gang violence took over the city. Over the past 20 years, headlines coming out of the seaside city have reported everything from gun battles to headless bodies being dumped in the streets. Cartels are still operating in the area today, although it's rare for them to target tourists. The heavy police presence along the beaches and streets can be either comforting or disconcerting, depending on your disposition.
Another blow to Acapulco's already dwindling tourism industry was Hurricane Otis, which ripped through the city in October 2023. The hurricane left a death toll of dozens and billions of dollars of damage. In the days following the storm, looting was rampant. When the Mexican government stepped in with financial aid for reconstruction, many officials believed this would be an opportunity to restore Acapulco to its former glory. Analysts pointed to the fact that it would only create opportunities for organized crime groups to gain more power. Only time will tell which direction Acapulco will go.
Popocatépetl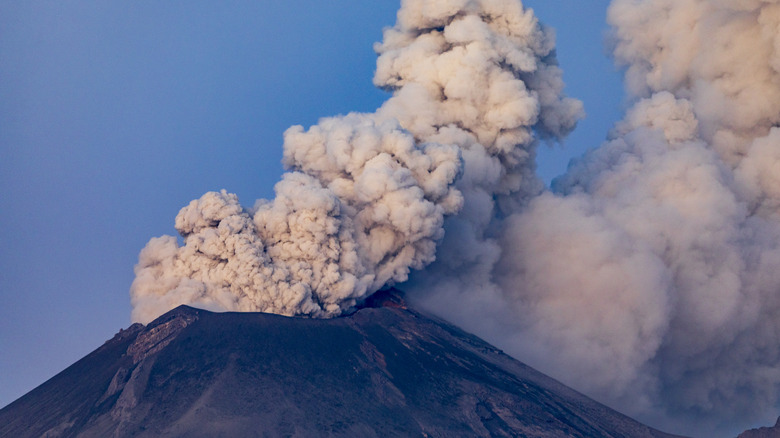 Alfredo Martinez/Getty Images
Just 45 miles southeast of Mexico City lies Popocatépetl, an active stratovolcano. The volcano erupted for the first time in almost 50 years in 1994 and has been sporadically spewing ash, lava, and rocks ever since. Eruptions have caused the government to evacuate tens of thousands of people in nearby towns. Numerous flights have been canceled over the years, as airports shut down due to ash and gas. It's a spectacular sight to see, but one you don't want to get too close to. One violent explosion could wipe out nearly 25 million people in the vicinity, making it one of the most dangerous volcanoes on Earth.
For the daredevils out there, hiking "El Popo" is strongly advised against. The Mexican National Center for Prevention of Disasters (CENAPRED) urges people to keep a distance of at least 7.5 miles from the crater. However, you can hike the dormant Iztaccíhuatl volcano nearby. Iztaccíhuatl is the third-tallest volcano in Mexico, and it offers great views of Popocatépetl from the peak. If hiking volcanoes isn't your thing, you can see Popocatépetl from various places in Mexico City on clear days. The road from Mexico City to Puebla City also offers some great vantage points.
Tamaulipas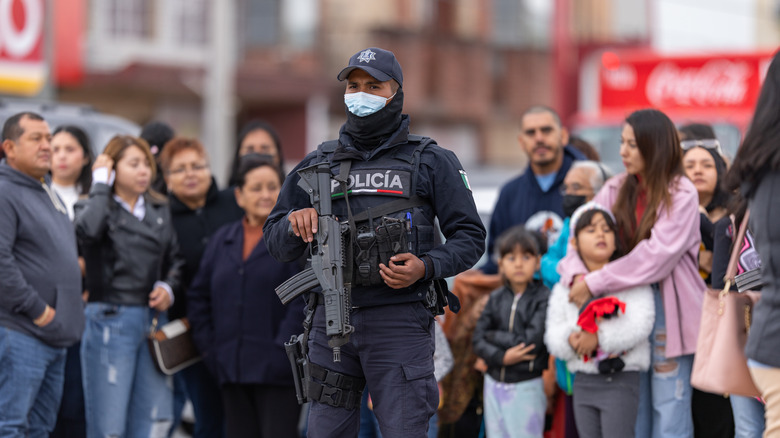 Roberto Galan/Getty Images
The state of Tamaulipas has so much going for it, including idyllic beaches, rugged mountains, and historic towns. It's a shame that it also has some of the most crime-ridden cities in the country. The state is notorious for gang violence, forced disappearances, and kidnappings. And it's not just locals that are targeted. In 2023, four Americans were kidnapped at gunpoint from the city of Matamoros. Two of them were killed.
Tamaulipas' location on the Gulf of Mexico just below Texas has long made it prime territory for organized crime. Matamoros is the birthplace of the Gulf Cartel, one of the oldest cartels in Mexico. The cartel rose to prominence in the 1980s when it partnered with the Cali Cartel of Colombia to traffic cocaine into the United States. Much of the violence in Tamaulipas today stems from conflicts between Gulf Cartel factions, rival groups, and the military. Travelers should be aware that shootouts are common, and civilians are sometimes caught in the crossfire.
Tijuana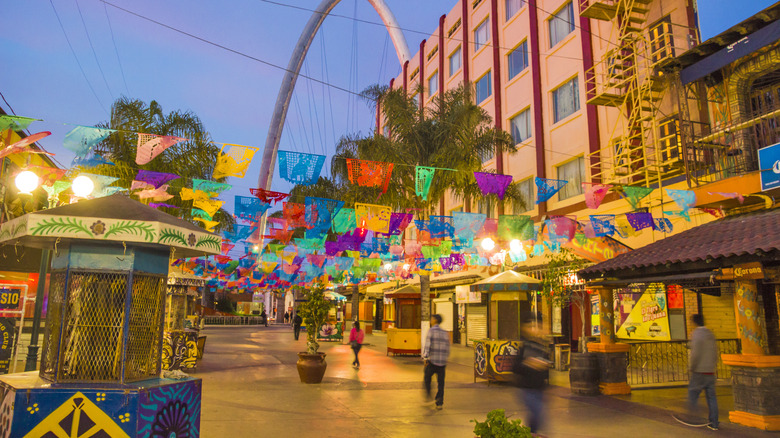 Denis Kabanov/Getty Images
Every year, El Consejo Ciudadano para la Seguridad Pública y la Justicia Penal (The Citizen Council for Public Security and Criminal Justice) publishes a report on the most violent cities in the world based on the murder rate. In their 2022 report, Tijuana came in second with over 2,100 murders. Like many border cities in Mexico, Tijuana is a magnet for criminal organizations vying to control trafficking routes into the United States. Tijuana's mayor, Montserrat Caballero Ramirez, attributes the majority of the murders to cartels.
According to the U.S. State Department, Tijuana's high number of homicides were mostly targeted attacks that took place in non-tourist areas. Even so, they warn that bystanders can be injured or killed during assassinations and cartel clashes. If you still want to visit Tijuana despite the warnings, you may want to stick to popular tourist areas like Avenida Revolución. Follow the golden rules for staying safe while traveling: Be aware of your surroundings, don't wear expensive jewelry or flash cash around, and don't purchase or take illegal drugs.
Playa Zipolite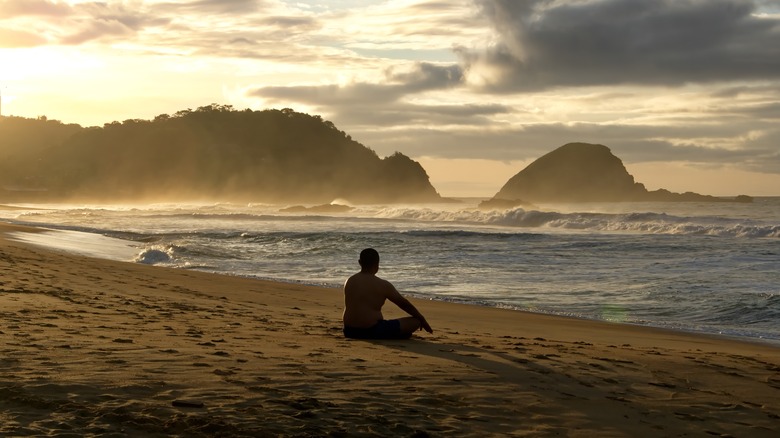 Angela N Perryman/Shutterstock
At first glance, Playa Zipolite looks like a seriously chill spot. The small seaside town has laid-back vibes and is home to a gorgeous, golden-sand beach that spills into the Pacific Ocean. Gazing out at the surfers and hippie types lounging on the sand, you wouldn't necessarily consider this a dangerous beach in Mexico. But threats are lurking in the water. Just offshore, there are powerful currents that can make swimming hazardous.
Located on the coast of Oaxaca, Playa Zipolite is also called the "Beach of the Dead." Legend has it that the name comes from the dangerous waters that have taken many lives over the years. Groundswells create large waves that can be overwhelming for some, and the circular currents can pull swimmers out to sea. It's a great spot for surfers, but those who aren't strong swimmers may run into trouble. Thankfully, lifeguards on duty keep an eye on the water and perform rescues if necessary.
Ciudad Juárez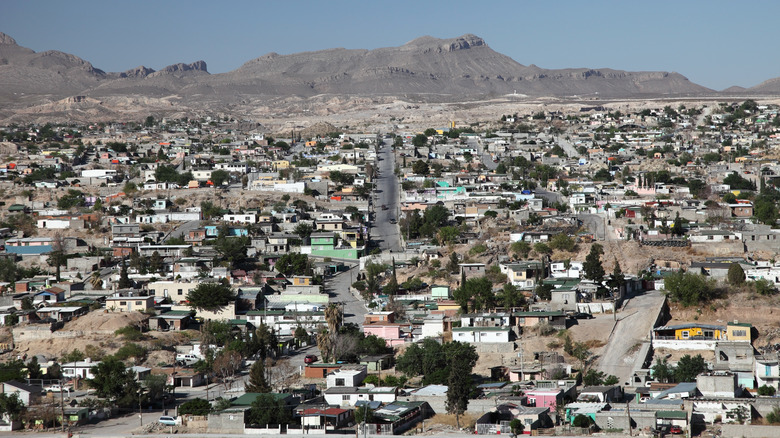 Denistangneyjr/Getty Images
Ciudad Juárez used to be a happening vacation spot. During the Prohibition era, Americans flocked to the border city to drink, dance, and gamble at the city's nightclubs and entertainment venues. With the influx of tourists also came the rise of organized crime cells that had their hands in everything from prostitution to narcotics smuggling. Tourism declined dramatically when Prohibition was repealed, but the criminal enterprises grew.
Today, Juárez has a reputation as being one of the most dangerous cities in the world. For over 30 years, the city has seen a staggering amount of violence. During the 1990s and early 2000s, thousands of women were murdered in Juárez, and most of those murders are still unsolved to this day. Clashes between the Juárez Cartel and the Sinaloa Cartel turned the city into a battlefield with over 3,700 homicides taking place in 2010 alone. Although murders have declined slightly since then, Juárez is still a major drug and human trafficking hub and gang violence is still very much a reality. Unfortunately, it's far from the tourist destination it once was.
Tulum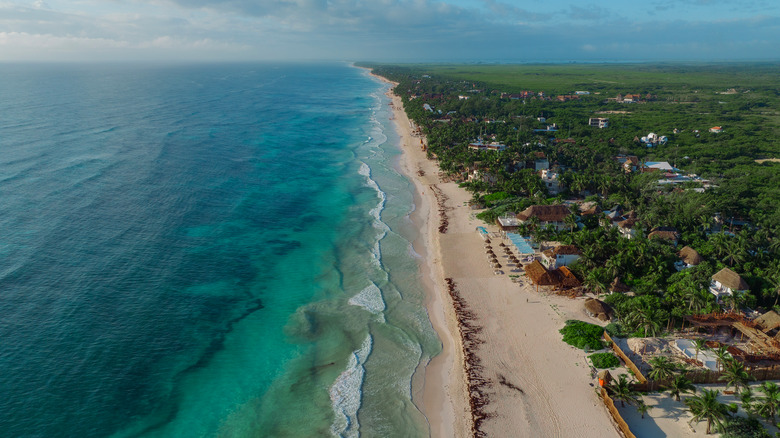 Oleh_slobodeniuk/Getty Images
Tulum used to be one of Quintana Roo's best-kept secrets. If you traveled there 20 years ago, you would have found a sleepy beach town with just a few rustic hotels. Fast forward to the present and Tulum is now party central. As tourism has exploded, so too has the crime rate. The party scene fuels the demand for drugs, and that brings the cartels to town. In October 2021, two tourists were killed and three others injured when rival gang members opened fire on a busy street. Just a few months later, two men were gunned down by gang members at the Art Beach Restaurant.
Even with the rising crime rate, tourists are still traveling to Tulum in droves. After all, it's hard to resist the allure of pristine white sand beaches, sparkling blue waters, and ancient ruins hidden in the jungles. If you're planning a trip to Tulum, you'll be happy to know that the local government has increased the number of National Guard troops in the area to help keep Tulum tourist-friendly. That being said, it's important to be aware that petty crime is still rampant. Corrupt police have also been known to shake tourists down. 
Tultepec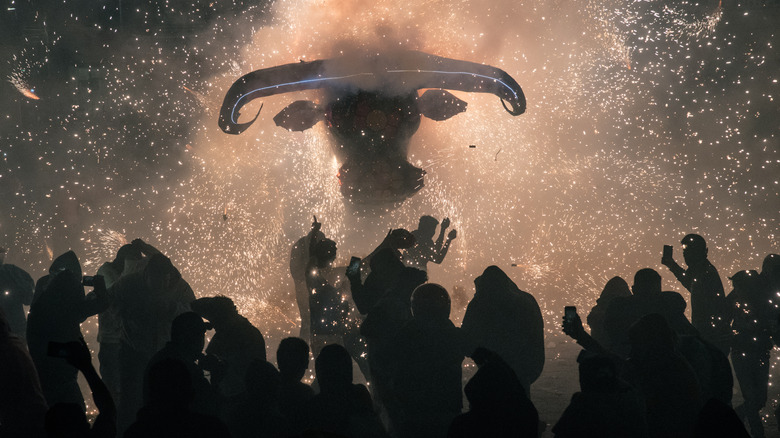 Bloomberg/Getty Images
For most of the year, Tultepec is a pretty safe place. But when the annual International Pyrotechnics Festival kicks off, the town literally explodes with thousands of fireworks shooting in all directions. Nearly everyone in the town gets involved, from small kids lighting off firecrackers to grown men and women dancing and dodging the sparks and flames in the streets. Safety measures are almost non-existent, so injuries are inevitable.
The festival takes place every year around March 8 in the small city of Tultepec on the northern outskirts of Mexico City. It originally began to honor the feast day of San Juan de Dios, but over the years, it has evolved into a celebration of the town's main industry — fireworks production. The festivities typically last for 10 days and attract people from all over the world who come for the spectacular pyrotechnic displays. The main event is the parade of handmade toros (bulls) decked out in hundreds of fireworks. At the 2022 festival, 400 toros blazed their way through the streets. Each year, the gala seems to get bigger and more dazzling. Expect a whole lot of gunpowder, banda music, and dancing.
Sinaloa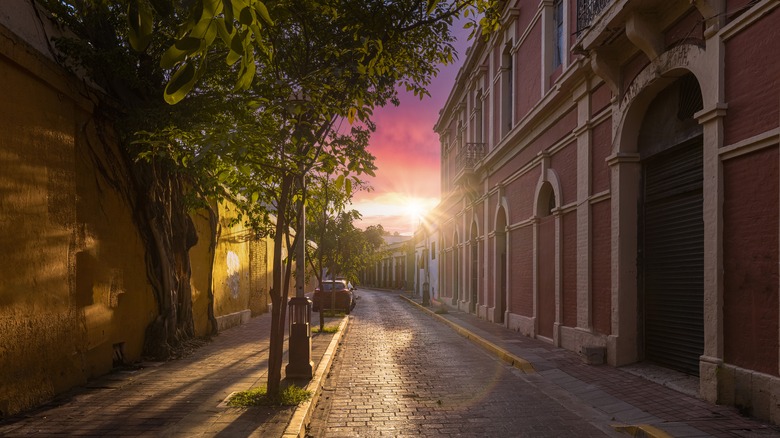 eskystudio/Shutterstock
If you've watched "Narcos," you're probably familiar with the infamous Sinaloa cartel. It's one of the most powerful cartels in Mexico, and members are not opposed to using violence to seize territory and maintain control of their operations. The state of Sinaloa has seen its fair share of turmoil stemming from cartel conflicts. When El Chapo's son, Ovidio Guzmán López, was arrested in January 2023, cartel members retaliated by lighting cars on fire, blocking highways, and opening fire on airplanes at the Culiacán International Airport. Following the unrest, the U.S. State Department gave Sinaloa a Level 4 "Do Not Travel" advisory. 
While many areas of Sinaloa do experience high crime rates, Mazatlán is somewhat of an exception. The seaside city is Sinaloa's most popular tourist destination and relatively safe compared to the rest of the state. It's worth a visit for its historic buildings, lovely beaches, and lengthy malecon that offers sweeping views of the Pacific Ocean. The city is also famed for its superb seafood dishes like ceviche, aguachile, and smoked marlin. Gang violence is not common in Mazatlán, but petty crimes like pickpocketing and robbery do happen on occasion. 
Espinazo del Diablo
The old section of Federal Highway 40 that runs between Mazatlán and Durango is known as Espinazo del Diablo, which translates to "the devil's backbone." That gives you a pretty good idea of what to expect along this twisting road that cuts through the Sierra Madre Occidental mountain range. With hairpin turns, drop-offs to deep ravines, and rugged mountains hugging the road, it's easy to see why some people consider this one of the scariest and most dangerous roads in the world.
The Espinazo del Diablo route winds through the rugged mountains of western Mexico. It rises roughly 9,000 feet above sea level and passes through cloud forests. If the weather is clear, you can enjoy views down to the canyons and valleys at certain vantage points. It's an incredibly scenic route, but not for the faint-hearted. With only two lanes and over 2,000 curves, you'll need to pay close attention to oncoming traffic, not to mention fallen rocks and bolting animals. There are few stops along the way, so make sure you have a full tank of gas before setting out. 
Colima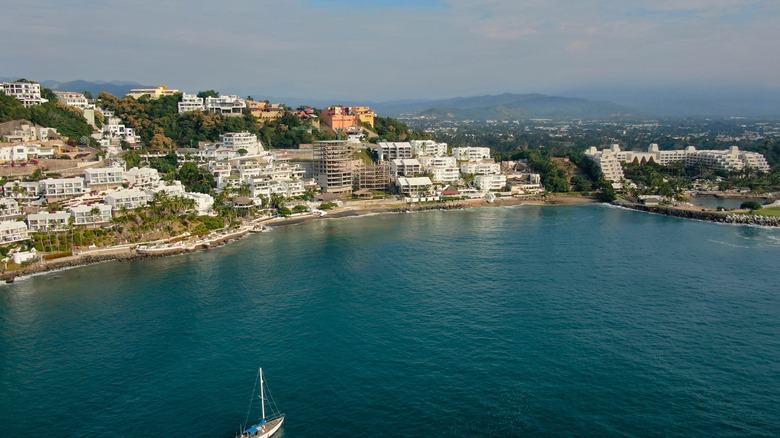 Ievgenii Bakhvalov/Shutterstock
For a small state, Colima has some big problems. The capital city (also named Colima) earned the number one spot on the list of the "50 Most Violent Cities in the World" in 2022, according to the Citizen Council for Public Security and Criminal Justice. That year, there were 601 murders in a population of just 330,329. The increase in violence is mostly attributed to cartels fighting for access to Colima's coastal drug trafficking routes. Some of the most powerful cartels in Mexico are operating in the state, including the Jalisco New Generation Cartel (CJNG) and the Sinaloa Cartel. The U.S., Canada, and the U.K. advise against traveling anywhere in Colima except for the city of Manzanillo.
Spread out along a large bay on Colima's coast, Manzanillo is home to numerous hotels, resorts, and beachfront restaurants. It's not the prettiest place for a beach holiday, but many people choose it because it tends to be cheaper than other Pacific Coast vacation spots like Puerto Vallarta. The city is also home to one of the largest ports in Mexico. According to the U.S. Office of Foreign Assets Control, Manzanillo is a strategic gateway for shipments of cocaine and fentanyl. While many people travel here without incident, it is important to be aware that the city is at the center of cartel interests.
Playa Del Divorcio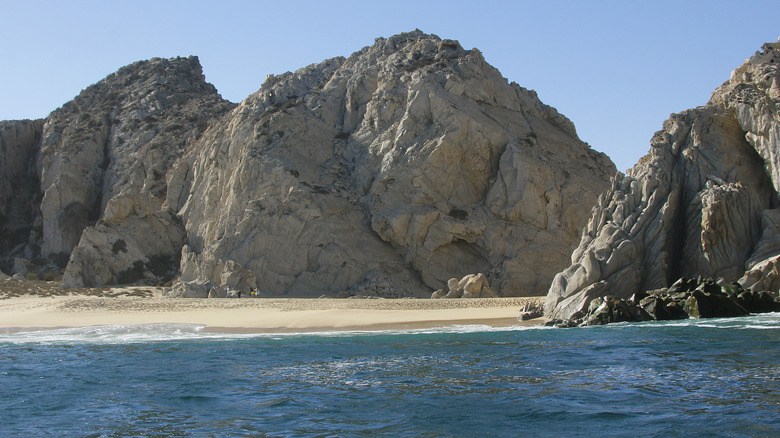 John Grieshop/Getty Images
Cabo San Lucas is renowned for its beautiful beaches, but not all of them are safe for swimming. Playa del Divorcio (Divorce Beach) is one that can be particularly treacherous for those who venture into the water. Located on the southern tip of the Baja California peninsula, it's an incredibly picturesque place. The beach is framed by jagged granite rocks and fronted by the blue waters of the Pacific Ocean. The water may look tempting, but the strong waves and rip tides have taken more than a few people out to sea. 
Playa del Divorcio is a great spot for sunbathing and soaking up scenery, but it's definitely not safe for swimming. If you feel like getting into the water, head through the gap in the rocks to Playa del Amor (Lover's Beach) on the Sea of Cortez side. It's a smaller beach, but the waters are calmer and generally considered safe for swimming. It only takes a few minutes to walk from one beach to the other. The easiest way to get to Divorce Beach and Lovers Beach is by water taxi from the Cabo San Lucas Marina.
Michoacán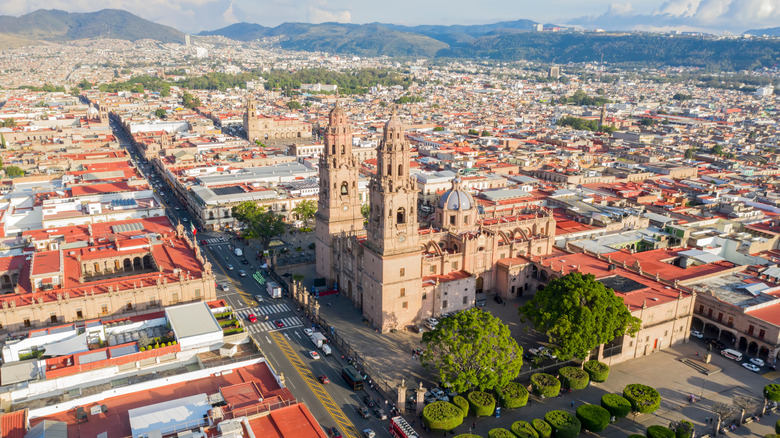 stacyarturogi/Shutterstock
Michoacán is a huge state that extends from the Pacific Ocean into Mexico's interior. There's much to explore here, including volcanic mountains, vast lakes, and charming colonial towns. Travelers should be aware though that Michoacán is also known as cartel country. The state has a long history of drug trafficking that dates back to the 1970s. Over the years, numerous cartels and gangs have battled for control over Michoacán, leaving death and destruction in their wake.
Some of the most shocking stories of cartel violence in Mexico have come out of Michoacán. These include massacres at funerals, decapitations, road bombs, and military-style sieges on entire towns. Much of the criminal activity takes place in cities like Morelia, Uruapan, and Zamora. However, rural areas are also targeted, with residents falling victim to extortion, roadblocks, and killings. The violence has gotten so bad in some places that residents have been forced to flee their homes.  Although numerous National Guard troops have been deployed to the state, the government has little control over cartel activity. This makes travel throughout the state very risky.