Avoid This Dangerous Beach When Visiting Mexico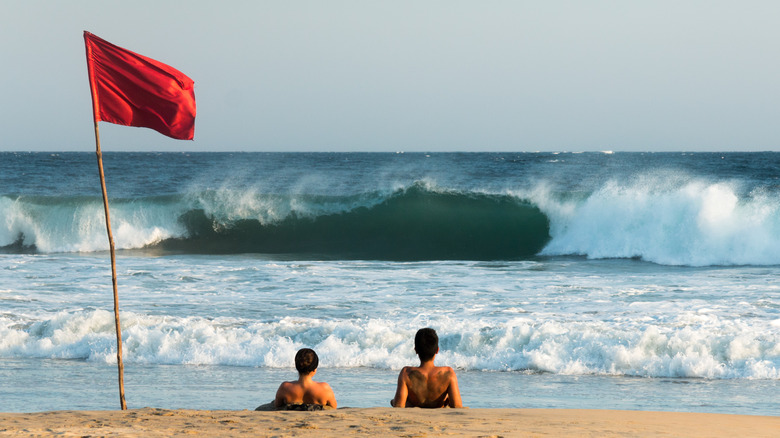 In2dodo/Shutterstock
Mexico is full of underrated tourist destinations to add to your bucket list. And if you're a beach bum or a sun-seeker in particular, you surely have Mexico firmly on your travel radar. Mexico boasts almost 6,000 miles of sun-kissed coastline from the turquoise waters of the Caribbean Sea and the Gulf of Mexico in the east to the long Pacific coastline in the west. And there is a beach in Mexico for practically every type of traveler.
There are lively beaches with water sports and gentle waters in places like Tulum and Playa del Carmen; world-class surf beaches with crashing waves in Puerto Escondido; and the paradisiacal beaches of Isla Holbox, including the unfortunately named but stunning Punta Mosquito. Every state, city, and village in Mexico with a coastline has a beach to be celebrated. But there's one beach that might just sweep you off your feet — literally. Enter Playa Zipolite in Oaxaca, around 1 hour and 20 minutes southeast of Puerto Escondido. While it's a beauty, it's got a wild side that demands respect.
Zipolite Beach: what lies beneath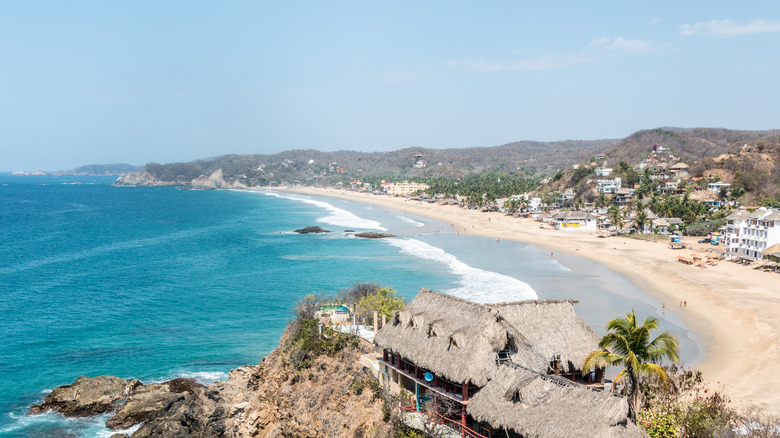 In2dodo/Shutterstock
The beach gained popularity in the 1970s among the hippie crowd, and it has retained this ambiance to this day, drawing backpackers looking for laid-back vibes to its sandy shores. However, beneath the chill vibes are powerful undertows, rip currents, and large waves that roll onto the beach. These are not to be taken lightly; swimmers and surfers should be extremely cautious in the water.
Writing on TripAdvisor, @DrNancySP said her husband loved bodysurfing, but due to the powerful rip current, getting into the water is only for strong swimmers. There are lifeguards at the beach, but the danger is ever-present.
However, there is a lot to do on Zipolite's sand if you don't fancy a dip in the water. Zipolite is Mexico's only official nudist beach and hosts the annual Festival Nudista. User @candyfowler on TripAdvisor wrote that she and her husband felt very comfortable dropping their clothes for their first nudist beach experience. Other users on TripAdvisor loved the beachfront restaurants with inexpensive food and friendly people.
What to do around Zipolite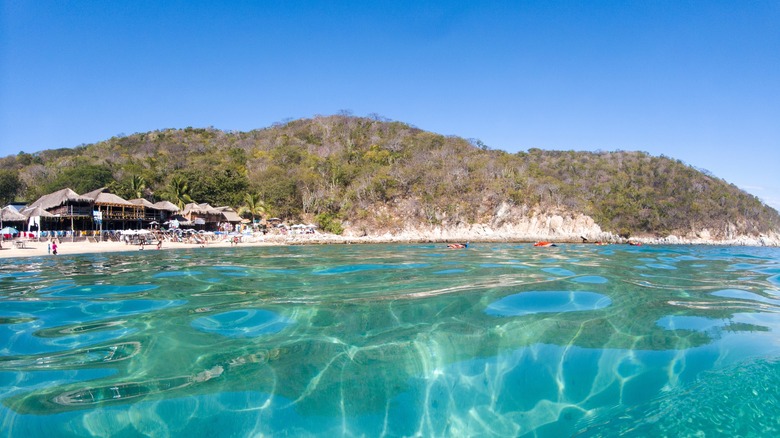 Ivan5.0/Shutterstock
If you need a break from the beach, get dressed and head into town. Travel blogger Be My Travel Muse recommends checking out the colorful street art, especially the murals that cover the side streets leading off the main road. Blogger Global Gallivanting writes about enjoying the low-key nightlife — beach bars serve cocktails at sunset, and parties get going after dark.
Be My Travel Muse advises getting out of town and visiting some nearby beaches. For swimmers, Playa Rinconcito is a paradise with calmer waters than in Zipolite. Further along the coast to the east, you'll come to several beaches that get a five-star rating on Google Maps. Yiimtii is in a nature reserve, where visitors might see turtles laying their eggs in the sand and will enjoy glorious solitude. Further along, Playa Riscalillo is a paradise for snorkelers with calm waves, a sandy beach, and a coral reef underneath the waters.