The Unusual Precautions Tulum Has Taken To Keep It Tourist-Friendly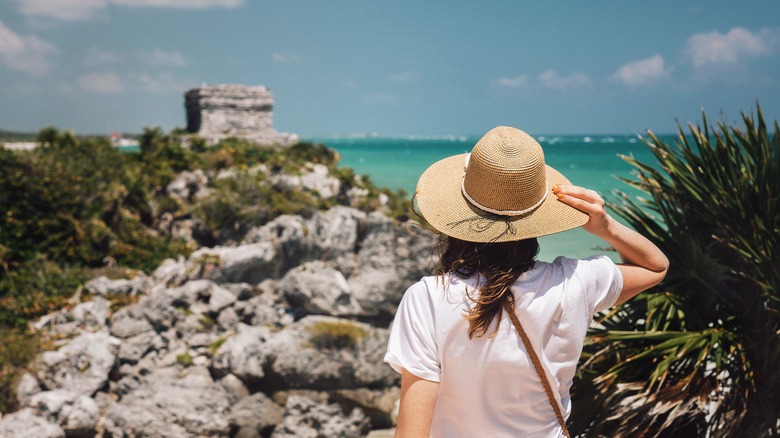 Bucha Natallia/Shutterstock
Tulum, Mexico is quickly becoming one of the world's most popular tourist destinations. Located on the Caribbean coast of the Yucatan Peninsula in southeastern Mexico, Tulum has become a hotspot for beach lovers, culture seekers, and eco-tourists alike. From its stunning beaches and lush rainforest to its ancient Mayan ruins, people everywhere who are looking for a romantic getaway or an adventure-filled family vacation find that Tulum is just what they need. With its perfect combination of both luxury and modest accommodation options, cultural attractions, and natural beauty, it's no wonder that so many people are choosing Tulum as their destination each year.
However, as of late, there has been a shift in how local officials and military are approaching safety for tourists in the area. As Tulum has become increasingly popular, so too has the incidence of organized crime with visitors becoming ensnared in schemes and scams. To combat this, officials have announced that National Guard troops will be deployed to the area to tamp down problems in the area and prevent further incidences.
What's happening in Tulum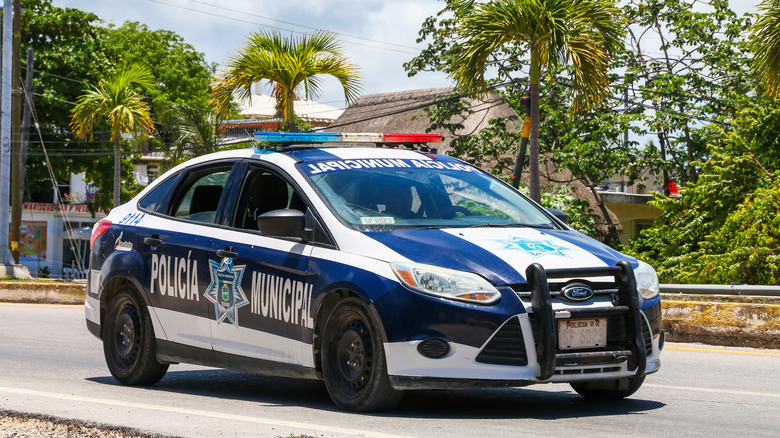 Art Konovalov/Shutterstock
As the season is gearing up for warm-weather vacationers, local officials are taking extra steps to protect visitors. Mexico's National guard has deployed 50 troops to Tulum to specifically patrol the area's most popular locations including the archeological sites, beaches, and in town. In particular the troops will be keeping an eye out for individuals selling illegal substances and street vendors selling counterfeit products. This last target might seem innocuous to travelers but these items can have an impact on Tulum's reputation and water down the expectation of quality from genuine artisans in the region.
The recent uptick in safety measures is potentially the result of recent incidences that have taken place in the beach town. The most recent of which resulted in the deaths of two people at a popular hostel in Tulum. The two victims were said to be rival drug traffickers who got into an altercation and shot one another. While no tourists were harmed, this of course raised safety concerns for those visiting the area.
Staying safe on your vacation in Tulum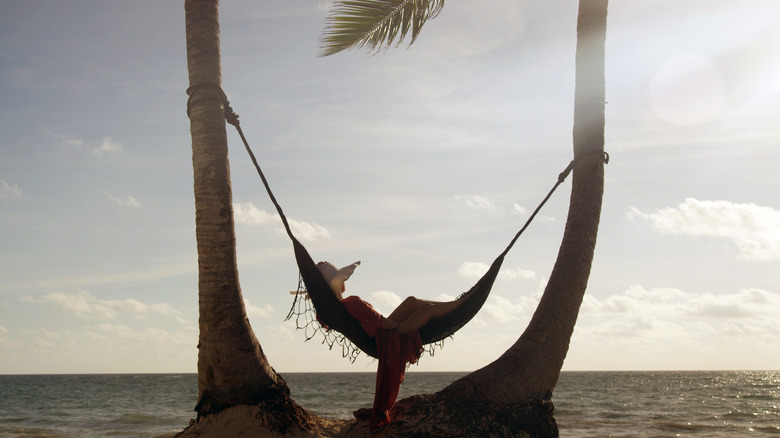 Rouse and Fable/Shutterstock
Frequent travelers may recognize the duality of responses they receive when telling friends and family they're headed to Mexico. Reactions can range from incredibly positive and envious to downright negative and alarmed. The latter is usually out of concern but stems from deep-seated stereotypes about the country and overly sensationalized headlines. The truth lies somewhere in the middle. There are certain areas of Mexico that tourists should avoid. This is a fact even Mexicans will tell you. However, when you travel to popular regions like Quintana Roo and cities like Puerto Vallarta or Cozumel, the likelihood of you being in any real danger is low. Most of the violent crime that occurs in Mexico is actually — and unfortunately — the result of disputes between locals (usually either domestic issues or warring crime organizations).
To stay safe in Tulum, don't do anything you wouldn't normally do at home. You should simply follow the same travel rules you would anywhere else such as not having a lot of cash or valuable on you, keeping copies of your passport and visa on you (not the original documents), and staying aware of your surroundings at all times. Additionally, if you travel alone, make sure someone you trust knows where you're headed and check in with them frequently. The only extra precaution you should take in Mexico specifically is to avoid public drunkenness as this is one of the main reasons tourists get fined and/or arrested.