The Scariest And Most Dangerous Roads In The World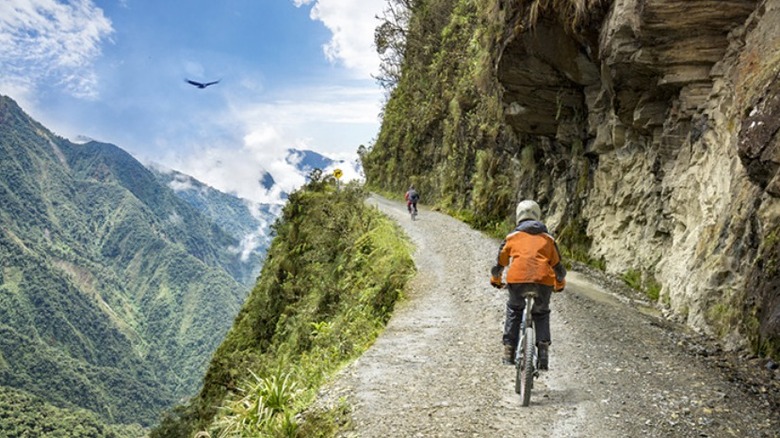 Shutterstock
Known as "The Death Road," Bolivia's Old Yungas road has been named the "world's most dangerous road" by the International Development Bank in 1995. More than 200 people die yearly in trucks, cars, and public buses due to the road's sharp turns and scary cliffs. The good news; an alternative road was built so you have a much safer option.
Atlantic Road, Norway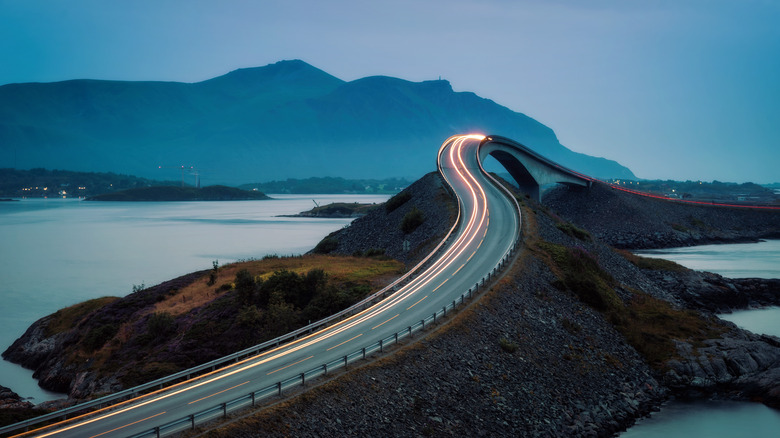 Lukas Bischoff/Getty Images
Originally proposed as a railway, Atlantic Road is said to be the most scenic and possibly the most dangerous road in all of Europe. It is extremely curvy and features eight bridges. Avoid this road when a storm is looming, as the Norwegian Sea's huge waves and high winds force themselves onto the road making it extremely dangerous for drivers.
James Dalton Highway, Alaska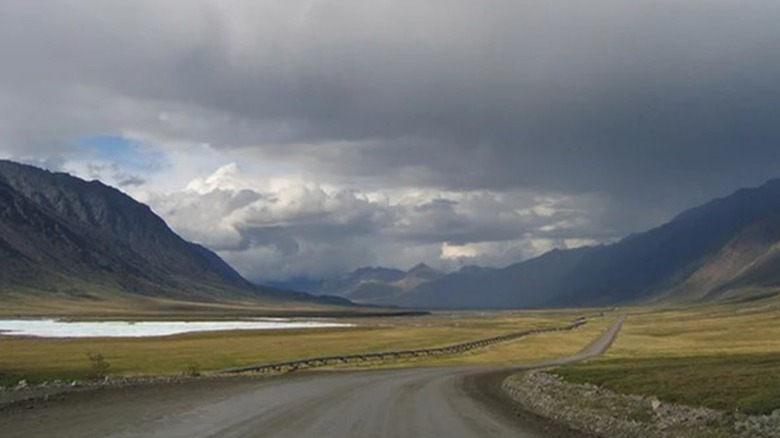 Photo Modified: Wikimedia Commons / Micah Bochart
The James Dalton Highway is an extremely isolated road with only three towns along the course. High winds and icy conditions are always a major concern on this 414-mile passageway. Not to mention potholes and small flying rocks cause great risk for injury. It is strongly encouraged to bring survival gear if you plan to embark on this journey.
Commonwealth Avenue, Philippines
Commonwealth Avenue is also known as the "Killer Highway." It's a normal urban highway with a large number of injuries and fatalities due to extremely heavy traffic. They also have a poor drainage system that causes massive flooding during storms.
Federal Highway 1, Mexico
The Federal Highway 1 is a 1,000 mile road through mountains and along cliffs. What makes it so scary? It doesn't have any railings or guard rails! And even if you're a safe driver, six Mexican states don't require a passing grade on a driving test (this is one of them).
Stelvio Pass, Italy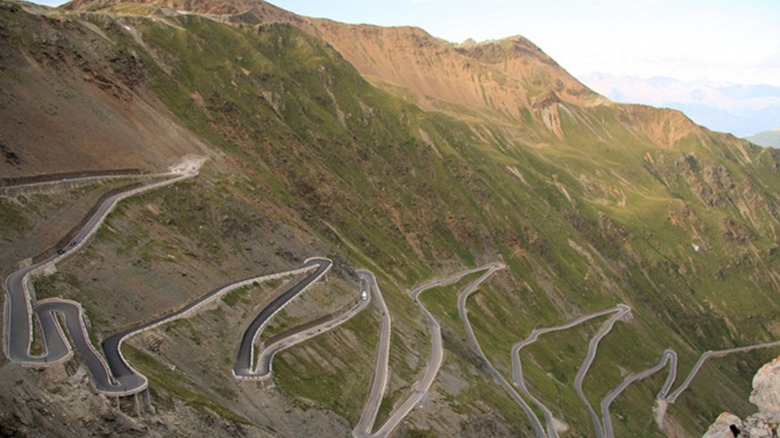 Photo Modified: Flickr / Damian Morys
Stelvio Pass is a mountain road 9,045 feet above sea level. It has extremely dangerous turns and low concrete barriers. Caution is advised in the winter season because snow and ice can easily build up, causing your vehicle to slip on this winding road.
Trans-Siberian Highway, Russia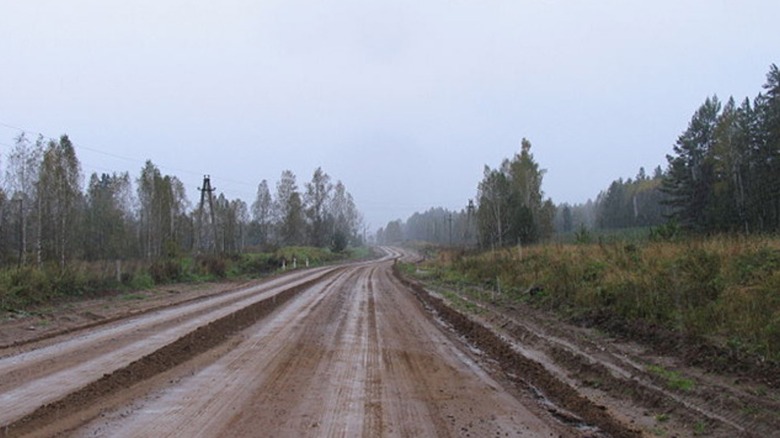 Photo Modified: Wikimedia Commons / Участник:Mike1979 Russia
Trans-Siberian Highway is one of the longest highways in the world that stretches more than 6,800 miles from St. Petersburg to Vladivostok. It consists of an unpaved road that crosses through mountains, forests and deserts. Be careful during the summer, as the warm and wet weather conditions can cause great danger.
Pan-American Highway, Alaska to Argentina
The Pan-American Highway is also known as the "longest motorable" road in the world. It's a 30,000 mile trip from North America to South America through some of the most intense landscapes ever created. Your skills will be put to the test; drive carefully when entering the jungles, mountains, deserts and glaciers.
Arica to Iquique Road, Chile
The Arica to Iquique road consists of extremely flat and wide open surfaces, so wide that the area is rife with speedsters and can lead to misjudgment of the road, causing disastrous crashes.
Sichuan-Tibet Highway, China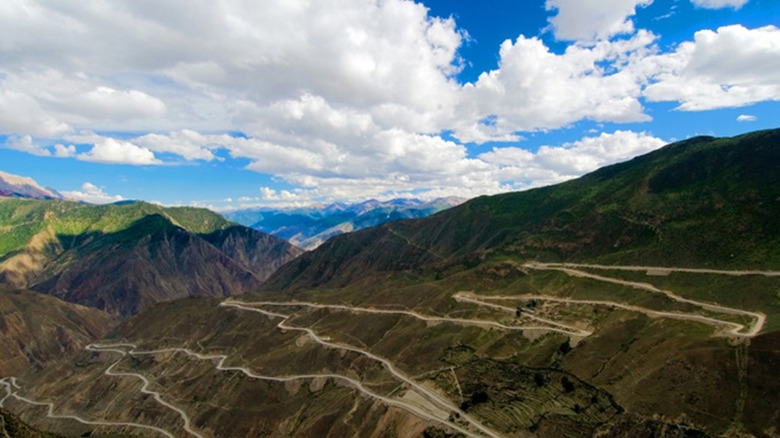 Shutterstock
Face your fears on The Sichuan-Tibet Highway. It is full of rock slides and has great risk for avalanches due to its high-elevation. The number deaths due to car accidents have nearly doubled in the past 20 years.
Patiopoulo, Perdikaki Road, Greece
This road is dangerously narrow and consists of a vast amount of potholes. The turns are deadly, there are no guardrails, no lines to determine where the edge of the road is and the dirt road can be extremely treacherous when it rains.
Skippers Canyon Road, New Zealand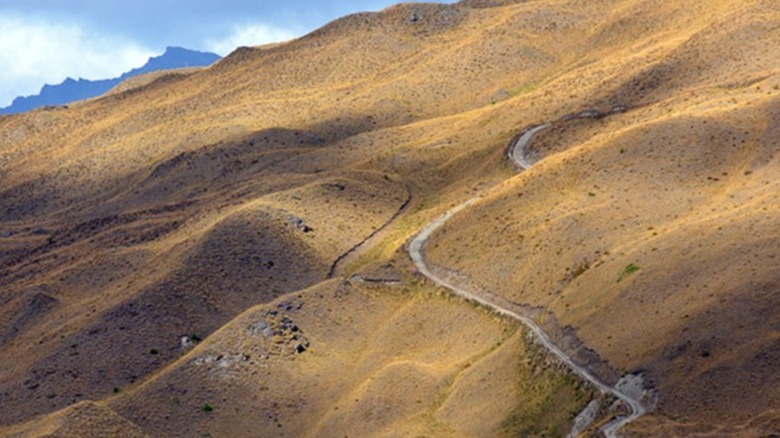 ChameleonsEye / Shutterstock
Skippers Canyon Road is a beautiful scenic, terrifying road. This roadway is so narrow and winding that it requires a special permit to drive. It also does not have enough room for two cars, making it prone to accidents and head-on collisions.
Taroko Gorge Road, Taiwan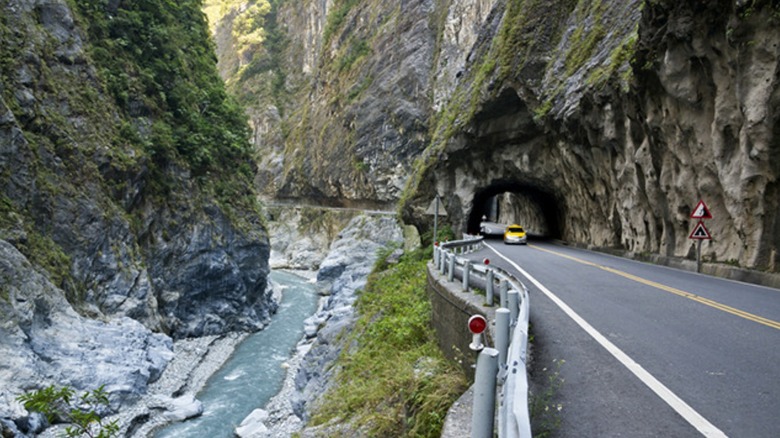 Shutterstock
This winding mountain road will keep you on the edge of your seat. Taroko Gorge Road has narrow paths and sharp turns through extremely rugged and unstable terrain on the mountains and cliffs. It is strongly advised to stay off of this road when it is raining, as precipitation can result in landslides.
Guoliang Tunnel Road, China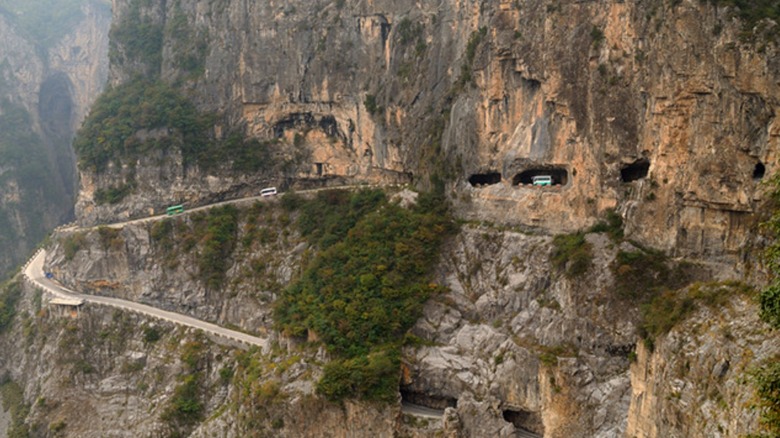 Shutterstock
The Guoliang Tunnel Road is located in the Taihang Mountains. It was dangerous before it was even completed, as villagers died during construction of the 13-foot-wide tunnel. Eventually the tunnel was open to all traffic and accidents such as fender benders became increasingly common.
Passage du Gois, France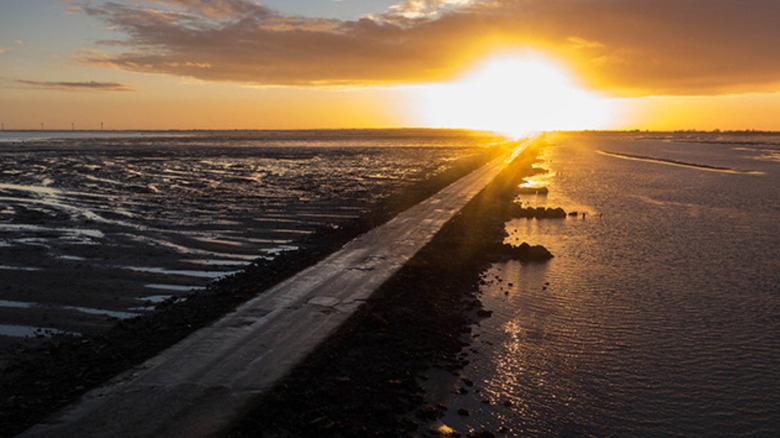 Photo Modified: Flickr / Tudre
Make sure you check the weather before heading out on Passage du Gois. The road floods twice a day and vehicles often disappear during high tide. Wet weather conditions can also leave slippery seaweed lying in the road, another major driving hazard.