Plan A Trip To This Stunning Gulf Coast Beach For Fun Water Adventures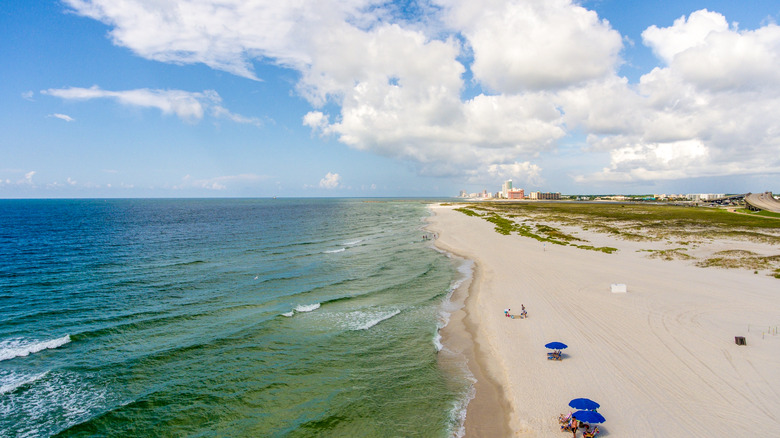 George Dodd/Getty Images
The most famed beaches in the United States go to the likes of Florida, California, or even Hawaii. However, with the U.S. having over 95,000 miles of coastline, that leaves a lot of underrated beaches out of the conversation. Whether it's New York's Long Island, New Jersey's South Jersey Shore, or the rocky beaches of Oregon, there are plenty of hidden gems throughout the USA. However, for one seriously pristine yet under-the-radar beach destination, look no further than Alabama.
Orange Beach in Alabama's Gulf Shores provides those deep blue turquoise waters that you might expect to only find in far-flung destinations like Barbados and Fiji. Once overlooked in favor of neighboring Florida, Orange Beach is slowly climbing up the ranks in tourism, seeing over 8 million tourists in 2022 alone. Before Orange Beach inevitably becomes as popular as Florida's Miami Beach or California's Santa Monica, consider your next tropical getaway to this quirky little beach town.
What to do in Orange Beach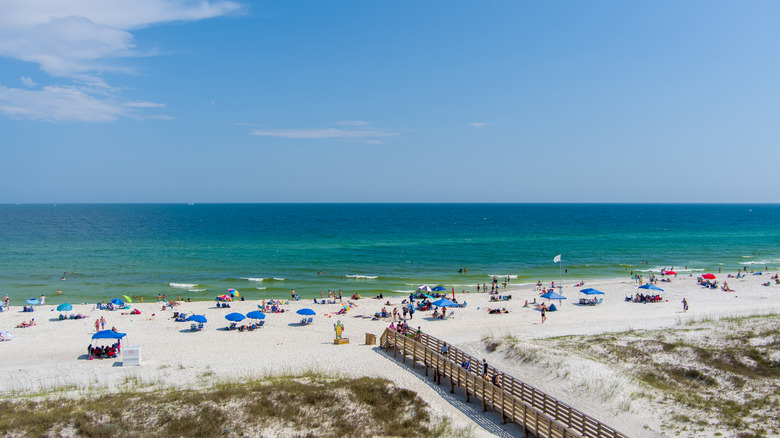 George Dodd/Getty Images
Orange Beach is not your average beach town, and there are plenty of unique offerings to fulfill your aquatic dreams. If you want to get deep in those attractive blue waters, head over to Down Under Dive Shop. The Gulf Coast is well-known for having an abundance of wildlife and plenty of shipwrecks to explore.
If chilling on the beach is more your style, The Beach Club Family Resort is a great place to base your vacation out of. These beach rentals offer plenty of amenities, from tennis courts to spas to coast-to-table dining options. Oh, and not to mention, it's located directly on the idyllic Alabama beach.
Orange Beach is a great location to spot wild dolphins. To best increase your chances of sighting one of these beauties, book a nature eco-tour with a guide. To really up the ante on those picturesque views, book a sunset cruise.
Best time to visit and how to get there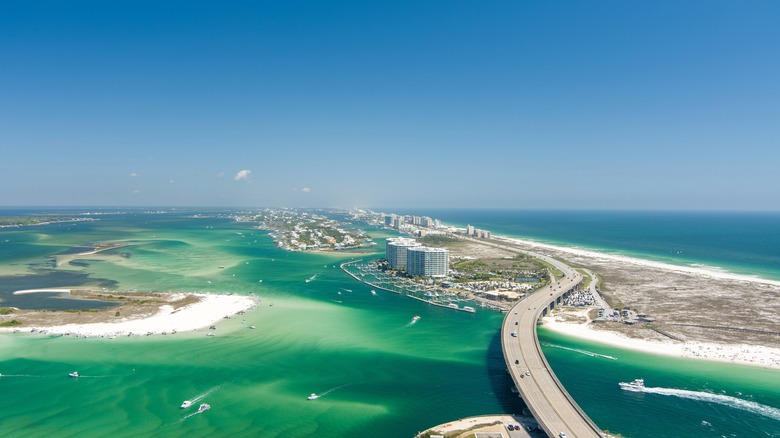 George Dodd III/Shutterstock
While you can easily visit the beach year-round, there are certain months that are best for prime conditions in Orange Beach, Alabama. June, July, and August are the busiest due to the heat. However, autumn down in this part of the U.S. is still enjoyable without the herds of crowds. Spring is also a great time to visit for fair weather conditions. You should note, though, that the average temperature in April is 68.5 degrees Fahrenheit, so it might not be exactly bikini weather. Winter is sleepier down here, and temperatures can drop as low as 50 degrees Fahrenheit.
The nearest airport to Orange Beach is not in Alabama, but instead, in nearby Florida. Pensacola International Airport is the most common way to access this beach town. There is also a regional airport in nearby Mobile, Alabama. Regardless, you'll want to rent a car to best explore the area and all of its offerings.