The Popular Beach Destination Named One Of The Most Dangerous In Florida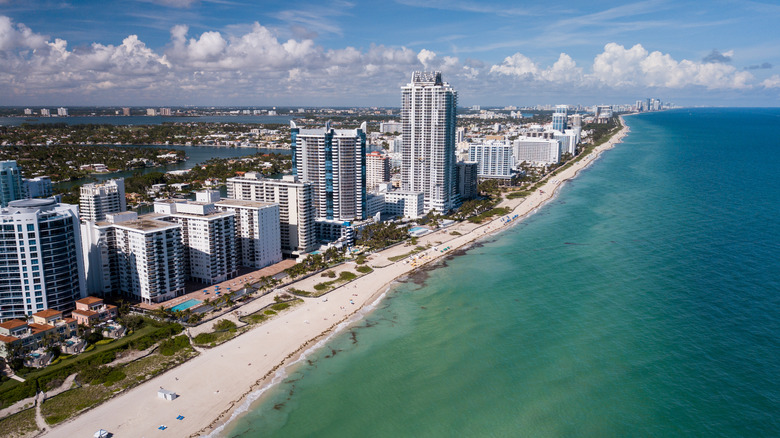 Aurora Samperio/Shutterstock
The Miami metropolitan area is known for its beaches, and you'll often see two of them, South Beach and Mid-Beach, near the top of lists of the best things to do locally. In addition to white sands and clear blue waters, the South Beach neighborhood is especially famous for its nightlife and cultural scene. That includes the colorful Art Deco District, which the National Park Service recognizes as "the largest concentration of 1920s and 1930s resort architecture in the United States."
For this and other reasons, Miami has ranked as both the top honeymoon destination in North America and one of the 10 most walkable U.S. cities. Yet the nine-mile barrier island and neighboring coastal city of Miami Beach has a third main beach that's slightly less well-known among tourists. This spot, like Mid-Beach, nonetheless remains a popular alternative to the hustle and bustle of South Beach, though it could pose a risk if you're not careful.
We're talking about North Beach, which Savoteur lists among the deadliest beaches in America, citing its danger of rip currents and jellyfish stings. While movies and TV shows like "Bad Boys," "Miami Vice," and "Scarface" might have you wondering about crime in Miami, it's Mother Nature that poses the biggest threat to beachgoers, not just here, but other parts of South Florida and the Gulf Coast.
The danger of rip currents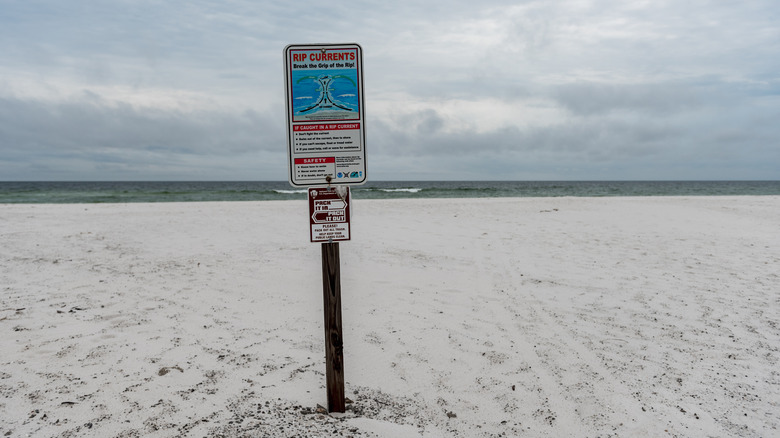 photosounds/Shutterstock
While North Beach itself might be a relaxing place to sunbathe, it's when you venture into the water under the wrong conditions that you run the risk of getting swept out to sea in a rip current. These channels of water, flowing away from the shore, can occur even in fair weather. They're not to be confused with rip tides, which are more predictable and tied to tidal flow, or undertows, which, according to Surfer Today, occur in the backwash of big breaking waves and will not pull you as far offshore.
As the National Weather Service's forecast office for Miami-South Florida notes, since 1979, rip currents have caused more deaths in the area "than any other weather-related hazard combined, including hurricanes, tornadoes, and lightning." And the death toll seems to be directly proportional to the busiest times of year: spring break, summer, and holiday weekends. With Miami Beach being such a popular vacation destination, not everyone visiting from out of town may have experience or knowledge when it comes to rip currents.
The last 20 years have brought fewer casualties and more awareness of the rip current threat, but three South Florida beachgoers still died because of them in 2022. Although North Beach may be less crowded than South Beach, this may be an instance where there's safety in numbers, with increased lifeguard supervision helping to alert swimmers before they enter the water — or bail them out if needed.
How to recognize dangerous swimming conditions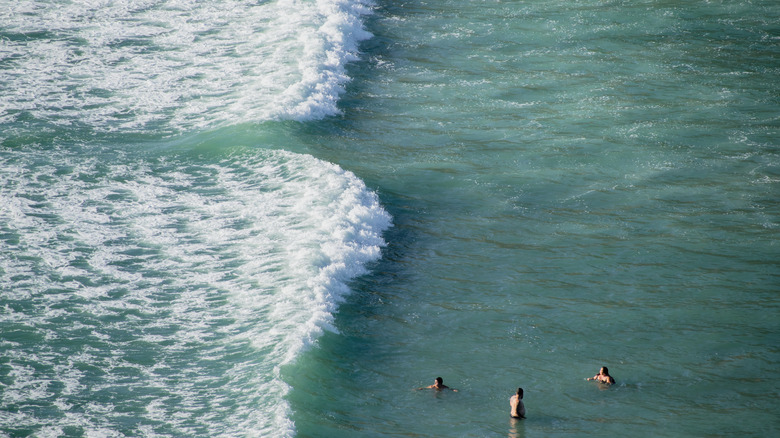 Emagnetic/Shutterstock
In North Beach and elsewhere, you can sometimes spot a rip current by the water color. If you see a line of waves breaking white, and it's interrupted by another dark channel of water, that's an area you want to avoid while swimming. The best thing to do should you get caught in a rip current, per the National Weather Service, is to swim sideways and parallel to the shore, rather than against the current. Sticking to beaches with lifeguards and being extra cautious around inlets or piers, where rip currents are naturally stronger, are also recommended as preventative measures.
Apart from that, the City of Miami Beach has a warning flag system for beach conditions, with red, yellow, and green indicating high, medium, and low hazard conditions, respectively. In some cases, they may add a second red flag with a "No Swimming" symbol, closing the water to the public. Blue means "Dangerous Marine Life," which would include jellyfish.
CBS News Miami has reported in the past on winds driving the jellyfish-like Man-of-War closer to the shore and adding to the rip current threat by stinging people. Jellyfish stings can cause a painful allergic reaction, and contrary to popular belief, urinating on someone who's been stung is not a helpful remedy. Whatever you do, if you visit North Beach in Miami or somewhere else along the Florida coast, just stay vigilant and remember that the ocean is more dangerous than a swimming pool.