This Florida Town Will Make You Feel Like You've Stepped Onto The Set Of The Truman Show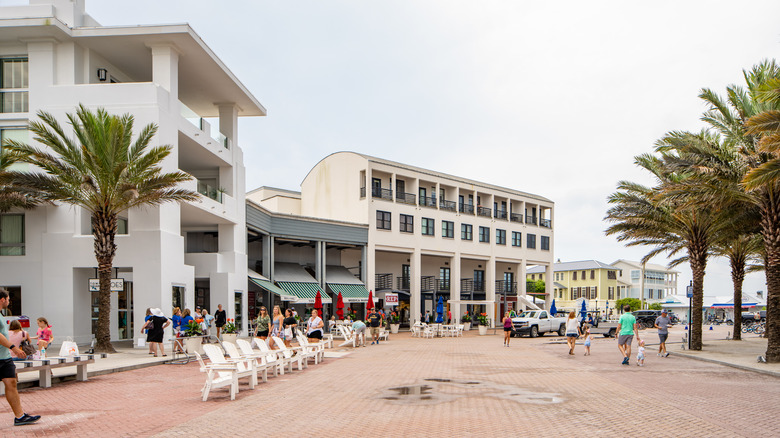 Felixmizioznikov/Getty Images
In "The Truman Show," Jim Carrey's Truman Burbank wakes up every morning and emerges from his pastel-colored home, greeting his neighbors who are just as enthusiastic to see him. They, too, live in a candy-hued cottage with a white picket fence on the front. Each home in the idyllic town of Seahaven looks just about the same, and every establishment the residents need is just a walk or a bike ride away. Seahaven looks every bit like a movie set — except that it isn't. Its real name is Seaside, an actual town that has real people, tucked away on the Gulf of Mexico, in northwest Florida.
If you think that Seaside is too good to be true, it's because it was deliberately designed to be a utopia. Constructed in the 1980s under the principle of New Urbanism, builder Robert Davis and his wife, Daryl Davis, developed it to be a picture-perfect community. "We weren't really selling houses. We were selling an idea for living in a neighborhood," he told Emerald Coast Magazine. And it paid off, with residents gushing about its self-containing feature. "I love the community aspect. You have a town and you don't need a car," one noted, with another saying: "I love the fact that I can walk out the door, be at the market, and they know my name."
While "The Truman Show" put Seaside on the map, it has long drawn vacationers because of its promise of "a simple, beautiful life." And you, too, can get a taste of that paradise.
Live like Truman at Seaside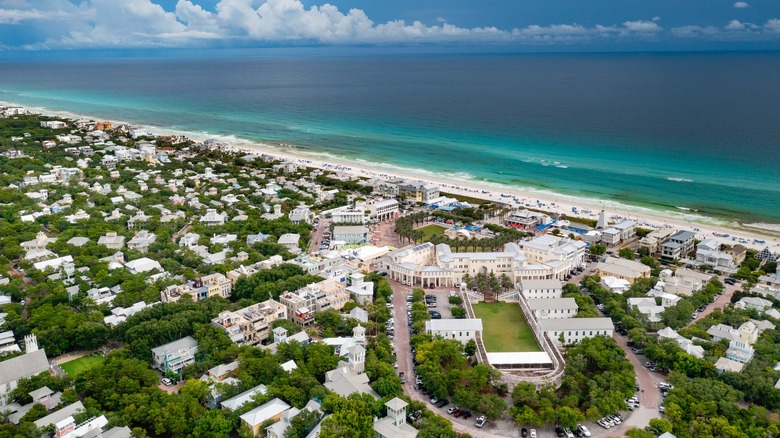 zstock/Shutterstock
Seaside is a relatively small town built on 80 acres of land just beside the beaches of the Florida Panhandle. It has around 150 permanent residents, but it attracts thousands of visitors all year round. Bike through its streets and admire its pastel-toned homes and perfectly manicured lawns, or chill at the beach while admiring the iconic Coleman Pavilion, an architectural marvel of an obelisk that has become one of Seaside's defining features. If you want to find your zen, outdoor yoga classes are held at the Seaside Pavilion from April to October for $25, no pre-registration necessary.
For some good, filling grub, Seaside has an Airstream Row lined with trailers that can fulfill just about any craving. Barefoot BBQ serves finger-licking ribs and pulled pork, The Meltdown sells some heavenly grilled cheese, and Frost Bites satisfies your sweet tooth with cold treats. To spend some quiet time, head to the stunning Seaside Chapel or Ruskin Place Park, which is surrounded by galleries and boutiques, or perhaps find your next read at Sundog Books. For some local delights, visit Modica Market, the very same grocery store featured on "The Truman Show." Shop til you drop at Perspicacity, where you can buy clothing, accessories, and other oddities.
Of course, a visit to Seaside won't be complete without stopping by Truman's house at 31 Natchez Street. Don't forget to pose for pics.
The best time to visit
Summer and spring break is when Seaside gets the most visitors, as vacationers try and take advantage of the warmer weather. "We start to see Spring Breakers arrive the last week of February, and they keep coming through the end of Easter," Kerri Parker, Seaside's Executive Director of Communications told VIP Jackson Magazine. "After a short break, they're back for summer." Steer clear of these seasons to avoid large crowds.
Instead, come during the holiday season, when the town transforms into a magical haven. Many fun events are lined up for residents and vacationers alike, including movie nights and ballet productions at the Seaside Amphitheater. Slated at the end of November, join the tree and town lighting with a special participation of Santa Claus. Come December, the holiday market kicks off, where you can complete your gift shopping thanks to artisans and vendors. There are also productions of Every Christmas Story Ever Told scheduled throughout the month that you can watch for free. On New Year's Eve, be sure to head to Central Square for live music, face painting, arts and crafts, and fireworks.
As for lodging, you can book a room at The Court, the only boutique hotel in town, with family-friendly suites starting around $600. You can also rent cottages from either The Homeowner's Collection or Cottage Rental Agency and take your pick from various properties that suit your fancy. All stays come with parking and access to communal areas all over Seaside.