The Magical Sand At This Florida Beach Stays Cool All Year Long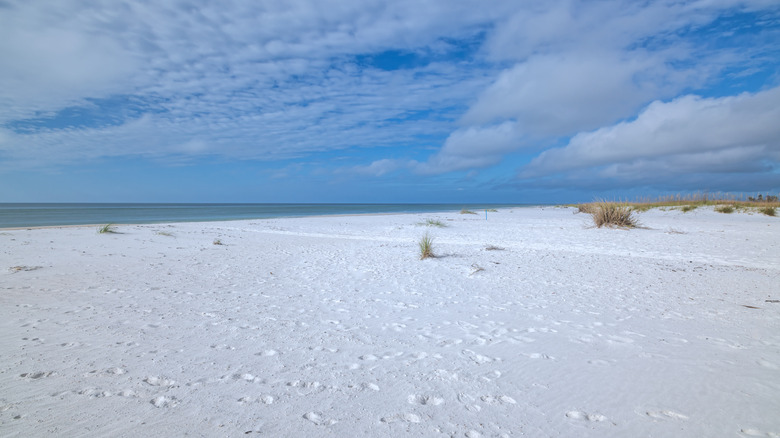 There's no better place to be on a hot day than at the beach. As nature's air conditioning, the ocean breeze cools down visitors while the sun sparkles on the water and the waves crash at the shoreline. But sometimes, on sweltering days, the sand at the beach can be so hot that it physically hurts. According to a National Institute of Health study, hot sand can cause first, second, and even third-degree burns.
Fortunately, this is never a problem for beachgoers on the white sandy shores of Mexico Beach. Its highly unique sand is made of quartz crystal. It's soft, light in color, and always stays cool. The sand is so light that it reflects the hot summer sun, keeping sand from burning visitors' feet year-round. And while most beaches are comprised of sand containing various materials and colors, Mexico Beach is not. It's comprised of only pure white quartz crystal. 
"The sand on each beach is like a fingerprint — it's unique to the particular beach where you find it," Jeff Williams (senior scientist emeritus for the U.S. Geological Survey Woods Hole Science Center) told NBC news. The unique white quartz sand at Mexico Beach originated in the Appalachian Mountain range millions of years ago. And Mexico Beach's beneficial geographic location, away from rivers containing silt and other components, helps to keep the sandy beach pure, temperature controlled, and dare we say — magical. 
Things to do in Mexico Beach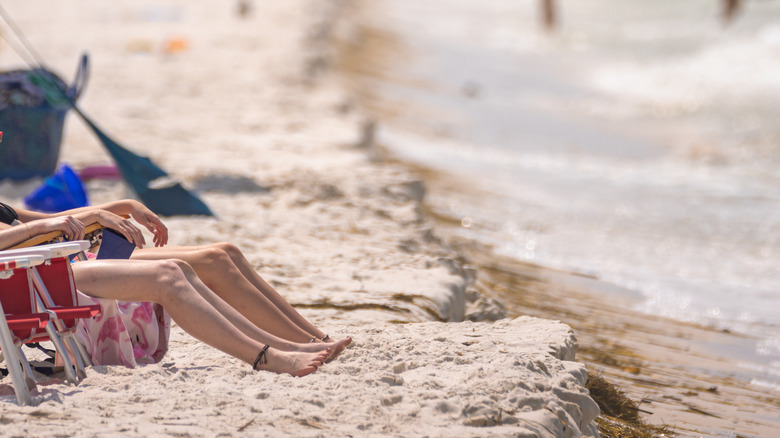 Stretching almost 5 miles on the Florida Panhandle, Mexico Beach sits on the edge of the Gulf of Mexico. The small beachside community has no traffic lights and consists of family-owned restaurants. Whether vacationers seek adventures in Florida or the rest and relaxation of a typical beach holiday, Mexico Beach is a prime destination. Scuba diving and snorkeling at Mexico Beach are a big draw. There are tons of underwater worlds to explore, with easy access to both natural and artificial reefs, and even two historic shipwreck dives (the Empire Mica and the Lumber Ship Vamar).
Fishing and birdwatching are also popular attractions at Mexico Beach. Charters are available for fishing trips to catch everything from king mackerel to red snapper. Just keep in mind that visitors and residents alike must obtain a Florida fishing license before casting. Birdwatching at Mexico Beach is some of the best in the world. The small beach town and its surrounding communities allow bird lovers to spot up to 150 species of birds.
Easily one of Florida's best beaches, Mexico Beach also offers typical beach activities, such as swimming, kayaking, and surfing. For those seeking a quiet retreat, the cool sand is the perfect place to cozy up with a good book, admire the beautiful ocean views, and spend quality time with friends and family.
How to get there and the best time to visit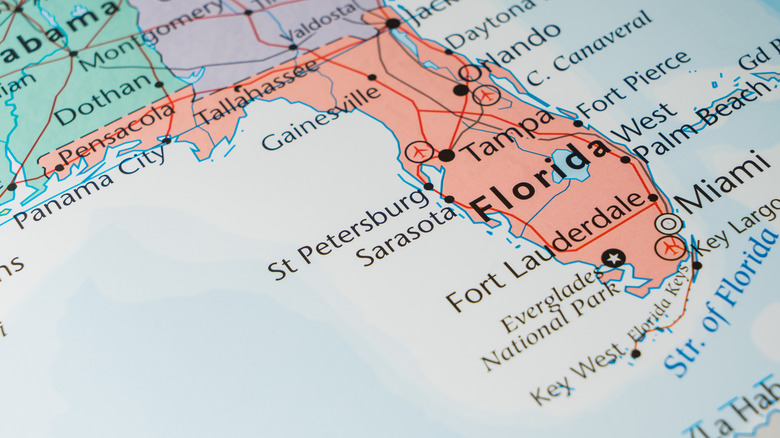 Just 45 minutes from Panama City Beach in Bay County, Mexico Beach is easily accessible whether traveling by car or plane. There are tons of free parking, while plenty of walkovers offer easy and direct access from Highway 98 to the soft sand. If you're flying to Florida with plans to visit Mexico Beach, fly into Northwest Florida Beaches International Airport. It's the closest airport (one hour away) and offers direct flights from many major cities.
Florida's temperature is pleasant year-round, making it a nice place to visit any month. But for something truly unique, visit Mexico Beach on New Year's Eve. Located in the Central time zone and near Port St. Joe in the Eastern time zone (approximately 12 miles away), this unique location allows partygoers to ring in the new year — twice. Marvel at the 10 p.m. fireworks display in Port St. Joe downtown before ringing in the new year at midnight, and then hop out of the Eastern time zone and back to Central to toast the new year again in lovely Mexico Beach!