Visit This Popular New England Destination For A Picture-Perfect Holiday Trip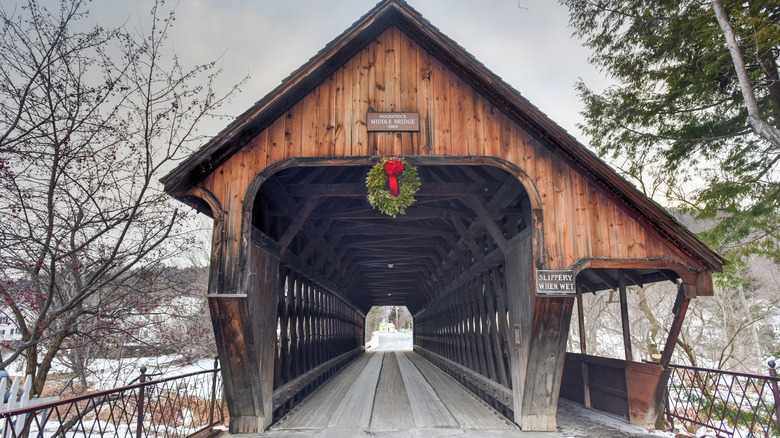 Felix Lipov/Shutterstock
Snowy carriage rides, Christmas carols, and decorated historic homes — some towns really shine throughout the holiday season. For those looking for a picture-perfect holiday trip this year, New England is the place to go. And one magical New England town pulls out all the stops. Woodstock, Vermont, is one of the most beautiful places in the northeast, especially at Christmastime. Located on the Ottauquechee River, Woodstock is small, with just over 3,000 residents. It's known for its historic covered bridges, snowy winters, and festive spirit, most widely seen during the annual Christmas celebration, Wassail Weekend. 
Only two-and-a-half hours from Boston, Woodstock is easy to reach. Just make sure to bring plenty of layers. The average winter temperature in Woodstock ranges from 18 degrees Fahrenheit to 32 degrees Fahrenheit. With plenty of festive things to do in winter and an abundance of unique accommodations, this New England destination might just be your picture-perfect holiday destination.
Things to do in Woodstock this holiday season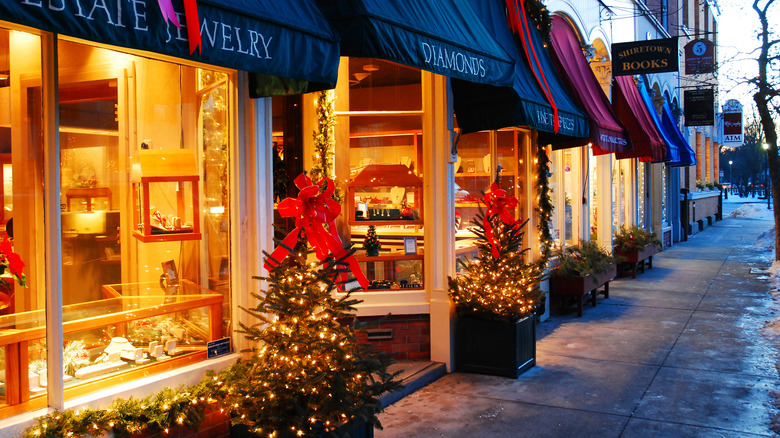 James Kirkikis/Shutterstock
Woodstock is known as one of the most magical Christmas towns, and a big part is due to Wassail Weekend. An annual celebration, this year's merrymakings will occur from December 8 to 10, 2023, and last three days. Wassail Weekend is a festival that honors wintertime and all of the joys it brings, transforming the small town into a winter wonderland. 
Visitors can taste Wassail Punch, a hot drink made from baked apples, spices, sugar, and booze. They can wander the snow-decorated sidewalks, admire sparkly decorations, listen to holiday music and sleigh bells, and buy local gifts for loved ones. At the Billings Farm & Museum during Wassail Weekend, guests can visit resident cows, horses, goats, and more. And for those looking for adventure — hiking, snowshoeing, and cross-country skiing are possible around the farm's pastures.
More fun winter activities in Woodstock include plenty of snow sports. Skiing and snowboarding are easily accessible at Saskadena Six, a 10-minute drive from Woodstock. Chartering a sleigh ride is sure to put riders in the Christmas spirit. Kedron Valley Stables ($150.00 for a one- to two-person ride) offers festive rides with country views and blankets to keep warm. And Vale Field in Woodstock Village offers free ice skating. Just grab a pair of donated skates in the pavilion cubbies and hit the ice!
Where to stay in Woodstock this holiday season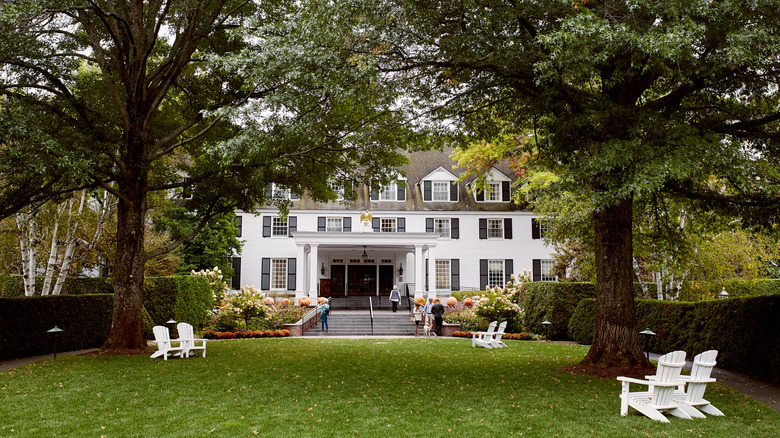 jenlo8/Shutterstock
Woodstock is a year-round destination, but a few accommodations are exceptional around the holidays. The Woodstock Inn & Resort (from $261.00) keeps guests warm with wood-burning fireplaces and offers seasonal menus in four unique restaurants. It also restores minds and bodies in a 10,000-foot spa and lies in proximity to many nearby attractions, like winter sports sites, unique shops, and art galleries.
Alternatively, the 506 On The River Inn (from $249) is also an ideal winter accommodation. As its name suggests, the hotel sits on the Ottauquechee River. A great starting point for winter sports enthusiasts, this hotel also offers complimentary tea and cookies every afternoon and nightly complimentary s'mores by a fire pit. Guests can also access a warm pool and sauna, winter menu options at the on-site Bistro, and local craft beers and cocktails to ring in the holiday season.
The Woodstocker B&B (from $389) is a modern farmhouse that dates back to 1830 and offers nine rooms, all including a made-to-order breakfast and access to cozy common areas, like a library, a kitchenette, and a living room. It's also within walking distance to many local shops and highly-rated restaurants.