The Most Beautiful Places In The Northeast To Add To Your Fall Bucket List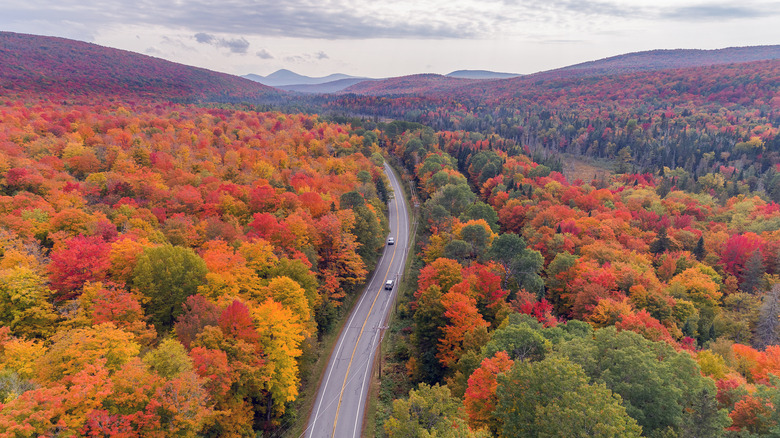 NEKVT/Shutterstock
New England is celebrated for its natural beauty, and the region makes for a picture-perfect fall getaway. That said, how do you narrow down destinations over six states covering nearly 72,000 square miles, especially when so many places feature beautiful fall foliage and coursing waterways? Anywhere you choose will be picturesque, but there are some areas and towns in the Northeast that should absolutely be on your radar.
If you head to the Northeast during autumn, you'll meet vibrant, flame-colored trees at every twist and turn. No matter where you go, the land wears the colorful natural phenomenon in various ways, and the beauty of a New England road trip can be found along even the busiest highways. You'll want to pull over at the following destinations, though, as these are some of the most beautiful places in the region, deserving a spot on your U.S. travel bucket list when planning a fall vacation. 
Brattleboro, Vermont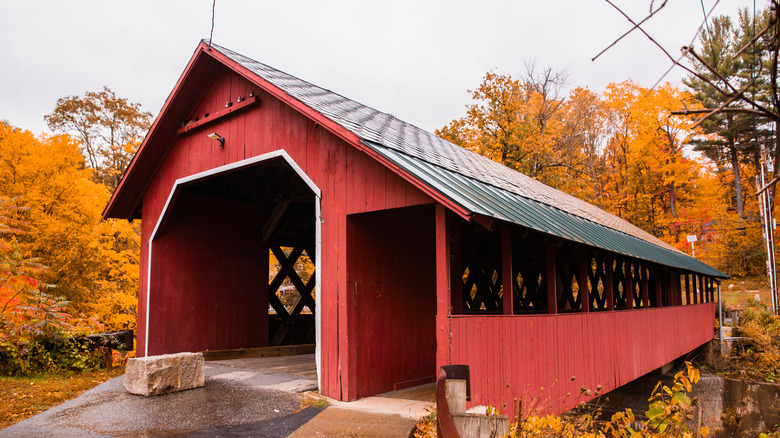 Structured Vision/Shutterstock
No matter what time of year, Brattleboro is a charming and quirky little Vermont town that makes for a fun visit, but come autumn, it transforms into something truly magical. Of course, you can expect a sea of orange and red to coat the ground, as the town is surrounded by transforming trees and rolling hills of fiery color, but you'll also enjoy charming attractions like the historic Creamery Bridge when visiting. Painted a red that blends into the season, the pedestrian-only Creamery Bridge is Brattleboro's sole-remaining covered bridge and a great destination for taking a scenic stroll. 
Although a small town, Brattleboro offers a good selection of local businesses to patronize during your visit. On its charming Main Street, you'll find cafes, restaurants, and antique shops, as well as several local bookshops. The Brattleboro Literary Festival is also held in the fall, and if you're visiting in October, the festival offers a chance to meet authors and pick up a new book. 
Northeast Kingdom, Vermont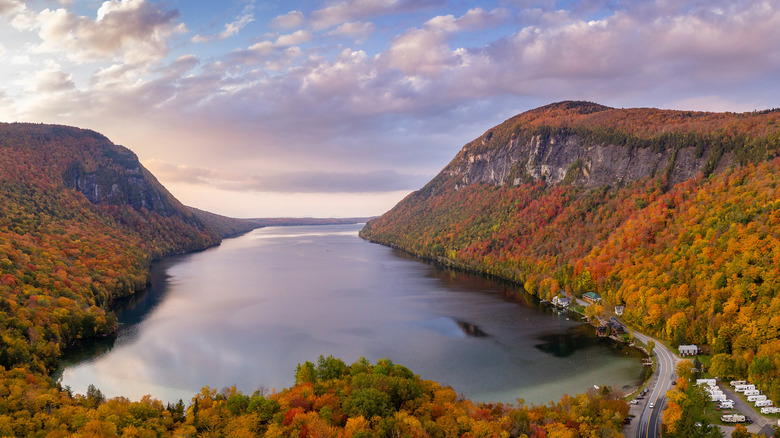 NEKVT/Shutterstock
Vermont is simply too gorgeous in autumn to cover each individual town, so we'll focus on the entire top-right corner of the state. The Northeast Kingdom consists mainly of three counties that are made up of numerous smaller communities. These communities are celebrated for their art scenes, the stunning surrounding nature, and how the communities incorporate nature into their charm.
The Northeast Kingdom is celebrated for its forests, wooded mountains, and picturesque lakes, and those who have a passion for the outdoors can take advantage of the area's trails. There are over 100 miles of trails for you to hike or bike while surrounded by countless examples of Vermont's natural beauty. Consider taking a hike through Willoughby State Forest for views of Willoughby Lake, considered by many as Vermont's most beautiful.
It's not just the outdoors that attract tourists to the Northeast Kingdom, though, as there are quite a few attractions delightfully unique to the area. If traveling with your pets, visit Dog Mountain in St. Johnsbury, where dogs can roam free with their humans. You'll find dog-themed art, pet-friendly amenities, and even a chapel. 
Shelburne Falls, Massachusetts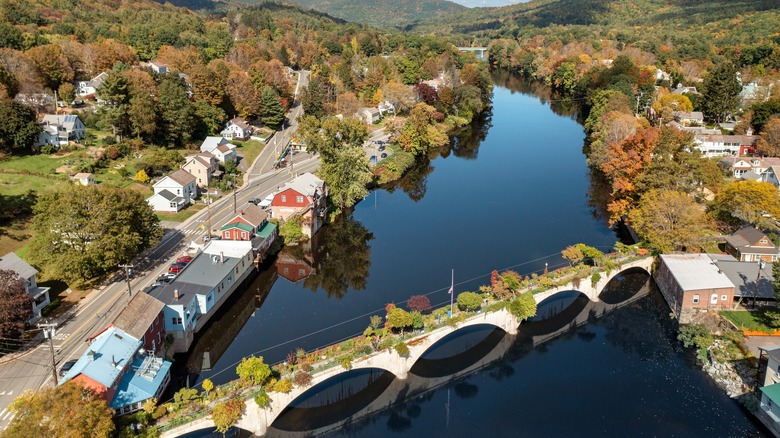 pics721/Shutterstock
A little town with some big surprises, Shelburne Falls makes for quite a lovely stop on a tour of New England during autumn. As the name would suggest, water plays a vital role in the small Massachusetts village, and the Deerfield River runs right through the center, practically cutting the community in half. However, the pedestrian-only, arched pathway that crosses the river is the town's crown jewel. Once a trolley bridge, the Bridge of Flowers now allows admirers to cross the river on foot while taking in its lush appearance. 
The historic, flower-covered bridge is stunning during the spring and summer but offers something uniquely different during the fall. Although still mostly green even in autumn, the bridge's many resident plants act as a striking contrast to the forested, red-and-orange backdrop of the surrounding foliage. It's like seeing spring and fall coexist in the same space. To note, the Bridge of Flowers is seasonal and only allows visitors from April to October. 
Salem, Massachusetts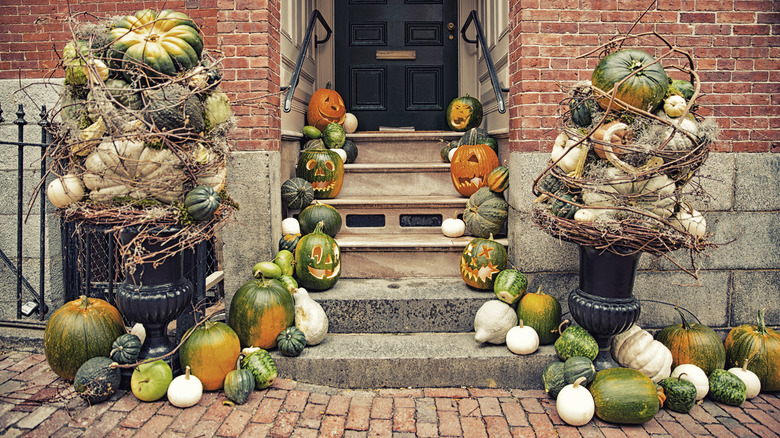 EvgeniiAnd/Shutterstock
If you're traveling to New England during fall, it's hard to ignore the lure of Salem, especially as it gets closer to Halloween. The spooky season is the perfect time to visit the Witch City of Salem, as residents and visitors alike start getting into the spirit of the season. There's a vibrant energy that surrounds Salem around Halloween. Whether this energy is due to the supernatural or just the natural beauty of the area, who knows? Regardless, in Salem, energy swirls with the season. 
Goblins and ghouls can be seen scattered among the hordes of tourists dressed as witches. Homes and businesses adorn their Halloween decorations, and pumpkins line the city's streets. If you believe the most beautiful thing about fall is Halloween (and you aren't bothered by crowds), then Salem is the ideal New England stop. Just don't forget to pay your respects to the city's original witches at the Salem Witch Trials Memorial.
Acadia National Park in Maine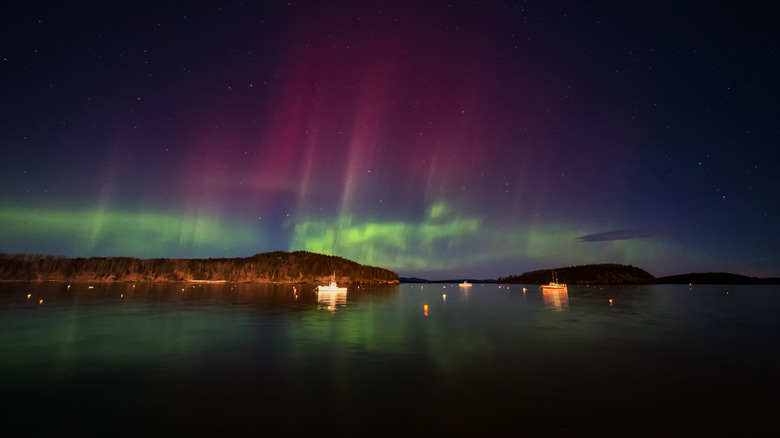 Saptashaw Chakraborty/Shutterstock
Like a lot of America's national parks, Acadia is an absolute stunner. As the only national park designated in all of New England, the 50,000-acre park has a lot of pressure to be extraordinary. Thanks to Maine's amazing coastline and rugged wilderness, the park more than satisfies these expectations. Its natural beauty is only amplified during the fall when all the leaves start to change, and its rocky shores are complemented by the changing forests that surround the coastline.
Sunsets and sunrises in Acadia National Park are unmatched, and in the fall, the colorful skies meld with the red-and-orange tree lines — a particularly impressive spectacle when viewed overlooking one of the park's mirrored lakes. September and October are also prime times to see the northern lights in Maine. Once night falls, green is the new orange as the world-famous phenomenon takes center stage.
Boothbay Harbor, Maine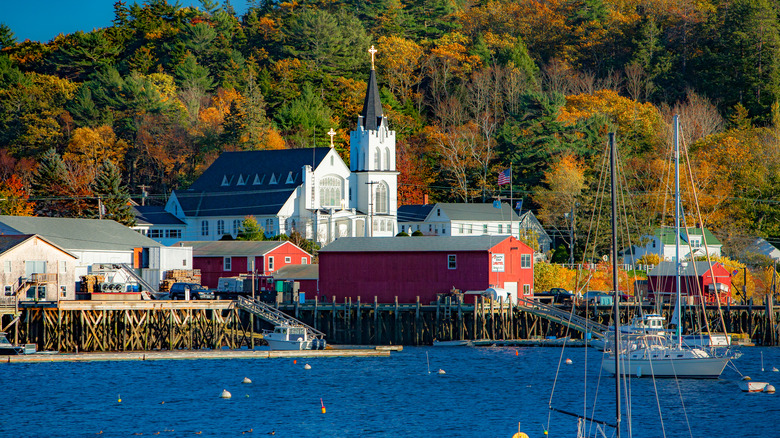 Bob Pool/Shutterstock
A gorgeous mix of water and tree foliage, Boothbay Harbor is a great addition to your fall bucket list, especially if you want a coastal Maine experience. You'd be hard-pressed to find a view in this small town that doesn't have water in it, as multiple rivers and the Gulf of Maine cushion it from all sides. There is quite a lot of beauty here to explore, and you can easily see it all by boat or walking around.
Travelers looking for the perfect spot to admire the changing leaves of fall might consider Boothbay Harbor, as it's the host of a Fall Foliage Festival. This outdoor festival celebrates local creativity and community, as many local vendors set up to display hand-crafted goods and fall foods. Live music and entertainment are also provided, and with the vibrant trees in the background, the festival could make for a lively way to ring in the fall season.
Gillette Castle State Park in Connecticut
Autumn in New England is practically akin to a magical world, but every fairytale land has at least one castle. This relatively little state park in Connecticut completes the storybook vision with its medieval-inspired looks, as Gillette Castle stands tall and stately atop a hill. The inside of the mansion contains many structural curiosities — like furniture on tracks and intricate latches for doors — that are worthy of Sherlock Holmes, and interestingly enough, the structure's namesake refers to William Hooker Gillette, a noted actor, director, and playwright. 
If exploring a castle that doubles as a house of mysteries isn't your preferred autumn activity, the grounds around the castle just might be. There are trails that run into the surrounding woods, and autumn brings crisp air and vibrant leaves. The area is a beauty to explore, but the sight of the castle poking out above the orange and red treetops makes for an exceedingly unique fall view.
New Haven, Connecticut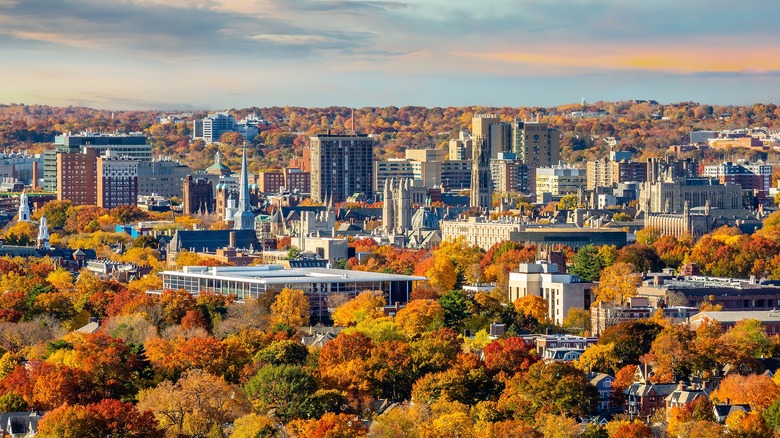 f11photo/Shutterstock
New Haven is more than the home of Yale University. Although more developed and populated than the others on this list, the city during fall still exudes quintessential Northeastern charm. Along with its shining lakes and dense forests of yellows and oranges, the historic city of New Haven offers ample opportunities to participate in some fall fun during your visit. 
Pumpkin picking, fall festivals, and traditional Yale football games coincide with the area's natural splendor, and since autumn produces an array of seasonal fruits and vegetables, consider heading out to an apple orchard for a bushel of family fun. At Bishop's Orchard, "pick-your-own" season typically runs through the end of October, allowing you to choose the most tempting apples, raspberries, and pumpkins.
Before heading out for your fall getaway, check if your trip to New Haven aligns with one of the many fall festivals that happen in the area. Neighboring towns like Guilford and Durham host annual fairs, while the East Haven Fall Festival takes place right in town.
North Conway, New Hampshire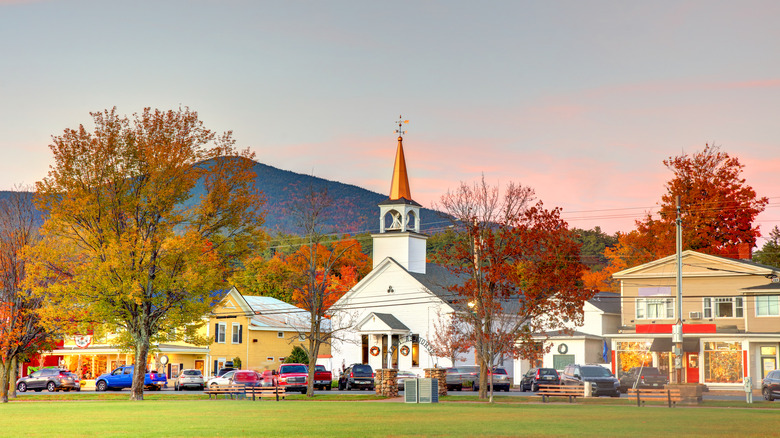 Denistangneyjr/Getty Images
If there is anything that New England is known more for than its stunning autumns, it's the region's covered bridges. When you combine the two, the result is maybe the most fall sight you'll ever lay eyes on. North Conway just so happens to boast six in-use covered bridges that date back to the 1800s, and they're unique additions to the already beautiful landscapes.
Don't worry, old bridges aren't the only thing North Conway has going for it — actually, the mountain town is a popular destination for those who like to spend time in the great outdoors. Located in the Mount Washington Valley, the village is an ideal hub for hikers, kayakers, and even skiers visiting in late fall. The village itself is both beautiful and amenity-rich, with plenty to keep travelers busy in between outdoor adventures.
Charming hotels and local cafes are scattered throughout the village, and whether you're looking for a good book, a new toy for the kids, or a unique antique to bring a piece of your trip back home, the businesses that line the town's downtown offer a little something for everyone. An afternoon exploring the village in the crisp autumn air is a great way to unwind and take in the surrounding mountains.
Kancamagus Highway in New Hampshire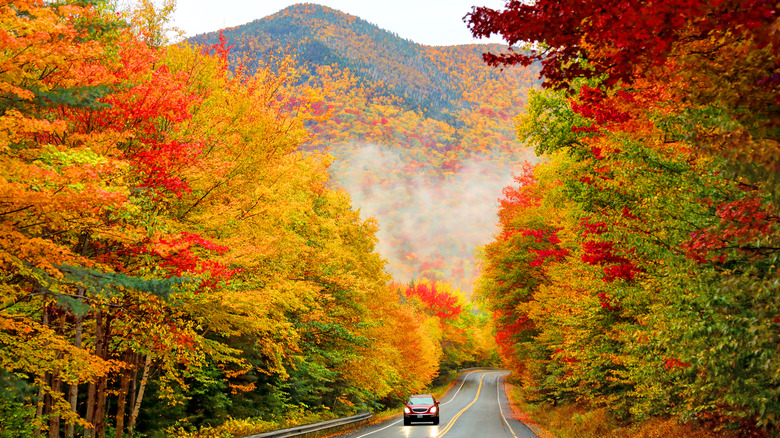 Denistangneyjr/Getty Images
If one New England town isn't enough to satisfy your longing for autumn views, you don't have to settle. You can still have all the perks of staying in a few small Northeastern towns while getting that road trip experience by taking a detour down the Kancamagus Highway. In fact, the highway stretches from Conway to Lincoln and would make for a perfect day trip adventure.
Although just shy of 35 miles long, the Kancamagus Highway is full of wonder and makes for a scenic drive in the fall. It only takes around 1.5 hours to drive its length and back, but you could easily spend a day on the highway if you stop to experience some of the nature it offers along the way. Hancock Overlook gives travelers an amazing view of layered fall foliage, and Rocky Gorge offers views of multiple waterfalls.
Once you get to Lincoln, you'll have time to grab lunch or hit a brewery while exploring the town and the surrounding nature before heading back. If your goal is to explore a few spots in New Hampshire, the Kancamagus Highway can facilitate your ideal gateway.
Pawtucket, Rhode Island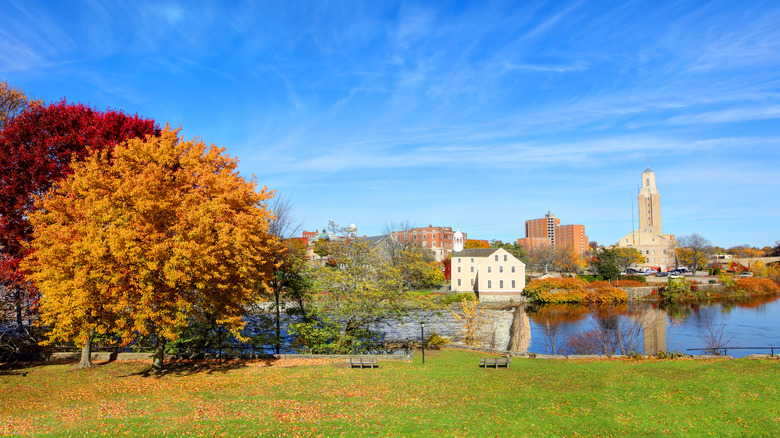 Denistangneyjr/Getty Images
Meaning "at the falls" in the native Algonquin language, Pawtucket features a gorgeous set of waterfalls, and with a backdrop of trees going through the autumn change, the town is a postcard-worthy community. While the town offers an amazing first impression, it's not just the town's beauty that attracts visitors to its charms.
Pawtucket's Armory Arts District is a creative melting pot of artistic endeavors. Performative arts, textiles, glass blowing, and other art forms are presented here in large historic buildings, which are also architectural works of art. Pawtucket also boasts an annual art festival that brings live music and various forms of art into town. The Pawtucket Arts Festival takes place in the fall and typically lasts for over a week. From live theater and musical performances to hand-crafted goods and eclectic galleries, the festival is an event-filled time that showcases an array of artisans and vendors. 
Lincoln Woods State Park in Rhode Island
Rhode Island may be tiny in terms of other states, but there is no lack of natural beauty within its borders. Lincoln Woods State Park boasts over 600 acres of Rhode Island's natural splendor, which is particularly stunning when the park's lush greenery turns into vibrant autumn colors. Whether you're traveling solo, with a partner, or with the whole family, the state park is a great getaway for those who want to commune with nature.
The state park is known for its mountain biking, horseback riding, and hiking trails, though you can also rent kayaks or fish at Olney Pond, which features a freshwater beach. No matter what your travel situation is or what kind of outdoor adventures you seek, a fall day at Lincoln Woods State Park is an excellent way to enjoy a little recreation surrounded by New England's seasonal brilliance in autumn.