Delicious Restaurants To Try When Visiting Disney World's EPCOT
Delicious restaurants at EPCOT embody a harmony between international diversity and cutting-edge science. This Walt Disney World theme park is home to pavilions representing countries from around the globe, as well as technology-focused neighborhoods. With so many different cuisines in one place, how does one begin to choose a restaurant?
First things first: EPCOT hosts four annual festivals throughout the year, and each festival features an ever-changing array of pop-up food booths. Those booths are excluded from this list. We're talking permanent restaurants only. Additionally, a handful of our choices below may be eligible for a festival dinner package, pairing a meal with guaranteed seating at the seasonal festival's signature entertainment offering (like a choir performance for Christmas or celebrity concerts). For a list of participating restaurants during your visit, call 407-WDW-DINE.
A few other housekeeping items: Disney categorizes restaurants into two groups: table service and quick service. The former is usually more expensive and always utilizes a reservation system. Staying at a Disney resort? You can make dining reservations for your entire vacation up to 60 days prior to your arrival day. Everyone else can make reservations 60 days out from the exact date of their intended restaurant visit. Reservations can be made via DisneyWorld.com or the My Disney Experience app, or by calling 407-WDW-DINE. With the exception of Space 220 Restaurant and Monsieur Paul, every location below is eligible for the Disney Dining Plan for its respective category (table service or quick service).
Connections Eatery (World Celebration)
We'll embark upon our culinary journey as if we're strolling EPCOT, starting at the front and working our way around Disney's EPCOT clockwise. (We know, we know, that's a controversial decision.) As EPCOT's flagship counter-service restaurant, Connections Eatery offers lovely views of the monorail, nostalgic background music from bygone EPCOT attractions, and a refreshing change of pace from typical "theme park food" for lunch and dinner. Among the casual menu items are a General Tso chicken salad and a plant-based California burger.
The location shares its space with Connections Café, the park's resident Starbucks spot and serving familiar coffee and bakery items. As such, the open floor plan can sometimes feel hectic. The trade-off is two dining options being under one roof, with something to please every member of the family.
Connections Eatery opened in 2022 behind Spaceship Earth, the park's iconic geodesic sphere, in an area newly dubbed World Celebration as part of EPCOT's ongoing park-wide makeover. (The overhaul also includes a new "Guardians of the Galaxy" coaster, an amazing addition to Walt Disney World's roster of roller coasters.) Make note of the huge mural on the wall inside Connections Eatery. Called "Global Gathering" and depicting communities making food from sunrise to sunset, it's one of the largest mural installations in a Disney theme park.
Space 220 Restaurant (Mission: SPACE, World Discovery)
It's not every day that your meal begins by blasting off into space. Space 220 Restaurant is uniquely Disney in that your dining experience begins with a ride. Located adjacent to the Mission: SPACE thrill ride in the World Discovery neighborhood of EPCOT, Space 220 opened in 2021.
Guests board an "elevator" with a "see-through" floor that takes them from Earth and up 220 miles into outer space, arriving at the restaurant. Once inside the dining room, huge "windows" await guests with stellar views of constellations and Earth in the distance. In actuality, the elevator doesn't take you anywhere, and, of course, those windows are high-definition screens. Still, this is Walt Disney World, and it's fun to pretend. If you're averse to thrills, don't worry. This experience is completely different from — and much calmer than — the nausea-inducing Mission: SPACE ride next door.
As for the food, Space 220 Restaurant is home to an upscale selection of themed items like "galactic miso salmon" and "blue moon cauliflower," to name a few. Lunch is a fixed-price $55 two-course meal, while dinner is a fixed-price $79 three-course meal. As a less-expensive alternative, check availability for Space 220 Lounge, a bar area, though be mindful of its more limited menu and that reservations are still offered (and usually needed). Space 220 Restaurant and Lounge are not eligible for the Disney Dining Plan.
San Angel Inn Restaurante (Mexico, World Showcase)
Leaving World Discovery in our clockwise journey through EPCOT, our first stop in World Showcase is Mexico, where we venture into a pyramid. Inside, an enchanting plaza emulates nighttime and serves as a stepping-off point for Mexico's attractions, including Gran Fiesta Tour (a boat ride starring the Three Caballeros) and San Angel Inn Restaurante. Incredible Mexican cuisine plus an indoor, "starlit" dining room plus views of the Three Caballeros ride ... What's not to like?! This is San Angel Inn Restaurante, a table-service location offering lunch and dinner.
From some of San Angel Inn's tables, diners are just feet away from riders onboard the Gran Fiesta Tour, who peacefully glide by in the adjacent waterway. The ambiance and sense of place within San Angel Inn complements the fantastic menu, which includes Mexican dishes like osso buco (slow braised pork shank with rice) and sopa Azteca (tortilla soup). San Angel Inn Restaurante is not to be confused with La Hacienda de San Angel, a table-service spot in a lakeside building separate from the main pyramid, or La Cantina de San Angel, which is an outdoor quick-service location.
Nine Dragons Restaurant (China, World Showcase)
In between catching a screening of the "Reflections of China" 360-degree film, enjoying a museum exhibit about Shanghai Disneyland, and meeting Mulan, refuel with a stop at Nine Dragons Restaurant in EPCOT's China pavilion. A visit here is always worthwhile.
Nine Dragons is a table-service location hosting lunch and dinner. Patrons can enjoy a full plate of specialty Pan-Chinese dishes (such as honey sesame chicken or tofu stir fry), or mix and match tempting appetizers (like bao buns and pot stickers). The restaurant's décor includes ornate, multicolored lanterns, intricate wood fixtures, and detailed glass artwork. Some tables have views looking upon World Showcase Lagoon.
Nine Dragons is an excellent option for guests looking for a wide selection of Chinese cuisine served elegantly over a sit-down meal. For a quicker and less expensive alternative to Nine Dragons' formal meal, check out Lotus Blossom Café, the China pavilion's quick-service restaurant.
Biergarten Restaurant (Germany, World Showcase)
Biergarten Restaurant might just take the crown for "place where it's impossible to not smile" in EPCOT. A live polka band serenades guests here at Biertgarten, which specializes in Oktoberfest delicacies for a lunch and dinner buffet (qualifying as a table-service location). Sausages, salad, and schnitzel are among the menu items.
Seeing as Germany is one of the World Showcase pavilions without a ride or a film, Biergarten is essentially the most substantive attraction in the area. Therefore, if Germany is at the top of your EPCOT bucket list, Biergarten is a must. Otherwise, you won't find much in the pavilion to occupy your time for very long.
If Biergarten sounds like fun, but you'd prefer a complete dinner show experience, check out the Hoop-Dee-Doo Musical Revue at Disney's Fort Wilderness Resort & Campground. The cuisine there is home-cooked American comfort food rather than German signatures, but it shares Biergarten's lively, jovial atmosphere, just on a larger production scale.
Regal Eagle Smokehouse: Craft Drafts & Barbecue (The American Adventure, World Showcase)
Come for the barbecue, stay for Muppet signage and props. So the story goes, Regal Eagle Smokehouse: Craft Drafts & Barbecue is managed by Sam Eagle, the patriotic bird who often tries (usually to no avail) to imbue Muppet films and television shows with a sense of class and dignity. As such, Regal Eagle is adorned with Sam's decidedly stoic decorating ... that occasionally shows signs of influence from his wacky Muppet colleagues.
Regal Eagle is a counter-service restaurant open for lunch and dinner at The American Adventure, World Showcase's United States pavilion. The eatery has indoor and outdoor seating, and menu items reflect locales from across the country: Memphis dry-rub pork ribs, sliced Texas beef brisket sandwich, Kansas City smoked half-chicken, and even North Carolina chopped smoked pork butt. Though it might seem counterintuitive to choose American food in a park filled with international cuisine, if you're craving barbecue, Regal Eagle does it right. If you want to go full kitsch, you can order your drink in a Sam Eagle souvenir cup.
Katsura Grill (Japan, World Showcase)
From sushi to teriyaki, favorite Japanese items abound at Katsura Grill, a counter-service restaurant in the Japan pavilion operational for lunch and dinner. Other menu items include udon noodles, cutlet curry, and miso soup. Opt for a table outdoors, as the seating area spills into a lovely garden with a pond, and is among the most picturesque settings in all of EPCOT. At nighttime, the area is especially enchanting.
Katsura Grill represents a common theme throughout the Japan pavilion. Without a ride or film to draw huge crowds of guests, Japan can sometimes get overlooked among World Showcase offerings. Those who venture within and explore, though, are rewarded with top-tier, smaller-scale experiences, from the charming Katsura Grill to a delightful exhibition space of Japanese culture. Seriously, don't sleep on Japan. If you prefer a table-service option for Japanese cuisine, the Japan pavilion is also home to restaurants Teppan Edo (where chefs make your food in front of you) and Takumi-Tei (a fine dining experience where pricing starts at $150).
Spice Road Table (Morocco, World Showcase)
Technically part of the Morocco pavilion but located across the promenade from the pavilion's marketplace, Spice Road Table offers Mediterranean cuisine — like naan bread, grilled lamb, and calamari, for example — for a table-service lunch or dinner with indoor and outdoor seating.
Unique among other World Showcase restaurants, Spice Road Table focuses on smaller plates rather than full meals. While guests may still prefer to order several items to create a full-size meal, the smaller portions offer an excellent alternative to diners who'd like to have a sit-down restaurant experience at EPCOT, but typically don't (or can't) eat large meals. This format also makes Spice Road Table the least-expensive table-service restaurant in the park, with small plates running $15 and under.
Spice Road Table's lakeside location makes it a prime spot for watching the park's nightly fireworks. However, such access is not simply the luck of the draw, and can't be merely requested upon arrival. Instead, Spice Road Table offers a fireworks viewing package guaranteeing that prime location. Of course, the convenience comes at a steeper cost, adhering to a fixed-price menu of $81 for guests ages 10 and older and $31 for guests ages 3 to 9. The fireworks package is not eligible for the Disney Dining Plan, but non-fireworks Spice Road Table meals accept Disney Dining Plan credit.
Les Halles Boulangerie-Patisserie (France, World Showcase)
The French bakery of your dreams! Les Halles Boulangerie-Patisserie, a quick-service dining location within the France pavilion, is the place to live out your "Emily in Paris" fantasy for lunch, dinner, or a snack. Croissant sandwiches, lobster bisque, quiches, and more are among the affordable dishes here. Meanwhile, macarons, mousses, and coffees populate the snack and dessert selections.
Maybe it's the vast array of sweet treats on display behind the glass. Maybe it's the transportive effect of the background music. Whatever it is, something about Les Halles Boulangerie-Patisserie helps the location feel a bit more distinguished than a quick rest stop in a theme park cafeteria. If you've got a hankering for a French-inspired meal but still want to eat on a budget at Disney, this is the place for you. Serious Francophiles should also consider attending "Impressions de France," a beautiful travelog film screened during the first and last hours of EPCOT's daily operations. You can see the film at the theater occupied by the "Beauty and the Beast" sing-along most of the day.
Monsieur Paul (France, World Showcase)
If your motto is "go big or go home," the fanciest restaurant inside arguably the fanciest EPCOT area is Monsieur Paul, home to an immaculate fine-dining experience in the France pavilion. For starters, guests ascend a staircase to access Monsieur Paul's dining room. If you're eating upstairs, you know the meal's about to be fancy. Clues number two and three: The fixed-price menu is $195 per guest, and diners must be at least 10 years old. This place is serious about its fanciness. Notably, Monsieur Paul is open for dinner only and is not eligible for the Disney Dining Plan.
The meal comprises an extravagant succession of courses: starter cocktail, appetizer selection, fish selection, mid-meal palate cleanser drink, meat selection, cheese plate, and dessert selection. This is all followed by a finale of mini-desserts and a finishing cocktail.
In perusing the menu and imagining a hypothetical meal, a guest's dinner might consist of: the starter cocktail, saffron mussels soup, seared scallops with maple pumpkin velouté, the pear brandy palate cleanser, beef tenderloin with mashed potatoes and fricassee, the cheese plate, thin apple tart with almond cream, and the finale of mini-desserts and cocktail. Monsieur Paul is one of Walt Disney World's most elaborate, and most stunning, culinary experiences.
Rose & Crown Dining Room and Pub (United Kingdom, World Showcase)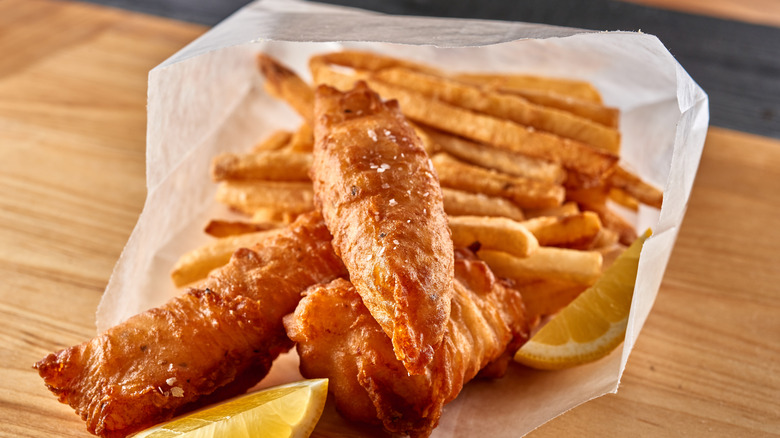 Sandoclr/Getty Images
Enjoy fish and chips, bangers and mash, and other British specialties at Rose & Crown Dining Room and Pub, located in EPCOT's United Kingdom pavilion. The combo establishment offers table-service dinner at Rose & Crown Dining Room (and outdoor seating area) or just drinks inside the walk-in Rose & Crown Pub. If you're American, you might feel a bit like Ted Lasso acquainting to the traditional U.K. pub. Menu items, ordered a la carte, are under $30.
As with Spice Road Table in the Morocco pavilion, Rose & Crown offers a fireworks package. This fixed-price option is $92 for guests ages 10 and up and $41 for guests ages 3 to 9. The package comes with an appetizer, entrée, dessert, and unlimited beverages, enjoyed with a view of EPCOT's fireworks spectacular from your outdoor table. While the non-fireworks meal is eligible for the Disney Dining Plan, the fireworks package is not.
Le Cellier Steakhouse (Canada, World Showcase)
"Steakhouse" and "Disney" might seem like incongruous words, but the pairing works well in this classy, decidedly Mickey-free restaurant designed to resemble a wine cellar inside the Canada pavilion's imposing chateau. Le Cellier Steakhouse is a table-service restaurant open for lunch and dinner. Entrées range from $36 (tourtière, a tart with endive and snap peas) to $62 (filet mignon).
Le Cellier nicely embodies what draws many adult Disney World visitors to EPCOT. The restaurant carries Disney-level theming, but not of a traditional Disney aesthetic. The food is a splurge, maybe a treat in the vacation budget, with cuisine perhaps different from an everyday meal at home. It's a solid option that doesn't disappoint in guests' expectations of the EPCOT experience, and how the park differs from its Walt Disney World siblings. Le Cellier is eligible for the Disney Dining Plan but requires two table-service credits rather than the usual single credit of most participating table-service restaurants.
Garden Grill Restaurant (The Land, World Nature)
Best character meal at Walt Disney World? Best character meal at Walt Disney World. Garden Grill Restaurant is a low-key hideaway, seemingly distant from the hustle and bustle of the park. The all-you-can-eat "harvest feast" features visits from Chip, Dale, Pluto, and Mickey Mouse. At other character meals, the famous friends are often rushed for photos. At Garden Grill, we've always had multiple visits from every character.
Garden Grill is a table-service location open for breakfast, lunch, and dinner inside The Land, a plant-themed pavilion within EPCOT's World Nature neighborhood. Food here is served in what Disney calls "family style," meaning waiters bring large plates of every menu item directly to your table. Everyone at the table divides the food among themselves and builds their own plate, but anyone can ask for more of anything. It's like a buffet, but without the walking. Breakfast includes flank steak, along with traditional morning items. Lunch and dinner serve chicken, beef, and many sides typically associated with Thanksgiving.
Make your meal a double-feature by riding Living with the Land just before your reservation time. The educational boat ride takes guests through EPCOT's greenhouses, where some of Garden Grill's food is grown. Oh, and did we mention? Garden Grill spins while you eat. Don't worry; it's so slow, you might not even notice. This unique element offers diners views of Living with the Land.