Guide To The Disney Dining Plan
Vacation mode = vacation food! For many travelers, the best part of taking a trip is experiencing the unique cuisine of their destination. While the phrase "theme park food" might conjure a connotation of gross hot dogs and generic funnel cakes, Walt Disney World's food options are a significant step above its industry's reputation. The Disney Dining Plan provides a convenient way to indulge in Disney's many unique dishes and signature snacks.
The sprawling Walt Disney World property near Orlando, Florida, offers plenty of quality food across its four theme parks, two water parks, over two dozen hotels, and entertainment district. From the international flavors of Epcot's World Showcase pavilions to a royal breakfast inside Cinderella's Castle, there's something to fit every taste, every age group, and every budget.
The Disney Dining Plan is an add-on that guests can attach to their Walt Disney World vacation package. With an allotment of meal credits for every day of the trip, many guests enjoy the Disney Dining Plan's convenience of paying for food up front. It's not quite "all-inclusive," but it's Disney's closest thing to it. How do you get the most of the Disney Dining Plan? Is it worth it in the first place? Let's find out. Please keep your hands and arms inside the ride vehicle at all times.
How does the Disney Dining Plan work?
Choose your own adventure between two plans. The first option, simply known as the Disney Dining Plan, comes with credits for one table-service meal, one quick-service meal, and one snack per person, each night of your vacation (the cost for 2024 is $94 per adult each night, $30 per child each night). The second option, the Disney Quick-Service Dining Plan, comes with credits for two quick-service meals and one snack per person, per night ($57 per adult each night, $24 per child each night). Both plans also come with a refillable resort mug (more on that later).
At a "table-service" restaurant, a server shows you to your table, and either a waiter takes your order or you enjoy a buffet. In contrast, at a "quick-service" dining location, you stand in a line to order food at a counter or a cash register, pick it up at a serving window, and seat yourself.
Table-service locations almost always require a reservation, while quick-service spots are walk-ups only. Also of note, the Dining Plan doesn't include gratuity, so plan on tipping your Cast Members at table-service restaurants. Children ages 3-9 are required to eat off the kids' menu, while children ages 2 and under are not eligible for a Dining Plan at all. However, these smaller travelers can eat free at buffets. If you're visiting with little tykes, plan to pay for their food on the go, even if the rest of the family is on a Dining Plan.
Is the Disney Dining Plan worth it?
The ultimate question! This answer is subjective, but we'll do our best to help you decide. Disney says you'll save up to 20% on your food purchases with a Dining Plan. This is true, but only to a point. A table-service credit qualifies you for an entrée and a drink (or, in many cases, access to a buffet) at a sit-down restaurant. During lunch and dinner, you also get a dessert. A quick-service credit similarly qualifies you for an entrée and a drink at a walk-up location. A snack credit is eligible for quick bites or soda.
If you're already going to eat as much food as the Dining Plan gives you, it's a deal. Otherwise, you're paying for more food than you'll eat. On the flip side, the Disney Dining Plan is a great value if: 1. You typically order full meals on vacation; 2. You plan on frequenting at least one table-service restaurant every day of your trip regardless; or 3. This is a once-in-a-lifetime Disney trip and you'd like to experience as much as you can.
Beyond just the bottom dollar, the ease of paying for (almost) all of your meals before your vacation begins is enough of a selling point for many visitors to justify a Dining Plan, even if the math doesn't actually make it cheaper in the end. There's something to be said for less hassle while on vacation.
Research menus before your trip — and make reservations as early as possible
Are you a planner, or do you prefer to wing it? If you're on the Quick-Service Dining Plan and you really don't care where you eat, you can still get by with some degree of spontaneity, since quick-service locations are walk-up. If you're on the higher-tiered Disney Dining Plan, though, you'll need to plan ahead if you want to make the most of your vacation package.
Even if you purchased the Dining Plan upfront when you booked your trip, you still need to actually make dining reservations for each table-service restaurant you'd like to eat at. Guests can book reservations for Walt Disney World table-service restaurants 60 days before their resort check-in date beginning at 6 a.m. Eastern Standard Time, and spots fill up fast. If you wait until the last minute, you'll be left with slim pickings. This guidance goes for any guest, Dining Plan or not. Make those ressies early! You can do so on Disney's website, through the My Disney Experience app, or by calling 407-WDW-DINE.
Here in the digital age, you can peruse menus for each and every restaurant on Disney property on the destination's official website. Once you know which parks you'll be visiting on which days, map out how you'd like to allot your dining credits, table-service and quick-service alike. (When you view the online menus, be sure to select the filter of Dining Plan-eligible locations. It's most places, but better safe than sorry.)
Which table-service restaurants should you use your dining credits on?
With a few exceptions (more on those in a sec), most table-service restaurants "cost" the same amount in the eyes of the Disney Dining Plan — one credit. That being said, not all restaurant experiences are equal, financially speaking, when contrasting what each establishment charges guests who aren't on the Dining Plan. When exploring menus on Disney's website, pay attention to how many "$" symbols are next to each restaurant's name. If you're on the Dining Plan and deciding between two restaurants that both "cost" one credit, you'll be getting a better value for that credit by choosing whichever restaurant has more "$" symbols.
Beyond financial reasoning, you might be looking for restaurants that feel more "Disney" than others. If you prefer dining locations themed with an über-creative atmosphere, consider these table-service options: Be Our Guest at Magic Kingdom (inside the Beast's castle), Roundup Rodeo BBQ in Toy Story Land at Disney's Hollywood Studios, Sci-Fi Dine-In Theater at Disney's Hollywood Studios (the dining room is set up like a drive-in movie), or any character meal.
Speaking of characters, you can filter the menu selection on Disney's website to just show character dining. Our favorite character meal? Garden Grill at Epcot. The atmosphere is super chill, the unlimited food is locally grown, and the fun lineup of characters includes Chip, Dale, Pluto, and Mickey Mouse himself.
Some table-service restaurants cost double-credit
A handful of table-service eateries require two credits on the Disney Dining Plan. Since the Plan grants one table-service credit per night of your vacation, this means that if you dine at a double-credit location, you'll have one less table-service credit allotted elsewhere during your trip.
Restaurants in the double-credit category are typically premium experiences in one way or another. A few examples of locations costing two credits: Cinderella's Royal Table at Magic Kingdom (makes sense; it's inside Cinderella's Castle and you dine with the Disney Princesses), as well as restaurants that one might consider "fine dining" with a more formal atmosphere than traditional Disney fare (like Tiffins at Disney's Animal Kingdom).
Like many decisions on a Disney vacation, choosing whether to use up two dining credits on a single meal is largely subjective. It all depends on your idea of a dream vacation. That vision will look different for different people. You can check if the dining location you've got your eye on requires two credits by scrolling to the bottom of the eatery's individual page on Disney's website. (Unfortunately, the company doesn't have a handy list of them all.)
Tips for refillable mugs
Both the Disney Dining Plan and the Disney Quick-Service Dining Plan come with a refillable mug for every person in your travel party. These plastic cups with handles and lids are good for unlimited non-alcoholic drinks at any Disney resort hotel the length of your vacation. They also double as a great souvenir.
You can fill up your mug inside your resort's food court, where you'll find either a self-serve soda fountain or a Coca-Cola Freestyle machine. Nearby, you can alternatively help yourself to tea, hot chocolate, or Joffrey's coffee. Refillable mugs qualify for drinks at any Disney resort — even those you're not personally staying at — but they don't qualify for drinks inside the theme parks. Keep this in mind, especially in terms of bag space, as you think about when you'd like to bring your mug with you on the go, and when it might be best to leave it in your room.
A plastic cup in and of itself doesn't necessarily scream "Disney," but to us, the ritual of heading to the food court first thing in the morning to fill our mug with coffee — when the sun is first peeking out, and the resort campus is mostly quiet — is an experience as synonymous with a Disney vacation as meeting Mickey. Note: Refillable mugs are included with any Dining Plan, but they're also available for purchase separately by any guest for around $20. These same tips apply for anyone with a refillable mug, not just those using a Dining Plan.
Keeping track of your credits
You can check your remaining Dining Plan credits in the My Disney Experience app at any time. Additionally, each time you eat somewhere, you can see how many credits you have left at the bottom of your paper receipt.
Credits roll over day to day, so you can plan them strategically if you'd like. In other words, Disney allots you a certain number of meal and snack credits for each night of your vacation, but you can divvy those credits up however you prefer. Since, at their maximum, Disney Dining Plans provide two meals a day, maybe you'd rather use all your credits on three meals per day early in the trip, and then pay out of pocket for all meals on your final days. You can do that. Maybe you're not hungry for a snack today at Magic Kingdom, but tomorrow at Epcot there are two snacks you want to try. You can do that, too. It's up to you!
That being said, credits roll over within your vacation dates, but if you have any leftover credits at the end of the trip, they'll expire at midnight on your last day of vacation (the day you check out of your hotel). If you have leftover snack credits, at the very least make a pitstop by your resort's gift shop and grab some individually packaged items (like crackers or candy) for the road so that your credits don't go to waste.
The Disney Dining Plan is for Disney resort guests only
Disney only offers the Dining Plan as a vacation package option for guests staying at a Disney resort hotel. At the time of this writing, there is no multi-day dining package for offsite guests and no single-day dining package for daytrippers. We've visited other parks in America that offer all-day dining as an add-on to a one-day ticket. Some parks even offer a season-long dining package for annual passholders. No such program exists at Walt Disney World.
On one hand, it's logical that Disney would want to incentivize guests to stay at one of its own hotels as opposed to taking business elsewhere for overnight accommodations. On the other hand, even if the approach makes sense, it's a bummer that offsite guests don't have any comparable Dining Plan options available.
If having a Dining Plan is top-priority for you, but you also don't want to break the bank with your hotel selection, consider the three most economical resorts within Disney's "value" category: Disney's All-Star Sports Resort, Disney's All-Star Music Resort, and Disney's All-Star Movies Resort. Rates start around $160 per night and increase depending on the day of the week, time of the year, and room location.
What's the difference between the Disney Dining Plan and Tables In Wonderland?
Disney lingo can be confusing. Sometimes we feel like we need a dictionary to keep track of the ever-changing terminology. Quick-service? Refillable mug? Genie+ and Lightning Lanes? What does it all mean? When researching the ins and outs of the Disney Dining Plan, you may come across the phrase "Tables In Wonderland" in various out-of-date resources. Though the term is defunct (for now, at least), it's still worth clarifying, if for no other reason than to emphasize Tables In Wonderland is not interchangeable vocabulary for the Disney Dining Plan if a guide you're reading happens to reference it.
Tables In Wonderland refers to a discontinued program in which Florida residents, Disney Vacation Club Members, and Walt Disney World Annual Passholders could save 20% on dining. In 2022, a representative from Plan Disney, an official website operated by Disney itself, said, "The beloved Tables In Wonderland has not returned to Walt Disney World Resort at this time. I am sad to report I do not have any updates on the return timeframe of this wonderful program."
While we're on the topic of knee-deep Disney planning, make sure to bookmark our list of underrated Disney experiences to try on your trip.
When does Disney offer free dining?
Free? Disney? You're not imagining things. Pre-pandemic, Disney annually offered the Dining Plan for free if you booked a resort package on select dates (typically autumn). You might be wondering, "Ok, but what's the catch?" Other than staying at an eligible resort, there's really no catch. "Yeah, but there's gotta be something they're not telling you, right?" Most things that seem too good to be true probably are, but in this case, free dining really does mean free dining.
We took advantage of this glorious deal during a trip with extended family. We practically felt like we won the lottery by bringing 10 people to Disney for five days and eating free food the whole time! We visited restaurants we would've never thought to try without a Dining Plan, and found many new favorites that we returned to in later trips.
Post-pandemic, there's currently no word on when Disney might offer free Dining Plans in the future. However, for as frequently as Disney offered it in the past — literally every year for a decade — we wouldn't be surprised if the company reinstated the free dates sometime after the Dining Plan's big 2024 return settles down.
Ways to save money on Disney food if you're NOT on the Dining Plan
If you think the Disney Dining Plan comes with too much food than you'll be able to eat, or if its cost isn't in your budget, there are other ways to cut costs on Walt Disney World food. For starters, order water as your drink with all meals. Cups of water are free at every dining location. (Besides, your body needs water way more than carbonated soda, especially in the Florida heat.) Also in the beverage realm, if you can't go without soda, you can purchase a refillable mug for about $20 at your resort (see above), even if you're not using the Disney Dining Plan. If you use it enough, the mug will save you some money compared to paying for soda, tea, or coffee individually.
Quick-service restaurants are less expensive than table-service restaurants. Additionally, while the kids menu at some quick-service spots have the standards that you'd expect (chicken nuggets, pizza, etc.), other locations opt for a kids menu simply consisting of smaller portions of the same food on the adult menu. If you tend to eat small meals, this is a great hack. (And you can use it at Satu'li Canteen in Pandora – The World of Avatar, one of the best quick-service hangs in all of Walt Disney World.) You can also plan to use groceries for some meals (see below).
Bringing food from home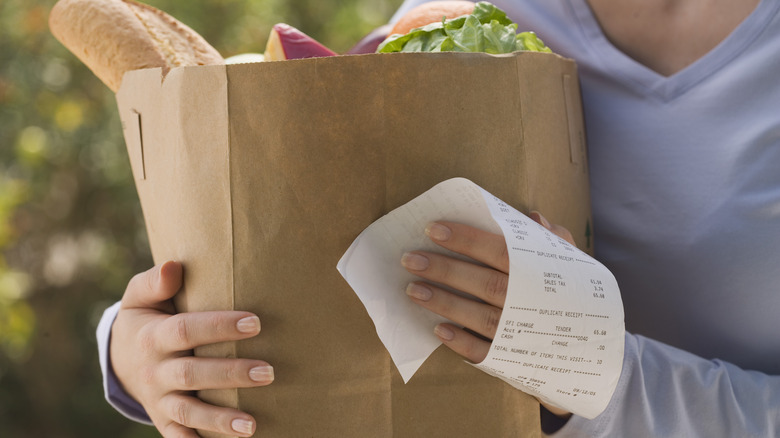 Burke/triolo Productions/Getty Images
You're welcome to bring food from home, helping to save money and/or supplement that third meal each day that the Dining Plan doesn't comp. Sometimes a protein bar and some fruit makes for a more practical on-the-go breakfast when you're trying to make it to the parks early anyway.
Disney resort hotel rooms come with a mini-fridge, but be aware that the rooms don't have any other kitchen appliances (with the exception of villas). However, some resorts have a microwave and toaster in their food court that any guest can use themselves.
If you plan on making a stop for groceries on your way into Orlando, most supermarkets in the immediate vicinity of Disney property are absolute nightmares. Like, horror stories. Our go-to is the Publix at Regency Village Shopping Center, near the outlet mall close to Disney Springs. It follows the typical crowd patterns of any given grocery store around the country. Read: you won't feel the need to scream into a pillow when you get back to your car, as would be the case if you visited the always-freakishly-busy-even-in-the-dead-of-night Wal-Mart on Vineland Road. Additionally, an up-and-coming area known as Flamingo Crossings is located immediately off the western side of Disney property. It will likely boom into a more touristy district in the future as it continues to develop, but for now, its Target is relatively low-key. And then, of course, there's always Instacart or similar grocery delivery services.