Take A Trip To This East Coast Destination For A Relaxing Winter Vacation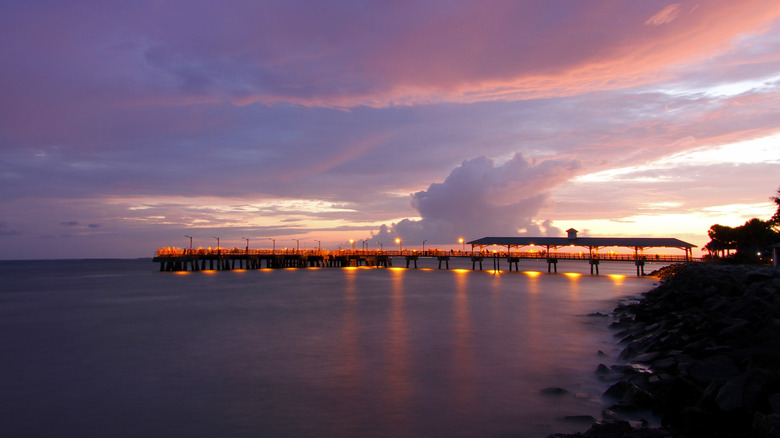 Elan7t50/Getty Images
Fans of the trending Netflix Original series, Outer Banks will appreciate this Southern gem. Sea Island, Georgia — a mecca for palatial five-star resorts — is home to a grand display of Figure Eight-like mansions. Land and sky melt on a beautiful canvas over the coastal marshlands — halfway between Savannah, Georgia and Jacksonville, Florida. As part of the Golden Isles, Sea Island is unmistakably the resort capital of the Peach State and home to some of the most luxurious resorts in the South. Ancient oaks draped in Spanish moss coupled with sugar sand beaches create a picturesque backdrop for a wintery getaway without the snow and ice.
Sea Island's off-season signals a drop in temperatures where they hover in the crisp, comfortable mid-60s. With winter on the horizon, the community moves at a slower pace, resting in the serenity of a peaceful holiday at home. This sleepy island comes to life with festive cheer, from twinkling lights and garland wreaths to the annual Sea Island tree lighting ceremony.
Make one of these luxurious resorts your home base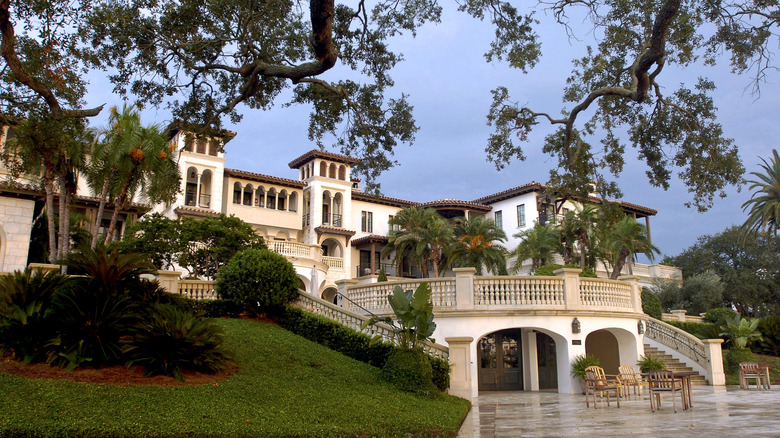 Bloomberg/Getty Images
Known for its parade of manicured estates lining the waterfront, Sea Island Dr. is the Beverly Hills of St. Simons Island. Sea Island Resort is the pinnacle of luxurious resorts on this peninsula. The complex consists of three opulent hotels that continuously garner the attention of luxury travel magazines, including the celebrated Lodge at Sea Island Resort. During winter, rates tend to drop, making it easier to secure a cottage or suite.
To say this hotel is a lavish indulgence would be an understatement. If the name alone doesn't kindle images of cozying up by the fire, its warm, wooden cottages most certainly will (think white marble banisters, wraparound verandas, and manicured golf courses). Of course, the holidays mean each room is dressed with emerald wreaths and Christmas trees lit up in a flurry of glowing lights. The Spanish Colonial manor combines Southern hospitality with elegant charm in the secluded countryside. Rent one of the property's cozy cabins (mini mansions) with sweeping ocean views for a wintery retreat marked by elegant luxury.
The Cloister is another of Sea Island's posh hotels, with a fresh sea breeze blowing off the salt marsh. The 50-acre property is so large, the main building is organized by wings. Mediterranean architecture and antique accents give this resort its historic charm, while outside is a spectacular show of moss-covered oaks that create a fairytale-like setting. Christmas at this hotel is magical with a life size gingerbread house, festive galas, and a Letters to Santa workshop (peep the adorable red "Letters to Santa" mailbox out front).
Admire the Christmas lights and culinary delights
Natia Giorgadze59/Shutterstock
According to Southern Living Magazine, St. Simons Island falls within Georgia's top 10 festive small towns that go all-out in the Christmas spirit. Ancient oaks are decked in red and green, and holiday wreaths adorn every front porch. If you bring along your furry companion, you won't want to miss out on Sea Island Resort's annual "Reindog" Parade. Venture off the property and tour Sea Island's best and brightest displays on a 90-minute excursion with Lighthouse Trolley Tours. November and December are filled with numerous special holiday events on St. Simons Island including a first annual Christmas tree lighting in Redfern. Live music and Santa photos will take place before the grand lighting of the town's Christmas tree.
After a night of chasing holiday cheer, head back for an incredible dinner at Tavola at The Cloister. You won't be able to resist this Italian eatery with the aroma of crispy pizzas that are delivered to the table fresh out of their Mugnaini wood oven. Buon appetito! Finish off your meal with a visit to Wonderland, a recreation of Charlie and the Chocolate Factory. You can't leave this emporium of sweets without ordering the Gold Brick Sundae — a Sea Island staple. This signature treat begins with a base of vanilla ice cream and is topped with toasted pecans over a chocolate shell.