This Beautiful Destination Is One Of The Top-Ranked Couples Vacation Spots In America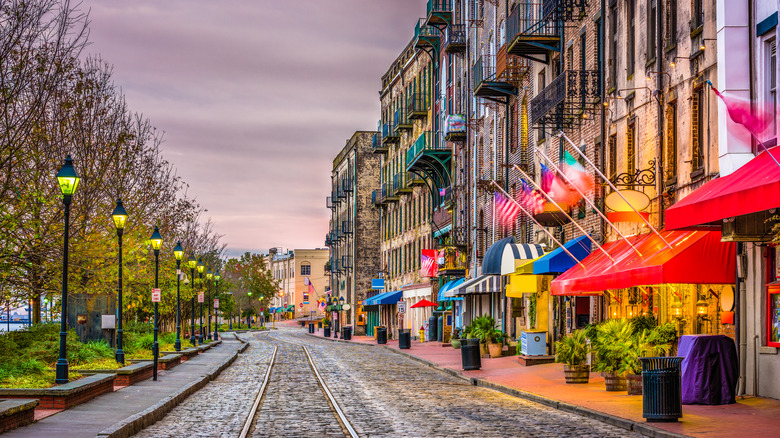 Sean Pavone/Shutterstock
There are few things more romantic than heading off into the sunset with your loved one for a well-deserved vacation. According to research from Forbes, a quarter of all Americans were planning a romantic getaway in 2023. Are you one of them? If you are, the first question you're going to ask yourself is where to go. Do you fancy spending a weekend under the bright lights of Las Vegas? Perhaps you have your eye on a fall getaway in one of New England's pretty towns? They're great options, but we have a vacation spot for couples that trumps them.
We're talking about a place where you can walk along cobblestone streets lined with centuries-old, moss-draped oak trees, admire the antebellum architecture, and marvel at the historic squares. We're referring to the "Hostess City of the South," the epitome of Southern charm — Savannah, Georgia. Over and over, Savannah has been voted one of the best places in America to spend a vacation as a couple. And it's a warm and welcoming vacation spot year-round.
What to do in Savannah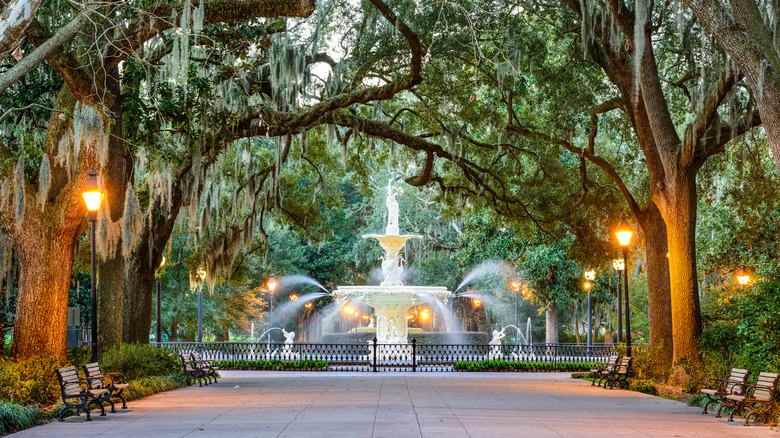 Sean Pavone/Shutterstock
Just wandering around Savannah is one of the most romantic ways to spend a day as a couple. Forsyth Park is a great place to start. The 30-acre park is in the South Historic District, so after admiring the iconic fountain and strolling under the beautiful oaks, you can make your way through the atmospheric squares toward the river. At River Street, you can explore the waterfront area and learn more about Savannah's past.
Then make your way out to Bonaventure Cemetery. While a cemetery might not seem conducive to romance, Bonaventure is no ordinary graveyard. It is filled with elegant headstones guarded by mossy oaks and was a main setting in John Berendt's novel "Midnight in the Garden of Good and Evil." Once the sun sets, it's time to discover why Savannah is often called America's most haunted city. Couples can comfort each other during one of the city's many ghost tours (available on foot, by trolley or in a hearse) and learn about Savannah's spooky history.
If you can wake up early enough, get to Tybee Island at dawn. The beach area is just 20 minutes from the Historic District in Savannah and looks out over the Atlantic for perfect sunrise views. It's a dreamy way to start the day with your partner. And yes, there's coffee — the highly rated Tybean Coffee Bar and Mi Vida both open at 7:30 a.m. 
Where to eat, shop, and stay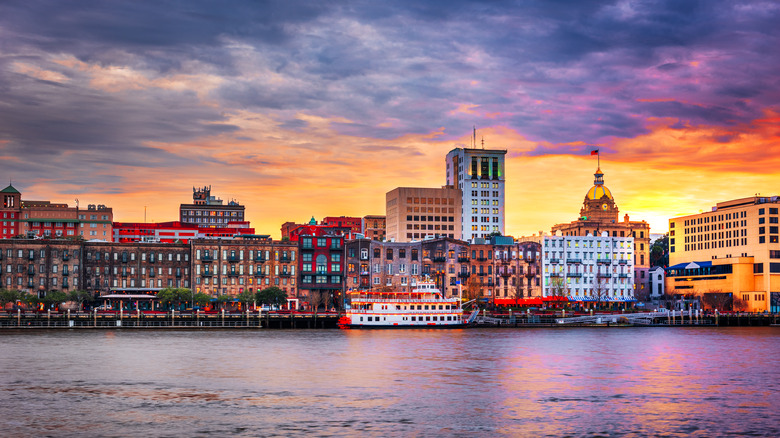 Sean Pavone/Getty Images
The best place to stay in Savannah for couples is in the Historic District. Blogger Erin, who writes the Savannah First-Timers' Guide, breaks down the pros and cons of different parts of this district. Above anywhere else, she loves the South Zone, where you can get the most classic, romantic Savannah vibes. Be choosy when looking at accommodations — like any large city, Savannah has areas that are less safe than others. Travellers Worldwide writes that the Historic District is generally safe, though even there, you should stay in well-lit areas at night, avoiding parks and unfamiliar places, even if you are traveling as a pair.
Experience Savannah's famous nightlife by stopping in at one of the rooftop bars for a cocktail with a view. Rocks on the Roof is a favorite in the North Historic District, and Peregrin at the luxury Perry Lane Hotel is a sumptuous pick for sunset views. After that, it's time to eat, and there's no shortage of restaurants in Savannah. Couples should make a reservation at Alligator Soul Restaurant, where several reviewers praise the romantic atmosphere and the incredible food. There's a lot of classic Southern food on the menu, including shrimp and grits and gumbo. Another top pick is The Olde Pink House, where reviewers love the candle-lit atmosphere and the outstanding service. Try one of their cocktails made with their own spirit blends to finish off a perfect evening.