The Most Romantic Honeymoon Destinations In The US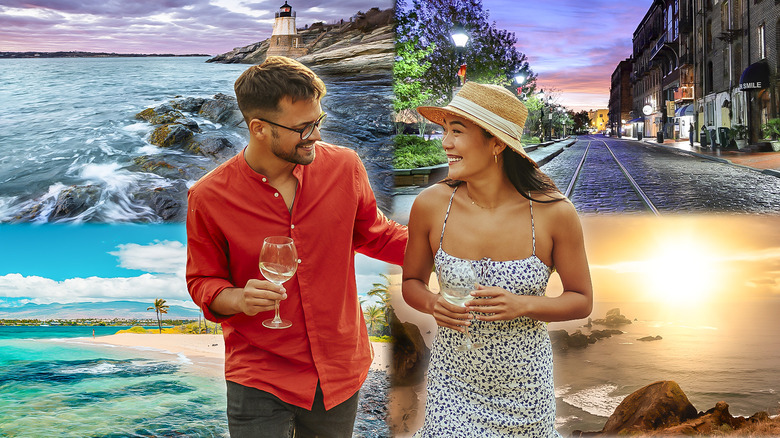 Static Media / Shutterstock
A honeymoon is supposed to be one of the best trips of your life, but how do you choose where to go? There are just too many wonderful possibilities that picking a single place to relax, unwind, and connect with your partner may prove difficult. Limiting yourself to destinations in the U.S. can help narrow down options, but there are still a lot of places to consider. The lead-up to the wedding is usually long and stressful — but hopefully also fun. No matter what preceded your vows, most people just want a honeymoon free of hassle.
If finding your passport and hopping an international flight post-nuptials doesn't appeal to you, don't worry! There are so many locations in the States that evoke images straight out of a fairy tale. From hidden beaches on the West Coast, to quaint New England towns surrounded by forests, to the mysterious South, to the gorgeous lakes in the Midwest, the country is full of picturesque destinations. How are you supposed to choose one of the 50 states, let alone narrow down to a city or region in this vast country? This list is the place to start, as we've rounded up the 13 most beautiful locations in the U.S. to spend your honeymoon.
Savannah, Georgia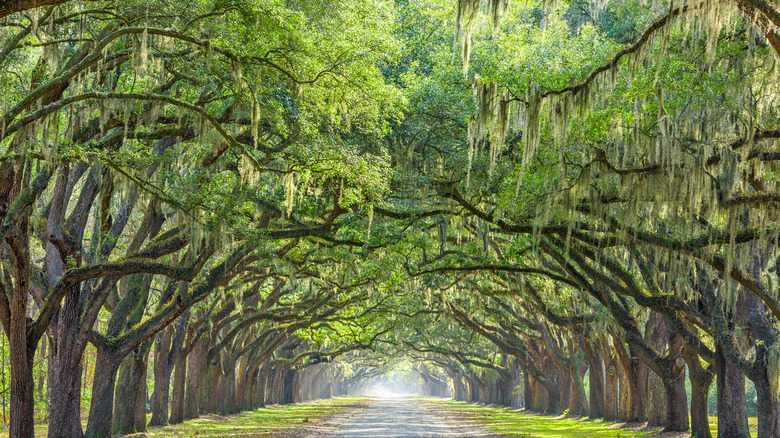 Sean Pavone/Shutterstock
Savannah is the quintessential romantic getaway in the South. It's the perfect place for a post-wedding retreat where you can wander streets lined with moss-covered trees and ancient oaks. The Historic District is a treat for the eyes, with a scenic waterfront walkway along the Savannah River, where you can also enjoy a leisurely ferry ride. Music plays through the streets, and you're never far from a cute cafe, bakery, or walkable pedestrian area. And if you wish to wander the town with a drink, you're in luck, as Savannah allows to-go cups within the Historic District. Many of the old mansions are open to visitors throughout the year, so if stepping back in time and learning about the area's history interests you and your partner, take a tour.
There are also a number of lovely parks throughout the city like Forsyth Park, home to an iconic fountain and a great central picnic spot. Additionally, Skidaway Island State Park often flies under the radar of travelers, but it is not to be missed — hike along the narrows (a portion of the state's internal waterways), pack a lunch to enjoy in the shade, and rent a cabin and glamp for the night. If floral delights are more your thing, then head over to the Coastal Georgia Botanical Gardens where various species bloom throughout the year. Further afield, Tybee Island lies just a 30-minute drive from the city if you want to tack on time at the beach.
Newport, Rhode Island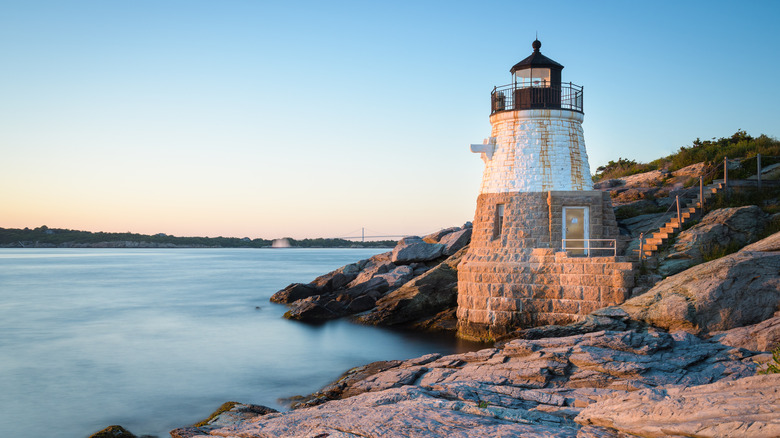 Jim Schubert/Shutterstock
Sure, Newport (and Rhode Island in general) is full of old money and has a fairly wealthy vibe. But the area is also home to some of the best beaches on the East Coast and makes for a lovely couples retreat. First Beach is a short stretch where you can suntan, swim, or boogie board the day away. It is also the beginning of the Cliff Walk, a 3.5-mile coastal route that rewards hikers with sweeping views of the Atlantic as well as unique vantage points to admire the old mansions in the area. Along Ocean Drive is Gooseberry Beach, a quiet secluded cove that is a relaxing spot to swim — just note you'll need to purchase a daily pass or membership to park here. Further down the coast on Ocean Drive is Fort Adams State Beach, a tranquil find with amazing views of the harbor.
Of course, this is your honeymoon, so you'll want to spend a bit extra to make it special. Why not try out a Rhode Island beach club on your trip? Have a drink or meal at the upscale Pineapple Club, where you can take in expansive views of the bay. Or spend a full day at Bailey's Beach Club or the Newport Country Club enjoying sun beds, a swim, and a round of tennis or golf. And while you're mixing with the Ocean State's elite, you might as well visit their homes on a Newport Mansion tour.
San Juan Islands, Washington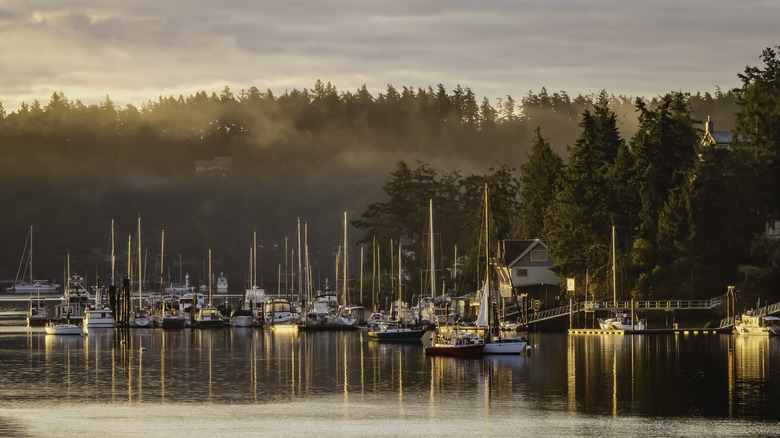 Kschulze/Getty Images
When it comes to an island destination, Washington isn't usually top of mind, but the San Juan Islands are an idyllic location for newlyweds. The islands are located between the northwestern bit of the state's mainland and Vancouver Island in Canada. Take one of the iconic Washington State ferries (a favorite in "Grey's Anatomy" montages) from Anacortes and spend the next 90 minutes watching the wilderness around Puget Sound pass by. Upon arrival in Friday Harbor, you'll be greeted by one of the cutest towns in the state. You can base yourself on San Juan, the main island, home to the region's lavender field and bustling town. Alternatively, ferry connections take you to Orcas Island, the largest of the San Juan Islands, or Lopez Island, the quieter option.
No matter where you choose to spend your time, make sure to wander along the water and keep an eye out for resident orcas before popping into a classic cafe or craft brew pub. In fact, the San Juan Island Brewing Company is located right on the main island in Friday Harbor and provides tastings and pub food. Over on Orcas Island, Island Hoppin' Brewery offers numerous unique beverage options, mostly twists on international varieties like Belgian, Finnish, and German beers. If wine is more to your taste, try the San Juan Vineyard outside of Friday Harbor or the Orcas Island Winery.
Sedona, Arizona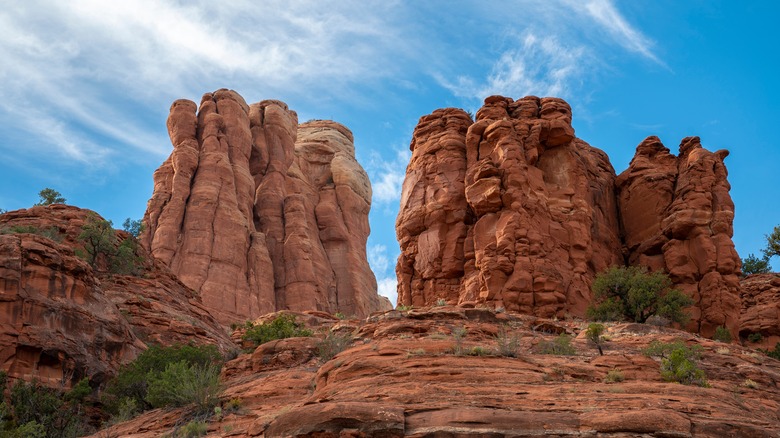 Carlos E. Santa Maria/Shutterstock
A desert escape awaits you in Sedona. Long thought of as the premiere wellness destination in the West, couples will delight in this oasis among the Red Rocks. The town is particularly welcoming if you're arriving from a colder climate. It's not as scorching as Phoenix or Tucson, but warm enough year-round that you won't need to wear your bulky East Coast or Midwest winter gear. Sedona is a great destination for active couples, as the mild climate allows for outdoor activities no matter the season. You can hike the many trails, go horseback riding among the rocks, or try rafting the Verde River. Afterward, relax at one of the top-rated spas in the area. You would hopefully spend your honeymoon at one of the many luxurious resorts or, at the very least, somewhere with a choice of facilities to promote relaxation and rejuvenation.
And of course, you can't come to this city and not explore the mystical side. Sedona is believed by many to be a healing center or vortex with powerful properties. No matter your beliefs, hiking around on a "vortex hunting" tour is fun and unique. If you're interested, numerous shops in town sell crystals said to have healing abilities.
Maui, Hawaii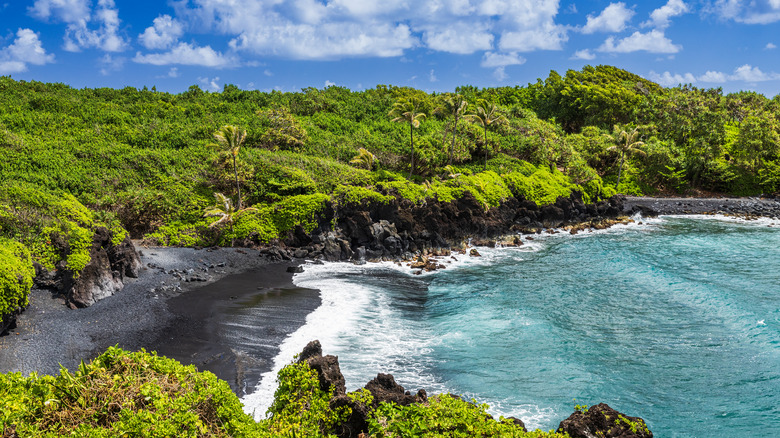 Philip Thurston/Getty Images
The Hawaiian Islands have always been a popular place for honeymooners, thanks to endless stretches of white sand, amazing food you won't find elsewhere in the U.S., and ideal weather throughout the year. The state's second-largest island is home to miles of coastlines for water activities, a lush mountain rainforest for epic hikes, and an inland countryside where you can take part in off-road activities like horseback riding or mountain biking. It's perfect for couples looking for a mix of adventure and relaxation. The resort, spa, and accommodation options are some of the most extensive in the country.
Other must-dos include driving the Road to Hana, a 64-mile scenic stretch across the island, exploring Waiʻānapanapa State Park, home to black sand beaches, and hiking Haleakalā, a volcano with panoramic views. If you visit between May and December, chances are high that you'll catch a glimpse of humpback whales on their way to Alaska. You'll also frequently spot sea turtles and tropical fish in the water. Back on shore, keep an eye out for the adorable Hawaiian monk seals — beach authorities will often section off an area to keep them safe, so please respect their space.
Hudson, New York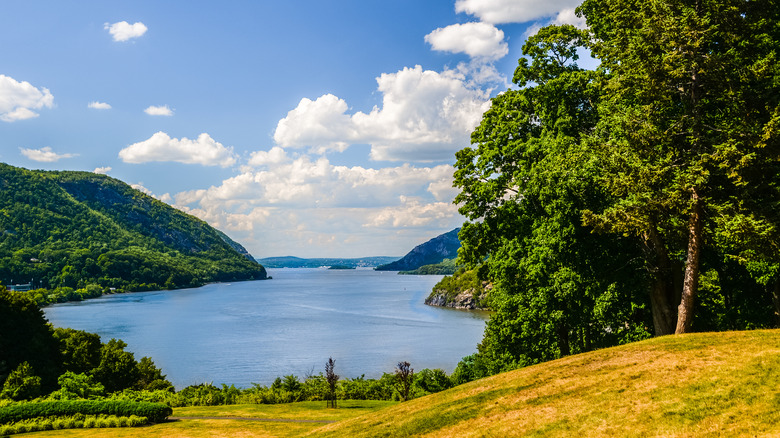 Texpan/Getty Images
Upstate is a New Yorker's first choice to get out of the city. For couples looking to relax, Hudson is one of the best places to do so that doesn't require a long journey. If you live near New York City, you don't even need to drive, as the town is easily accessible by a two-hour train ride. Upon arrival, you'll marvel at the old Victorian buildings that dot the historic center as well as the pleasantly walkable streets and cute brick-lined storefronts. While it is no longer the quiet respite it once was, Hudson still feels very different from the nearby metropolis. Numerous trendy bars and cafes are busy but not jam-packed like a Manhattan Starbucks, and the quirky record and antique shops would be right at home in Brooklyn.
There is also a thriving arts scene, largely due to the New Yorkers who have traded the city for upstate. Warren Street is the main hub for art galleries in town, and you'll find everything from oil paintings to modern sculptures and mixed media. Additionally, Historic Hudson Hall hosts plays, dance performances, and literary talks as well as workshops throughout the year. As for accommodation, there is no shortage of charming B&Bs and converted cottages. For outdoorsy couples, the Catskill Mountains are just a short drive away.
Cannon Beach, Oregon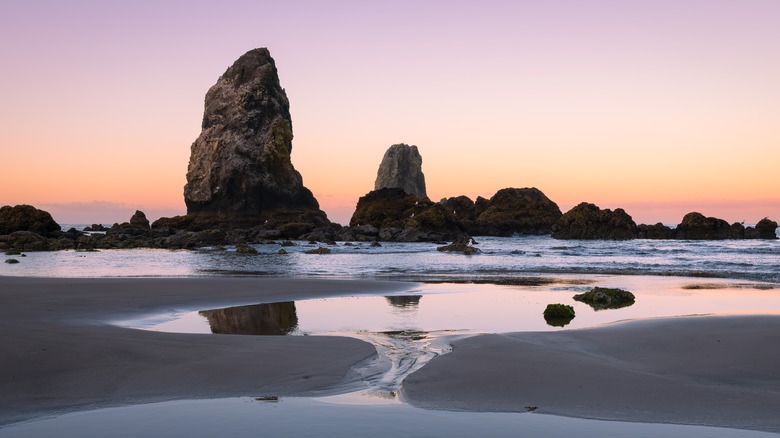 Ian Dewar Photography/Shutterstock
The Oregon Coast is popular with families, spring breakers, and dogs alike. It's also the perfect place for a laid-back couples retreat, no matter the season. Cannon Beach, the location of Insta-famous Haystack Rock, is the best base for newlyweds looking to unwind after their wedding. The town is full of juxtaposition: kitschy dive bars serving fish and chips next to hipster craft breweries and fine dining alongside carnivalesque candy shops. Portland's motto might be "keep it weird," but the vibe definitely extends to the rest of the state. And since this is Oregon, you'll be able to enjoy it all with some of the best coffee and wine in the country. This is definitely the location for couples wanting a place that's more off-beat while still having beach access.
The majority of lodging options are either oceanfront or close enough to boast spectacular views — a must for couples looking to celebrate recent vows. The beach is either a short walk or a drive away from town, depending on where you stay, and is perfect for long strolls. The stereotypical Pacific Northwest sand dunes give way to expansive stretches of sand and crashing waves where you'll find tide pools and curious creatures like sea urchins and small crabs.
Martha's Vineyard, Massachusetts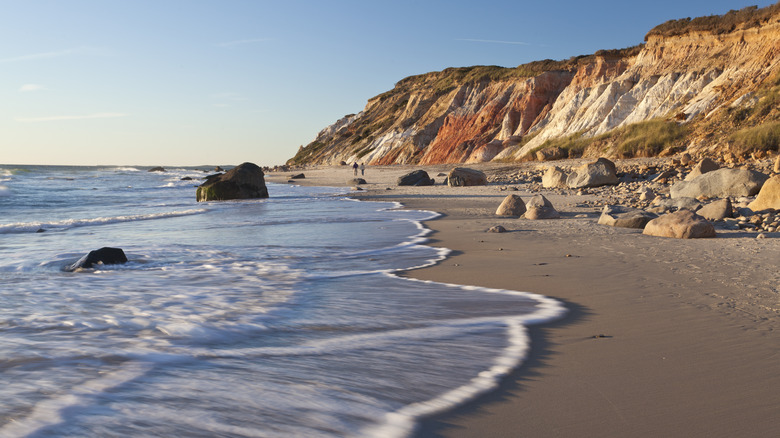 Kickstand/Getty Images
Martha's Vineyard is truly something out of a storybook. This New England island escape is home to the best that the region has to offer: gingerbread cottages, picturesque lighthouses, beaches, and a laid-back atmosphere. If not for the seasonality of the location (most homes here aren't winterized), it might just overtake warmer post-wedding destinations like Hawaii and Southern Florida in popularity. The numerous cliff and coastal walks give way to lighthouses and sweeping views of Massachusetts' shores, setting the scene for romantic rambles on your honeymoon. Other couple activities include boat rides (a must when honeymooning near the water), kayaks, or stand-up paddleboarding to enjoy what is arguably the best part of vacationing here — the sea.
The six main towns on Martha's Vineyard are West Tisbury, Chilmark, Aquinnah, Vineyard Haven, Oak Bluffs, and Edgartown. You'll find a variety of 19th-century inns, fairytale cottage rentals, and adorable B&Bs in each location. And while the island isn't too large in size, you'll want to bring some form of transportation. Bikes are the traditional summer "vehicle" on Martha's Vineyard and are a great way to get around. If you prefer four wheels, book in advance, as car ferries to the island can fill up quickly in peak season.
The Florida Keys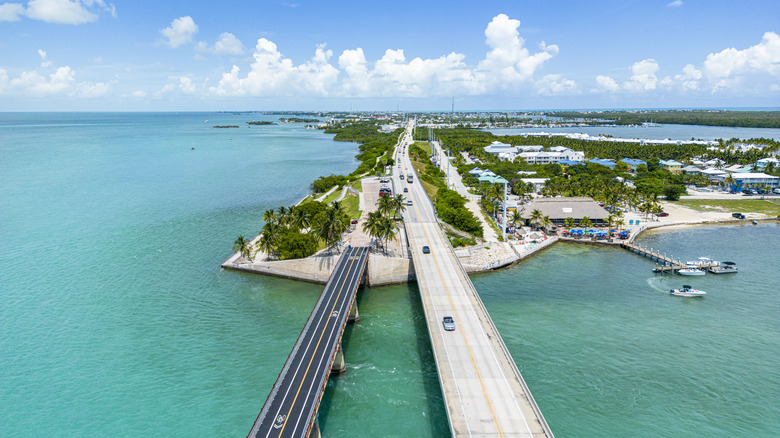 Kemter/Getty Images
Known for out-of-this-world sunsets, year-round summer weather, and bright blue water, the Florida Keys (including the popular tourist destinations of Key West and Key Largo) are great for those who want a Caribbean vacation without the hassle of an international flight. The archipelago is actually a chain of hundreds of islands off the Florida coast that offers a plethora of activities for the just-married. The beaches are some of the best in the country, with vast turquoise waters that extend for miles. The ocean is ripe with sea life waiting to be discovered whether you choose to snorkel, swim, or sail.
Beaches here are not the long, white, sandy stretches that you imagine. The majority are bordered by mangroves on one side and coral reefs offshore. That makes them unique, but keep this in mind if you're looking for the stereotypical tropical beach. You can rent a car and drive to Bahia Honda State Park where a few sandy beaches can be found. Beyond the water, the Keys are home to incredible nightlife. You can take a booze cruise at sunset, catch a drag show, or just hang out at one of the numerous saloons. And of course, don't miss Hemingway's House, the Key West Lighthouse, and the Little White House, a quirky presidential museum.
Lake Champlain, Vermont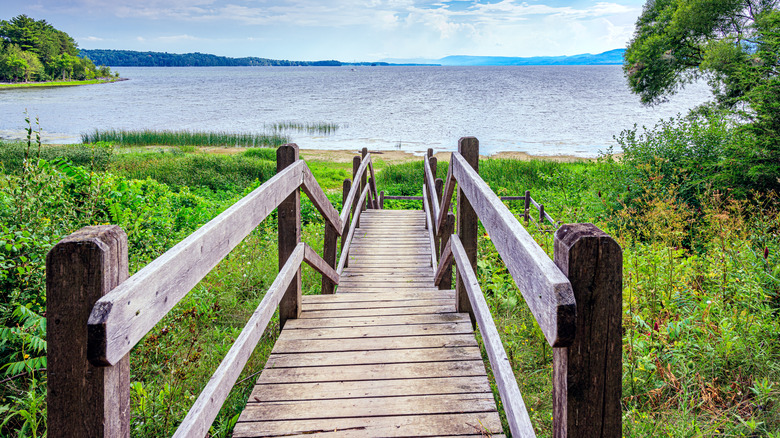 Phill Truckle/Shutterstock
Quiet and verdant Vermont might not be the first place that comes to mind for a honeymoon, but it is an exceptional destination for couples, especially in the fall. Lake Champlain in particular is an absolute dream for newlyweds wanting an easy, nature-oriented trip. Set between the Green Mountains and the Adirondacks, the lake is 120 miles long with 587 miles of shoreline. A favorite amongst Northeasterners as a holiday from the city, it is easily accessible from both New York State and Vermont. The main town along the shores is Burlington, which has a cute, walkable downtown, a delicious restaurant scene, and plenty of warm B&Bs to choose from.
If you want a quieter escape post-wedding, rent a cabin outside of town, ideally on the lakeshore. The area is a haven for outdoorsy couples, with many activities available. You can rent a stand-up paddleboard, kayak, or sailboat to get out on the water or hike Red Rock Park, Grand Isle State Park, and Split Rock Forest. Once you've had your fill of nature, you can rest and refresh at one of the numerous wineries, breweries, and apple orchards in the region. And of course, watching the sunrise or sunset during peak fall foliage season over the water is always a good idea.
Big Sur, California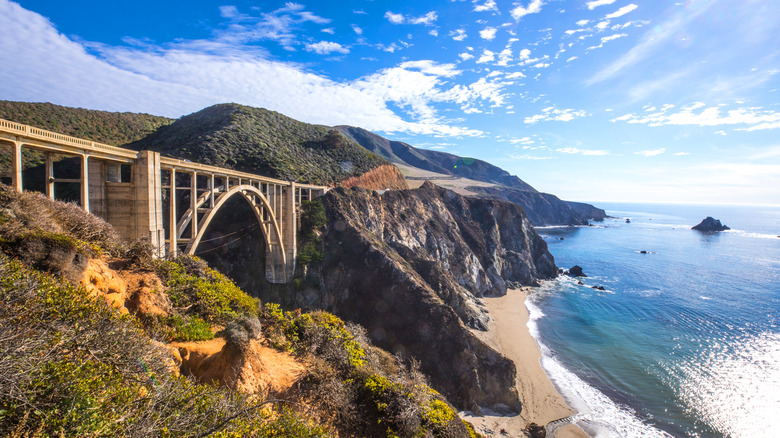 Leopatrizi/Getty Images
Along the West Coast's most scenic highway lies the iconic Big Sur, a stunning spot for honeymooners. You could stay at one of the many accommodation options and spend your days not doing much more than allowing the sound of crashing waves to wash away any remaining wedding stress. However, the Californian coast shines best as a road trip destination; so for the best experience, rent a car. You have a few base options to choose from. There's the trendy Carmel-by-the-Sea to the south, where the Bay Area's wealthy enjoy walking the long stretch of white sand before dining at upscale bars and restaurants. Alternatively, there is the more laid-back San Simeon and Monterey, where you'll still find pristine beaches and high-quality dining options, with less pretension. And don't miss the 17-mile drive, where you pay $11.25 to pass through Pebble Beach Golf and Resort for some of the best views along the coastline.
If luxury and seclusion are what you and your partner are hoping for, then stay at one of the smaller and more intimate lodges located right in Pfeiffer Big Sur State Park. Here, you'll be well located to explore the surrounding nature and enjoy a lesser-developed section of California. The park is also home to some of the best glamping options in the U.S., including yurts.
Mackinac Island, Michigan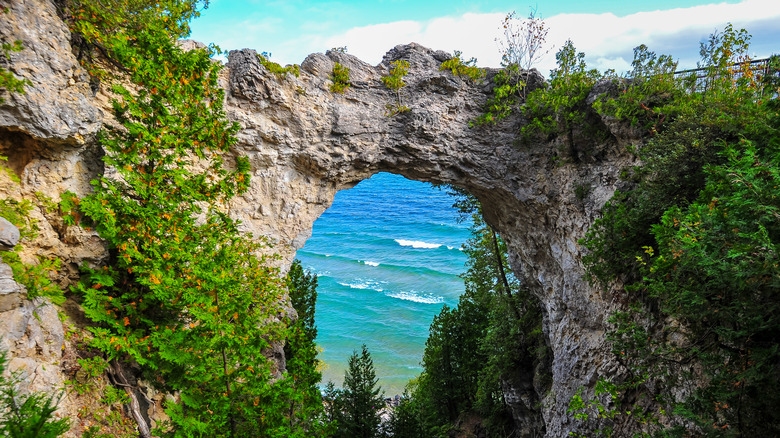 Narrow Window Photography/Shutterstock
Michigan is another less-thought-of place for romantic trips, but it's gaining popularity every year as the state's reputation for breathtaking nature and clean lakes spreads. Mackinac Island is especially good for newlyweds looking for a special holiday, as it is relatively remote but still has numerous luxury options. It is still very much an island, so don't expect the liveliness you might experience on a Florida Keys or New Orleans honeymoon. However, Mackinac Island has its charms for couples who just want some quality time together.
The state park has a massive forest that leads to a classic Michigan coastline, with steep cliffs and endless lake views that make it a fantastic walking location. This is juxtaposed by the somewhat out-of-place Victorian architecture that comprises most of the historic center of the island. And don't forget to try Mackinac fudge, a local staple that will delight couples with a sweet tooth!
St. Simons Island, Georgia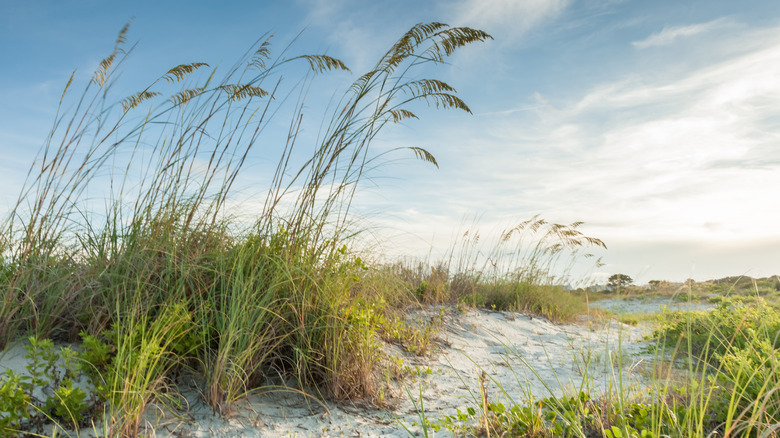 Beachcottagephotography/Getty Images
Just over four hours from Atlanta lies this quiet and calm isle. St. Simons is known by Georgians as a little slice of paradise, home to brilliant sunsets, secluded beaches, and outdoor recreation that set it apart from the rest of the state. It is very much still the South though, with large oaks draped with hanging moss dotting the region and a hot and humid climate. This natural beauty is a gorgeous background to the St. Simons Lighthouse and Fort Frederica National Monument, both worth visiting to learn about the area's history. 
St. Simons is a place that lends itself to slowing down, where you can go horseback riding, hiking, biking, or golfing, but if all you want to do is sit and watch the waves, it's perfect for that, too. You won't find the large resorts that make up the majority of accommodations on neighboring Jekyll Island, but rather cozy inns that provide the perfect atmosphere for honeymooning couples.