This New York Destination Is A Great Spot For A Fall Wine Vacation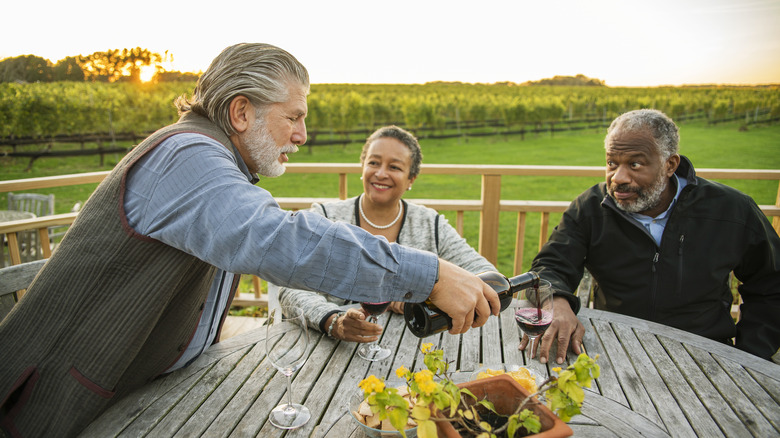 Alex Potemkin/Getty Images
When you think of taking a fall trip to wine country, New York might not be the first place that pops into your head. California's Simi Valley, a large chunk of France, and Australia, sure, but probably not 75 miles east of Manhattan. As it turns out, that's a mistake. The North Fork of Long Island is a wonderful place to take a trip to sample the fruits of the vineyard while you take in the autumn leaves changing color and maybe do some apple picking on the way. 
Long Island has sandy soil and weather that is particularly conducive to red blends, like cabernet sauvignon and merlot, though there are some beautiful whites as well. There are more than 55 wineries on Long Island, with many of them located on the North Fork. If you're not familiar with the area, Long Island's western end is made up of the five boroughs of New York City. The eastern end of the island splits into two forks. While the South Fork is the home of celebrity summer hangout the Hamptons, the North Fork is the one we're looking at today. Not only does it feature wonderful wines, but there are a number of ways to get there — and two don't involve driving.
How to get there
Alexi Rosenfeld/Getty Images
When you're going on a winery tour to drink, you probably don't want to do the driving yourself. If you've got a designated driver, though, or you plan on staying overnight, it's about an hour-and-a-half trip from John F. Kennedy International Airport, depending on traffic. It's much longer if you go during the summer season (with all the Hamptons traffic), but the fall is a little easier. 
The second way to get there is the Long Island Railroad (LIRR), which you can pick up in Manhattan at Pennsylvania Station (Penn Station, if you're a local). It can be around three hours give or take, depending on where you get off the train, but it's a nice ride. It can be packed in the summer as well, but the ride is really pretty in the fall where the trees can sometimes change color until November. 
The third way to get to the North Fork is a New York institution, the Hampton Jitney. This is a bus that has been taking people to the Hamptons since the 1970s, and they have a North Fork route from New York City. There are refreshments on the bus as well. It requires reservations, and there are rides where you can't use your cellphone, but that's probably not a bad thing. The Jitney has a deal with RGNY winery and allows you to order bottles for your trip. RGNY often has wine tours available. 
Some vineyards to visit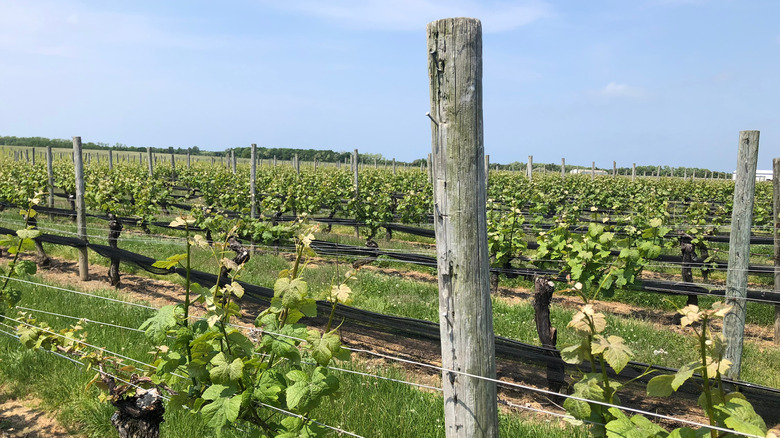 Matthew Virgilio/Shutterstock
Here are a few of the wineries on the North Fork. The aforementioned RGNY launched in 2019 and is named for family member Rivero González. It features red and white varietals, hosts weddings, and has a tasting room. They do a Dia De Los Muertos, or Day of the Dead, celebration with hors d'oeuvres and a multi-course dinner with an ofrenda, or alter, for you to place a photo of a loved one who has passed, honoring the Mexican tradition.
Pindar Vineyards has been around since 1979. They make 70,000 cases of their award-winning wine a year and is owned by the Damianos family. They offer wine tastings and tours, as well as weddings and receptions. Castello di Borghese Vineyard & Winery is the oldest one on Long Island, started in 1973 by the Hargrave family, which was later sold to the Borghese family. It was renamed in 1999. They have won awards and feature sparkling, white, red, rosé, and dessert wines. There are events, wedding hosting, and private tours every day, in groups of no more than six.
Bedell Cellars was started by the Bedell family in 1980 and later sold to the Lynne family in 2000. It is one of the oldest on the North Fork. You don't need reservations for their winery. They have both red and white varieties and host weddings and events like live music, a fitness class (with wine after), and even a sunset cruise.