The Best Itinerary If You Only Have One Day In New York City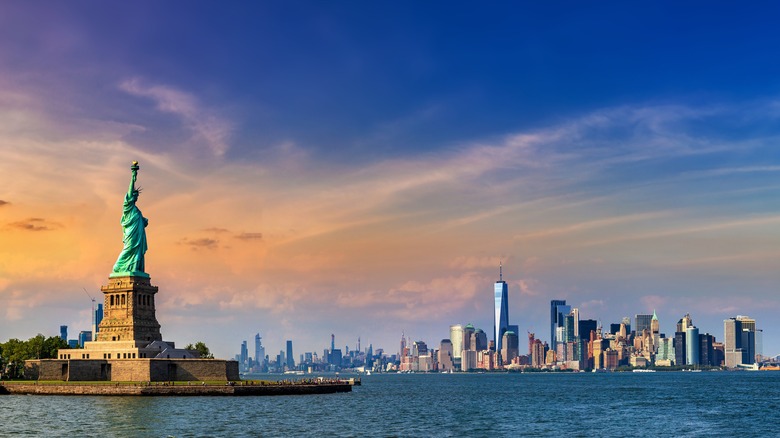 Sergii Figurnyi/Shutterstock
The most populous city in the country is also a destination filled with things to do. New York City is truly a place of superlatives — not just with its sheer volume of residents but also with the highest building, the biggest public school system, and the largest museum in the United States. Such is the breadth of offerings here; a visitor could easily spend a week in the Big Apple and only scratch the surface of all the city offers. There are multicultural sights, restaurants serving food from all over the world, and distinct neighborhoods, each with its own ambiance and feel. 
But not all visitors have the luxury of time, and often, travelers find themselves with only one day to spend in NYC, which is better than no time here. Getting around is a breeze thanks to the great public transit system anchored by an efficient subway. That said, New York might just be the most walkable city in the country, and for those who like to pound the pavement, there is no more liberating and pleasurable way of getting from A to B. It's also easy to cycle around, and CitiBikes costs $19 for 24 hours. In just one day, a tourist can take in many of the city's iconic places and pleasures, especially if they make it a long, packed day — in the city that never sleeps, would you settle for anything less?
Fuel up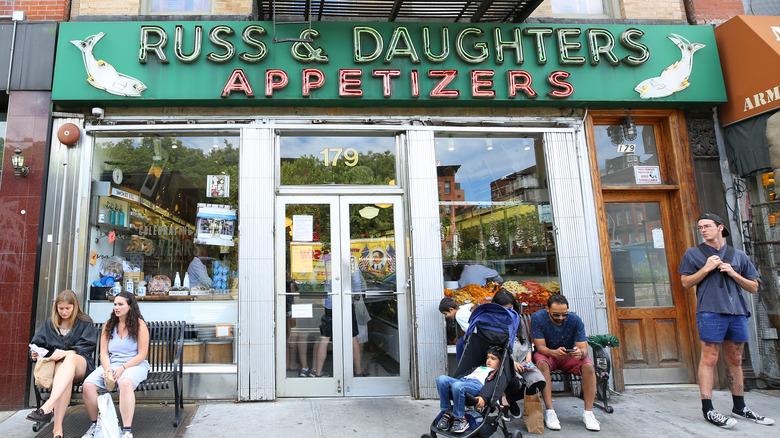 Leonard Zhukovsky/Shutterstock
New York has plenty of iconic breakfast places, from independent doughnut shops to famous pastry haunts, but few sizes up to Russ & Daughters. On a stretch of East Houston Street, where old brick tenement buildings mix with glimmering new glass towers, this beloved spot has been in business for over a century. The neon sign is beautifully old-school, and the interior is packed with delectable items to nibble on. Bagels are always a big hit here, baked fresh and served with a variety of cream cheeses (including vegan options). One of the most famous combinations is to get a bagel with lox generously spread in the middle. 
For seafood aficionados, the store sells a variety of salmon, caviar, and smoked fish. Aim to get here at opening time, 8 a.m., to allow yourself enough time to work through today's delights and sit on one of the benches in front of the shop to watch the morning commuters hustle by.
Set sail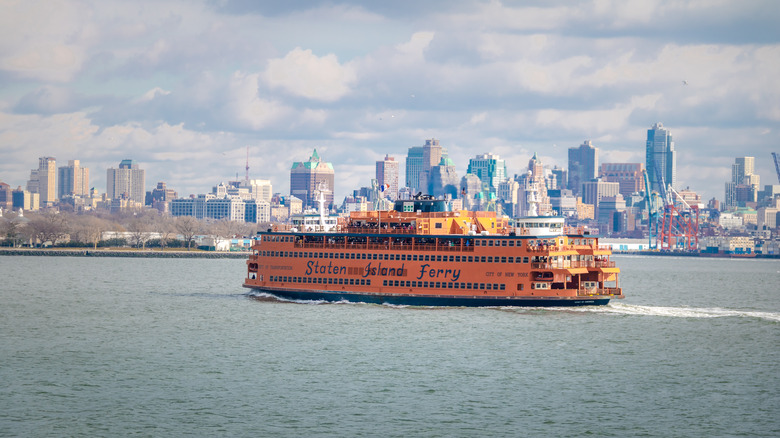 Diego Grandi/Shutterstock
From the bountiful breakfast spot, the easiest way to the next stop is to take the southbound M15 bus from the stop nearby on Allen Street. Take it to its final destination, South Ferry. Once off the bus, head to the Staten Island Ferry, which will let you kill two birds with one stone — see how the city is linked to the water and get some shots of the Statue of Liberty without having to take a cruise to it. The ferry is free and runs all day and night, though with more frequency during the weekday rush hour window. 
It's a fun boat ride that lets visitors get some splendid views of Downtown Manhattan, the Statue of Liberty, and the Brooklyn waterfront (and plenty of photos of them, too), and also serves a practical purpose. For Staten Island residents working in Manhattan, it's a lifeline, the quickest way for them to get to their jobs, since there is no subway connection between Staten Island and the four other boroughs of New York City. If the weather is good, stand in the semi-outdoor area at the end of the ferry; the photos from here will also be clearer than if taken from inside. After arriving in Staten Island, exit and return to Manhattan on the first ferry back.
Walk this Broadway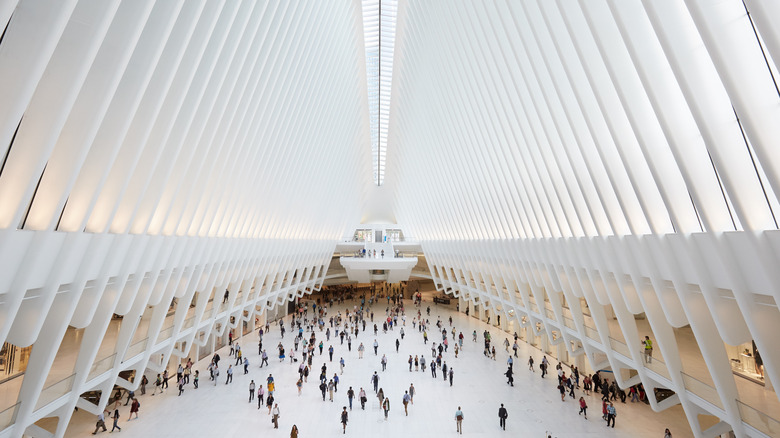 Andreaastes/Getty Images
Once you've returned to Manhattan, it's time for the serious walking to begin. Head north up Broadway a short distance to the Charging Bull statue, set in a little cobbled-stone triangle, a few minutes walk from the ferry terminal. Made of bronze and sculpted by an Italian artist, it physically and brazenly represents the financial muscle of the city, especially the nearby Wall Street. Keep walking north to Trinity Church, a striking, chocolate-colored Gothic Revival pile that has stood in this spot since the 1800s and sits across from Wall Street. Of note is the stained-glass window facing Broadway, its hues spreading across the red spectrum, which was added in 2022. 
After admiring the church's fine glasswork and lofty spire, stroll up to One World Trade Center (sometimes referred to as the Freedom Tower), the tallest building in the United States, and the austere, reflective 9/11 Memorial & Museum, which are harrowing and deeply moving. Next to here, the Oculus is a rhapsody in white, a transportation hub, retail center, and grand piece of public artistry, with ribbed steel columns looking almost like the innards of a mammoth creature. Action-movie fans might recognize the sensuous contours of the place from a sequence in "John Wick: Chapter 2".
Span decks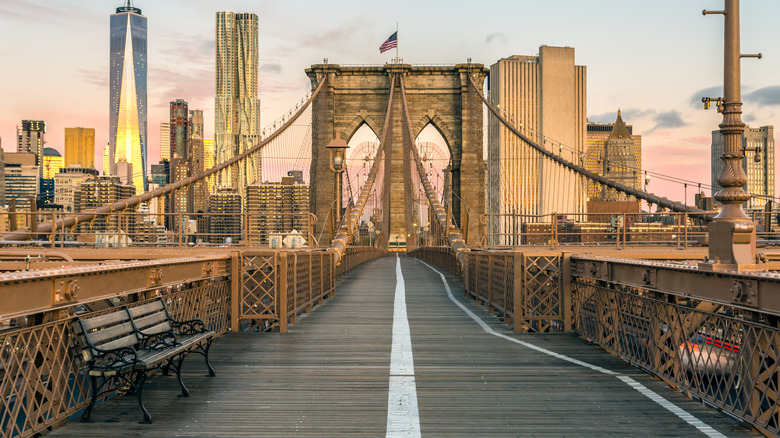 Onfokus/Getty Images
From the Oculus, it's a 10-minute walk to the Brooklyn Bridge entrance, possibly the city's most famous bridge. While the idea of walking over the bridge into Brooklyn to spend some time there is certainly appealing (and the ice cream at Van Leeuwen under the bridge on the Brooklyn side is delicious), you're on a tight schedule, so plan on only walking halfway along the bridge for the de rigueur photo ops. You'll see the Downtown skyline, the Statue of Liberty, Governor's Island, and more. Thankfully, you won't have to contend with the sometimes-testy cyclists that shared the walkway for many years — a dedicated bike lane was opened in late 2021, separating the bikers from the walkers. 
The bridge itself is incredibly attractive. It was the longest suspension bridge on the planet when it opened in the early 1880s, with thick cables and sturdy stone arches creating a fantastical web-like functional sculpture. From the halfway point, the views take in three of the city's five boroughs, as well as a number of NYC landmarks.
Gambol with an amble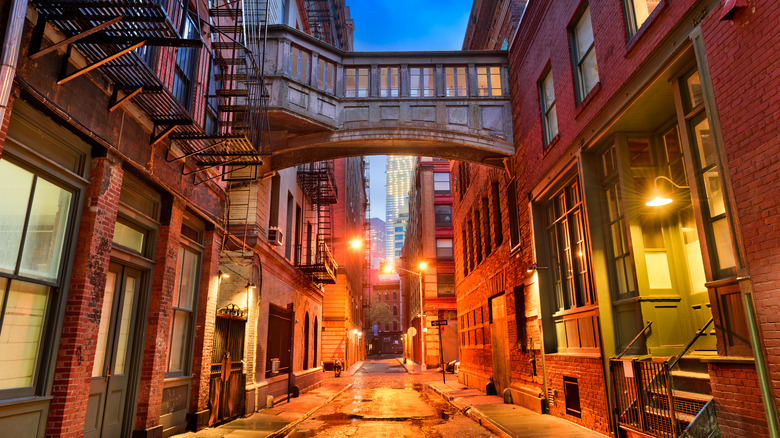 Seanpavonephoto/Getty Images
Return from the bridge and walk west, and soon, you'll come to the cobbled streets of Tribeca. This area was once the domain of warehouses and factories, and the large buildings are evidence of the commerce coursing through this part of the city. But as the industrial might of New York City began to wane, the buildings started to empty until they were given a shot at life through large-scale renovations, turning them into chic apartments. A loft in Tribeca (which is derived from Triangle Below Canal — TriBeCa — a description of its physical location in the city) is often seen as the pinnacle of New York real estate, a huge space in a very desirous location. 
It's a lovely place to walk around; the area sometimes feels like it belongs in another era, with cobblestone streets and large angular buildings that feature iron detailing and sturdy brick and stone exteriors. If hunger strikes during your travails around this neighborhood, you'll find plenty of places to eat along Greenwich and Hudson streets.
A central park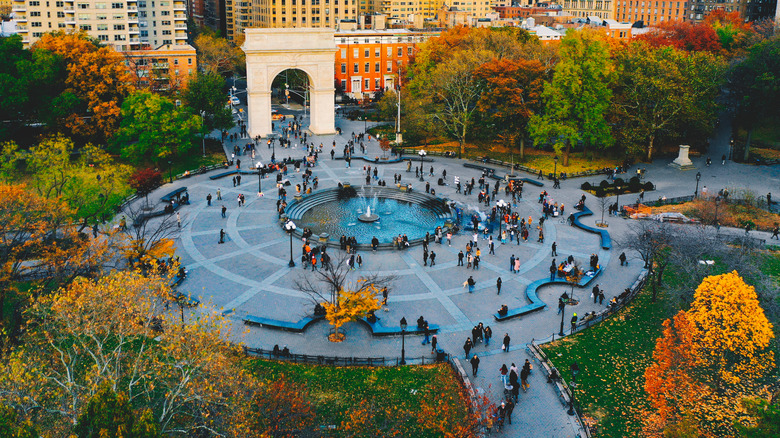 Agnieszka Gaul/Shutterstock
From the north end of Tribeca, up on Canal Street, it should take about 15 minutes by foot to get to the next location, Washington Square Park. Located at the end of Fifth Avenue (the road that divides east and west Manhattan), Washington Square Park is populated with New York University, dog walkers, delivery drivers, rollerbladers, musicians, pranksters, chess players, and a motley assortment of New Yorkers, and is always a hub of activity, day and night. Plenty of movies have been shot here, including "When Harry Met Sally," the independent flick "Kids," and "Ghostbusters II." Take a few minutes here to sit down and watch the human circus unravel before your eyes. 
When getting here from Tribeca, you'll pass through another former warehouse district, Soho (derived from South of Houston, or SoHo), where there are many more places to eat and oodles of fashionable shopping. Dominique Ansel Bakery, on Spring Street, is where the Cronut (a flaky, crispy, chewy cross between a croissant and doughnut that is irresistible) was invented; stop by to get one if you feel your energy is flagging.
Get high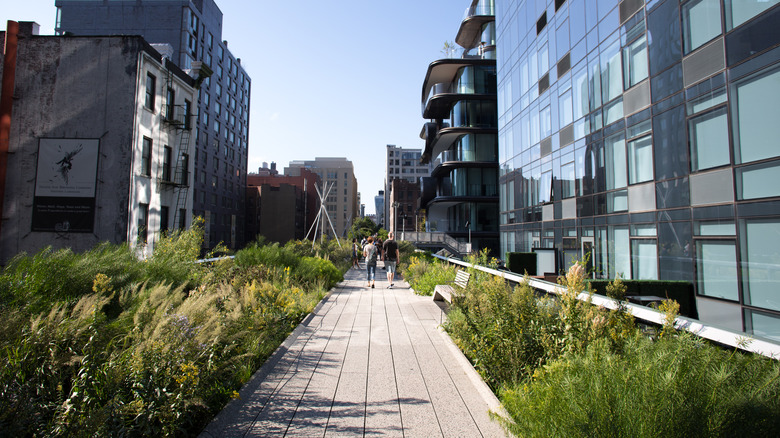 Jannhuizenga/Getty Images
Wander through the quiet, leafy streets of Greenwich Village and the West Village — and past some costly real estate — to the High Line. A gorgeous urban park created on former rail tracks, it's a real treasure, with weaving pathways elevated above the streets, compact gardens and slashes of greenery, pieces of artwork, lots of places to sit along the way, and the chance to look into some fancy, designer apartments that flank the walkway en-route. 
It's not a huge park, opened in 2009 and spanning a little more than 20 blocks, but it is perfect for a casual stroll. A tangential stop you can make during part of it is Little Island, an engineering marvel on the Hudson River. An undulating park that sits just offshore, it was built on concrete pillars shaped like tulips that support a realm of paths, gardens, seating, and facilities, with amazing views down the west side of Manhattan as a pay-off.
And now get even higher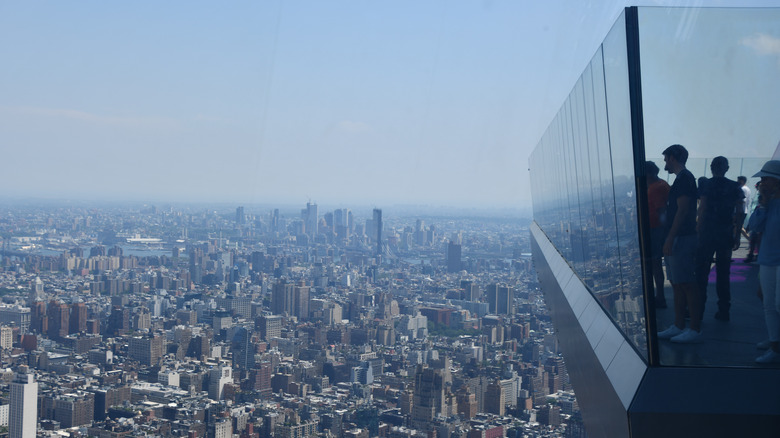 Ritu Manoj Jethani/Shutterstock
The north end of the High Line terminates at Hudson Yards. This former rail junction was recast as a destination with commercial and residential buildings, marquee shopping, and show-stopping architectural structures. The debate still rages about whether Hudson Yards has been a success, but it does feature the Edge, a sky deck that will give visitors the kind of iconic city view they might fantasize about and the type that can take your breath away. Located near the top of the pointy, glass-sheathed tower, 30 Hudson Yards, the Edge sits more than 1,000 feet above the ground and has uninterrupted views over all parts of the city. It even features a section with a glass floor that visitors can stand on or lie on while taking a selfie for an even more dramatic effect. 
There is one spot on the deck, right at the end where the glass panels meet, where travelers can stand and almost feel like they are floating in the sky. Sunset is honestly the best time to visit the Edge, but you're on a schedule and will have to grab your chance while you can. We suggest buying a Flex Pass ticket so you can visit whenever you arrive rather than be wedded to a specific time slot.
Land some landmarks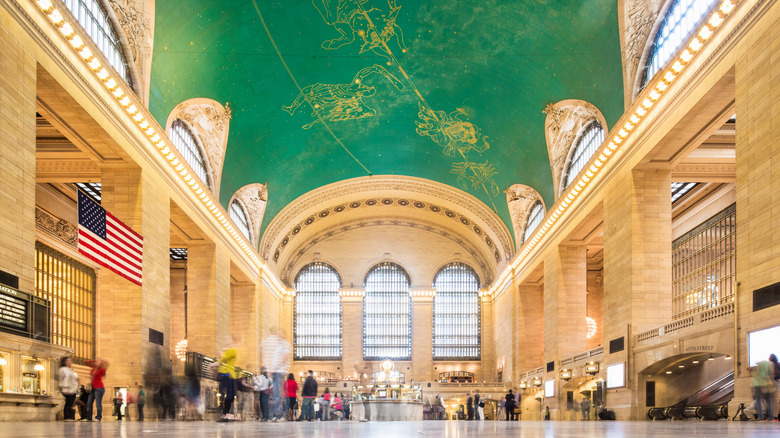 Tomml/Getty Images
The saunter to your next destination will bring you to some real Big Apple icons. Walk along 34th Street for a few blocks, and you will soon encounter Penn Station, Madison Square Garden, and Macy's (maybe the most famous department store in NYC). When you hit the Empire State Building, take a left north up Fifth Avenue. In less than 10 minutes, you will see the New York Public Library main branch on your left, the one with the stately columns at the entrance, and the famous lion statues outside. Named Patience and Fortitude, these lions are made of marble and have sat in this spot since 1911. 
At 42nd Street, take a right and walk a few more blocks to Grand Central Terminal, a major transit hub for commuters who arrive from north of the city. The exterior is certainly pretty, but the interior shines a Beaux-Arts fantasy with columns, arches, and a gleaming central clock tower. Be sure to look up to see the galaxy recreated on the ceiling in the Main Concourse, an astounding achievement.
Ride the rails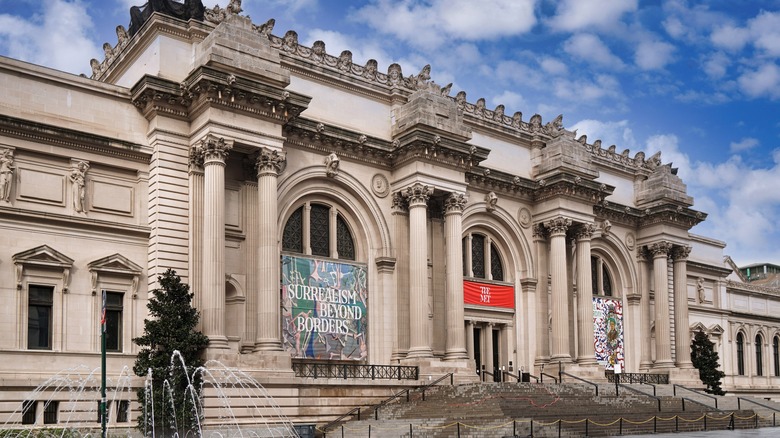 Spiroview Inc/Shutterstock
It's time to experience another bit of NYC public transit. From Grand Central, you can hop on the subway — you have to do it once — taking either the 4,5 or 6 train Uptown to 86th Street (on the 4 and 5 trains, it is only two stops; on the 6 train, it is five stops to 86th Street). Beyond the practicality of getting to your next destination quickly, taking the subway checks off another quintessentially New York experience: a ride on the largest subway system in the country, one with more than 650 miles of tracks, reaching the northern tips of the Bronx to the beaches of Brooklyn. 
Exit the subway station and head west to Fifth Avenue and 84th Street, where you will stumble upon the Metropolitan Museum of Art, the largest museum in the United States. You can easily spend a day at the Met, but an hour will be enough to expose you to some of the highlights — the Temple of Dendur, which is more than two millennia old, paintings by Dutch masters like Vermeer and Van Gogh, and an ancient mural of a Buddha, from China.
Go green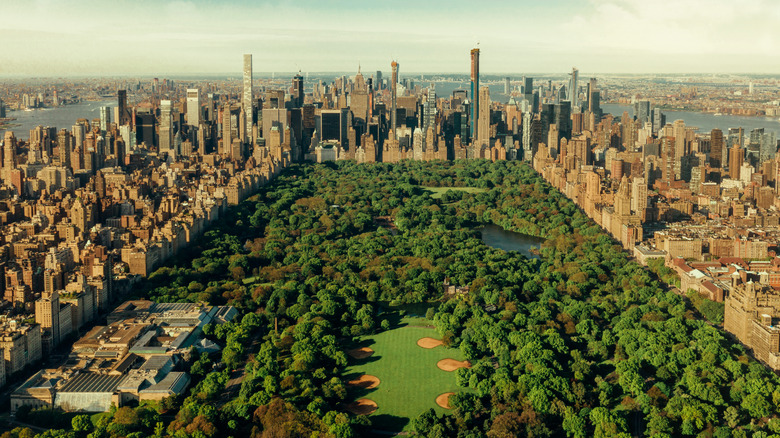 Orbon Alija/Getty Images
After poring over, with blinding efficiency, some peerless artwork, it is time to delight in the nature in Central Park, which is just behind the Met. There is a lot of ground to cover but start with a little sit-down to catch your breath and take in the beauty of the surroundings. The park can almost feel sunken, encircled by tall towers and buildings on all sides, but it's still an uplifting part of the city, with grand sweeping lawns and interesting diversions, and has featured in many films. Don't miss Belvedere Castle, a small castle built from local schist rock and sitting atop a craggy base. 
The Bethesda Fountain is another park icon, with a bronze sculpture topping it and a large plaza around it — yes, action fans, "John Wick: Chapter 2" was also filmed here. One of the finest views comes from the Sheep Meadow, in the southern half of the park, where skyscrapers along Central Park South and beyond rise in sharp focus.
Look into the light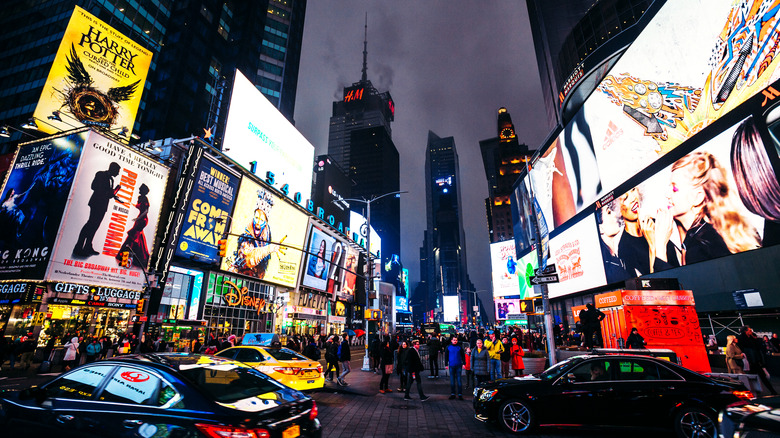 Peeterv/Getty Images
Wander through the park to the south side and down Seventh Avenue to Times Square, the shiniest — some say tackiest — part of the city, but an essential stop. While Times Square may feel very bright and new today, it has, in fact, endured a long history. The neighborhood was once known as Long Acre but took on its current name in the early 1900s when the "New York Times" moved its operations here, in a triangular building between 42nd and 43rd Streets (the building where the ball drops on New Year's Eve each year). 
Theaters moved into the district, but the Great Depression stymied their success, and soon Times Square became a hub for the seedier side of city life. From the 1980s, the area slowly began to change, and today, with pedestrian zones, large brand-name stores and attractions, and a vibrant theater scene (and audience), Times Square has established itself as the "Crossroads of the World." At night, with all the screens and signs lit up, bathing everyone and everything in bright light, the effect feels almost pulled from a retro-futuristic science-fiction film.
Stage bliss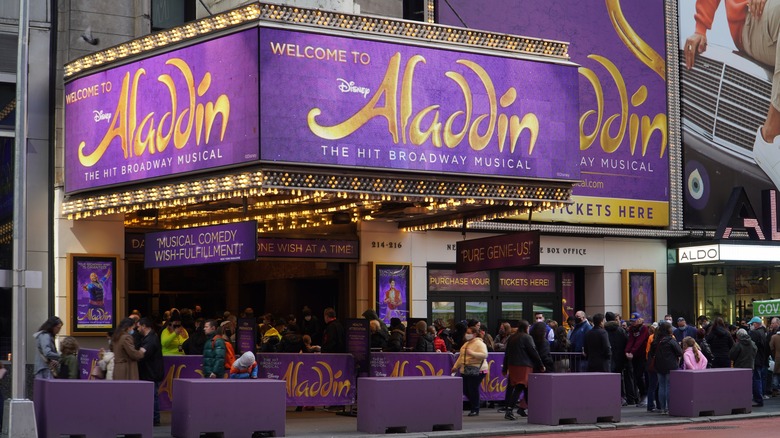 RockinWorks Creative/Shutterstock
It's been a long, step-filled day and time for you to take a seat. But that doesn't mean you can switch off. Quite the contrary, you'll need to give the performers on the stage your full attention because now is when to take in a Broadway show (hopefully, you won't be here on a Monday night, when many shows have the night off). In the avenues and streets around Times Square, visitors will find the pulsing heart of the mainstream American theater scene, with long-running musicals and intimate dramas, rip-roaring comedies, and rousing adaptations of popular movies. 
There is something for everyone, and while tickets can be steep, you don't have to refinance your home to snag a few seats — the discount booth TKTS, set under the red stairs at Duffy Square, offers cut-rate tickets for many shows every day. What's not to love about seeing a professional production for a steal?
Drink and be merry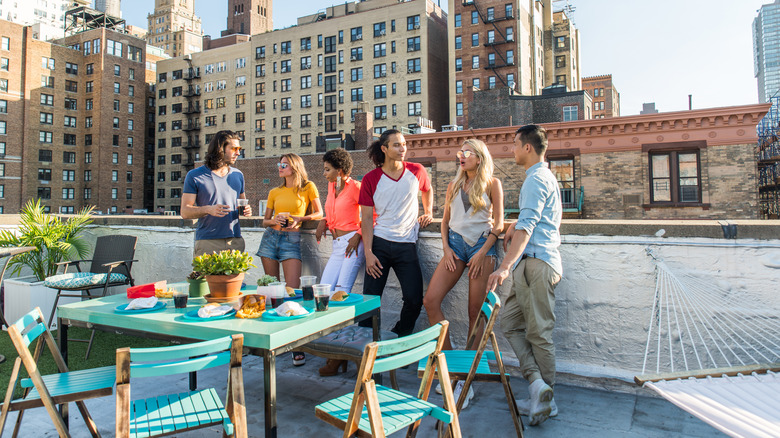 oneinchpunch/Shutterstock
Hopefully, you'll be on a bit of a high after the show, as pumped up as the performers you just watched. With all that latent energy, toast your success in sticking to today's packed schedule with a drink at a rooftop bar near Times Square. Thankfully, you have many to choose from. Magic Hour Rooftop Bar & Lounge, part of the Moxy Times Square hotel located a few blocks south of Times Square, has views of the Empire State Building and a few different areas offering varying vibes (from playful to chic). 
The Skylark is set 30 stories up, has clear vistas of a number of city landmarks from the outdoor terrace, and a fabulous cocktail menu. Bar 54 at the Hyatt Centric Times Square New York has specialty libations like the Summer of Sin, made with infused whiskey, blood orange liqueur, and cantaloupe. Cheers to a day to remember.