6 Must-See Tourist Attractions In Niagara Falls That Aren't The Waterfall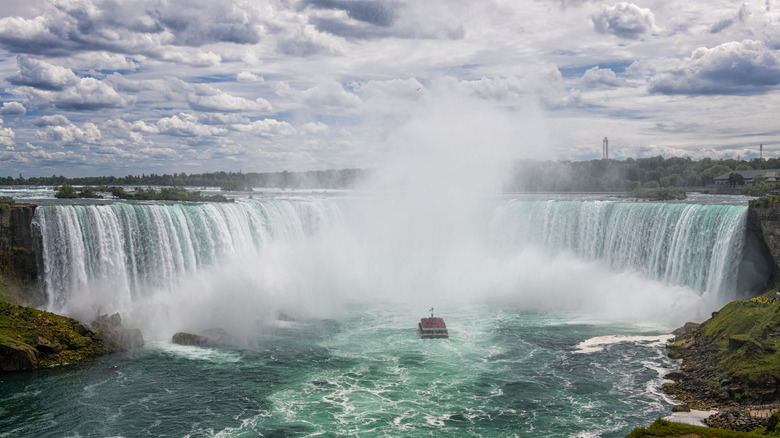 No_limit_pictures/Getty Images
You've probably heard of Niagara Falls, but if you've ever planned a visit, you might have no idea what else to do in the area other than seeing the falls themselves. The falls are a showstopper, after all, and not much can compete with the pure joy and entertainment visitors get simply from being in their presence. It's well-known that Niagara Falls has views from both Canada and the United States, and many travelers choose to see their beauty from both sides. Whether you're in the U.S. or Canada, you'll be surprised to know the areas surrounding Niagara Falls offer plenty to do.
From tasty regional bites to adrenaline-junkie activities to scenic nature reserves, there are activities for all types of travelers. There are even free activities for those traveling on a budget. Niagara Falls is a great place to do so since seeing the falls themselves is entirely free.
Canadian side: Niagara Glen Nature Reserve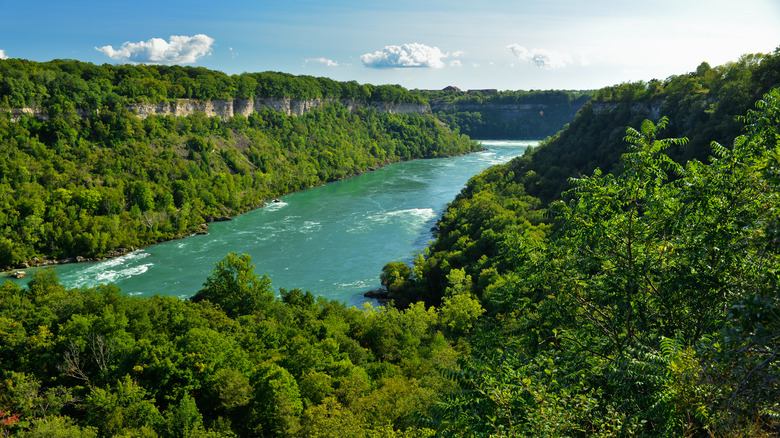 lastdjedai/Shutterstock
The falls themselves are magnificent, but they're certainly not the only beautiful outdoor activity to enjoy in the area. Niagara Glen Nature Reserve is part of the Carolinian Life Zone, which is a serene nook of paradise perched above the Niagara River. Located in Ontario, Canada, this outdoor activity makes for a great time if you need a break from the dramatic (and wet) effect of the falls.
Within the reserve, visitors can opt for a guided hiking tour. Guides educate hikers on the flora and fauna of Niagara Glen Nature Reserve, as well as wildlife native to the area and some fun facts about the geology. There are hikes available for all levels of hikers.
For a little more of a physically labor-intensive activity, try bouldering. Similar to rock climbing, bouldering at Niagara Glen Nature Reserve does require a permit, which costs $25.50 for one day or $45 for an annual pass. The permit can be purchased directly on the Niagara Parks website.
Canadian side: Zipline across the falls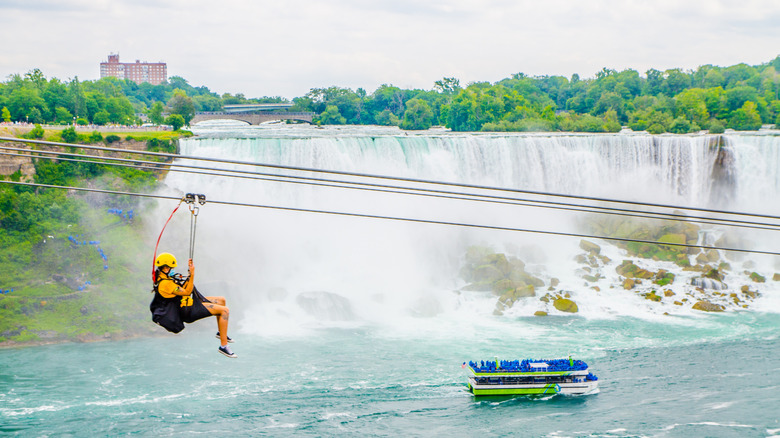 Marc Dufresne/Getty Images
It's one thing to see the falls. It's another thing to zipline across them. If ziplining across one of the world's largest sets of waterfalls sounds like what you need in your life, you're in luck. WildPlay Niagara Falls Zipline to the Falls offers guests seven or older the experience of seeing the falls in arguably the most unique way possible. You'll want to capture the fun on camera, which the company makes easy with their souvenir photos and videos (which are available for purchase at an additional fee). You can also bring a GoPro and a selfie stick, but make sure you use a trusted clasp in case you lose the stick's grip. Another idea to capture this wild ride on camera is to strap a GoPro to your ziplining helmet with the appropriate mount.
This is a popular activity near the falls, so if you want to minimize your wait time, you have two options. You can buy a skip-the-line pass, but a cheaper option is to arrive around 10 A.M. or after 4 P.M. for your best chance at shorter wait times.
Canadian side: ride a helicopter over the falls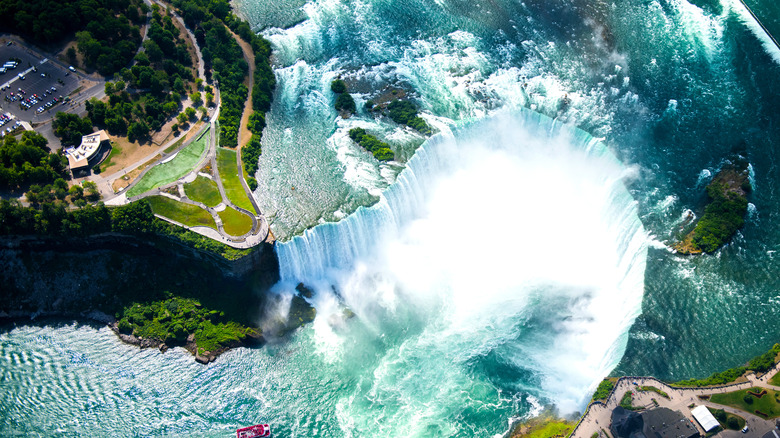 TRphotos/Shutterstock
Okay, we might have just said that one of the most unique ways to see the falls is by ziplining across them, but there's another stellar way to catch an atypical view of their magnificence. Riding a helicopter over Niagara Falls is a memory that will stay seared in your brain forever due to both the adrenaline rush and the sheer excitement of catching a proper aerial view of Niagara Falls. 
Niagara Helicopters, located in Ontario, offers helicopter tours over Niagara Falls. Though the ride is short at only 12 minutes long, it's a memorable and colorful experience. At one point. the helicopter switches directions as it follows the route of the Canadian Horseshoe Falls. When this happens, rainbows are said to appear everywhere. The price per adult is $180 CAD (approximately $133 USD). Children are welcome to enjoy this activity, as well, and the price per child is $110 CAD (approximately $81 USD). If you want to ride with a child under the age of two, they ride for free.
New York side: Sip vino on Niagara Wine Trail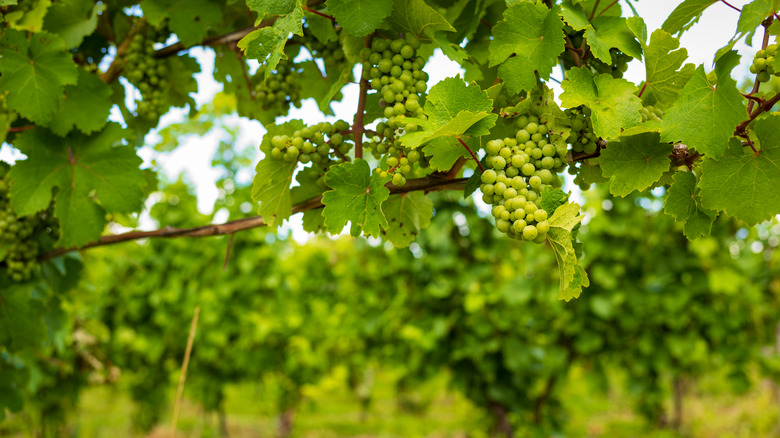 JWCohen/Shutterstock
Many might associate Niagara Falls as the ultimate family-friendly destination, but it can also make for a great girls' trip. Whether it's a bachelorette party, a birthday party, or just a reason to celebrate, a trek to New York's Niagara Wine Trail is required if you're coming here with your best gal pals.
Niagara Wine Trail covers over 60 miles of terrain from Monroe County to Niagara County, with Orleans County in between. While the nearby Finger Lakes are known to be a stellar wine destination, this underrated region produces wine so robust that it has been compared to Alsace, France. The most common varietals found at the 12 participating wineries are Riesling, Pinot Gris, Sauvignon Blanc, Pinot Noir, Cabernet Franc, and Chardonnay. The wine produced here is vinifera-style, a common Old World European-style grape. Guests can also try local mead and cider. 
New York side: Indulge in Buffalo's food scene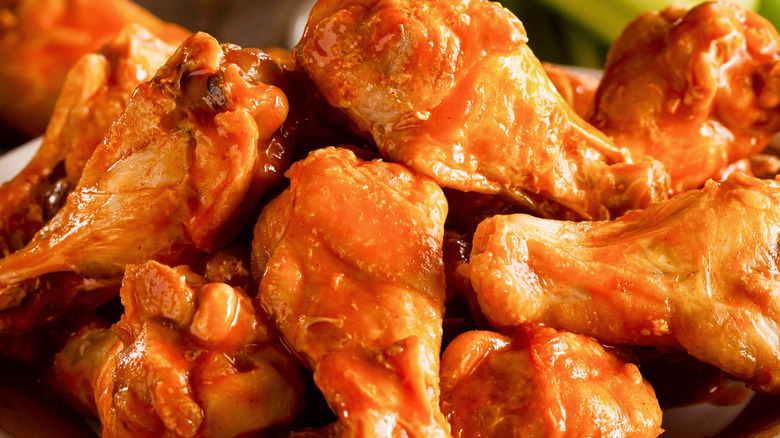 KJ Kohs/Shutterstock
There's no arguing that the quality of travel vastly improves when one is well-fed, and luckily for those visiting Niagara Falls on the United States side, one of the best under-the-radar food cities is within a stone's throw from the falls: Buffalo. You've probably heard of buffalo wings, and you've likely eaten them before, but like sipping Champagne in Champagne, France, eating buffalo wings in Buffalo just elevates the experience. Legend has it that buffalo wings were created in 1964 at Anchor Bar when one of the bar's owners, Teressa Bellissimo, needed a late-night snack for her son and his friends. Working with what she had, she cooked leftover wings in hot sauce; thus, buffalo wings were born. To this day, Anchor Bar prides itself on being "home to the original buffalo wing," so for the real deal, head over and try the wings yourself.
If spicy wings aren't your thing, Buffalo offers plenty more in its food scene. Beef on weck is another common dish found in the area. Beef on weck is sometimes described as the German style of a French dip, and the dish has roots in the large influx of German emigrants to Buffalo in the 1800s. The best place to try it is Schwabl's.
Buffalo also has plenty of breweries and many contemporary and fine-dining establishments. If you want to play trivia in a rustic dive bar setting, head to Founding Fathers Pub.
New York side: Cross the bridge from USA to Canada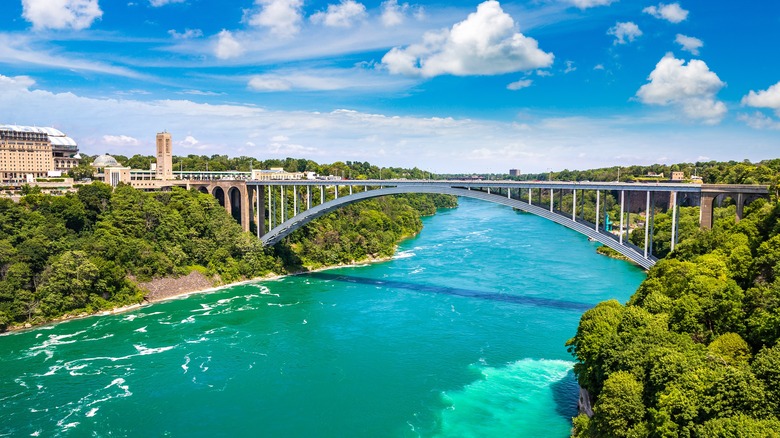 Sergii Figurnyi/Shutterstock
Many can say they've taken a plane, train, bus, or even an automobile to another country, but how many can say they've walked to one? Well, once you walk from the U.S. to Canada on the Rainbow Bridge, you can.
Despite looking massive and connecting two countries, the Rainbow Bridge is relatively small at only 950 feet in total length. Walking across takes approximately five to ten minutes, though you'll want to stop to take plenty of photos as you see the falls from different angles, so an estimate of 15-20 minutes is more likely. Take your time and enjoy the walk, but don't forget your passport, as you'll need it to get into Canada. You'll also want to ensure you're up-to-date on any visas or additional requirements depending on which passport you hold. For Americans, no tourist visa is needed.