The Best Wine Tasting Vacation Destination On The East Coast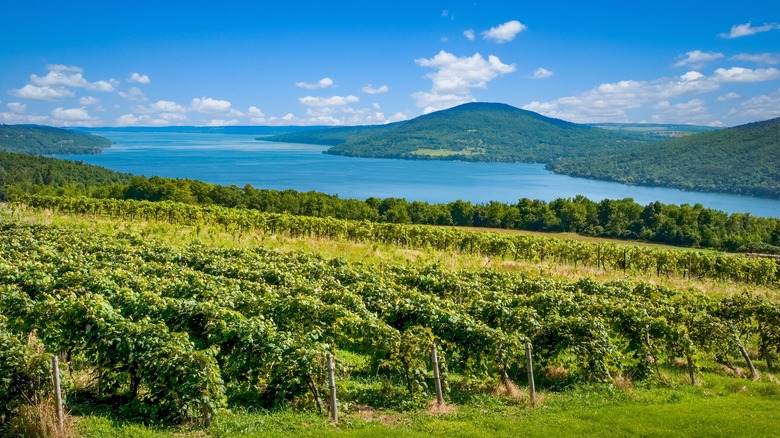 Jim Schwabel/Shutterstock
You might think New York is all city lines and skyscrapers, but the state is also home to one of the best wine scenes on the East Coast. New York's Finger Lakes region is a great destination for those who want to kick back and sip some vino while embarking on a budget-friendly getaway. There are a total of 11 Finger Lakes, but if you're looking to travel for wine specifically, the ones you'll want to focus on are Keuka Lake, Cayuga Lake, Canandaigua Lake, and Seneca Lake.
Home to approximately 144 wineries and producing around 55,000 tons of grapes each year, the Finger Lakes are home to some of the USA's best wines. If you've ever been curious about visiting one of the top wine destinations in the country, but don't know where to start, we're here to help. There's a Finger Lake for every type of traveler. Whether you're in the market for a luxurious experience, a girl's trip, a romantic getaway, or just a well-deserved vacation, the Finger Lakes is a destination for all.
Determining which Finger Lake is for you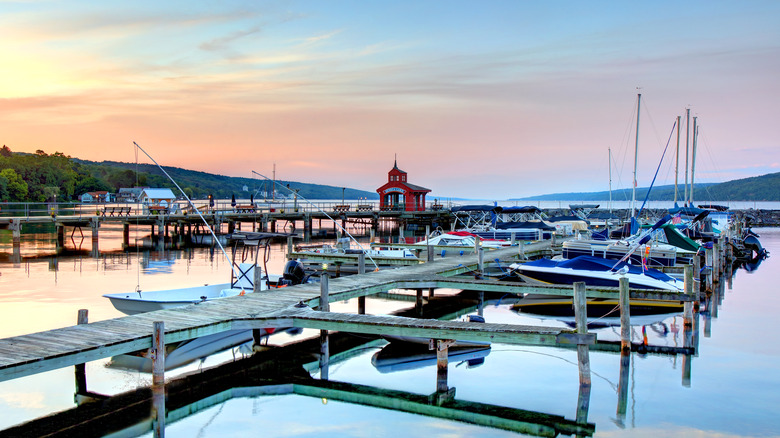 Denistangneyjr/Getty Images
Cayuga, Keuka, Canandaigua, and Seneca Lakes are each great for wine, so you certainly won't miss out on sipping some of the country's finest, regardless of which one you choose to base yourself out of. However, there are certain lakes that better suit specific needs over others.
For those who want to skip out on the debauchery of Las Vegas and Nashville and partake in a more refined bachelorette party, Seneca Lake's Three Brothers Wineries & Estate is a great place to celebrate. Seneca Lake is also home to some of the Finger Lakes' best wine, such as nearby Fox Run Vineyards and world-renowned Ravines Wine Cellar. For those interested in fishing, Keuka Lake is well-known for large trout populations, as well as landlocked salmon, largemouth bass, pickerel, and panfish. It is also home to the esteemed winery Dr. Konstantin Frank.
Cayuga Lake is great for getting outdoors. Cruise on the water with Discover Cayuga Lakes Boat Tours or School's Out Charters, or go for canoe, kayak, and paddling rentals with Paddle-n-More Rentals. Just make sure to hit the Cayuga Lake Wine Trail, with stops at Americana Vineyards, Montezuma Winery, and more. While not necessarily one of the primary wine-producing Finger Lakes, Skaneateles Lake is consistently voted the clearest lake in New York, providing drinking water to over 220,000 people in the region. It's also a great spot for luxury, with Mirbeau Inn & Spa offering over-the-top spa treatments in a pristine setting.
How to get there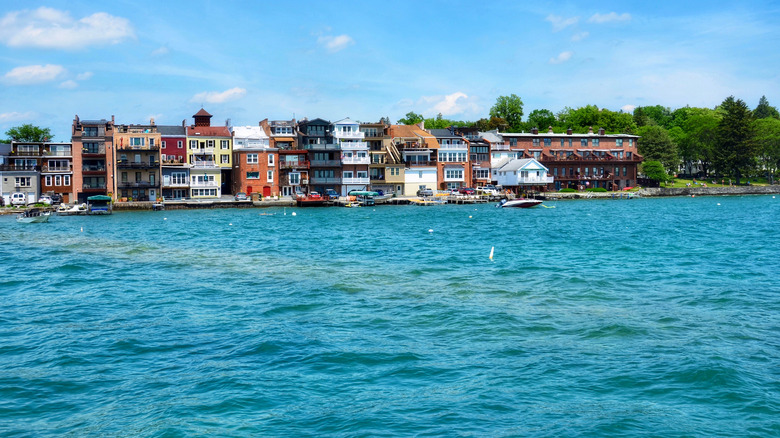 PQK/Shutterstock
There are a few ways to get to the Finger Lakes, and much of it will depend on which Finger Lake you are planning on spending your time at. The two closest airports to the Finger Lakes region are Frederick Douglass Greater Rochester International Airport (ROC) and Syracuse Hancock International Airport (SYR). From either of these airports, you will need to rent a car to drive to your designated destination, and the drive, regardless of where you are going, will be at least an hour. You can also take Amtrak to upstate New York, with stations in both Rochester and Syracuse.
If you are up to it, a road trip to the Finger Lakes is also a great option. While this will depend heavily on where your departing point is, driving through New York state is scenic regardless of which season you choose to schedule your trip in. In the fall, expect sunset-hued foliage, and in the winter, expect snow-capped mountains and trees twinkling with ice. A drive through New York state provides such natural beauty that it will keep any road tripper entertained. You will need a car to get around in the Finger Lakes either way — even if you take the train or fly — so that is something to consider.