Fun And Spooky Destinations Around The Globe To Celebrate Halloween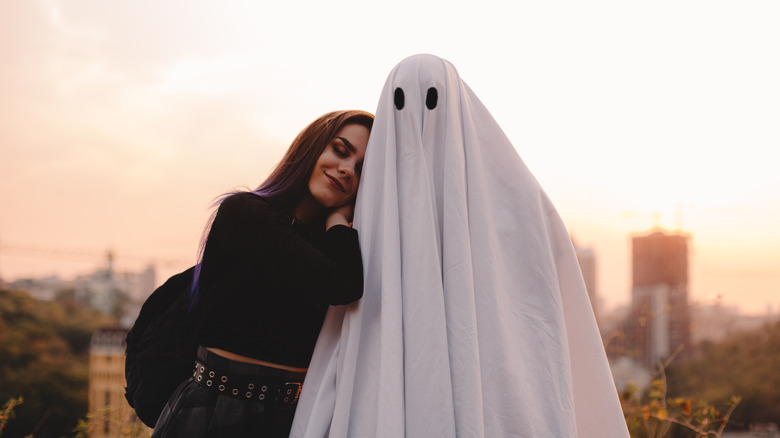 Finwal/Getty Images
They may go by different names, but holidays that honor the dead and celebrate the thinning of the veil are popular throughout the world. Though its traditions have been altered throughout the centuries, Halloween is steeped in pagan heritage, and the spooky holiday has evolved through various countries and cultures. The United States holds some of the biggest Halloween celebrations, but similarly themed holidays can be found across the globe. However, we should mention that Halloween is Halloween, and it shouldn't be conflated with other holidays during this time of year. While the dates of All Saints Eve and Día de los Muertos overlap with Halloween, these celebrations have little to do with the Westernized holiday.
Though different destinations may have different traditions associated with Halloween, each culture's celebrations make for a good time. Planning a trip around the spookiest time of year isn't a bad idea, and fortunately, you have quite a lot of options to choose from when considering where to have the most fun on All Hallow's Eve. These destinations do it up big around Halloween, offering must-have experiences for all the ghoulies who love things that go bump in the night.
Salem, Massachusetts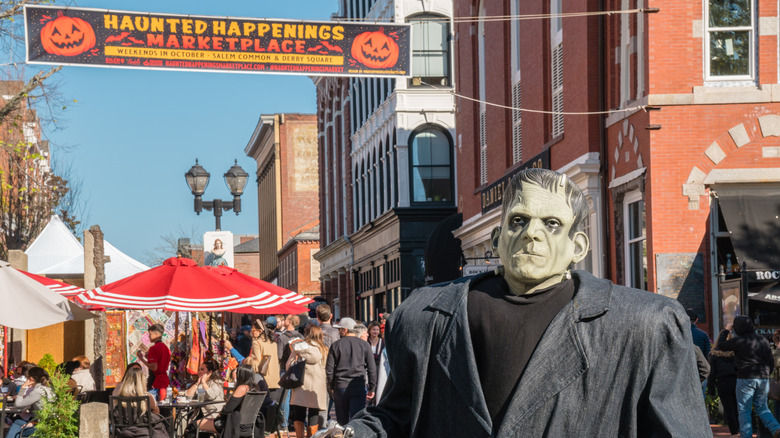 Habesen/Getty Images
Salem is one of the biggest tourist towns for Halloween lovers, who pack its streets during the month of October. Famous for the witch trials that happened here in Colonial times, people from all over flock to the city to visit important historical sites and to honor those executed for witchcraft. Since the entire city of Salem seems to be a tribute to witches, with pro-feminity undertones, why not plan a witchy trip to Salem around Halloween?
Haunted Happenings is the city's month-long festival that offers a range of special events, including a psychic festival featuring various resident mystics. The Haunted Happenings Marketplace is the witchiest bazaar you're likely to ever see, with elaborate wands, witch hats, and other hand-crafted goods to add to your altars. You can even buy spells. 
The official events of the festival are secondary to the energy brought by residents and visitors who walk the streets dressed in their spookiest garb, and it's not uncommon to see a few sets of Sanderson sisters wandering through the shops. Street performers and magicians keep things pretty tame during the day, but once the sun goes down, you can expect darker figures to wander around popular areas, and you are welcome to join in their fun.
Transylvania, Romania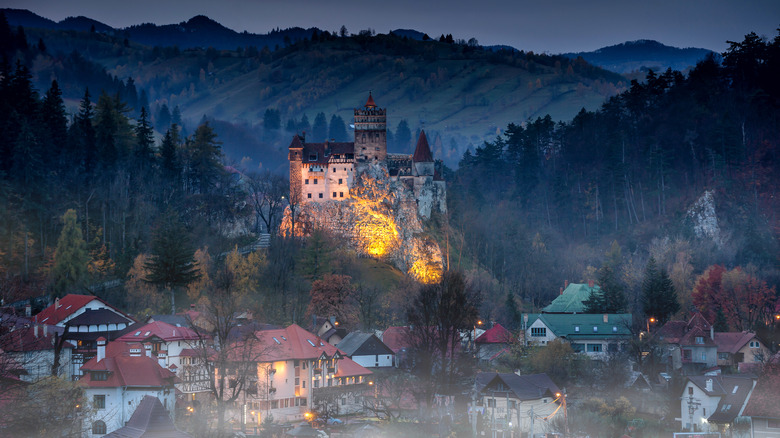 Kanuman/Shutterstock
As the home to one of the most recognizable and timeless horror figures in history, few places in the world can claim to be as iconic as Transylvania. Despite the inspiration for Bram Stoker's "Dracula" being over 1,000 years old, visitors report they can still feel a presence when visiting Bran Castle and the surrounding town. There is a reason why Dracula's story is very much alive over a century after its creation, and it's partially due to its roots. 
Transylvania is a place full of legend and superstition, which makes visiting at Halloween a particularly daunting prospect, and the parties thrown here are unmatched in spooky vibes. Bran Castle hosts a Halloween party every year that attracts creatures of the night from all around. If visiting for the festive celebrations, you may still want to watch your neck. While the medieval atmosphere helps keep the costumes convincing, you never know if a real vampire could be hiding in plain sight.
Sleepy Hollow, New York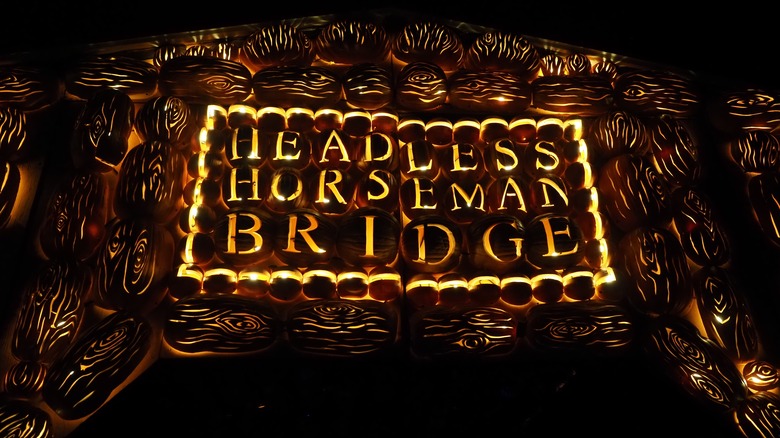 Lynne Bookey/Shutterstock
Salem may be notorious for the very real atrocities that took place there many moons ago, but a few hours to the southwest is another spooky town that draws its fame from fiction. Sleepy Hollow's connection to Halloween comes from the mind of author Washington Irving, whose short story "Legend of Sleepy Hollow" describes a headless horseman who rides through the very real town where Irving lived for a time.
The town has played up the story and taken up the headless horseman as a mascot year-round. It is nearly impossible to explore the town without coming face-to-face with various interpretations of the headless horseman character in shop windows, on logos, or even in statue form.
Sleepy Hollow offers visitors a little extra spice around Halloween. Locals dress up their homes and businesses with scary decor and celebrate with parades and markets. The most stunning display of Halloween spirit, though, is the Great Jack O'Lantern Blaze. Thousands of pumpkins are carved by hundreds of artists to form sculptures and art installations, including a life-sized covered bridge that alludes to the Headless Horseman legend.
Derry, Ireland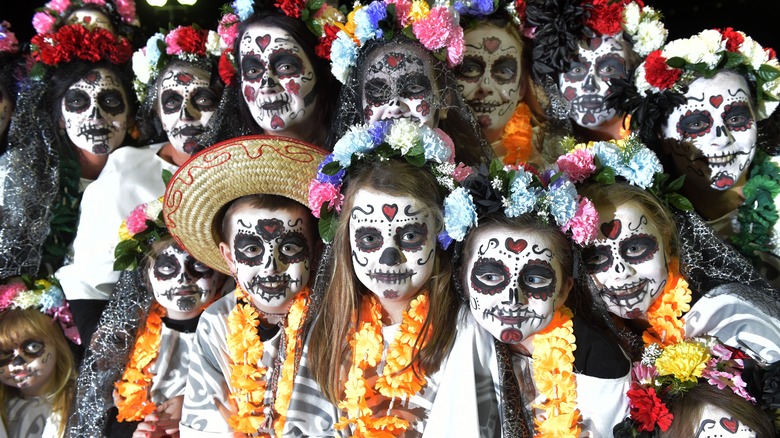 Charles Mcquillan/Getty Images
One of the only countries that rivals America's love for Halloween is Ireland, where the roots of the holiday and a lot of its traditions can be traced back to. Originally, Halloween was known as Samhain, a Gaelic holiday celebrating the harvest and marking the start of the darker part of the year. Also, Irish legends like Stingy Jack inspired the jack-o-'lantern tradition, so it makes sense that Ireland would be a big contender for the best Halloween destination.
Samhain celebrations can be found all throughout Ireland, and while there are much larger cities with fun celebrations, Derry holds one of the largest and most popular festivals in all of Europe. Tens of thousands of revelers take to the streets in costume to enjoy the festivities, which take place over the course of four days. The best thing about partying in Derry during Halloween? Their celebrations are both spooky and kid-friendly, making it the perfect way for families to spend the holiday together.
St. Helens, Oregon
Millennials who spent their teen years flipping between Disney Channel and MTV will likely remember the "Halloweentown" franchise. If you've ever had dreams of being a Cromwell witch, you are not alone. In fact, the small town of St. Helens, Oregon transforms into the fictional town of Halloweentown every October and offers you the opportunity to fall into your witch persona. The town actually played the part of Halloweentown for the films, and for over a month every year, it has all Disney kids feeling nostalgic for giant jack-o'-lanterns and skeleton cab drivers.
Visitors are able to visit some of the central locations in the films, as well as participate in activities that aren't related to the franchise. From Halloween festivities and oddity exhibits to haunted houses and hayrides, everyone with a penchant for the season will find something they enjoy here. As a tip for those planning a trip, the best time to visit Halloweentown is on the weekends, as some attractions will not be available during the week.
Edinburgh, Scotland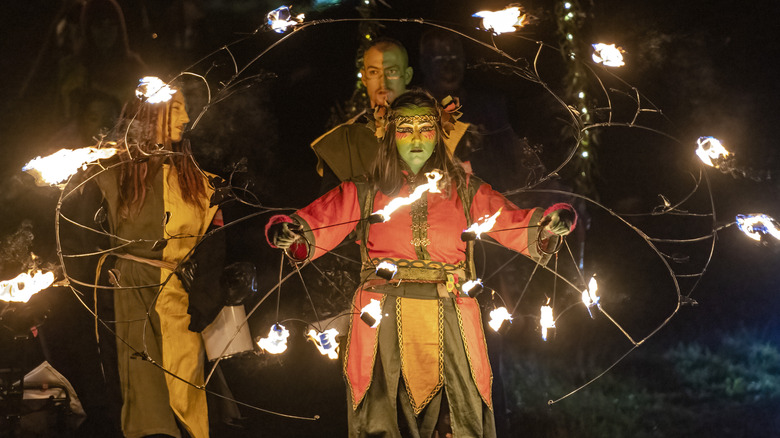 Euan Cherry/Getty Images
As far as Halloween traditions go, Scotland is similar to Ireland in their practices and celebrations, thanks to their connection to the original Celtic origins. Edinburgh hosts the annual Samhuinn Fire Festival, a modern version of the traditional Gaelic festival, and it is a fantastic event for anyone curious about Scotland's history and culture.
To put it simply, the festival is a large performance that uses dancing and fire to tell a story of why and how the seasons change, which is marked by a battle between the Winter King and the Summer King. Though masks and creepy face paintings are still a part of the tradition, there is much more to the festival than appearances. With plenty of fire, drums, and choreographed stunts, Samhuinn remains one of the most interesting celebrations to happen during the spooky season.
Alternatively, there are plenty of haunts in Edinburgh if you're hunting for spirits. Castles, dungeons, graveyards, and underground vaults contain hundreds — if not thousands — of years of history, and there's plenty of lore to uncover. Ghost tours are popular in Edinburgh, and taking one is a great way to see parts of the city while keeping things festive for the holiday.
New Orleans, Louisiana
Voodoo, hoodoo, vampires, and a whole lot of hauntings bring millions of people to New Orleans throughout the year. Of course, Mardi Gras in New Orleans is a huge affair, but Halloween is similarly elaborate and festive. Krewe of Boo is the city's official Halloween parade, and like Mardi Gras, special collectibles are distributed to onlookers. Costumed riders travel on detailed, papier-mâché floats throughout popular areas of the city, and zombies, skeletons, and other ghoulish figures lurch along with the parade. No matter where you look, the streets are filled with fear-inducing frivolity.
New Orleans is practically made for Halloween. The city is considered notoriously haunted by many, and the spooky holiday is the best time to take a New Orleans ghost tour. For an extra thrill, consider staying at one of New Orleans's haunted hotels before exploring the stories bars in the French Quarter or one of the city's iconic cemeteries. 
Oaxaca, Mexico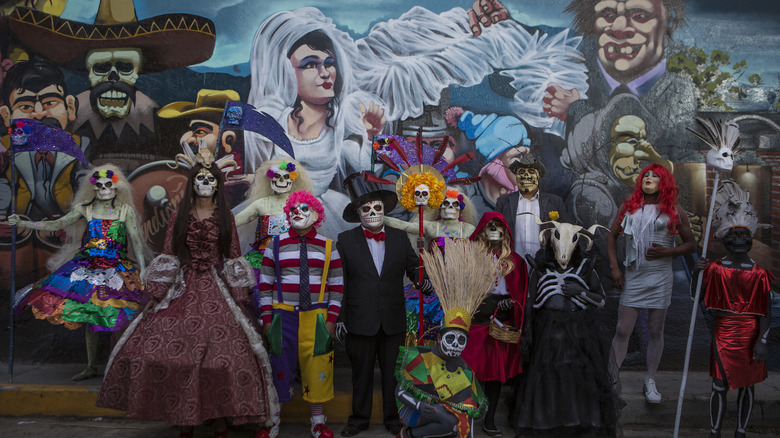 Cristopher Rogel Blanquet/Getty Images
Halloween may not be a big thing in Mexico, but the Day of the Dead celebrations certainly are. Both beautiful and quite spooky, Día de los Muertos is enthusiastically celebrated all over Mexico, and Oaxaca holds one of the biggest celebrations in the country. The eerie holiday expertly mixes the vibrancy of Mexican culture with the darkness of death — bright colors interwoven with candle vigils and cemetery pilgrimages.
The creativity of Día de los Muertos is clear in every aspect of the holiday. Painted sugar skulls, complicated and detailed costumes will fully painted faces, and vibrant decorations take over Mexico during the celebrations. Oaxaca has a two-day celebration that starts at midnight on November 1, when spirits of loved ones are believed to return. Traditionally, November 1 is for honoring the departed souls of children, while November 2 ushers in the spirits of adults. 
If you travel to Oaxaca or anywhere else in Mexico during this important celebration, you must act with the highest respect for both the living and the dead. Despite similar spooky vibes, Día de los Muertos is not Halloween and is instead a serious celebration of life, death, and familial connection. You can absolutely join in the festivities as an outsider, as long as you're mindful and respectful of the cultural tradition.
Corinaldo, Italy
Though the official holiday of Italy is All Saints' Day on November 1st, which commemorates Catholic saints, Halloween celebrations can still be found throughout the country. Witches play a big role in these festivities as well as other Italian holiday traditions throughout the year. In fact, Italian Santa Claus is actually a broomstick-riding entity called La Befana. Witchcraft is a significant part of Italian history and culture, as witch trials have occurred throughout Italy's history, and the pagan practice is still very much relevant throughout Italy. 
Corinaldo, Italy is the site of the Festival of Witches. This week-long celebration actually leads up to Halloween, which is also known as the Night of Witches. Corinaldo is fondly referred to as the "Halloween Capital of Italy," and the medieval town is the perfect place to have a witchy Italian holiday.
Though the event may have been influenced by Italy's historic ties to witchcraft, the Festival of Witches is more of a fun and carefree celebration with children's games, Halloween markets, and a Miss Witch competition. On Halloween night, an outdoor carnival takes over the central square of the town with creepy projections and scary decorations, transforming it into a playground for all the festive creatures running amok. 
London, England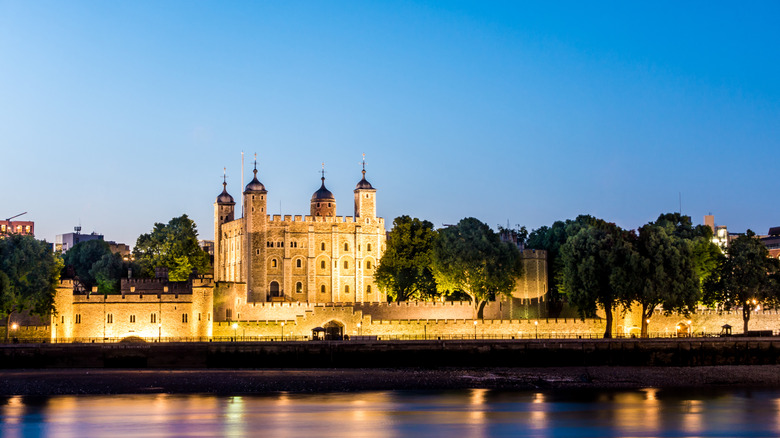 Eloi_omella/Getty Images
Many consider London incredibly haunted, with its long and harrowing history, and taking a London ghost tour during Halloween can be either really smart or really dumb, depending on how you look at it. All Hallow's Eve is traditionally thought to be when spirits move freely among us, so visiting one of the already famously haunted locations in the city is practically begging the spirit world to send you one of its inhabitants.
The Tower of London is famously one of the most haunted places in the country, and you can take a twilight tour to visit the Tower and learn about its dark past in, well, the dark. While not particularly a ghost tour, don't be surprised if you catch a glimpse of a specter or two. To hear other macabre tales, you can take a Jack the Ripper tour in London or grab tickets for the popular London Dungeon, which combines storytelling, theatrical performances, special effects, and rides to create a truly harrowing and entertaining experience.
Shanghai, China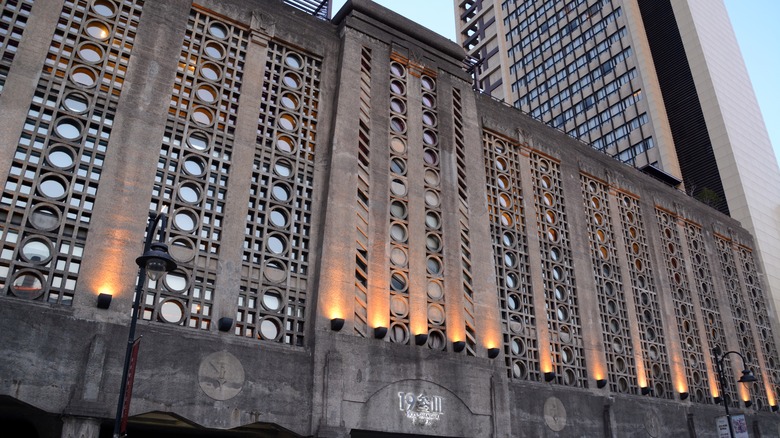 Gionnixxx/Getty Images
While Halloween as Americans know it isn't widely celebrated in China, the clubs in Shanghai do put on a good show for the spooky holiday. Club hopping is one way to take on the nightlife scene here, but each club typically picks its own special theme each year on Halloween, so it's more practical to pick one venue and spend the night immersed in the experience.
The annual, adult-themed masquerade party at Shanghai 1933, a slaughterhouse converted into trendy shops and party venues, is one of the most popular in the city. In China, there aren't a lot of opportunities to attend a masquerade ball, and the Halloween party at Shanghai 1933 is very much an adults-only affair. If donning a mask is designed to fool the spirits, then pretending to be literally anyone else under your mask is a great way to make it through the night here. If your dream destination for Halloween involves nightclubs and a party, Shanghai should be on your radar.
New York City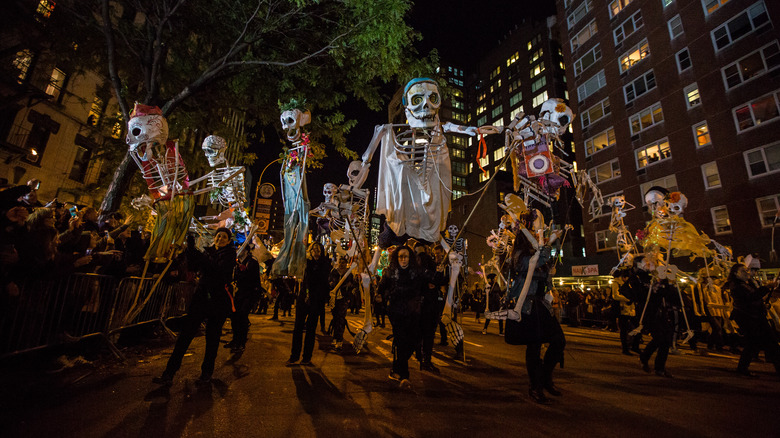 View Press/Getty Images
New York City is known for going all out for Christmas, but the Big Apple also shows up for Halloween in a big way. Huge festivals and parades, hordes of streetwalkers in costume, and parties primed for crashing can be expected when visiting for Halloween weekend.
New York's Village Halloween Parade has been taking place for half a century and is the world's largest Halloween parade. People of all ages and backgrounds join in on the fun, and you can expect at least one performance of Michael Jackson's "Thriller," as it's an iconic tradition. Though the parade is for everyone and anyone with a costume, the LGBTQ+ community has historically had a large presence, playing a big role in making the event a New York staple.
Residences and businesses love to come up with imaginative displays for Halloween, and you'll find creative costumes around every corner. The city is an eye-full around Halloween, and getting into the spooky season spirit is as easy as taking a walk down the street. Creative costumes and synchronized dances aside, the fall is also one of the best times of year to visit New York City. You'll be able to avoid the scary size of summertime and holiday crowds.