The Ultimate Guide For A Witchy Trip To Salem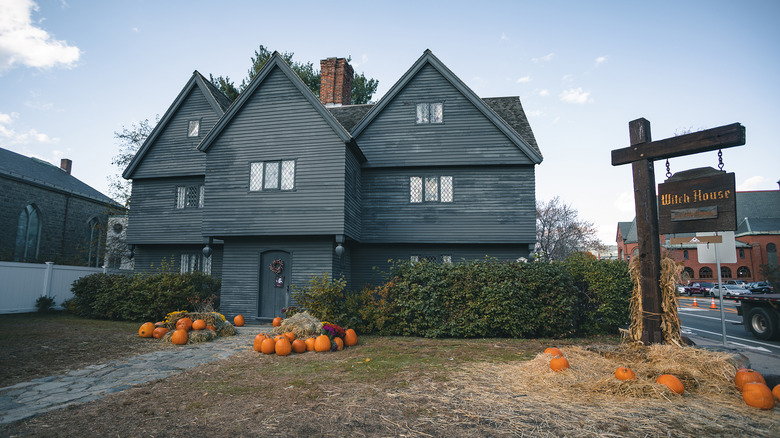 Georgios Antonatos/Shutterstock
Salem, Massachusetts has been a destination that witches of all ages and backgrounds have flocked to for hundreds of years, and it still remains a mecca for those either practicing the craft or curious about the city's supernatural nature. Many are aware of Salem's tragic history surrounding accused witches and the atrocities that occurred there during the Salem Witch Trials, and the city has since worked hard to take back its power and promote itself as a destination where all witches are welcome.
While Halloween is the most popular time to visit the historical and harrowing city, traveling there during any month outside of October will result in much the same experience as it stays spooky year-round. In fact, you may have a better time when you're not circling the blocks looking for parking and waiting in storefront lines just to shop. Whether you come during its peak or choose to take advantage of its off-season, Salem has plenty to fill even the most practiced witch's itinerary.
Book spooky accommodations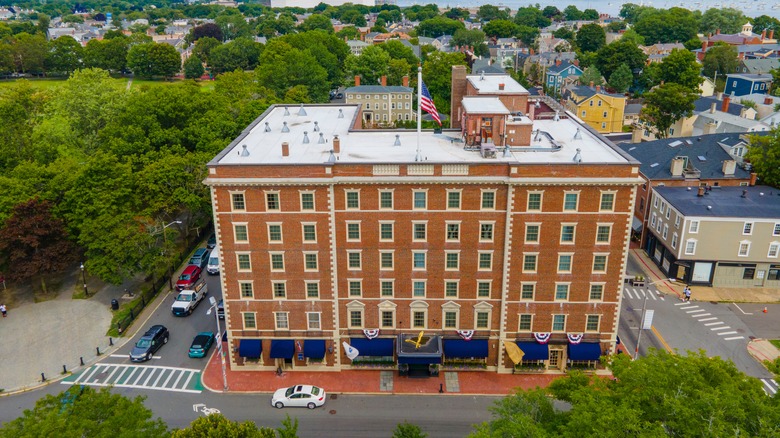 Wangkun Jia/Shutterstock
Salem is truly a historic city that is steeped in famously tragic history. In 1692, 25 innocent people lost their lives senselessly during the Salem Witch Trials, and they are all still remembered and mourned to this day. That is a lot of energy over a long period of time, so it's really no wonder why it is considered one of the most haunted cities in the United States.
If you're truly wanting a witchy and supernatural experience on a trip into the Witch City, then you must book a room in one of its haunted hotels. Salem has more than one hotel that is said to be haunted by figures from the witch trials, including the very first woman hanged after being accused of the craft, Bridget Bishop. Booking a room at Hawthorne Hotel will put you right on the land that was once her apple orchard, and staying in room 612 may increase your odds of seeing her spirit.
Opting to stay in The Merchant instead may lead you down a bit of a darker path. The hotel was built on the land of George Corwin, the sadistic sheriff who not only had a heavy hand in the Salem Witch Trial proceedings but was responsible for the torture of Giles Corey, the only victim to be pressed to death. Rumor has it that both Corwin and Corey haunt The Merchant – hopefully, Corey is giving him hell.
Dress in your most bewitching garb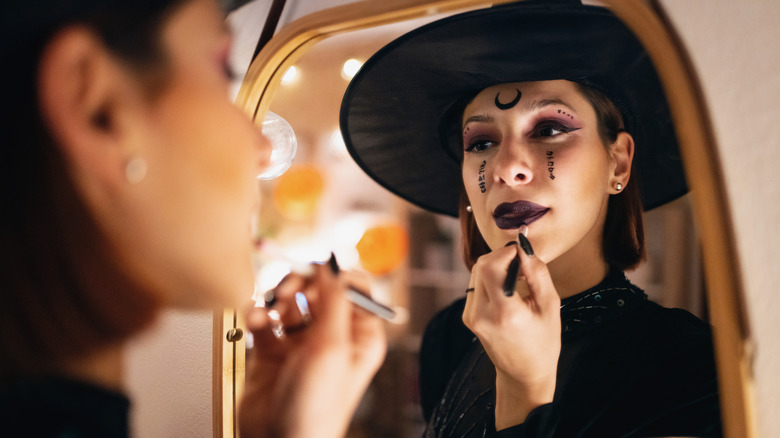 Srdjanpav/Getty Images
A trip to Salem isn't quite like riding the bus to Halloweentown, but it's pretty close. Everyday is sort of like Halloween in Salem, with tourists dressing the part. It's not uncommon to see groups of people dressed up as the Sanderson sisters and you are encouraged to join in on the fun and dress in your most witchy outfit. Don't worry if you don't have one, though, because there are plenty of shops that would love to provide you with a knitted witch's hat in your color of choice.
Most tourist shops will have souvenir shirts that say things like "I went to Salem and all I got was this witchy t-shirt" fully in stock, but if you're looking to fully transform into your inner witch, Witch Pix is the place to go. No matter what kind of witch you want to channel, the costume studio got you covered with hundreds of bewitching outfits and three set designs. While you can't actually wear your witch garb out of the shop, you'll be going home with some pretty epic photos as evidence of your transformation.
Conjure up some grub
Feeling all the energy in Salem that results from all the gathering witches makes one pretty hungry! Luckily, there are plenty of places to grab a bite to eat in the city, and their kitchens must be full of sorcerers because there is some truly great food in Salem.
Witch's Brew Cafe is located close to the House of the Seven Gables, which makes it a perfect stop to grab a bite before continuing on your explorations — and don't worry, neither eye of newt nor boomslang skin are ingredients found in any of the concoctions made there. Howling Wolf's Taqueria has fantastic food if you're a fan of Mexican fare, and while its location is a bit further out than most central Salem attractions, if you find yourself venturing toward Salem's amazing street art and murals you will likely stumble right into the taqueria. Either way, both restaurants are within walking distance of all of Salem's popular attractions.
Pay your respects to Salem's accused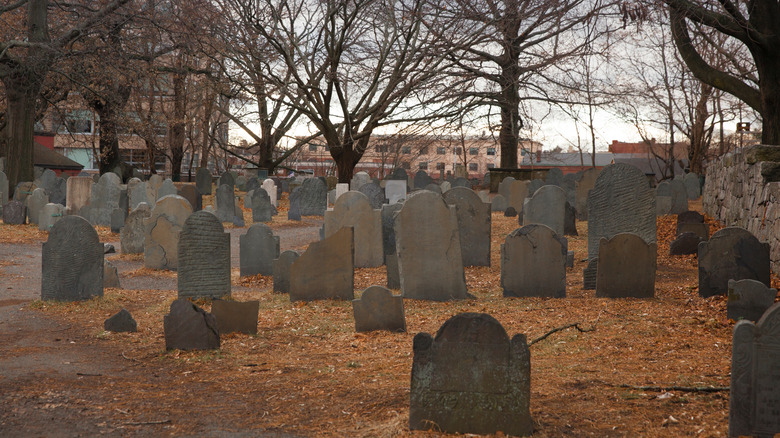 Ale Volpi/Shutterstock
It's hard to miss the Witchcraft Victims' Memorial and the Old Burying Point Cemetery if you are exploring the historical sites of Salem – they are right beside one another and behind the Peabody Essex Museum. Spending some extra time paying tribute and showing your respect to those who died in the witch trials is one of the best ways to grasp the weight of what happened in Salem.
Judges from the Salem Witch Trials and individuals related to the trials are buried in Old Burying Point Cemetery and the Witchcraft Victims' Memorial beside it honors those who died as a direct result of the trials. If there is one place you shouldn't miss on a trip to Salem, it's this. Honoring and remembering those who lost their lives in such a way is important for the full Salem experience, and the individuals deserve to be immortalized in such a way by those who come to their city. Placing biodegradable items of remembrance on the stones is allowed, so bringing some flowers to leave is always a nice gesture.
Restock your witch's cabinet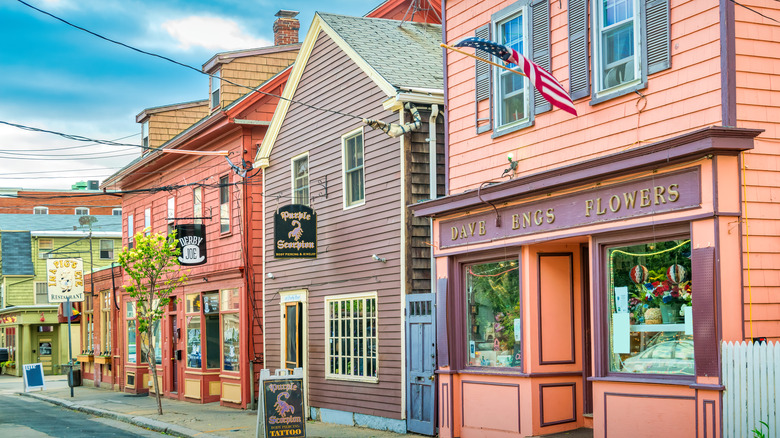 Benedek/Getty Images
The shopping in Salem is unmatched if you enjoy the supernatural and all things witchy. Sure, there are plenty of tourist traps and shops specifically for your run-of-the-mill souvenirs, but the historic city also contains quite a few interesting and unique shops that carry witch essentials.
Apothecary-style shops are common and you can pick up pre-made spells as well as ingredients to make your own. Artemisia Botanicals' walls are lined with big jars full of dried herbs that witches and would-be practitioners can purchase by the ounce. The herb shop also has other witch essentials like candles and spell jars. The Coven's Cottage is a witch's one-stop shop when it comes to magical ingredients and the items they have crafted. Herbs, crystals, and spellwork tools along with oils, soaps, and magical decor can be found here. You may also be able to find a spell book or tome hidden in the clutter of Salem's most witchy shops. Be careful not to get more than you bargain for if you choose to craft a spell or read out loud from a grimoire!
Visit the Witch House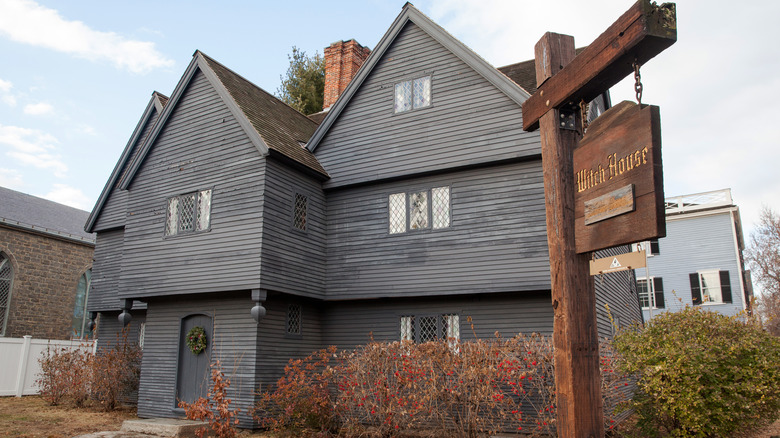 Ale Volpi/Shutterstock
There are historic buildings and homes throughout Salem, but few are quite as famous as the Witch House. Formerly the home of Jonathan Corwin, the judge of the Salem witch trials, the Witch House dates back to the 1600s and was actually standing at the same time the witch trials were happening. It is still standing tall and is currently open to the public. Those who choose to enter the house will hear the tale of how the trials came about.
The Corwin family took an unusually large interest and played a huge part in the Salem Witch Trials. The sadistic and punishing Sheriff Corwin was the nephew of Jonathan and the other judge in the trials was another close relative, Jonathan's brother-in-law. This puts all three men in major positions of power over the accused and together, they condemned 25 people to either hang, die in prison, or be tortured to death.
The family, while residing in the Witch House, was said to be cursed. A number of the Corwin children didn't make it past infancy or childhood and sickness also struck down members of the family. The house, despite having a black shoe in its walls to ward off evil, remains haunted by either departed members of the family or the spirits of those who hanged for witchcraft — if you don't find any spirits while in the house, a Salem ghost tour could be in order!
Spend time with one of Salem's resident witches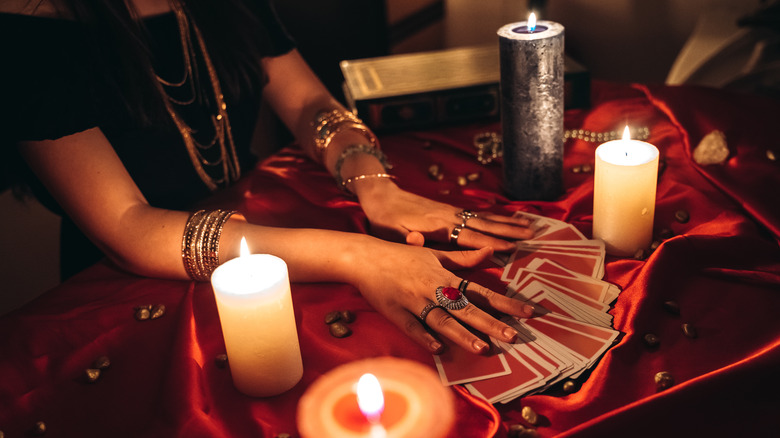 Urbazon/Getty Images
Whether you have the affinity for fortune telling or have any other clairvoyant traits yourself, a trip to Salem isn't complete without booking an appointment with one of the city's resident psychics. Salem is home to a number of psychics who are officially licensed to practice in Salem and specialize in various occult readings.
Throughout the month of October, Salem is home to the Psychic Fair and Witches Market, where visitors can book an appointment with one of many local psychics. Tarot cards, palm readings, and crystal ball visions are just a few ways one of Witch City's very best supernaturally inclined residents can look into your past, present, or future.
Even if you find yourself in Salem outside of October, you will certainly be able to find someone to give you a reading. Some popular psychics go it solo, but others are part of a collective shop. Pentagram is one such shop, and the magick store has two resident psychics who give anywhere from 15 to 60-minute readings. No matter who you end up getting a reading from in the city, though, the chances of you leaving with some introspection are high.
Let your wand choose you
Unfortunately, Ollivander's doesn't make an appearance in Salem – you'll have to travel to Universal's Wizarding World for that – but another wand shop is thriving in the City of Witches. Wynott's Wands is waiting for current and future witches to walk through its doors and find their magical companion.
Wynott's Wands does have some major similarities to Ollivanders, and fans of the "Harry Potter" franchise will be thrilled to explore the wand shop in depth. Wand boxes are packed into the many shelves along the walls and stacked on magical clutter-coated desks and display windows. The shop makes it feel as though you are truly there to choose your lifelong wand in anticipation of heading off to Hogwarts. Dobby the house elf can even be spotted in the shop, along with a goblin and many "Harry Potter" novelty items.
The aesthetic, while nostalgic and magical, is just the beginning of the journey in the shop. The real excitement comes from choosing your own wand. Wynott's Wands has multiple wand collections to choose from, all of which are gorgeously made.
Craft your own personal broom
You have probably never considered the absence of a witch's broom in your life, but once you discover just how gorgeous and all-around cool it is to have your own magic broom with personal touches, you'll likely never want to go back to your life without one. The Witchery allows patrons to craft their very own broom and choose the perfect materials to bind within it.
Like a lot of other shops in the area, dried herbs and greenery can be found in The Witchery. Instead of tinctures and spell jars, though, the specialized shop allows customers to use the dried plants to create their own personalized brooms, wreaths, and straw figures. Would-be witches can also include charms and trinkets on their brooms.
The resulting broom is as unique and one of a kind as the individual who made it – and certainly too pretty to ride on! Don't worry, if you don't want to use the broom to fly, it makes the perfect souvenir to remember your time in Salem by.
Explore the Salem Witch Museum
Even if you know your history and are aware of Salem's unfortunate past, the Salem Witch Museum will likely teach you plenty about the people of Salem during the witch hunt. The attraction acts as a kind of focal point for the city, as it sits diagonally on a block in the very center of the city. It explores how the Salem witch trials has affected our society and how the portrayal of witchcraft has evolved into the present day.
Most of what can be seen in historic Salem isn't too graphic, even if some places can feel a little unsettling. The Salem Witch Museum is a bit different though, as it is a thorough journey into every aspect of the witch trials. Because of this, the museum touches on topics that are gruesome and some visuals may not be appropriate for all travelers. If you've got young children in tow or can't stomach displays of tragic deaths, you may want to sit this one out. If at all possible, though, the Salem Witch Museum is an important attraction that you should take advantage of if only to get a clear understanding of just how Salem's history affects us all. Alternatively, the museum can be viewed and explored in an online tour if you don't get a chance to visit while you're in the city, so you don't have to completely miss out.
Follow the yellow brick road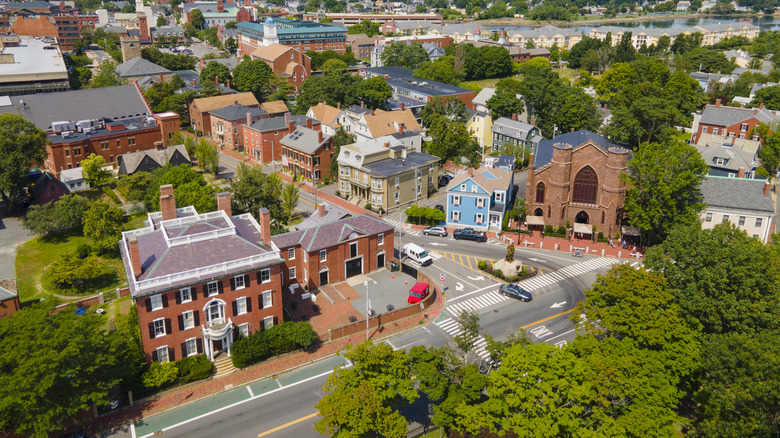 Wangkun Jia/Shutterstock
Like the nearby city of Boston, Salem has a trail leading to a lot of the major historic sites painted on the sidewalk. While Boston's Freedom Trail is marked with permanent, inlaid, and designed bricks and official bronze markers, Salem's heritage trail is simply a painted yellow line on the brick sidewalks. You'll find popular Salem sites and must-see attractions like the Witch House, the Witchcraft Victims Memorial, and the Witch Museum all located off of the trail.
Salem's yellow brick road won't be leading you to any all-knowing wizard, but it will take you along a journey of the city's witch-rich history. There are guided tours you can book that go in depth about some of Witch City's most historical sites, but you are also able to follow the trail yourself. The benefits of a tour guide may be worth it if you are particularly interested in little-known tidbits, as the guides are very knowledgeable and can relay information that may not be readily available online or whatever source you may rely on to learn about the sights yourself.
Visit the Satanic Temple
Salem is home to the international headquarters of the Satanic Temple. If that sounds scary to you, you are so totally not a witch and are not likely to have much fun in Salem at all! In all seriousness, though, the Satanic Temple actively campaigns to protect the rights and health of its members and provide an outlet in which people can escape from persecution, which may sound like something that would have been useful in Salem's infamous past.
The temple stands on the northern side of Salem, away from the typical attractions that travelers expect to see. The slight detour from your regularly scheduled programming is worth it, though, as the temple has its own gallery where can see its famous goat god Baphomet statue.
Services for the Satanic Temple are on Tuesday nights at 9 p.m., so if your trip has you in Salem on a Tuesday, feel free to stay for a spell. While services are free, be sure to reserve your spot with a ticket if you're set on seeing one of the most unique religious buildings around.