Spooky East Coast Day Trips To Take This Fall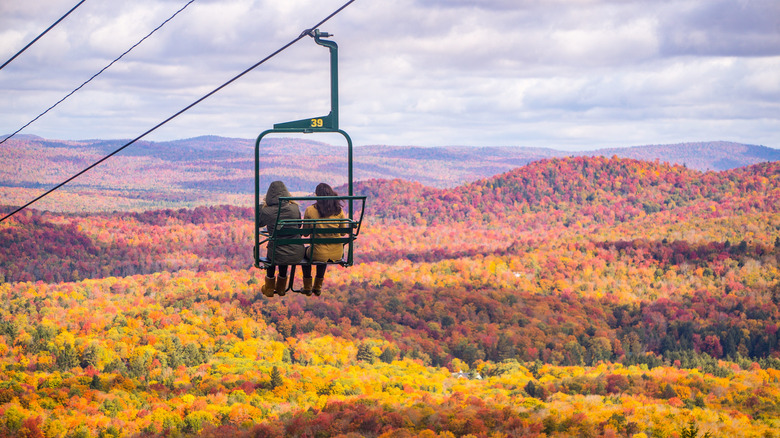 Dene' Miles/Shutterstock
With the long, hot summer now in the rearview mirror, what better way to enjoy the cooler weather than taking a day trip? Fall is one of the best times to travel, as the season typically experiences fewer crowds, cheaper rates, and beautiful foliage. This is particularly true along the East Coast, as quite a few cities and towns exude charm during these cooler months. But the season also brings frights. Boston alone has a major influx of visitors in October, with its annual Head of the Charles Regatta, and you'll find all sorts of Halloween-centric events in nearby Salem. Due to its dark history of witch trials, Salem is one of the most popular places to visit during autumn, and it hosts the largest celebration of Halloween in the world.
Locations with dark historical significance may seem unlikely to attract visitors, but this is far from the case. Research shows that those who enjoy going into scary situations, such as a haunted house, end up feeling better after the experience. If you enjoy feeling challenged by fear or find scary history interesting, there are lots of great places worth exploring. These East Coast places have key features that fit the criteria of a perfect day trip. Some of these include lots of activities and defining features, all without being overwhelming. And as a bonus, they involve the perfect level of scares to fulfill your spooky quota for the fall.
Newport, RI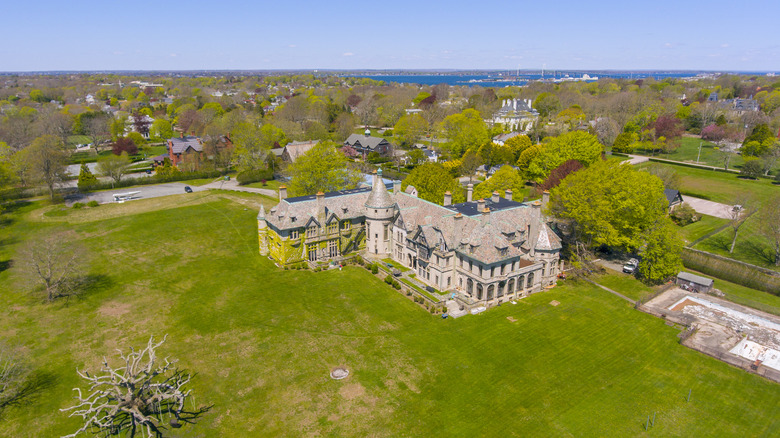 Wangkun Jia/Shutterstock
Newport, Rhode Island is a classic New England town that would be an ideal destination for a weekend fall trip on the East Coast. This walkable seaside town showcases historic Colonial architecture, which you'll see just about everywhere, from residential homes to downtown businesses. This includes the White Horse Tavern, known as the oldest operating restaurant in the U.S. The combination of history and architecture is also enough reason to take the time to admire the sights and sounds of this town by way of Newport's Cliff Walk. The 3.5-mile walk takes you along the cliffs of the town and offers wondrous views of the coast and stunning, Gilded Age-era mansions. You can get on or off at multiple points along the paved trail, including one entry point at Ruggles Ave. This road offers views of another point of interest in Newport: Seaview Terrace.
This famed property boasts an Elizabethan-Revival mansion which was originally built in Washington, D.C. in 1907. The mansion was then completely dismantled and reconstructed in Newport when the owners decided to move. The exterior is recognizable as the exterior of the fictional Collinwood Mansion from the popular 1960s vampire soap opera "Dark Shadows." Vampires are not the only supernatural element relative to this home. Seaview Terrace also happens to be one of the most haunted places in Newport.
In 2011, hosts of the show Ghost Hunters were granted entrance to investigate the paranormal situation at Seaview Terrace. The team was met with some strange experiences, including strange voices and movement from unknown sources. Today, the supernatural occurrences seemed to have dissipated, according to the property's listing broker Lea Savas. However, she admits "that I've not been there at night," (via Robb Report).
Block Island, RI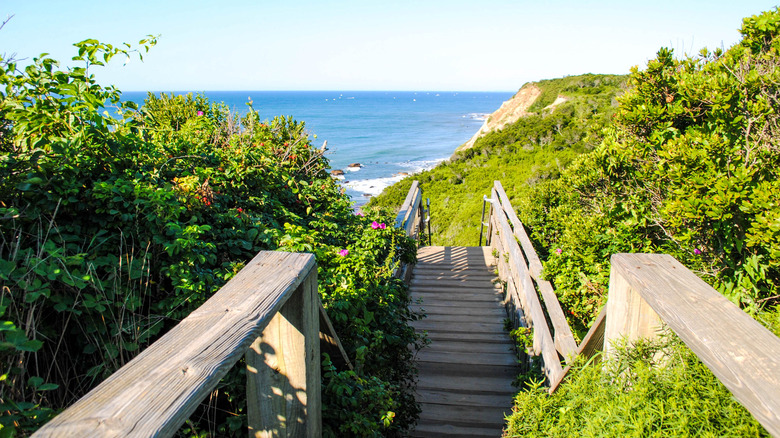 citizensco/Shutterstock
While Block Island might be an ideal spot for a weekend away in the summertime, it can also be a wonderful beach getaway during the fall. When getting onto Block Island during this time of year, it's essential to time your departure perfectly, specifically how and when you get to the ferry. During the off-season, the ferry only leaves from Point Judith, Rhode Island and takes about one hour to reach the island.
Once there, the world is your proverbial oyster, as Block Island restaurants serve some of the best oysters on the East Coast. The island is perfect for taking long bike rides, motorized or not, in and around town. You can also take in the sights by exploring the Mohegan Bluffs. However, some advise visiting the bluffs by car. One Tripadvisor reviewer noted that although the bluffs are a must-see, "it is a ridiculously hard bike ride from town."
At night, one activity that might take your breath away (out of fright) is embarking on one of the island's ghost tours. These guided walks take you to different areas of the island and showcase pieces of the island's dark history and folk stories. One popular spot highlighted on these tours is the Block Island Lighthouse, where spectral figures like "Mad Maggie" are said to haunt the grounds and cause noisy disruptions. These tours are bound to be entertaining and insightful — one guest on Tripadvisor even admitted that his tour guide "made me a believer!"
Wilmington, NC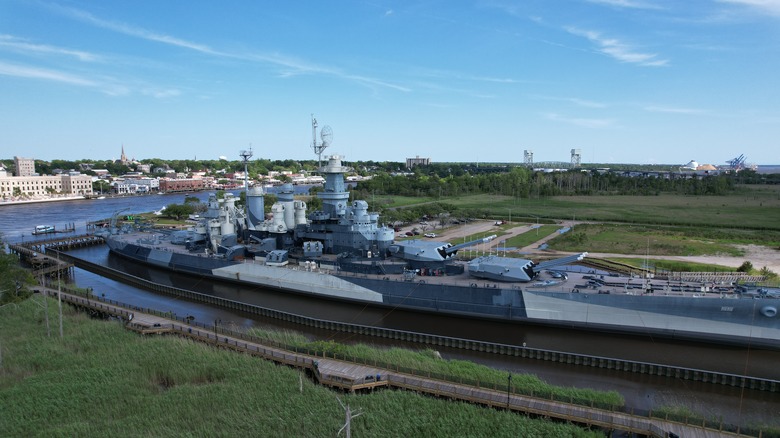 David Garrison/Getty Images
Life along the water is highlighted when in and around Wilmington, North Carolina. While nearby beach communities allow for kayaking, beach camping, and hiking, Wilmington's historic Riverwalk charms visitors with cobblestone streets, 19th-century homes, and plenty of dining and entertainment options. Wilmington holds a lot of historical significance which can be seen in a few unique hot spots. Airlie Gardens, for example, has existed in Wilmington since the 1700s, and these walking trails provide visitors with 67 acres of gardens with seasonal blooms and historic structural installations.
History buffs up for some close quarters can also explore Battleship NC, which is moored in the Cape Fear River by downtown Wilmington. Those eager to learn more about one of the most decorated battleships in American history can take a behind-the-scenes tour to learn about the history of the ship. And just like many historic hotspots, there is more to this ship than meets the eye. By taking a haunted tour of the battleship, you can learn about paranormal sightings reported over the years. Stories include seeing the spirits of sailors walking the ship and visitors witnessing doors and hatches opening by themselves. 
If you're looking to hear other scary stories in a more casual, fun way, Wilmington has a ghost walk/pub crawl that has been running since 1978. The tour features stories told by professional actors and historians in over 28 locations within the city, all while showcasing drinks from restaurants and bars around town.
St. Augustine, FL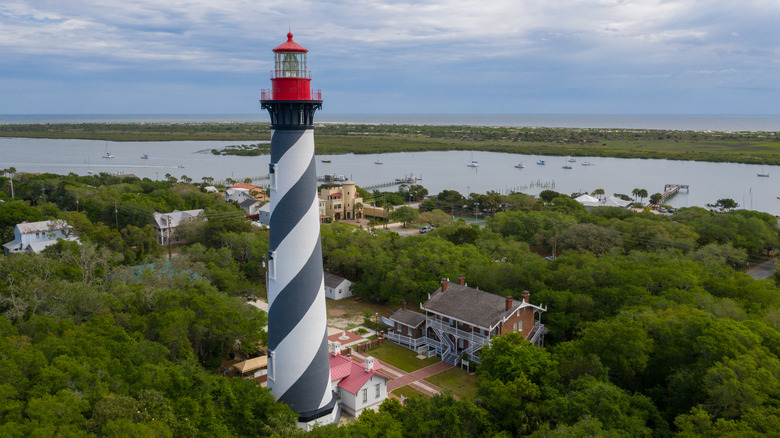 NEFLO PHOTO/Shutterstock
Known as the "Nation's Oldest City," St. Augustine hosts a plethora of activities and destinations that are just the right level of spooky. For taking in the views, the St. Augustine Lighthouse is both a historical landmark and a haunted hotspot. The 165-foot lighthouse was built in 1874 and is said to be haunted by a variety of entities, including a mysterious "Man in Blue." Ghost tours are led by members of the St. Augustine Lighthouse & Maritime Museum who have a reputation for being great storytellers. 
By visiting cemeteries, businesses, restaurants, and monuments, other haunted tours immerse you into St. Augustine, Florida's history and its spooky lore. There are even some bed and breakfasts in the historic district that partake in the festivities, providing respite for those who want to stay closer to the center of town. The downtown area can be cheaper for parking/accommodations, for those unwilling to spend more at the more historic hotels, such as the Casa Monica.
If history and/or ghost stories aren't your thing, there's still plenty to do in St. Augustine. For instance, The Fountain of Youth and Ripley's Believe It or Not offer a more bizarre element of fun, while Flagler College and the Alcazar Hotel are architecturally stunning places to explore. If you're interested in an interesting assortment of activities in a quieter time of year, this is a great place to spend the day during the autumn months.
Fall River, MA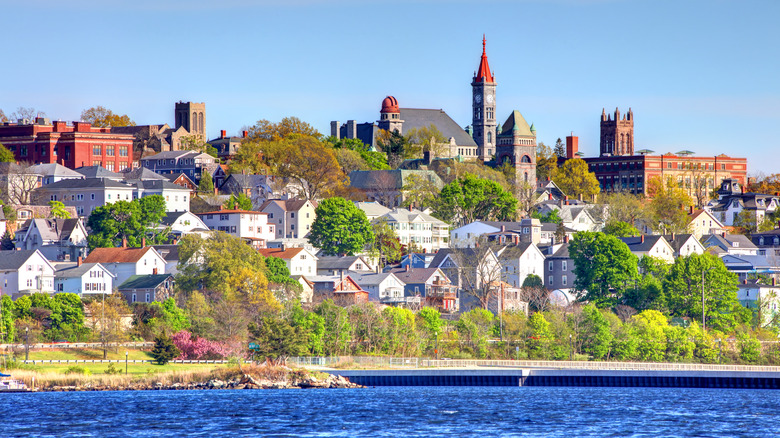 Denistangneyjr/Getty Images
The beauty of northern Massachusetts is not lost on those traveling during the fall. There are plenty of places to venture around, in cities both big and small. One town, aptly named Fall River, is a walkable, close-knit city with plenty of parks and restaurants. Although seemingly innocuous, Fall River happens to be the town where axe-murderer Lizzie Borden grew up and was eventually prosecuted for murder.
The Lizzie Borden House is where Borden killed one of her employees and her father with an axe. Today it remains a place of interest for paranormal investigations, and tours are available. You can explore the crime scenes, as well as private areas to search for ghost activity. This house is also a bed and breakfast. If you dare, you can book a room and stay the night — some have even hosted weddings here. 
After touring the Borden house, there are plenty of nearby towns and areas to explore. Less than 20 minutes from Fall River, Westport, Massachusetts is wine country, where vineyards like Westport Rivers have been operating for nearly 40 years. A stroll through a sunny vineyard at the cusp of autumn sounds ideal, especially after a spooky time in Fall River. 
Alpine, NJ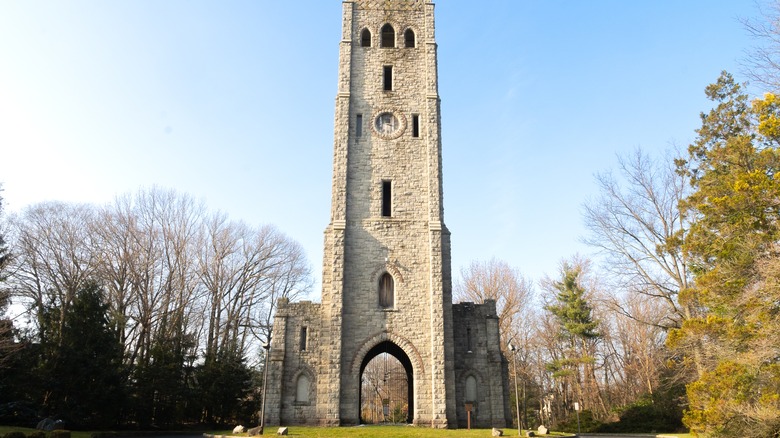 Brian Logan Photography/Shutterstock
Alpine can be an appealing destination for a day trip, primarily for those interested in upscale and scenic experiences. There is a strong luxury element of the town that attracts affluent individuals. From hip-hop and music stars like Stevie Wonder and Lil Kim, to comedians like Tracy Morgan and Chris Rock, the streets of Alpine are home to some recognizable celebrities. To satisfy more expensive tastes, Alpine features several high-end restaurants and shopping areas, all with beautiful scenic views as the backdrop.
The Palisades Interstate Park, which stretches along the Hudson River, provides opportunities for hiking, picnicking, and scenic drives. You can explore various trails and enjoy panoramic views of the river and New York City skyline from the overlooks. The park is particularly beautiful in the fall. One visitor on Tripadvisor noted that "the trees now in autumn have a wonderful color ... a very clean, quiet and very visited park." 
Once in town, there are a few sites that provide insight into the region's history, including a beautiful yet haunting structure known as the Devil's Tower. The six-story gothic clocktower is surrounded by several legends that span back to the early 1900s. According to stories, the tower is home to a presence that has sent chills down many a spine, as the running legend is that the tower is inhabited by the Devil himself. It's said that you can see a dark figure when you look into the top windows. While presumably, these are just ghost stories that have been told for decades, there's no denying that the tower's architecture certainly adds an air of intrigue.
Mystic, CT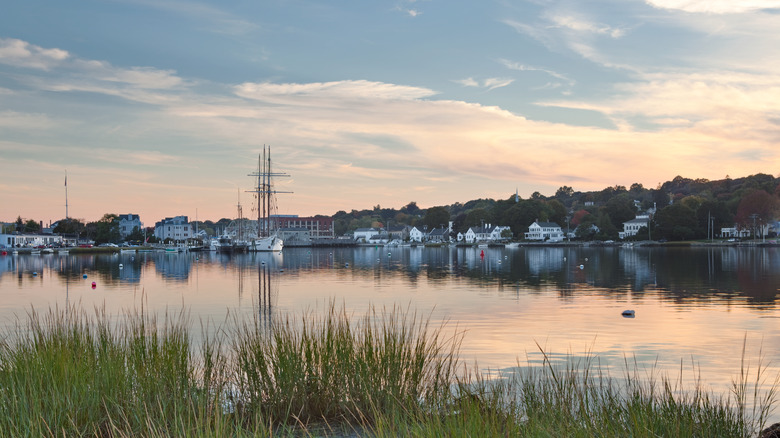 Monamakela/Getty Images
The little riverside town of Mystic is a charming and picturesque destination that offers a variety of attractions and activities, making it an excellent choice for a day trip. A more family-friendly destination, Mystic is home to many popular attractions, including the Mystic Aquarium and the Museum of Art, which has created a close-knit, artistic hub within the town's center. The historic downtown area is filled with quaint shops, galleries, and restaurants. You can explore the charming streets, browse unique boutiques, and sample local cuisine, including a wide array of ice cream shops. All this can be done while remaining close to the Mystic River, which flows through town and offers picturesque views and opportunities for outdoor activities like kayaking and paddleboarding.
However, the town's seafaring history and historic landmarks make Mystic a somewhat spooky location to explore. Several ghost tours are available, offering you a behind-the-scenes look into notable locations in town. The Seaside Shadows Mystic Tour, for example, runs until the end of October and highlights points of interest including true crime, cryptid lore, and Colonial stories. Many who partake find the history fascinating and the presenters informative. On Tripadvisor, one reviewer wrote, "We had a lovely time! As a history buff, I loved it, but as a ghost enthusiast, I loved it even more."
Charleston, SC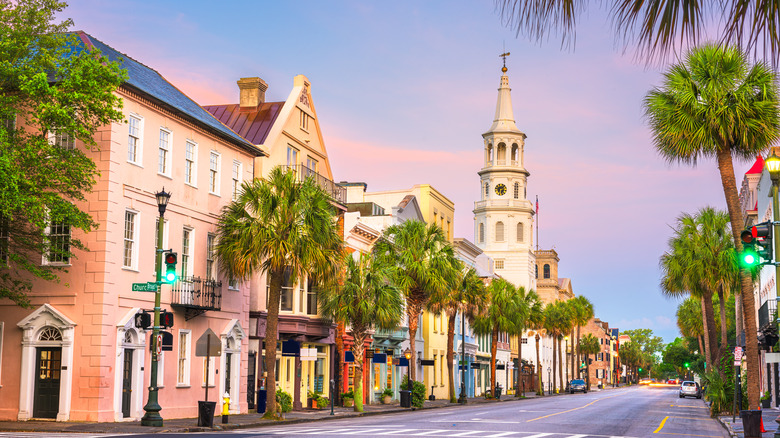 Sean Pavone/Shutterstock
Charleston is one of the oldest cities in the United States and exudes historic charm. You can stroll through cobblestone streets, visit beautifully preserved historic homes, and explore extraordinary exhibits at the Gibbes Museum of Art. Because of its legacy within the country and its historical significance during the Civil War, Charleston is also considered one of the most haunted towns in the country.
Charleston is known for its stunning architecture of homes, featuring a mix of Colonial, Southern, and Victorian styles. One of these preserved homes within Charleston is the Battery Carriage House, which is said to host a slew of apparitions at the now luxury boutique hotel. In an interview with The State, one source even reported that "the happenings on the grounds have converted many skeptics who have stayed the night over the years." Nearly every part of the city has some haunted lore attached to it, from multiple church graveyards and cemeteries to the Dock Street Theater. The theater is supposedly haunted by a woman in a seductive red dress who was struck by lightning outside the venue.
Some restaurants are also rumored to have ghostly residents, such as a spectral dog at Poogan's Porch Restaurant. However, in a foodie destination like Charleston, a little ghost interaction is worth the risk. The city is renowned for its Lowcountry cuisine, which includes dishes like shrimp and grits, she-crab soup, and Charleston red rice. When the weather is cooler and the breeze is blowing through the famed Angel Oak tree (another haunted location), why not take a trip South to experience the spirit(s) of Charleston?
Colonial Williamsburg, VA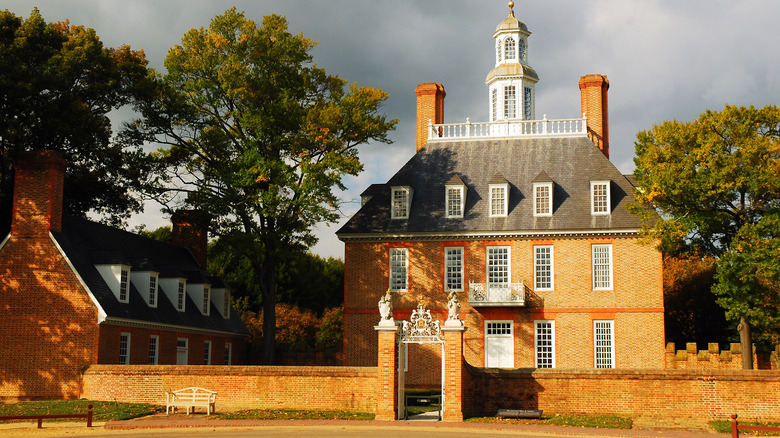 Kirkikis/Getty Images
Showcasing rich historical significance and immersive experiences, Colonial Williamsburg, Virginia, is one of the best U.S. cities for history buffs. The town of Williamsburg features well-preserved colonial architecture, including historic homes, government buildings, and taverns. The buildings are furnished and decorated in period-appropriate styles, providing a vivid glimpse into the past. Visitors who go further to explore Colonial Williamsburg can step back in time to the 18th century and experience what life was like during the American Revolution. Interactions with costumed interpreters, historic tradespeople, and reenactments make history come alive.
Williamsburg is conveniently located within a few hours' drive of major cities like Richmond, Norfolk, and Washington, D.C., making it accessible for a day trip. One Tripadvisor reviewer noted, "One pass gets you into historic Jamestown, Williamsburg and Yorktown, which easily take 2 full days to take in," and recommends allowing a full day at least for Williamsburg. And while you can take in the sights during the day, there are evening programs hosted in Colonial Williamsburg that offer insight into the darker side of this town's history. These haunted tours give exclusive access to typically off-limits areas, and the candlelit tours are both spooky and atmospheric. 
Jim Thorpe, PA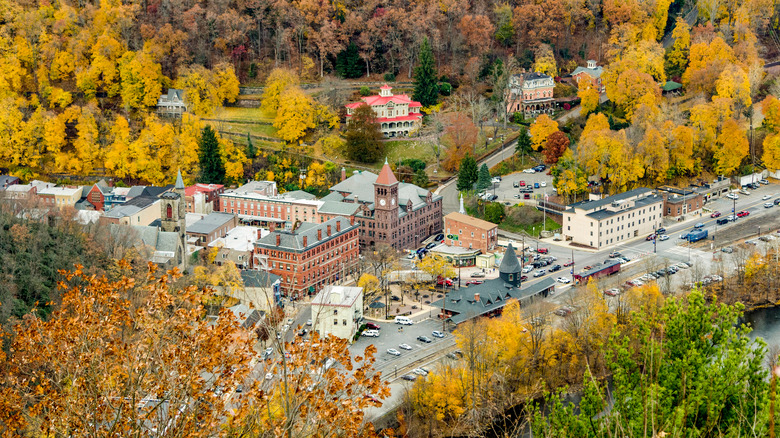 Desha Utsick/Shutterstock
A place that feels as if you've taken a turn into a village in Switzerland in Pennsylvania, Jim Thorpe is nestled into the base of the mountains and makes a trip to the Poconos feel like a European getaway. The town is surrounded by lush forests, rolling hills, and the Lehigh River, making it a haven for outdoor enthusiasts and photographers who love the changing colors of fall foliage. To truly get the full autumn experience, it's recommended to take a ride on the Lehigh Gorge Scenic Railway. The usual one-hour ride is shortened to 45 minutes in the fall but showcases some of the best scenic views of the region.
Jim Thorpe is also known for its well-preserved Victorian architecture, as the community was once the home to several turn-of-the-century industrialist millionaires. The town's historic district is lined with charming buildings, shops, and restaurants. One building, in particular, that has a unique past is the Old Jail Museum, a site that housed many notorious prisoners, such as the famed Molly Maguires. These prisoners were supposedly wrongly convicted and hanged in the late 1870s, a true crime case that is still discussed to this day. Those who believe in ghosts can take tours to explore the museum, as well as hear stories about the supposed hauntings of the jail. Some encounters and experiences are even told by staff members themselves. However, as with any historic setting, the past just gives added color to the present. Jim Thorpe is an ideal destination for a day trip, especially for those looking to enjoy a peaceful and scenic getaway in a historic and charming setting.
Philadelphia, PA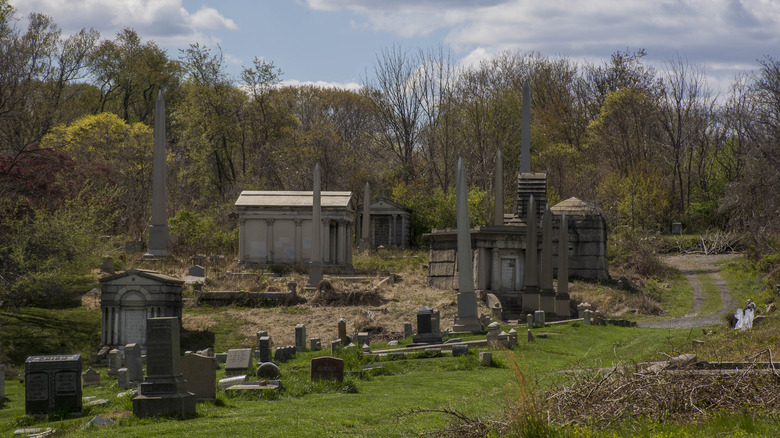 Jordan Molz/Shutterstock
Everywhere you look there is something noteworthy to see and do in Philadelphia — from history buffs checking out the Liberty Bell, to foodies looking for the best eats at the Reading Terminal Market. In the fall, Philly is a particularly great place to get a little lost in the spooks and thrills, especially if you're adventurous enough to take a trip to the Eastern State Penitentiary. For those looking to push the envelope into a more alternative day trip in and around Philadelphia, there are a few extra places to stop on your way into the city. The first of several should be a cemetery.
In Southwest Philadelphia lies Mount Moriah Cemetery, which has been transformed with help from the surrounding community into a 200-acre arboretum. As of 2022, about 70 percent of Mount Moriah had been restored and nurtured in an effort to showcase the stunning property. Beautiful gravestones, statues, and historic structures speckle the lusciously green hills. The Friends of Mount Moriah Cemetery organization is one of many advocates that have been involved in its restoration and bringing attention to the cause. These methods have worked gradually, as programs like the Darksome Craft Market have used Mount Moriah Cemetery as a venue since the late 2010s. Free of charge to visit, Mount Moriah also offers great views of the Philadelphia skyline from its hilltops, adding to the cemetary's spooky yet beautiful seasonal scenery.