How You Can Get A Taste Of Switzerland Right In The State Of Pennsylvania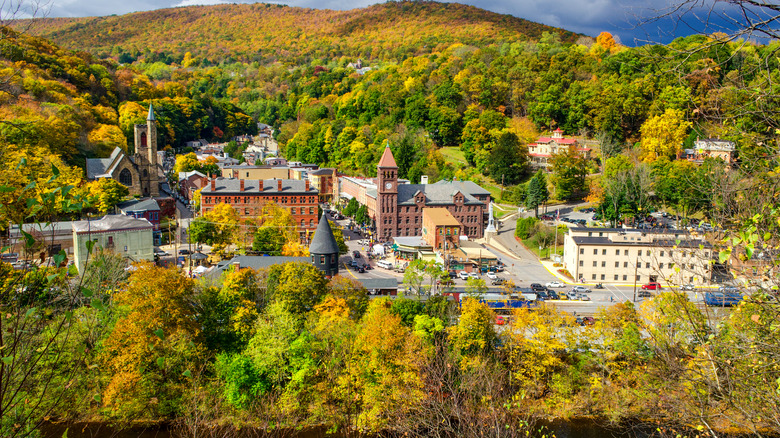 Desha Utsick/Shutterstock
When you think of Switzerland, what springs to mind? Dramatic mountain peaks, verdant valleys, chocolate-box houses, and breathtaking train rides are likely just a few of the bucolic scenes you imagine in this idyllic European nation. But, after this, images of a long flight and high prices probably nudge their way into your thoughts too; Switzerland is one of the most expensive countries in the world! However, you can get a taste of magical Switzerland without leaving the USA. 
In the small town of Jim Thorpe, Pennsylvania, snuggled in the Poconos, visitors can combine high-octane mountain sports with relaxation in a charming setting. For those looking for adventure, there are vintage train rides, riverside bike trails, and whitewater rafting, while for those who want to experience Little Switzerland at a slower pace, the town is full of intriguing museums, shops, and historical buildings. Simply wandering down the winding streets of Jim Thorpe can transport you to Switzerland.
Things to do in Jim Thorpe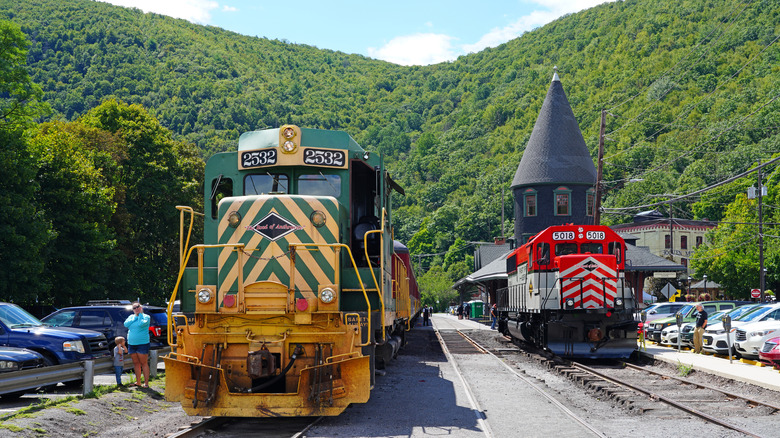 EQRoy/Shutterstock
One of the most popular attractions in Jim Thorpe is the Lehigh Gorge Scenic Railway. If your images of Switzerland involve chugging through deep valleys with towering mountains and a rushing river alongside, this train ride will deliver. You can even put bikes on the train and then take a gentle downhill cycle from White Haven back to Jim Thorpe. If you're looking for a longer bike trail, go for a pedal from the center of town on the D&L Rail Trail, 37 miles of which run through the Pocono Mountains. 
There are whitewater rafting options from "mild to wild", according to Pocono Whitewater, as well as opportunities to fish, swim, and hike at Mauch Chunk Lake. If you're looking for more sedate ways to spend your time in Jim Thorpe, head into the center of town to see historical architecture and fascinating museums. To learn more about the town's history, make a stop at the Mauch Chunk Museum; those interested in the area's coal mining connections should put the No. 9 Coal Mine and Museum high on their list of places to visit. For a creepy glimpse of the past, the Old Jail Museum is a great stop.
Places to shop, drink, and sleep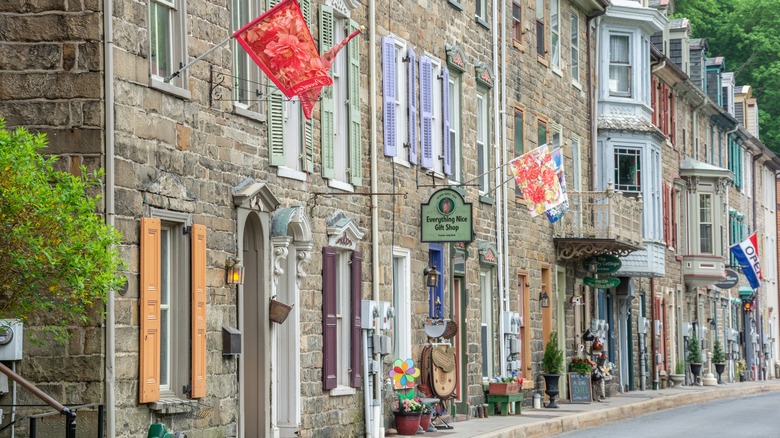 Alizada Studios/Shutterstock
After all of that activity, you'll want a place to lay your head and perhaps to do a little shopping too. Many of Jim Thorpe's old buildings have been turned into boutiques and restaurants, so there are plenty of choices. Go to the historic Stone Row on Race Street to see gorgeous architecture and pick up some unique souvenirs, while at the nearby Trend and Source Marketplace, you can support local artisans. A fragrant stop at the nearby Quiet Hills Lavender Farm is a must if you're in town on the weekend. Bright Path Brewing is a craft brewery in town with a bright taproom and tasty beers offered by the liter and half-liter: very European! 
When it's time to turn in, there are tons of bed and breakfasts and small hotels in Jim Thorpe. If you're looking for somewhere basic but clean, the aptly named Hotel Switzerland is a good bet. Want to splash out? The Harry Packer Mansion Inn has elegant interiors that hark back to the Victorian Age.